GRO+ Advanced Lash Serum Gave Me Next-Level Lashes
Beautiful lashes can bolster your confidence. Yet, if you are committed to only using products with clean ingredients and/or you wear contact lenses and have sensitive eyes (both like me), you might be leery of lash extensions or eyelash serums.  
Fortunately, there are chemical-free eyelash serum alternatives that won't damage natural lashes. Read on to find out about my experience, including what makes GRO+ Advanced Lash Serum a game-changer when it comes to achieving thicker, fuller lashes.
GRO+ Advanced Lash Serum vs. Others
Lash serums are a dime a dozen these days! However, many include prostaglandin and other chemicals that can come with potentially dangerous side effects for the eyes and lashes, such as hair loss and irritation. What sets VEGAMOUR's GRO+ Advanced Lash Serum apart is its completely natural formula with safe, effective results!
This means you can skip the chemicals and hormones (and potentially troubling side effects), all while encouraging the appearance of visibly longer-looking, thicker lashes.
Shop: GRO+ Advanced Collection
GRO vs. GRO+ Advanced Formula
VEGAMOUR's best-selling GRO Lash Serum and GRO+ Advanced Lash Serum both have some of the same wonderful ingredients. The cruelty-free eyelash serums utilize powerful phyto-actives to support your natural lashes, including:
Mung bean: Contains a host of hair-enriching minerals such as zinc, selenium, silica, iron and Vitamins A, B, C, B7 (biotin) and K.
Red clover: Contains hair-boosting isoflavones, which is a class of flavonoids wit antioxidant, antimicrobial, and anti-inflammatory properties.
Both serums also include these other benefits:
Fast, effective, visible results: The serums are clinically proven to have visible results in as soon as 30 days, with a 94% increase in volume and 34% longer-looking eyelashes after four months.
The serums get to where they need to be — fast: They're formulated to quickly penetrate, making it easier to reach the hair follicle.
You can use them daily: With no known toxins, hormones or carcinogens, the serums are safe for daily use.
But GRO+ Advanced Lash Serum includes broad-spectrum CBD oil, which has the following added boost of benefits:
It's microencapsulated to quickly penetrate and soothe skin.
It works in tandem with powerful phyto-actives, mung bean and red clover, to create a healthy environment for longer, thicker-looking lashes.
Read: 5 Promising CBD Beauty Benefits
Create a Consistent Routine for Results
Yes, it is possible to take your lashes to the next level! But it's vital to follow the product use instructions, which means following a consistent schedule. Here's how I experienced success.
My Routine
Inspired by the promise of a plant-based formula that would deliver results and align with my cruelty-free lifestyle, I was excited to add the serum to my self-care routine. And finding a lash enhancer without irritating chemicals that may lead to dry or damaged lashes and eyelid discomfort was a huge plus.
Here's how I used it:
I immediately applied the eyelash serum each morning after my skincare routine to the upper and lower lash lines, directly at the hair follicle root, by holding the wand vertically.
On days I wore makeup, I completed my regular skincare routine first, applied the serum and then did the rest of my makeup before applying eyeliner or mascara. (You can also almost immediately apply makeup over the serum if you like, as it dries quickly!)
At night, after I washed my face and completed my skincare routine, I applied the serum gently to the upper and lower lash lines at the root.
I repeated these steps daily for the first two months; then, I began applying the serum only once daily as the instructions stated.
I also switched to a different eye makeup remover, as it is advised to avoid oil-based remover or products.
Read: The Big Difference Between VEGAMOUR Lash Serums and Prostaglandin
My Review of GRO+ Advanced Lash Serum
Thumbs-up! In just about a month's time, I saw a noticeable difference. The dramatic difference in my lashes included fuller-looking hair, especially along my upper lash lines. I also observed that my lash length looked particularly longer on both the lower and upper lash lines.
I thought the perfectly-designed, ultra-thin brush tip made applying the serum directly to my lash hair follicles easy-breezy, even along the lower lash line, which can be tricky. I also loved that there was no eye irritation or redness and no irritation or discomfort in the eyelids. And, you can apply makeup right after, which is great on those mornings you're pressed for time.
Even more amazing is that I can now I can skip mascara on the days I don't feel like putting on makeup, which is something I never previously would have thought to be possible. Tip: If you want to go without mascara, use an eyelash curler to give your lashes a bit of lift that will beautifully show off your thicker, fuller, longer lashes! Overall, I'm happy to say that I'm seriously hooked on this serum!
Read: How to Apply VEGAMOUR Lash and Brow Serums
Rave Results from Real Women
But you don't have to just take my word for it. GRO+ Advanced Lash Serum has a growing fanbase of all kinds of people who have experienced amazing results. Check out these VEGAMOUR before-and-after photos from a real user!
Here's what other users of GRO+ Advanced Lash Serum had to say:
"I've applied this product religiously, and the results couldn't be better! I noticed growth around the third week of using the product, plus it's all-natural!" - Carmel S.
"My lashes are fuller and longer. Now for a quick, simple look, I just curl my lashes with no mascara because they have grown so much. When I add mascara, it's next level." - Brenda
"I'm Asian, and my lashes are naturally short, sparse and straight. I started noticing a tiny bit of lift at the ends of my lashes after just one week of consistent 2x daily application, and now, a month later, I can tell my lashes [are] thicker and fuller . . . Nice to see results within a single tube." - CV
Read: Compare GRO vs GRO+ Advanced 
Get Next-Level Lashes the Natural Way
One of the best things about using GRO+ Advanced Lash Serum is that you don't have to resort to chemical-laden formulas to get the thicker, fuller lashes you want. Instead, you can achieve your desired results by opting for a gentle, 100% vegan and cruelty-free advanced lash serum powered by plant actives! It's a decision you can feel great about!
Additionally, VEGAMOUR offers options to save — opt for a lash and brow kit or utilize the Subscribe & Save option, which allows you to conveniently skip a shipment or cancel at any time. And as part of the GRO+ Advanced collection of products, the lash serum works great when used in tandem with the rest of the line to support eyelashes, eyebrows, scalp and hair wellness. So consider trying out other products too.
The bottom line when it comes to this lash serum? The sooner you take action, the sooner you'll be able to flutter both visibly fuller, longer-looking lashes!
More From VEGAMOUR: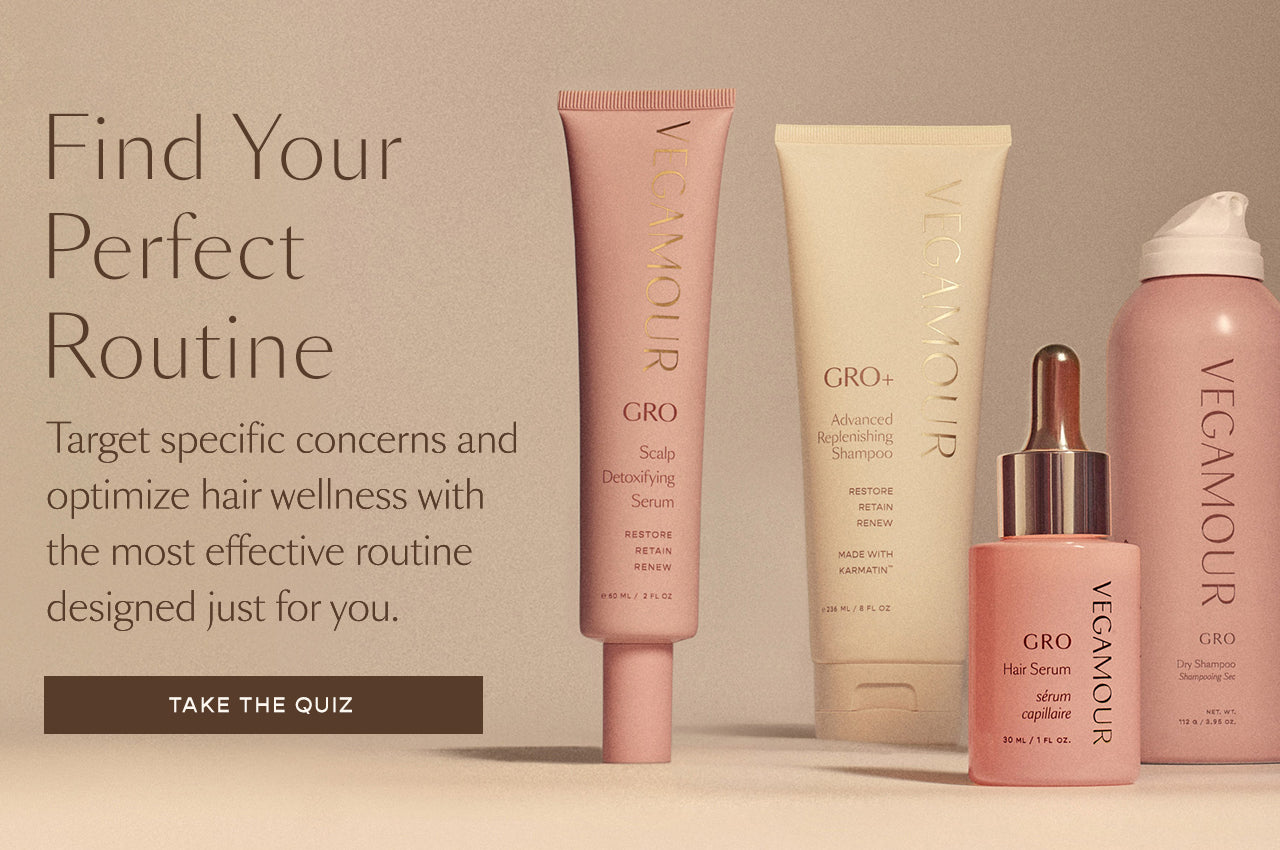 Disclaimer: Information in this article is intended for general informational and entertainment purposes only. It is not intended to constitute medical advice, diagnosis, or treatment. Always seek professional medical advice from your physician.