Give Your Hair a Makeover in 2023
For most people, the last few years have been very trying and brought about many lifestyle changes. From the initial lockdowns to the mask mandates to the business closures, people were forced to put certain self-care habits, like haircare, on hold.
Fast forward to a new year, and your hair deserves a reset. Here's how to give your hair a makeover in 2023 — plus, what products you really should be using to bring out the best in your hair.
Wash Carefully
Be gentle with your locks. Using extreme water temperatures can strip your hair of its essential oils, so use lukewarm water for best results. Additionally, blot hair with a towel instead of rubbing and use a wide-tooth comb to detangle strands.
To start, pick a shampoo and conditioner that's right for your hair type.
Protect Your Hair From Heat
Heat-styling tools are OK to use occasionally. But excessive heat styling can do some serious damage to your hair. No matter if you only heat style once a month or several times a week, you should always apply a protective product first. 
Also, if you frequently use hot tools, take a day or two to let your hair recuperate from blow-drying, styling and using protective products. 
Related: Why You Should Avoid Heat Styling When Growing Out Your Hair
Mind Your Scalp 
When thinking about hair care, it's easy to ignore the scalp. But your scalp is where the health of your hair starts. Use our plant-based GRO Scalp Detoxifying Serum to give your scalp the attention it needs.
The serum includes zinc PCA, which helps absorb excess oil, reduce scalp irritation and support your skin's natural moisturizing factor. It also includes willowherb extract to gently reduce the appearance of flakes and wild-harvested marula and baobab oils to balance, moisturize and protect.
Shop: GRO+ Advanced AGELESS Daily Duo
Eat Right and Stay Hydrated
The health and wellness of your hair not only depends on what type of products you apply to it but also how you eat and drink. For example, eating iron-rich foods, such as spinach, green vegetables, eggs, nuts, whole grains and low-fat dairy products, are good sources of nutrients for your hair. Also, keep hydrated by drinking plenty of water.
See: 12 Foods to Grow Your Healthiest Hair Ever
Take a Meditation Walk 
Managing stress is also important to the health of your hair. Look for those few minutes here and there to go out for a walk and breath in some fresh air. Taking time for regular, low-intensity exercises can result in various health benefits, such as lowering blood pressure and the stress hormone cortisol.
A New Year Means New Beginnings
Now that you have some ideas of how to reset the health and wellness of your hair, it's time to get to work. Always take a holistic (and consistent) approach: Eat right, stay hydrated, exercise, reduce stress and use natural, targeted hair wellness products for best results. By following these steps, you and your hair will soon be looking better than ever!
More From VEGAMOUR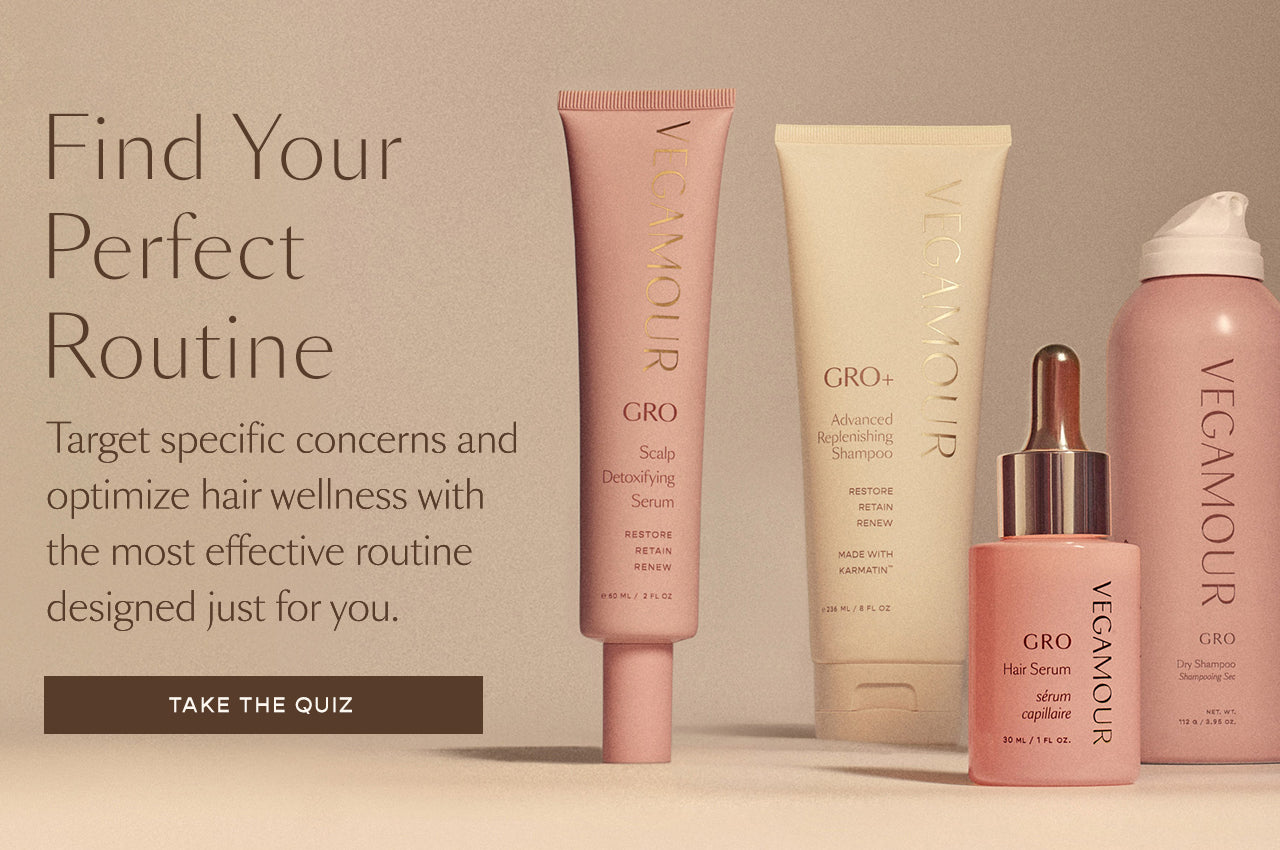 Disclaimer: Information in this article is intended for general informational and entertainment purposes only. It is not intended to constitute medical advice, diagnosis, or treatment. Always seek professional medical advice from your physician.