How to Care for Your Hair in Your 50s
In your 50s, you're likely to see some telltale signs of aging in your hair, such as graying, less vibrancy and movement and hair thinning. The good news is that even though your hair is showing signs of aging, you have options to improve it.
VEGAMOUR spoke with an expert about how you should revamp your hair care routine in your 50s — plus, find out what products you can use to combat common hair challenges as you age.
Hair Care in Your 50s Starts Within
Hair changes in your 50s have a lot to do with aging, but other factors are also at play, like stress, genetics and environment. You'll likely see some hair challenges this decade, including:
Hormonal changes that affect your hair
Changes in hair texture (like thinning hair)
Changes in the appearance of your hair (like hair graying or becoming duller)
These hair issues are quite common for people in their 50s, but there are some things you can do to combat hair aging and even slow or reverse your graying. However, before making any big hair decisions, consult your doctor.
The healthy growth of your hair begins with your overall health. Address any underlying medical concerns, such as menopause, vitamin deficiencies, poor sleep, inadequate diet or any illnesses you may have. Improving your whole health can improve the health of your hair and help you look and feel your best.
Here are some other ways to take a holistic approach to hair health.
Shop: The Best Products for Graying Hair
Drink Plenty of Fluids
Your whole body needs water to function because cells are made up largely of water. Cells that lack hydration can cause many imbalances in the body, including the health of your hair and skin. Stay hydrated by drinking enough water each day. In a temperate climate, a woman should consume 11.5 cups of fluids per day, which come from water, beverages and foods, according to The U.S. National Academies of Sciences, Engineering and Medicine.
Shop: Jen Chae's Top VEGAMOUR Picks
Sleep Well
Sleep is essential for health, partly because this is when rejuvenation and cellular repair takes place. So climb into bed around the same time each night, and take some downtime from screens before you sleep. Your hair and skin will thank you!
Related: Losing Sleep and Hair — Could They Be Connected?
Eat Well
Eat a well-balanced diet with plenty of antioxidants and Omega 3s, which help you to combat signs of aging naturally. Some great foods to add to your diet in your 50s to spruce up your hair are:
Tangerines and strawberries for loads of vitamin C
Avocados for Omega 3s
Lentils for folic acid
Protect the Scalp's Natural Oils
VEGAMOUR spoke with Cindy Marcus, hairstylist and editor-in-chief for Latest Hairstyles, about achieving your most glorious hair in your 50s.
Marcus provided some excellent tips for caring for your aging hair follicles, keeping your hair healthy and bringing out the natural radiance — no matter your hair type.
Marcus explained that "As we age, we lose natural oils in the hair and if you are overwashing, you will be depleting your hair of those oils we need to keep hair looking shiny and healthy." Make sure to always follow with a conditioner (even for fine hair) to replenish moisture loss from shampooing.
Marcus also stressed that "The sun can cause damage to your hair, especially to your hair color. We protect our skin from the sun's damaging rays, but we forget to protect our hair. Using a spray with heat protection along with UV protection is a good solution."
Choose the Right Hair Products
Skip the hair care products, like shine sprays or heavy shampoos that contain phthalates, sulfates or silicones. Go with a natural vegan shampooing system, and get a good hair wrap to sleep in. This reduces wear and friction on your hair as you sleep and makes your hair shinier — without reducing volume!
If you have especially thin hair, you can add more volume with an occasional spritz of dry shampoo and a quick restyle and finishing spray.
Use a Hair Serum to Reverse Grays
Intended for all hair types and textures, GRO AGELESS Anti-Gray Hair Serum allows you to turn back the hands of time when it comes to your graying strands. Note that it works best for people who have moderate levels of gray hair.
When used consistently for 90 days, here's what you can expect from this lightweight, non-greasy serum:
Reduction in the appearance of gray hair on new hair growth
Renewed color and shine
Soothing effects for the skin and nourishment for the scalp
In clinical studies, the serum boosted the appearance of natural hair color up to 34% in 79% of grey hair.
Take Care with Your Styling
Because hair growth can slow with age, you don't want to break your hair or stress your tresses.
Replace any hair implements which are worn out or could be causing extra stress on your hair. (Like teasing combs with broken teeth, for example.)
Replace your brush with a more gentle brush.
Replace your blow dryer with a cooler, gentler one.
Only remove tangles when your hair is dry.
Increase blood flow and bring more nutrients to your follicles by massaging your scalp.
Avoid overuse of heat styling tools.
Reduce Stress
Suffering from stress can not only have a negative impact on your mental and physical health, but it also can contribute to gray hair. Actively look for ways to decrease stress in your life, including taking time for yourself, spending time with loved ones and exercising regularly.
Fabulous 50s
Your 50s are a glorious decade of inner strength and outer confidence, which are even better when your hair is looking its best. Though your hair needs are evolving, a few changes to how you care for yourself, body, scalp and hair can make all the difference. Thankfully, that's easy with VEGAMOUR's vegan hair care that can help restore and improve your hair's natural beauty!
More From VEGAMOUR
Photo credit: Kelly Newton/Unsplash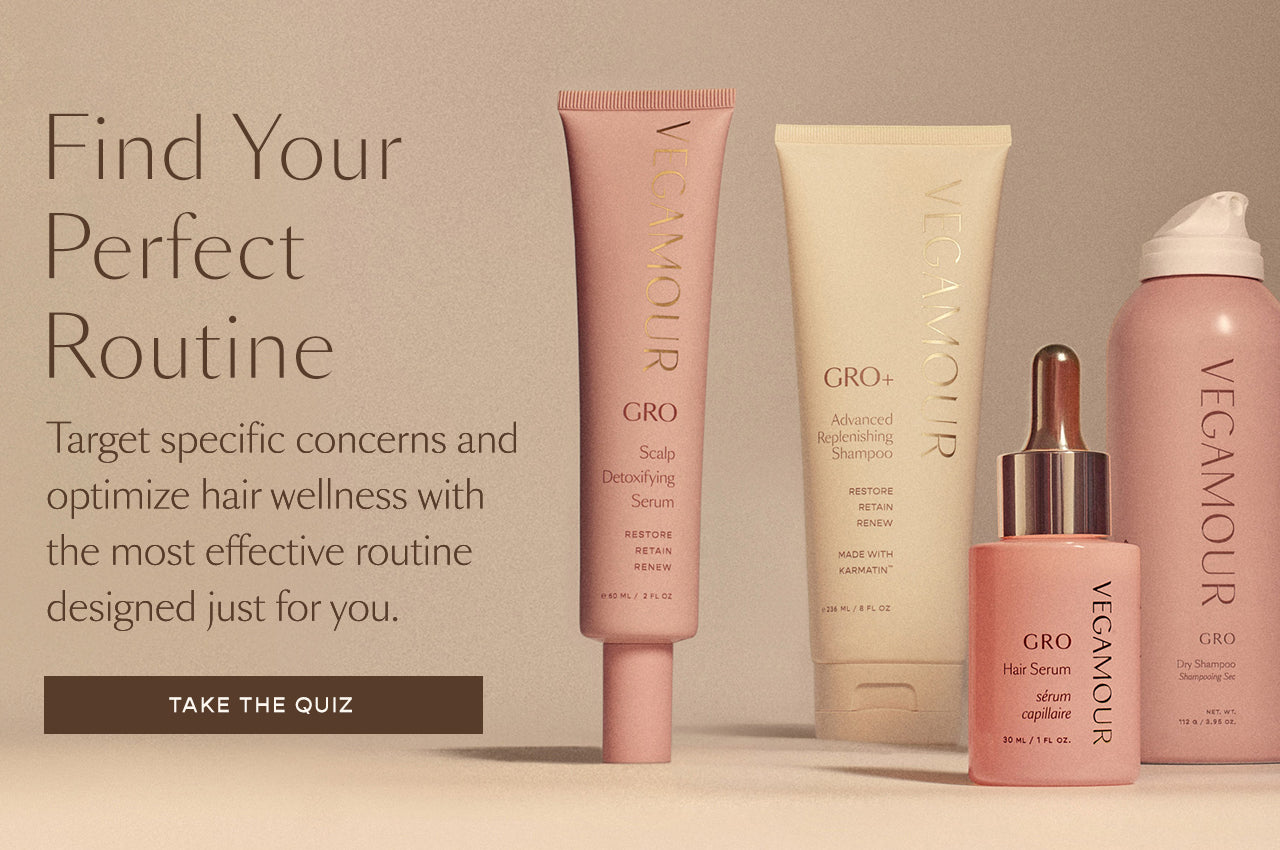 Disclaimer: Information in this article is intended for general informational and entertainment purposes only. It is not intended to constitute medical advice, diagnosis, or treatment. Always seek professional medical advice from your physician.