Try This Purifying Peach Mango Smoothie Recipe for Hair Wellness
Wellness begins within — and VEGAMOUR's new hair boost supplement power and probiotic packets are the perfect way to purify and nourish your hair, body and spirit! 
Sip on a daily dose of wellness by mixing one Peach Mango-flavored packet with water or nut milk. Or, blend the powder with sweet fruit and warming spices to entice your tastebuds and support whole-body health, including your hair. Find the recipe below — plus, see what makes this adaptogen-rich, vegan probiotic drink mix an essential for your hair care routine. 
Purify With a Peach Mango Smoothie 
Follow this recipe to mix up a refreshing and fruity smoothie that will boost the health of your hair and your gut microbiome!
1 packet of GRO WELL Hair Boost Supplement Powder + Probiotic in Peach Mango flavor
¾ cup unsweetened nut milk of choice
¼ cup vegan vanilla yogurt 
¾ cup frozen peaches (best to use unsweetened)
¼ cup frozen banana slices
½ tablespoon agave (add more to taste)
¼ teaspoon ground cinnamon on top (optional)
Pinch ground ginger for spice (optional)
Place all the ingredients in a high-powered blender. Blend on high until smooth, adding ice cubes or water if desired.
Shop: Total Body Wellness Collection
Plant-Based Probiotic Power
What makes this supplement the perfect addition to your hair care routine? In short, each vegan probiotic packet helps to support hair wellness, gut health and immunity. Here's how. 
Essential vitamins A, B, C and E, along with zinc, provide the necessary building blocks for scalp and hair health. 
50 million CFU probiotics restore balance to the gut microbiome, promoting whole-body wellness.
Saw palmetto is clinically shown to help inhibit the production of DHT and support healthy hair.
Adrenal adaptogen ashwagandha is shown to help lower cortisol levels and promote healthy sleep.
Curcumin combined with piperine is shown in clinical studies to optimize scalp health by reducing oxidative stress caused by free radicals.
Fo-ti activates the gene which triggers protein synthesis in hair follicles.
Horsetail root, a powerful antioxidant containing selenium and cysteine, helps enhance healthy circulation necessary for hair and scalp health.
Plus, with only five calories or less per serving and no added sugar or carbs, this 100% vegan (and gluten-free) supplement powder can fit perfectly into any dietary lifestyle!
Read: Nicole Kidman's Transition to Hair Wellness
Just Peachy
Boost your hair health and gut microbiome with the power of plant-based probiotics. The convenient packets make it easy to mix with water or your favorite nut milk on the go. Or kick it up a notch and treat yourself to a delicious and purifying Peach Mango-flavored smoothie. No matter which option you choose, your hair will benefit!
More From VEGAMOUR
Photo credit: AnthiaCumming/iStock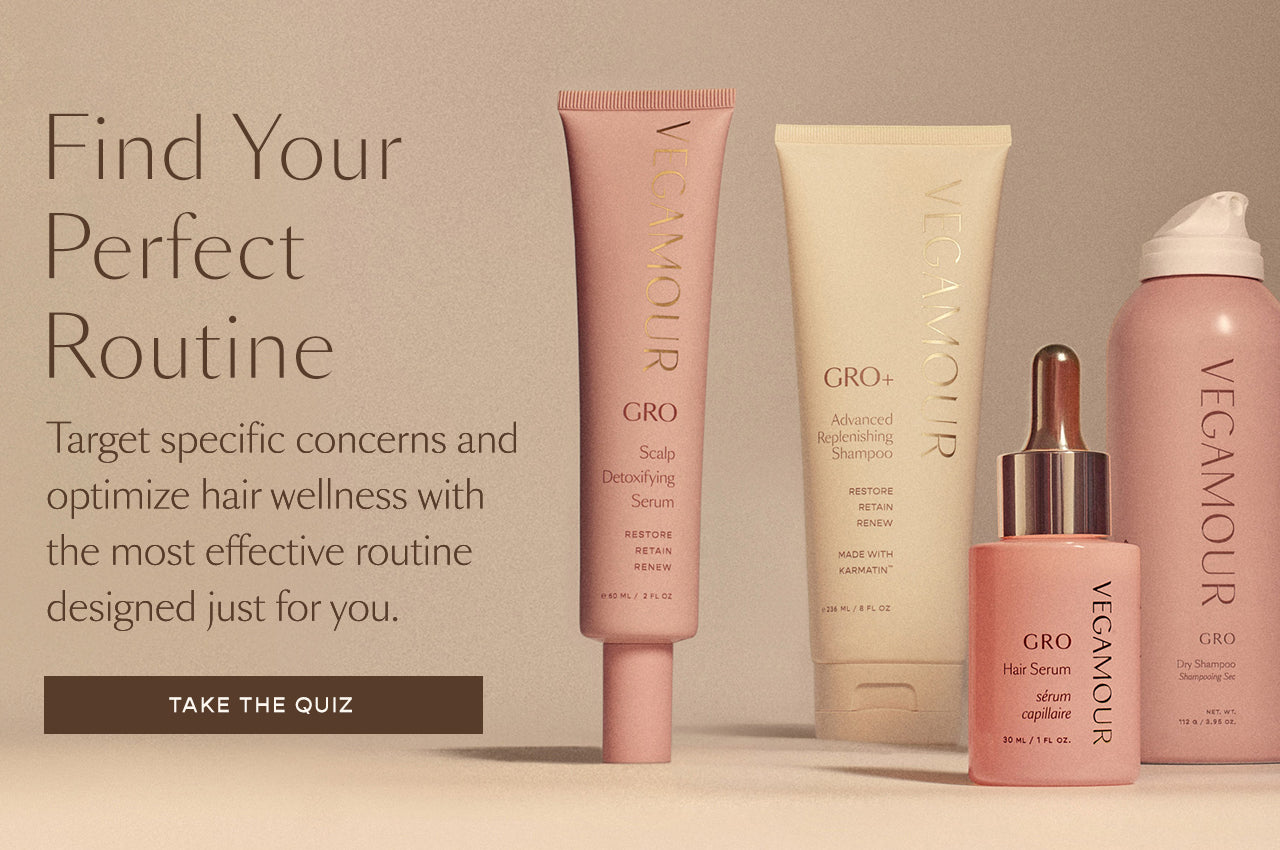 Disclaimer: Information in this article is intended for general informational and entertainment purposes only. It is not intended to constitute medical advice, diagnosis, or treatment. Always seek professional medical advice from your physician.