VEGAMOUR Experts Share The Importance of Clean Hair Products on "Extra"
Hollywood is trend-driven, with celebrity-loved fashion and beauty influence trickling down from the red carpets to your hometown. And as reported on a recent "Extra" television segment, celebrities are trending toward clean beauty and hair products. But it turns out that opting for clean beauty and hair products can be more than just following a trend; the move can also be beneficial for your health!
Two hair wellness experts — board-certified dermatologist Dr. Neera Nathan and celebrity hairstylist Ashley Streicher — appeared on the segment to explain why clean beauty products are so important for your hair and beyond. Read on to find out what these experts said — plus, learn how you can integrate cruelty-free, 100% vegan, natural hair wellness products into your routine, starting right now!
Why Clean Hair Wellness Products Are Important
Hair experts agree that the best approach to hair wellness is one that utilizes products with clean, natural ingredients, not only to benefit your hair but also for your overall health. "I'll tell you, as a dermatologist, we are finding that things that we thought sat on top of the skin actually get absorbed into the bloodstream," said Dr. Nathan. "And we don't know what type of effects those are having for our health."
How Do Natural Hair Products Work?
Natural hair products can benefit your hair's wellness in various ways, whereas many off-the-shelf drugstore products can do more harm than good due to harsh ingredients. 
"The idea of hair wellness is that you are using clean, natural, evidence-based topical ingredients that can help decrease shedding and can stimulate hair growth," explained Dr. Nathan. And, some of the ingredients that can do that are turmeric, red clover and caffeine, in particular."
Read: GRO Brow Serum Is My Secret To Beautiful Looking Brows
VEGAMOUR Products Are Clean Hair Products
VEGAMOUR products support thicker, fuller, longer-looking hair, naturally, by forgoing harsh hormones and harmful chemicals in favor of a clean ingredients list. Plus, these clinically-proven formulas are 100% vegan and cruelty-free.


Both the GRO and GRO+ Advanced collections support and encourage healthier hair, naturally, without relying on chemical-laden ingredients. Instead, they include nourishing phyto-actives such as mung bean, red clover, turmeric and caffeine, along with therapeutic hemp oil found in the GRO+ collection.
Plus, hair wellness begins from within, making supplements such as gummies and probiotic powders a great way to support total wellness from the inside out.
What Causes Hair Loss?
Hair thinning, shedding and hair loss impact everyone, men and women alike, and can be linked to a wide array of causes, such as stress, age and shifts in medications or diet.
"The term alopecia just encompasses several different types of hair loss," said Dr. Nathan. 
Too-tight hairstyles worn frequently are known as traction alopecia, for example, while "male pattern baldness" or "female pattern baldness" is known as androgenetic alopecia. And there are other culprits that contribute to hair woes, such as stress and major shifts in hormones during pregrancy or the postpartum period.
Hormonal shifts are often a contributor to thinning hair, including those months during, and, especially, after pregnancy, according to celebrity stylist Ashley Streicher. She shared what worked for her during her own pregnancy. The stylist explained her secret to tress success as taking preventative steps with regular use of a clean hair wellness routine using VEGAMOUR. 
"I started midway through my pregnancy," said Streicher. "So, I have been doing it for a little over six months." When asked by the interviewer if she had noticed a big difference, Streicher said, "I see my clients lose their hair after they have kids, but I haven't noticed any hair shed yet." 
Make Hair Wellness a Daily Habit
Consistency is key when it comes to using products to promote and support thicker, fuller-looking hair. With clean formulas that are free from known toxins or hormones, GRO Hair Serum is safe and recommended for daily use. 
Here's how to apply the serum for best results: 
Begin with dry or towel-dried hair.
Fill the dropper full and apply the serum directly to your scalp.
Use your fingertips or a scalp massager to evenly disperse the serum. Bonus: A circulation-boosting massage both amplifies results and acts as a soothing treat!
Dry and style your hair as desired.
Repeat daily for best results, morning or night.
Take a cue from the red carpet — now is the perfect time to integrate clean hair products into your hair wellness routine. You won't regret it!
MORE from VEGAMOUR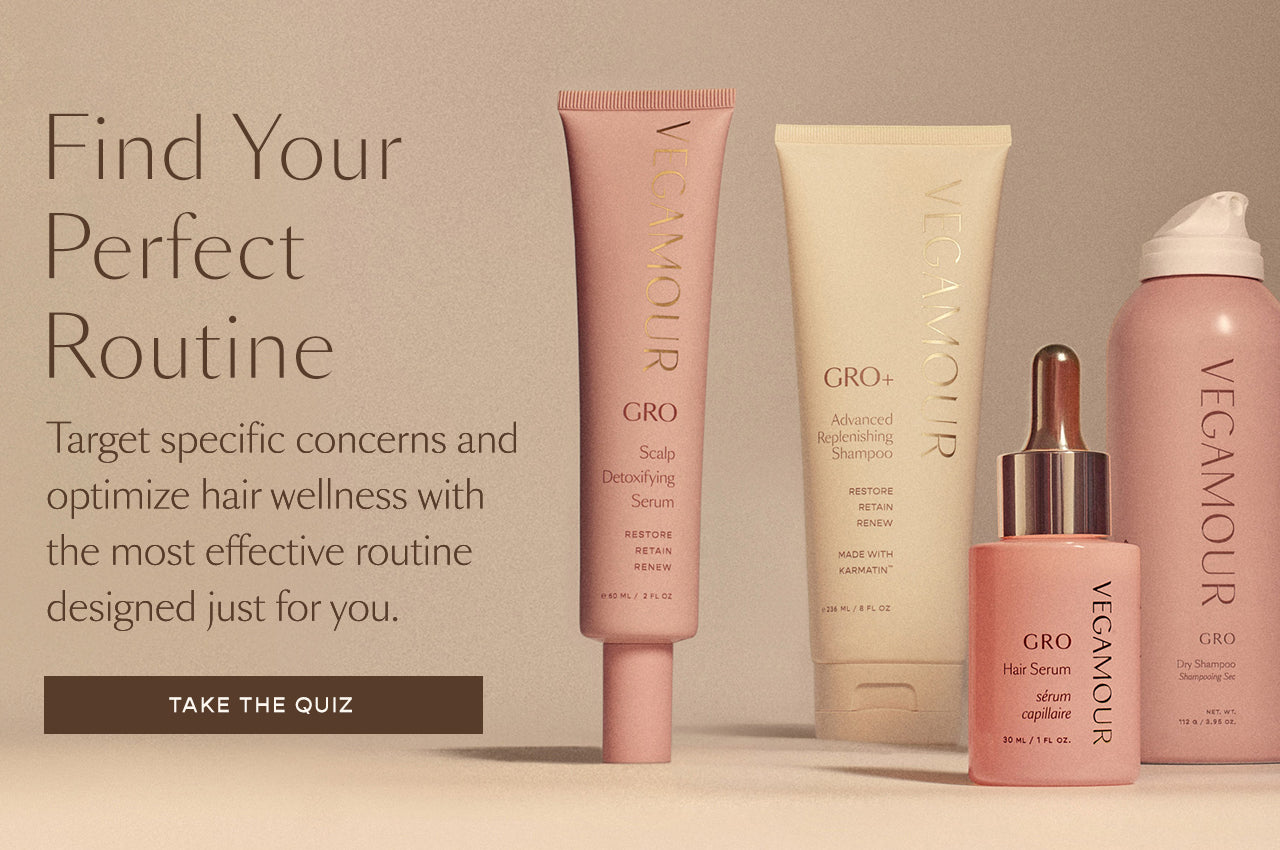 Disclaimer: Information in this article is intended for general informational and entertainment purposes only. It is not intended to constitute medical advice, diagnosis, or treatment. Always seek professional medical advice from your physician.