How to Choose the Best VEGAMOUR Hair Serum or Foam for Your Hair Needs
Eyes have been called the windows to the soul, but we think the hair says it all. The way that hair behaves — grows or doesn't grow, loses its pigment, thins or even falls out completely — broadcasts to the outside world what may be happening on the inside with you.
Changes in hair thickness and growth usually have multiple causes. That's why we've created a versatile collection of products, including hair serums and foams, to encourage healthy hair at the scalp-level. Not sure which to choose? Our advice is to choose both, and have each product on hand, ready to use depending on your workout schedule, how you're styling your hair that day and other variables. Let's dive in so you can find the right VEGAMOUR hair serum or foam for your hair.
GRO or GRO+, Serum or Foam? How to Choose the Right VEGAMOUR Product for Your Hair
Energize your hair's vitality by nourishing the scalp with a daily serum or foam treatment. We currently offer four popular hair foam and serum products to choose from:
And all four formulas are bursting with energizing ingredients from Vitamin A to Zinc, including potent botanicals red clover and mung bean, to set your follicles back into an active cycle and make lush hair density possible again!
Can't Choose? Try It All With the GRO Complete Kit
Hair Serums or Foams: Pick the Product That Matches Your Lifestyle
All four of these plant-based products work effectively on damp and dry hair, so it's easy to use them daily. If you don't shampoo daily, or if you're concerned specifically about a small area of your scalp — suppose you're experiencing traction alopecia — you may prefer our the GRO Hair Serum or GRO+ Advanced Hair Serum. The bottle has a dropper, which allows you to spot treat problem areas with extra precision.
If you love a mousse-like texture, want an all-over scalp treatment and are looking to build volume into damp hair as you style, then choose GRO Hair Foam or GRO+ Advanced Hair Foam.
It's also okay to use both a serum and foam, depending on your particular needs at any given time. For example, you might prefer to use a serum before bed but a foam after a workout.
Use this chart to figure out if the GRO Hair Serum or GRO Hair Foam is a better fit for you:
Used daily, any version of our GRO formula is rich in phyto-actives and fights inflammation caused by free radicals. It also inhibits DHT and cortisol that shrinks follicles and slows growth down to a near-stop. Unlike synthetic hair loss products, VEGAMOUR products are always free of dangerous side effects.
Related: How to Apply VEGAMOUR Serums for Maximum Effectiveness
GRO or GRO+: Which to Choose?
All of our GRO+ products contain CBD in the form of broad spectrum hemp, which as a topical treatment helps to calm inflammation and improve circulation to your follicles. Our CBD is microencapsulated, formulated into such a tiny size that it's able to penetrate deeper and more effectively to reach and recharge dormant derma papilla, or hair roots. Our entire line of GRO+ products (there are lash and brow serums, too!) are great for anyone looking for an extra boost.
Both GRO+ Advanced Hair Serum and GRO+ Advanced Hair Foam have the added boost of CBD so choosing between these two options comes down to which texture you prefer. Serums make for great spot treatments, whereas foams can help you tackle more area quickly. Both can be used on dry hair but if you don't shampoo your hair daily, a serum might be better fit.
This chart can help you decide between the GRO+ Advanced Hair Serum and GRO+ Advanced Hair Foam:
Shop: HYDR-8 Hydrate and Repair Conditioner
Nourish the Inside and the Outside 
VEGAMOUR is built on the realization that healthy hair requires total, full-body health — we call it hair wellness. This means that the food you eat, how you manage stress and the way you move your body are just as important as what you put on your hair. Beauty starts on the inside so taking care of your mental and physical health will pay dividends when it comes to feeling beautiful on the outside, too.
For long healthy hair, it's important your diet is rich with foods that support hair growth. You can also take a dietary supplement like a biotin hair gummy to add a layer of vitamins and minerals to your day. We even offer GRO+ Advanced Gummies containing CBD, an ingredient that has been demonstrated in studies to tame inflammation, promote healthy circulation and promote overall relaxation — all good news when you want to energize the growth cycle of your scalp and hair.
All four products contain our proprietary blend of botanical ingredients proven in clinical studies to inhibit DHT, a hormone that can lead to hair loss can impact hair growth. This hormone often activates in women due to aging, menopause and the interaction with another hormone called cortisol — yes the stress hormone. Increased stress can increase cortisol, leading to stress-induced hair loss called telogen effluvium. That's why managing your stress and eating well matters just as much as the products you use. Hair wellness is a holistic process.
Shop Now: GRO Scalp Detoxifying Serum
Choose What Works for You
When it comes to choosing a product, the most important factor is you! Does a serum work better for the way you style your hair or could you benefit from a foam? Are you experiencing hair thinning for the very first time or would you prefer an advanced formula? You know your hair best, and we're here to help if you have questions.
More From VEGAMOUR
Photo credit: VEGAMOUR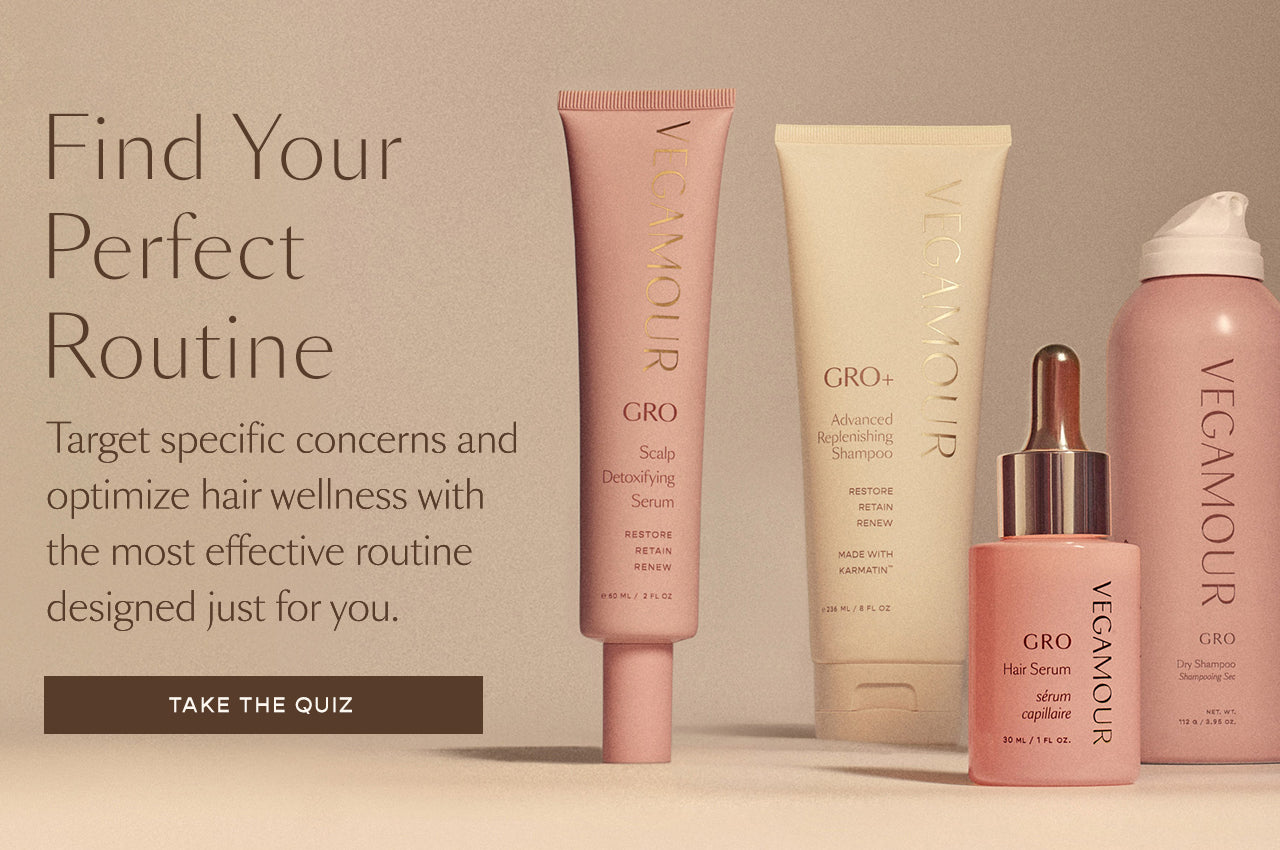 Disclaimer: Information in this article is intended for general informational and entertainment purposes only. It is not intended to constitute medical advice, diagnosis, or treatment. Always seek professional medical advice from your physician.