The Difference Between VEGAMOUR's GRO vs. GRO+ Advanced Collections
Just when you thought it couldn't get any better, it does. Our best-loved hair, brow and lash products come two ways:
All products are safe for everyday use, and are vegan and cruelty-free, meaning that they contain no animal ingredients and are not tested on animals. Products are formulated with no synthetic fragrances and instead our line is naturally scented with oils extracted from the peels of oranges, lemon and bergamot, for a clean, sparkling scent.
If you're not sure how to choose between the GRO and GRO+ Advanced collections, keep reading to learn the difference. Plus, check out our quick guide to choosing between the GRO or GRO+ Advanced lines for your hair.
GRO vs. GRO+: The "Plus" Is CBD
The GRO+ Advanced collection of hair, brow and lash products have all the same great ingredients as the GRO collection, with an added boost of CBD. It's safe, can soothe skin and it helps other ingredients in our formula work better. 
When taken internally, like in our GRO+ Advanced Hair Care Gummies, hemp can help reduce stress as it has a mildly relaxing quality to it. Any one who has ever experienced stress-induced hair issues knows how important it is to reduce cortisol levels to support hair wellness. And don't worry, the broad-spectrum hemp oil in our gummies contains no THC, meaning it's non-psychoactive. 
Explore: Your Guide to CBD Hair Products
Apply a Few Drops Of Serum to the Scalp Daily
Both GRO Hair Serum and GRO+ Advanced Hair Serum can support the appearance of visible hair density, thickness and fullness when used every single day consistently! This cruelty-free, vegan serum is formulated with powerful phyto-actives that can help you get thicker, fuller looking hair. It's a non-oily serum that can be applied to your scalp when your hair is wet or dry and massaged in daily.  
Pair your serum application with a relaxing mini-massage. Just 30 seconds to 3 minutes, using your fingertips or scalp massager, distributes the serum and can help support blood circulation. The serum drys in just a few minutes and doesn't need to be washed out.
GRO+ Advanced Hair Serum contains microencapsulated broad-spectrum hemp oil, in addition to the potent plant actives in our original GRO Hair Serum. The formula is unique due to the fact that we've reduced the size of the hemp molecule from 2,000 nanometers down to 100-150 nanometers. This enables the molecule to penetrate to the upper level of the dermis, reaching the root of hair follicles.
VEGAMOUR Hair Serum Customer Reviews
A Luxurious Mousse for Damp-Styling
If you're looking for a different kind of texture, GRO Hair Foam is an alternative to GRO Serum. It's got a fluffy mousse texture that's easy to apply all over your scalp. This cruelty-free foam is bursting with the same plant actives contained in our GRO Hair Serum — in a light, whipped texture that pairs well with damp styling. Apply it to your scalp and roots, just as you would with the serum, targeting any problem areas. Use it to add volume to your towel-blotted (or towel-plopped, for curly girls) hair, and make it part of your regular hair wellness regimen to support visible improvement in hair density.
GRO+ Advanced Hair Foam offers the same instant and long-term benefits, fortified by the addition of microencapsulated hemp to help key ingredients penetrate more effectively. GRO+ Advanced Hair Foam gives your towel-dried locks instant body and texture, while powerful plant actives support stronger hair for visible results in as soon as 90 days of consistent daily use.
JUST LAUNCHED: HYDR-8 Leave-In Conditioner 
A Daily Treat for Brows and Lashes
GRO Brow Serum is a fan favorite way to get fuller brows naturally so you can sport a makeup-free brow look. Our vegan formula combines zinc, biotin and plant actives for a wake-up call for sleepy brow follicles. Some customers report visible results in as soon as 30 days.
GRO+ Advanced Brow Serum delivers all of the above, and more. Microencapsulated, broad-spectrum hemp quickly penetrates far beneath the skin surface, to support sparse brows for a thicker, fuller look. At last, you can give your brow pencils, powders and microblading a rest, and enjoy the classic beauty of a full, natural brow once again.
GRO Lash Serum is the product that put VEGAMOUR on the map. We stand apart from our many competitors that use ingredients of questionable safety, because we value your precious eyesight and your overall health above all else. Many other brands are linked with eye irritation, and even with permanent darkening of the iris! Natural extracts of clover sprout and flower, magnolia bark extract, and cell-activating peptides energize lashes. 
GRO+ Advanced Lash Serum uses the same dynamic combo of plant actives to trigger lush lashes, made to use once or twice a day on both the upper and lower lash line. The GRO+ Advanced Lash Serum formula is enhanced by the power of broad-spectrum hemp, to sooth skin and improve the efficacy of other ingredients. Microencapsulation helps all of our tested ingredients to penetrate faster, for lush, strong lashes in as soon as 30 days. 
Check out VEGAMOUR's reviews from customers like you to see before and after photos, as well as read tips and personal insights to help you on your hair wellness journey.
Shop: VEGAMOUR Best Sellers
A Delicious Treat for Hair Wellness
GRO Biotin Gummies for Hair strengthen strands with a vegan blend of vitamins B-5, -6 and -12, and Vitamins A, C and E and zinc that activate follicles and improve cell turnover in your scalp to support gorgeous, healthy hair. All our products are vegan, so for our gummies we use tapioca in place of gelatin to create a delicious pop of hair wellness, flavored with natural strawberry extract.
GRO+ Advanced Gummies include broad-spectrum hemp to the mix, which includes biotin and folic acid. Although non-psychoactive — you won't get a buzz — the hemp content of the GRO+ Advanced Gummies is a gentle stress-reducer. Less stress can mean more circulation to your scalp, which can support more robust hair growth. Typically, our customers see results in about 90 - 140 days. We also offer our GRO Biotin Gummies 3-Pack, as well as a GRO+ Advanced Gummies 3-Pack so you can get a 90-day supply all at once — and it's at a discount.
GRO With Us
Your hair wants it all and deserves it all. At VEGAMOUR, we're proponents of holistic, 360-degree hair wellness, because no single product can do it all. Everything counts, all the time, and we take that as a good thing. Remembering to drink your water and eat your veggies. Get out from behind the computer for a swim, a stretch or sprint. Keeping consistent hours for rising and sleeping (our bodies love repetition). Turning off your phone and wandering someplace green to relieve stress. It's all good, and it all adds up to big-picture health. We're proud to make our products part of your hair wellness journey!
More from VEGAMOUR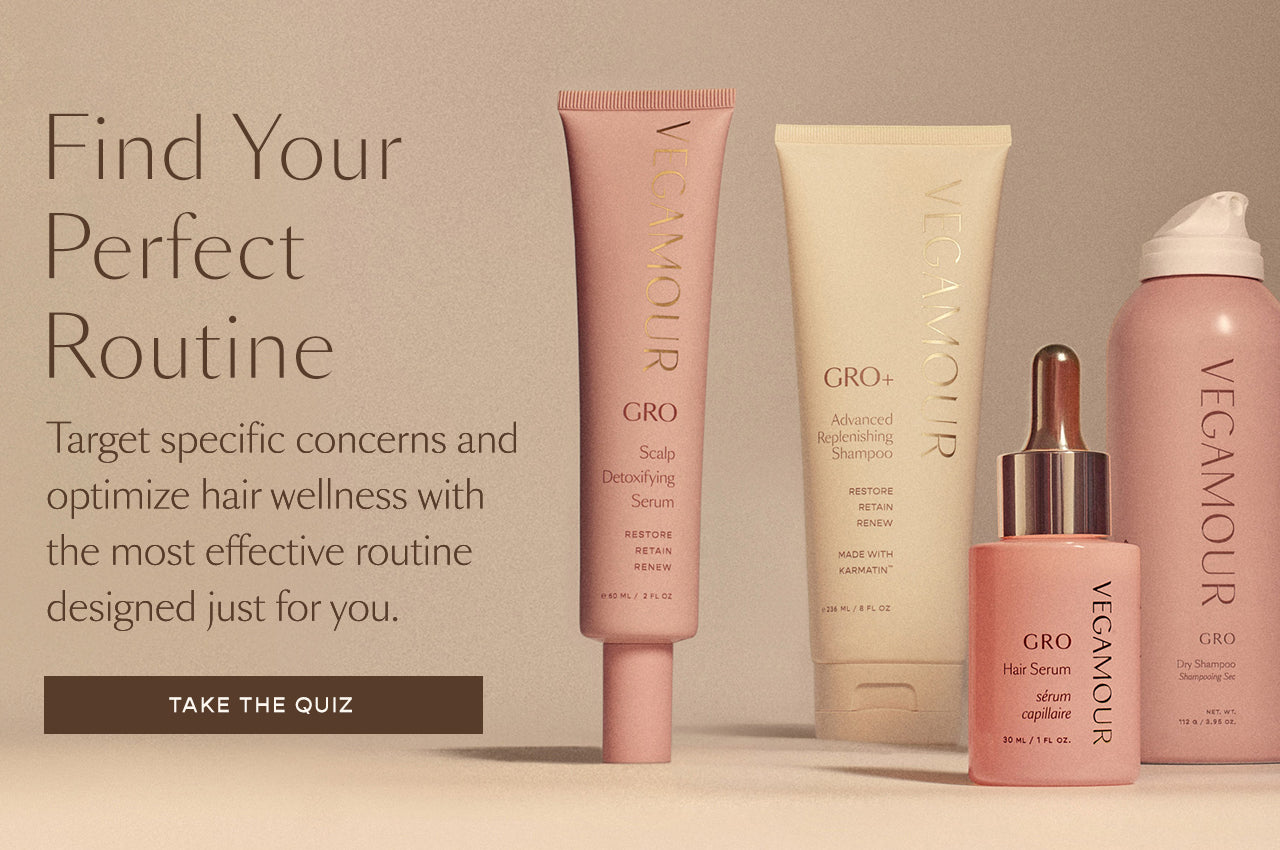 Disclaimer: Information in this article is intended for general informational and entertainment purposes only. It is not intended to constitute medical advice, diagnosis, or treatment. Always seek professional medical advice from your physician.