Get to Know VEGAMOUR's Scalp Products
You're diligent about your skincare routine — now, it's time to extend the same TLC to scalp care! Skin is the body's largest organ making what goes on and in it so important. VEGAMOUR scalp products, made from vegan, cruelty-free and natural ingredients, are just what you need to maximize your ultimate scalp and hair wellness routine.
Optimal scalp and hair wellness starts right here! Read on to learn more, including what products you really should be using to support scalp health.
GRO Scalp Detoxifying Serum
The secret to healthy hair is a healthy scalp. Upgrade your self-care Sunday by using GRO Scalp Detoxifying Serum. Use it weekly to clarify the scalp and pave the way to healthier hair.
Here's how the clean formula works:
Proprietary phyto-actives, vegan proteins and minerals work together to encourage improved hair density and support visibly fuller hair.
Zinc PCA absorbs excess oils to support skin's natural moisture while soothing scalp irritation.
Willowherb extract supports a healthy scalp microbiome, reducing the appearance of adherent and non-adherent flakes.
Wild-harvested baobab and marula oils offer additional antioxidant support, specifically Omega 6 and 9 fatty acids that bolster hydration, protection and balance.
The serum seals in moisture by providing a semi-permeable barrier that protects the scalp from harmful environmental pollutants.
Check out what users had to say about their results:
"I've tried several different scalp serums to deal with my dandruff and dry scalp. I style and abuse my hair and scalp a lot, so regular scalp detoxes are a must for me. This scalp serum is super gentle and hydrating ... It leaves my scalp feeling so cleaned and refreshed. HIGHLY recommend the VEGAMOUR scalp serum!!" - Jane
"I use a lot of dry shampoo between washes, mostly to preserve my color-treated hair, but it causes a lot of scalp buildup. Using the Detox Serum helps so much to cleanse my scalp so that I can continue to have healthy hair!" - Kristen
GRO+ Advanced Scalp Detoxifying Serum
Amplify your scalp care ritual by using GRO+ Advanced Scalp Detoxifying Serum. In addition to all of the ingredients GRO Scalp Detoxifying Serum contains, this advanced formula features micro-encapsulated, full-spectrum hemp, which imparts the following benefits:
Eliminates bacteria harmful to healthy hair growth
Calms scalp stress
See what others had to say about using the GRO+ Advanced Scalp Detoxifying Serum as part of their routine:
"My scalp irritation has at least cut in half after only using this three times. I'm so happy with this product!" - Devin T.
"This has helped the redness on my scalp and made it less itchy. Love that this is a vegan product with clean ingredients. Will continue to use and recommend to friends and family." - Arpita
GRO Revitalizing Scalp Massager
Take your scalp care routine to the next level with the GRO Revitalizing Scalp Massager. Pair your preferred serum with the massager for the ultimate relaxation ritual — a mindfulness practice that's as good for emotional well-being as it is for your hair and scalp!
The scalp massager offers these benefits:
Features a series of bristles that stimulate the scalp and boost scalp health
Can be used on any hair type, including color-treated, bleached or chemically treated hair
Can be used on dry hair or to work in serums, foams or shampoos
Easy-to-use design that fits in your palm
Easy to care for — rinse with cool water and hang dry        
Here's what users love about the massager:
"I love this scalp massager! I use it when I apply my GRO Serum each night, and it feels so good on my scalp. I also use it when I shampoo my hair, and that is the BEST. It makes the shampoo lather up so much more, and really invigorates my scalp." - Jolynn K.
"I was pleasantly surprised by this product. I didn't think it would help, really, but I love it! It feels so good, and I can tell it is moving the product through my scalp better than without it. Sometimes, I just grab it to rub on my head because it feels so nice." - Stephanie H.
Take Hair Wellness Habits to the Next Level
VEGAMOUR products are designed to work together. For the ultimate stress-busting, scalp- and hair-enhancing routine, try the GRO+ Advanced Stress Release Kit, which includes GRO+ Advanced shampoo and conditioner, scalp detoxifying serum and gummies — all containing therapeutic, broad-spectrum hemp.
In-between hair wash days or weekly scalp care, there's also scalp-balancing GRO Dry Shampoo. This dry shampoo volumizes and refreshes the hair while absorbing excess oils, odors and sweat. It's formulated without talc and made with USDA organic certified rice hulls, mung bean, red clover and kaolin clay.
Scalp and Hair Wellness Go Hand in Hand
Healthy hair starts with a healthy scalp. And a once-weekly scalp detox, using either our GRO or GRO+ Advanced formulas, in tandem with other VEGAMOUR hair wellness products, including shampoos, foams, serums and supplements, can help you achieve the optimal scalp and hair health you desire!
More from VEGAMOUR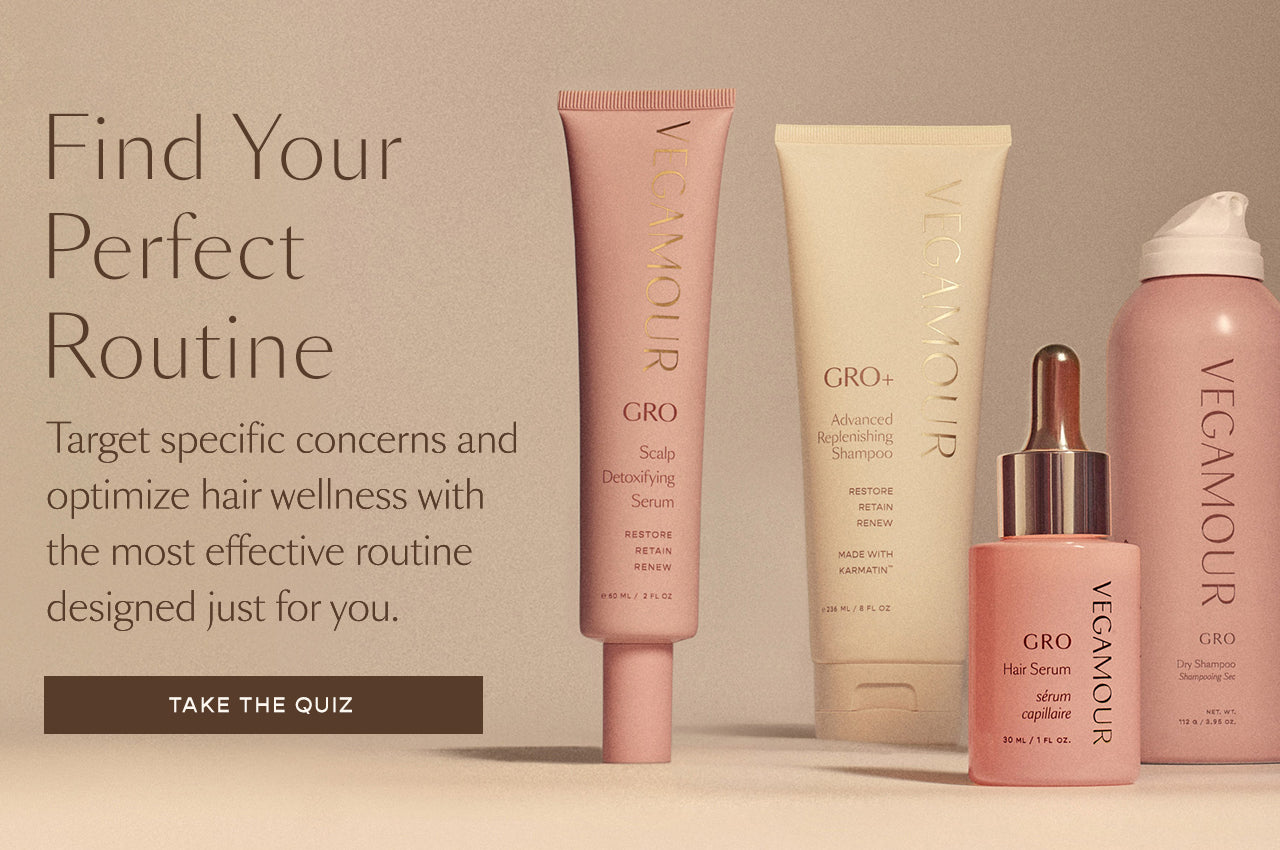 Disclaimer: Information in this article is intended for general informational and entertainment purposes only. It is not intended to constitute medical advice, diagnosis, or treatment. Always seek professional medical advice from your physician.