Get to Know 4 of VEGAMOUR's Best Sellers
VEGAMOUR's best sellers are something you don't want to miss out on. From thinning hair to stress-induced hair loss to bolstering a healthy scalp, these hair products are just what you need for hair that looks and feels its best yet. Plus, they're jam-packed with natural ingredients that offer better results without compromising your healthy lifestyle.
Don't just take our word for it, though: we've included reviews from real customers. Read on to find out more about what products you really should be using to encourage thicker, fuller looking hair. 
Best Seller: GRO Hair Serum
First in the VEGAMOUR best sellers' lineup is GRO Hair Serum — a true multitasker. It utilizes a 360º holistic approach for hair health and wellness that's clean, sustainable, and, most importantly, effective.
The hair serum addresses issues like hair thinning or fallout with a plant-based formula that's also:
100% vegan
Cruelty-free
Free of known toxins or hormones
Scalp soothing
Powered by natural ingredients such as caffeine, curcuma longa (turmeric), citrus aurantium bergamia (bergamot) peel oil, trifolium pratense (clover) seed extract and vigna radiata seed extract
Read: My GRO Hair Serum Review
For best results, apply the serum all around the crown and the hairline daily to notice fuller-looking hair in as soon as 90 days, with results that peak around 120 days. Check out these rave VEGAMOUR reviews from actual users of the hair serum that are currently loving their locks.
"This product has been a miracle for me!! ... Well, I am on my second bottle of GRO, and I could not be more excited … my hair is coming back after 15 years!! Thank you from the bottom of my heart for this amazing product!!!" - Cynthia M.
SHOP TOP VEGAMOUR PICKS FOR MEN
"Over the past year, I've spent wayyy too much money on hair loss and growth products from all over the spectrum. I've cried watching my hair come out in handfuls and look all scraggly in the ends ... and on top of all this ... I'm a hairdresser! All that being said, when I started using Vegamour [GRO] serum, within a week, I started losing half the amount of hair as per usual ... within a month, I could (and still can) count how many hairs fall out daily and let me tell you, it is very little! My hair has also grown an inch-and-a-half in one month, which has never happened to me in my life! Soooo ... I'm hooked! The pictures posted (the first one was November 2nd and the second ... November 28th (less than a month!)." – Megan B.
Shop: GRO HAIR SERUM 3-Pack Kit
Best Seller: GRO+ Advanced Hair Serum
For those looking to tap into the calming, soothing effects of CBD and therapeutic hemp oil, all the while stimulating healthy hair and reducing scalp inflammation, look no further than GRO+ Advanced Hair Serum.
This serum is powered by the same powerful phyto-actives found in the traditional hair serum, along with the added benefit of micro-encapsulated, broad-spectrum CBD. As with the original formula, apply the CBD-enhanced serum daily to dry or towel-dried hair for best results:
Fill the dropper completely.
Apply directly to the scalp.
Disperse serum evenly and massage into the scalp using fingertips.
Style your hair as normal.
Micro-encapsulated CBD means that these molecules are able to completely penetrate the upper layer of the dermis. This reaches hair follicles at the root level, allowing the following plant actives to effectively circulate into areas of thin hair, strengthening roots and increasing the appearance of hair density and volume:
Concentrated mung bean
Red clover
Curcumin and Nicotiana benthamiana extracts
Customer Anna N. called GRO+ Advanced Hair Serum a "miracle in a bottle" and attributes it to changing her life — or, at the very least, bolstering her hair and scalp for the better.
"This is an absolute miracle product, and it's changed my life!" she said. "To be able to find something with clean ingredients that's affordable and works SO FAST seemed impossible, but Vegamour is pure magic. I've told so many friends about it. If you're struggling with hair loss or thinning, this product will give you hope and life! I'm so grateful for Vegamour."
Read: Nicole Kidman's Hair Journey As Told By Her
Best Seller: GRO Biotin Gummies
Make taking your daily vitamins both healthy and delicious with GRO Biotin Gummies. Enjoy one strawberry-flavored biotin gummy vitamin per day for fuller-looking, radiant hair.
Each gummy is formulated with essential nutrients to stimulate new cell generation and keratin production, which can encourage healthier, stronger hair, as well as neutralize follicle-damaging free radicals. These key nutrients include:
Biotin (16,666% of your daily value of biotin, or 5000 mcg)
Vitamins B-5 and -12 
Vitamin A
Vitamin C
Vitamin E 
Zinc
Here's what real women had to say about how these biotin beauty boosters helped them combat hair loss!
"100% in love with this product after years of searching for help and a multitude of fish and shellfish allergies. I truly thought I would be bald ... Now I am going in for regular trims every two months. I also went through gastric bypass that also makes your hair fall out. I found myself desperate for help. I can't begin to say how grateful I am to Vegamour." – Gail
"These actually work!!!  I experienced extensive hair loss in the last two years, and finally, I found something that works! My hairstylist asked me what I had been using because my hair was growing like crazy, and it felt thicker and healthier. It also doesn't hurt that these taste so good! Highly recommend." – Ana
Best Seller: GRO Lash Serum 
Finally, get set to score fluttery fringe with the volumizing, lengthening, fortifying GRO Lash Serum! It makes use of nature's medicine — plants — so it's prostaglandin-free and hypoallergenic, making it ideal even for the most sensitive eyes.
As we age, we produce different hormones, including testosterone. Testosterone is converted into DHT, which may build up around the lashes, causing inflammation and irritation. To potentially help inhibit DHT production, the serum includes:
Red Clover (trifolium pratense) 
Plant stem cells from mung bean
Acetyl Tetrapeptide-3, a proven peptide
Ellen Z. calls it: "A wedding lash wonder! Purchased two tubes to use the months before my wedding because I didn't want to wear false lashes. Was not disappointed — application was easy, and results were visible. Thank you SO much for being vegan and cruelty-free — my number one concern."
"Lashes for days! Loving the product, I've received so many compliments about my eyes lately; the only thing new is this product. Been using about 30 days and can already tell a huge difference." – Darcie K.
Whether you're seeking a boost to your hair or lashes (or both), tap into the healing power of plant actives featured in these four bestselling products to make overall hair health a reality!
More From VEGAMOUR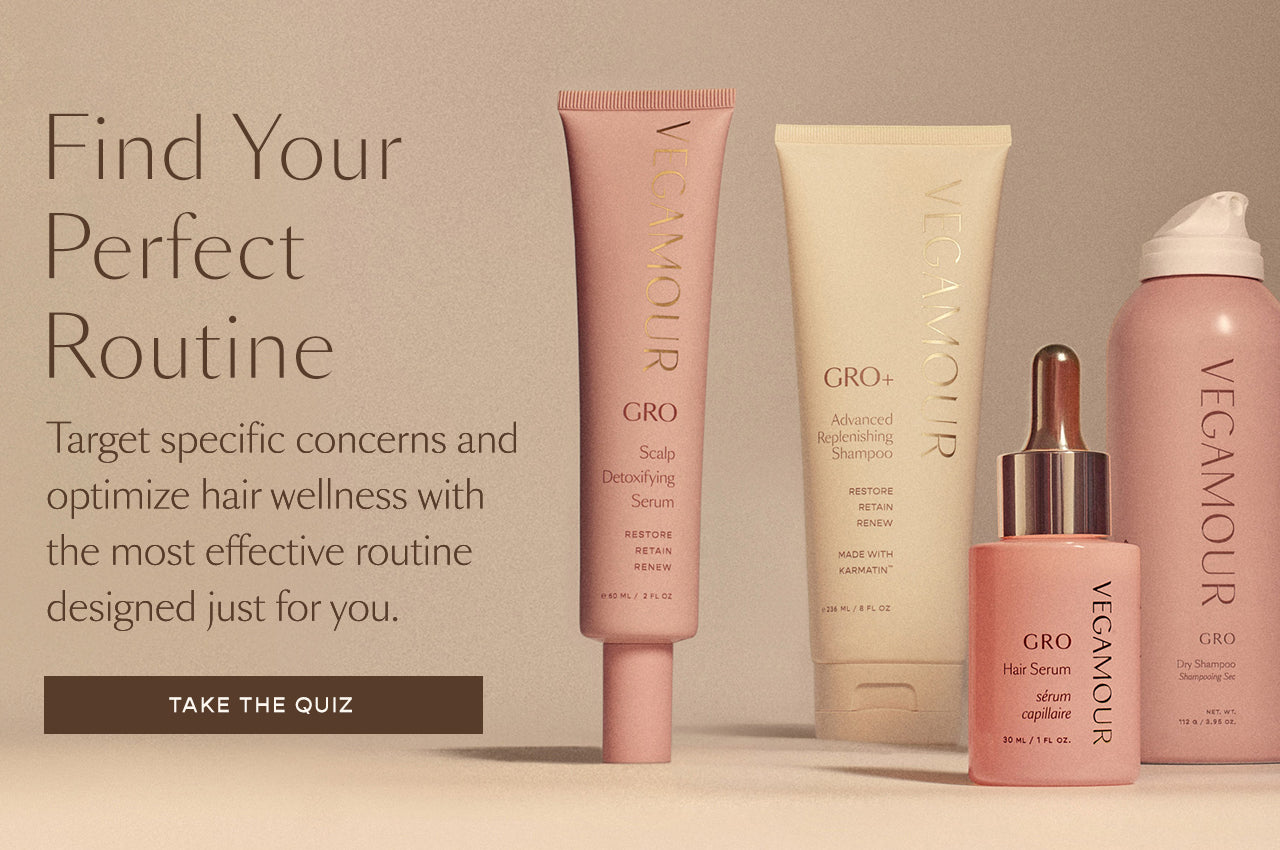 Disclaimer: Information in this article is intended for general informational and entertainment purposes only. It is not intended to constitute medical advice, diagnosis, or treatment. Always seek professional medical advice from your physician.