Why Exercise Should Be a Part of Your Hair Growth Routine
Regular exercise has plenty of perks beyond cardiovascular health. First off, you score extra endorphins (cue the happy hormone) and a boost of feel-good energy. Moving your body can also lead to a good night's sleep, reduce stress and increase energy levels. But exercise can also benefit you in ways you might not even realize — like positively impacting healthy hair growth.
That's right, aside from improving your overall health, exercising can actually make a positive difference in your mane. Working up a sweat can increase blood circulation and the number of nutrients and oxygen going to your scalp, where your hair follicles live.
If you're looking for motivation to hit the gym or join that local yoga class, maybe the thought of healthier hair strands will be the kicker. Read on to find out exercise impacts hair growth plus what else you can do to boost your strands for thicker, fuller looking hair.
Why Is Exercise Good For You?
A healthy lifestyle and wellness routine undoubtedly has a positive impact on your mind, body and soul. Unfortunately, times have been tough, and we've all suffered what feels like an unending amount of stress. A recent stress snapshot survey from the American Psychological Association offered an unpleasant insight into how the ongoing stress of the global pandemic and its constant upheaval is affecting us. If stress seeps its way into your body for an extended period, you could struggle with negative effects, such as tension, anxiety, anger and mild depression and, unfortunately, negative hair fall.
Exercising can help with several bodily complaints, including those related to stress. And some studies have shown that regularly applied exercise may relieve hormonal changes and hormonal imbalances such as polycystic ovary syndrome, hirsutism, diabetes, improper sugar balances, perimenopause and menopause.
"Exercise helps you maintain your weight, reduce risk of heart diseases, manage blood sugar and insulin levels and stimulate blood flow in the entire body," said Megan Ayala, nutrition, fitness and health expert.
Also: Does Eating Sugar Cause Hair Loss?
Does Diet Impact Hair loss?
Poor nutrition can absolutely interfere with the hair growth process, so make it a point to add vitamin-rich foods to every meal. Heather Hanks, a nutritionist and complementary and alternative medicine expert, said, "Eating more fruits and especially vegetables is a great way to get more B vitamins in, which are not stored in the body and require constant replenishing. Vegetables also contain antioxidants that fight free radical damage and eliminate underlying conditions that may prevent hair from growing long and strong."
If you're eating well but still struggling with hair loss, try supplementing your diet with the ever-popular GRO Biotin Gummies. The 100% vegan gummies have a delicious natural strawberry flavor and contain biotin and folic acid, which can help maintain and promote scalp health. In addition, vitamins B-5, 6 and 12 help support your body's production of keratin and collagen. Plus, you only need to pop one tasty gummy a day to notice fuller, luscious, healthy hair.
How Does Exercise Combat Hair Loss?
Exercising can help tackle temporary hair loss, and here's how. For hair to grow, each hair follicle must receive nutrients and oxygen from the body's blood vessels. Exercise is key because it increases blood flow to the scalp, and increased blood flow means that more nutrients and oxygen are reaching the scalp. In turn, your hair roots are nourished by healthy blood flow to the scalp, and the anagen phase of the hair growth cycle (when new hair forms) is kicked into gear.
So how much exercise do you need? Ayala said, "You can help nourish and stimulate hair follicles by performing 30 minutes of cardio exercises at least three times per week."
But don't stop there. Exercise combined with a healthy diet and a solid hair wellness routine, like VEGAMOUR's best-selling GRO Hair Serum. It features clinically proven vegan phytoactives to encourage thicker, fuller looking hair. Fortified with mung bean, curcurmin and red clover, this serum has led to amazing changes for people like this customer. 
What Exercises Should You Focus on for Hair Growth?
If you're on a mission to reduce hair loss and nourish your hair follicles, you might want to include these exercises in your routine. The best part? You don't have to break a sweat if you don't want to.
Jogging
Whether you do it on a treadmill or out in the open air, running will help you sweat. Sweating flushes out toxins from the body via your skin and scalp pores. This kind of high-impact cardio exercise also increases blood flow, which can help the hair grow.
Neck Exercises
That's right. You don't need to wear leggings to get the circulation going. Simply moving your neck from front to back and from side to side is thought to help hair growth by releasing trapped tension from the neck muscles. 
Yoga
If you've ever been to an online or in-person yoga class, you know you spend a heap of time upside down. From downward-facing down (Adho Mukha Svanasana) to a shoulder stand (Sarvangasana), yoga can be one of the most fun ways to help the hair grow long as the blood rushes toward the scalp. 
Read: 8 Yoga Poses for Hair Growth
Breathing Exercises
Ahhh. In the same vein as yoga asana, calming breathing exercises can help strengthen and oxygenate the body. This can lead to rejuvenated locks and hair that shines with health. Plus, it can also relieve stress.
Acupuncture 
While stimulating the acupressure points found across the body is considered an unconventional approach to hair fall issues, it has been known to help the hair grow faster. In fact, one study suggests that acupressure can sometimes be better than western medicine when it comes to treating alopecia areata. Pretty impressive!
Also: 5 Female Hair Loss Myths Busted
Scalp Massage 
A good head massage can help you unwind, but it also helps increase blood flow and even impact hair growth, according to a 2016 study. Use a silicone scalp massager or your fingers on your wet or dry hair to help circulate essential nutrients and oxygen toward your hair follicles. Not only will you love how relaxing and beneficial a scalp massage is, but the rhythmic movements can also help work in serums, shampoos and foams.
What About Overexercising and Dieting?
Extreme dieting and exercising can take a serious toll. "Your hair, skin and nails are often an indication of your health," said Hanks. "Improper hair growth may be due to an underlying health condition or nutritional deficiency. If you take on an aggressive exercise program and don't fuel your body properly, it could lack essential nutrients required for proper hair growth, such as vitamins and minerals. Excessive high-energy exercising could also lead to hormone dysregulation that stunts hair growth. Therefore, moderation is key."
Healthy Habits and Hair Growth: A Perfect Pairing
The health of your hair is often a reflection of your overall well-being, and hair thinning or increased shedding may mean your strands aren't getting enough nourishment. Focusing on healthy habits, like proper diet, hair wellness products and exercise, is key in tackling your hair growth issues. The best part? Your exercise routine doesn't always have to include a cardio sweat sesh. Instead, activities like yoga, acupuncture or simply massaging your head can help boost hair growth. Here's to your hair's health!
More From VEGAMOUR
Photo credit: Sandra Seitamaa/Unsplash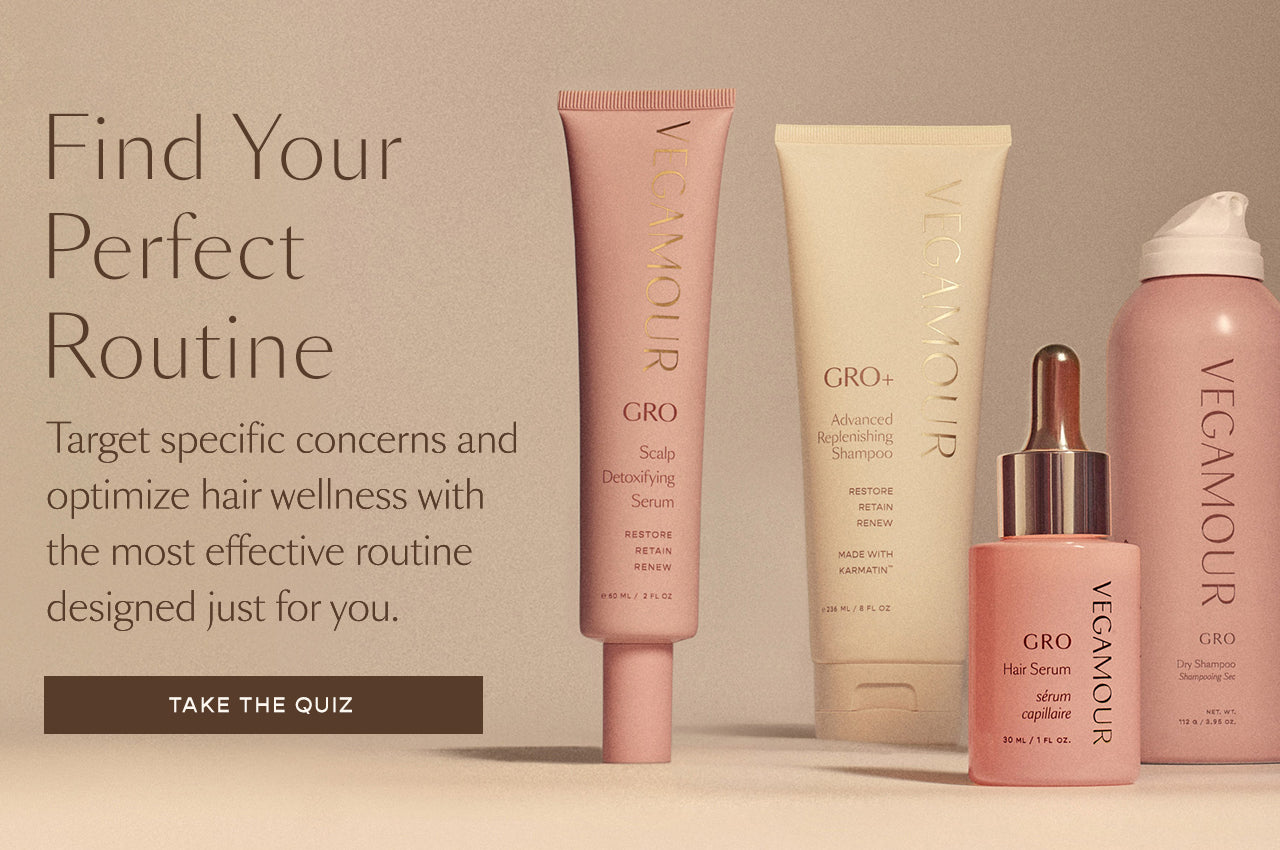 Disclaimer: Information in this article is intended for general informational and entertainment purposes only. It is not intended to constitute medical advice, diagnosis, or treatment. Always seek professional medical advice from your physician.