Can You Use Glycolic Acid On Your Scalp?
If you pay attention to the latest beauty trends then you might be familiar with glycolic acid as a popular skincare ingredient. Recently, the use of glycolic acid for overall scalp health is also increasing in popularity. This acid is said to help those with an oily scalp or flaky scalp by reducing product buildup, but does it really work? Read on to learn more about how to use glycolic acid in your hair care routine as well as the best products for creating a happy and healthy scalp microbiome.
Understanding Glycolic Acid
Glycolic acid is a type of alpha hydroxy acid (AHA) that's traditionally used in skincare. It can help to exfoliate the skin, brighten the complexion and reduce the appearance of fine lines and wrinkles. Recently, it's crossed over into hair care to treat dry, flakey scalps, which is often a precursor to hair loss.
VEGAMOUR spoke with hair surgeon Dr. Harikiran Chekuri to learn more about this powerful ingredient. "Glycolic acid is an AHA derived from natural sources like sugar cane and other fruits that has been used in skin care products for decades," he said. "Recently, it has gained popularity as a scalp treatment due to its ability to exfoliate the scalp and improve hair health."
Sounds fantastic, right? Not so fast. Dr. Chekuri explained that as with any acid (like lactic acid or salicylic acid), you need to exercise caution when using glycolic acid. It's highly recommended that you speak with your personal dermatologist or doctor before adding a chemical exfoliant like glycolic acid to your routine.
When using glycolic acid, he said it is important to start slowly and increase the frequency of use gradually. This is because glycolic acid can cause irritation and dry skin if used too frequently on sensitive scalps. It is also important to use sunscreen when using glycolic acid on your skin, as it can make it more sensitive to the sun.
Read More: Can You Use Prenatal Vitamins for Hair Growth?
How Glycolic Acid Works
So, how does glycolic acid work when used on the scalp or the skin's surface? "Glycolic acid works by gently exfoliating the outer layer of skin, which helps to reduce build-up of dead skin build-up and reveal brighter, smoother skin," Dr. Chekuri explained. "This exfoliation process helps to promote cell turnover and enhance hydration levels in the skin."
When it comes to scalp care, Dr. Chekuri explained that glycolic acid is a great way to help improve hair health because it removes excess oil and buildup of hair products. At the same time, it also increases blood flow to the scalp, boosting healthy hair growth. It can also work to remove dead skin cells from the scalp by providing gentle exfoliation and increasing cell turnover.
Benefits of a Glycolic Acid Scalp Treatment
Glycolic acid is popular for its ability to remove dead and dehydrated cells from the scalp, as well as improve circulation. These dead cells can clog the hair follicle, leading to dandruff and other scalp issues.
"Glycolic acid is thought to be especially beneficial for those with dry scalp caused by product or environmental damage," Dr. Chekuri explained. "It can help restore moisture balance and improve the scalp's overall health. Additionally, using glycolic acid on the scalp can help remove excess sebum from follicles and promote healthier hair growth."
Dr. Chekrui explained that glycolic acid is great to use as a pre-shampoo treatment because it is derived from natural sources, making it a more sustainable choice for hair care routines as compared to other harsh chemicals used in many drugstore shampoos and conditioners. "Glycolic acid can be used by all hair types," Dr. Chekuri said. "Curly, straight, wavy or color-treated. It's gentle enough not to damage any type of strands."
Read More: How to Exfoliate Your Scalp for Healthier Hair
What to Expect When Using a Glycolic Acid Scalp Treatment
There are numerous benefits to using glycolic acid on the scalp, but once again it's important to talk to your doctor or dermatologist before using it. As with any AHA, some people with dry skin or sensitive skin might develop a reaction after using it. For most people, it can be used to remove product buildup and get rid of any dandruff without any major harmful side effects. Here's what you can expect.
"When using glycolic acid on the scalp, you can expect to see an improvement in overall scalp health," Dr. Chekuri said. "With regular use, you may notice a decrease in product buildup, reduced oiliness and healthier hair growth from follicles that are nourished and hydrated."
The benefits of a glycolic acid treatment include:
Removal of product build-up
Improved circulation to the scalp
Nourishing of hair follicles for optimal hair health
Restoration of moisture balance for dry scalps
Reduction in oiliness
Promotion of healthier hair growth
Natural Options for a Healthy Scalp
If you are nervous to try an AHA on your scalp, you can use other natural products to help clarify and clean the scalp like VEGAMOUR'S GRO Scalp Detoxifying Serum. This all-natural, vegan serum is formulated with a proprietary vegan silk protein that gently removes persistent scalp buildup and soothes an irritated scalp — all while providing a semi-permeable barrier.

GRO Scalp Detoxifying Serum helps moisturize the scalp by locking in moisture and protecting the scalp from harmful environmental pollutants. It uses zinc PCA to absorb excess oils while reducing scalp irritation and supporting the skin's natural moisture. Epilobium Angustifolium (Willowherb) Extract helps to reduce the appearance of both adherent and non-adherent flakes safely. Wild-harvested baobab and marula oils help to provide additional antioxidant support in the form of omega 6 and omega 9 fatty acids.
Pair that with VEGAMOUR'S Revitalizing Scalp Massager to help stimulate the scalp and boost its health. A revitalizing scalp massage on wet hair can help your shampoo and conditioner penetrate the hair follicles for an even deeper cleansing and moisturizing experience. Or, try a scalp massage on dry hair to help stimulate blood flow and strengthen your hair follicles. No matter your hair type, a good scalp massage can help remove excess product buildup and encourage healthy hair to grow long and strong.

Read More: The 5 Benefits of Scalp Massage (Including Hair Growth!)
The Takeaway
Glycolic acid is a safe, natural and effective way to improve the health of the scalp and promote healthy hair. It chemically exfoliates your scalp to help remove dead skin cells and product buildup, increase circulation and nourish your hair at the root. With regular use of glycolic acid on the scalp, you can expect improved moisture balance, reduced oiliness and an overall increase in the health of your hair. If you are nervous about using a potent AHA like glycolic acid on your scalp, try using quality all-natural products on the scalp instead to help gently exfoliate and balance out your scalp's microbiome.
More From VEGAMOUR
Photo credit: PeopleImages/iStock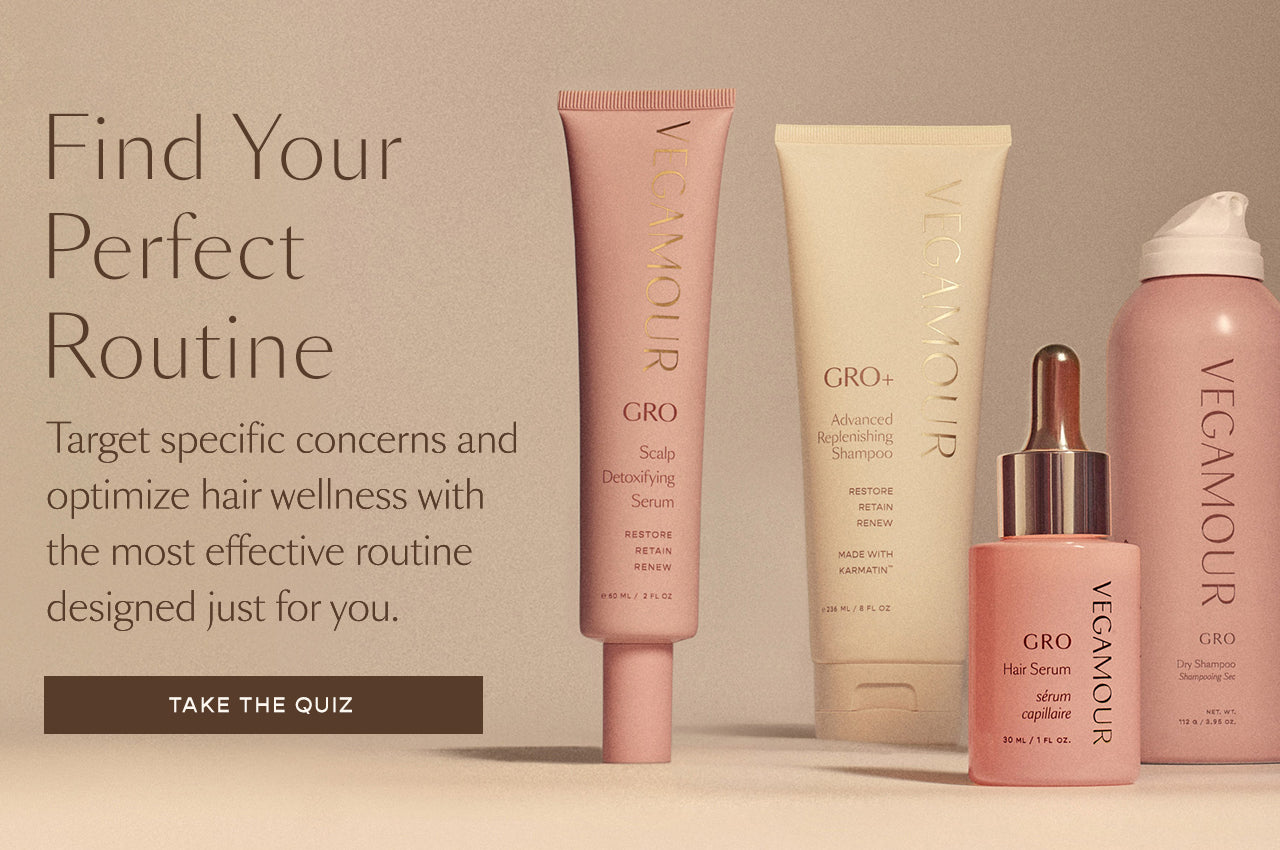 Disclaimer: Information in this article is intended for general informational and entertainment purposes only. It is not intended to constitute medical advice, diagnosis, or treatment. Always seek professional medical advice from your physician.