Try The CBD Serum That Transformed My Hair
It's no secret that I want a "good hair day" every day. But after a sun-drenched summer of travel and the beach, my locks looked worse for wear, and my scalp was also feeling stressed. I knew I had to make a change to my hair care routine to get things back on track.
Fortunately, I found a CBD-infused VEGAMOUR hair serum that worked like magic. Read on for my GRO Advanced hair serum review, and find out what products you really should be using to bolster your scalp and hair wellness.
Why Use Clean Hair Serums?
Let's start with the basics: Healthy hair starts with a healthy scalp. And although the combination of sun and fun had been great, my scalp and hair were both craving a reset!
I'm diligent with my self-care routine, and I love skin serums, so it made perfect sense to incorporate hair serums into my hair wellness routine. I'd previously used (and achieved visible results) with VEGAMOUR's best-selling GRO Hair Serum, so I was excited to take GRO+ Advanced Hair Serum for a test drive. Anything that could help alleviate the effects of stress — sign me up!
Explore: VEGAMOUR Hair Serum Reviews From Customers
Hemp for Your Hair: The GRO+ Advanced Difference
Tons of products are out there that promise to help with hair thinning and stimulate hair growth. However, many use harsh chemicals, hormones and harmful toxins to increase hair thickness. And because I am hyper-conscious of what I put in (and on) my body, using anything with potentially toxic ingredients is simply not an option for me.
That's exactly why introducing GRO+ Advanced Hair Serum into my rotation was a no-brainer. Just like the brand's original GRO Hair Serum, the advanced formula is powered by scientifically proven, clean, all-natural ingredients, including hair-boosting isoflavones, which have antioxidant, antimicrobial and anti-inflammatory properties. Here's some more about the serum's benefits.
Clean and cruelty-free: The 100% vegan, cruelty-free ingredients are important to me as a vegan. I could rest assured that my somewhat sensitive skin wouldn't experience irritation from the non-toxic, water-based formula that doesn't contain any GMOs, parabens, phthalates, sulfates, silicone, mineral oils, gluten, synthetic fragrance or hormones.
Safe & effective: The serum is gentle and safe for daily use on all hair types.
Contains turmeric (Curcuma longa): I love to eat turmeric for its anti-inflammatory properties, so I was excited to see how it might help my hair with its potential to lengthen the anagen phase (growth phase) of the hair growth cycle.
Contains mung bean: Due to its hair-enriching minerals, mung bean may strengthen the hair follicle and help it be more resistant to premature shedding.
Contains red clover: Red clover, full of hair-boosting isoflavones, may help combat the negative effects of DHT and inhibit DHT production, which if left unchecked can lead to thinning hair.
Harnesses naturally healing hemp: CBD has the potential to help soothe and calm the scalp, which sets the stage for healthy hair follicles.
Features VEGAMOUR's signature scent: The serum features the fresh, citrusy bergamot scent that is standard in the brand's serums.
Offers clinically proven results. With consistent, daily use, you can see fuller-looking hair in as soon as 90 days!
Read: Why CBD Is the Icing on the Cake for Hair Products
My Journey to Healthier Hair
I was most excited to start using the serum for the simplest reason: I had high hopes it would work even better than the original! In clinical studies, consistent, daily use of GRO+ Advanced Hair Serum has been shown to increase visibly fuller hair, along with reduced signs of shedding, in as soon as 90 days.
Here's how I use the serum in my daily routine.
Start the day fresh. The serum can be applied morning or night. I personally apply it each morning as part of my skincare routine, when I am awake and motivated to practice self-care. Tip: I keep the serum next to my sunscreen and GRO+ Advanced Lash Serum, so it's impossible to forget my must-have morning trifecta!
Use a full dropper. Fill the dropper full and apply directly to your scalp.
Customize to suit your needs. I parted my dry hair into several sections, securing each one with a clip so I could clearly see where to apply the serum. I did this throughout my hairline. This would be helpful if you have thick hair in some spots to identify the specific areas where hair is more sparse so you can focus on those.
Evenly disperse the serum. I used my fingertips to massage it into the scalp thoroughly to enhance blood circulation and give myself a soothing massage at the same time.
Style as desired. The serum works best on dry or towel-dried hair. It's a leave-in product, so you can style your hair any way you choose immediately after using it. Best of all, it's lightweight and non-greasy, so you won't have to worry about it weighing down your strands or making your hair look oily.
Keep it consistent. Apply daily for best results. I followed this step exactly, never missing a day. Once a week, I also made sure to give my scalp extra TLC using a scalp detoxifying serum.
Shop: Stock up with a 3 Pack of GRO+ Advanced Hair Serum
The Verdict: My GRO Advanced Hair Serum Review
I definitely saw a noticeable difference after about eight weeks of everyday application. My beach-damaged hair felt better than ever, and there was definitely an increase in the number of new baby hairs around my hairline. Plus, my scalp felt great!
I was also impressed that the visible results were evenly dispersed on both sides. Before using the serum, I had previously felt like the areas above my temples had looked extra sparse — thankfully, I could say goodbye to that annoying issue! I love this serum so much that I signed up for VEGAMOUR's Subscribe & Save feature, which helps me save money and not have to ever worry about running out.
Try GRO+ Advanced Hair Serum for Yourself
Enough said. It's time for you to try this serum for yourself. But don't stop there! Maximize the benefits of full-spectrum hemp oil, infused into all GRO+ Advanced products, by also trying the shampoo, conditioner, eyebrow, eyelash and scalp detoxifying formulas.
For optimal results, combine all of these products, which are designed to work together, to build your own unique, natural, nourishing, safe and effective self-care routine that you'll look forward to doing each day!
MORE From VEGAMOUR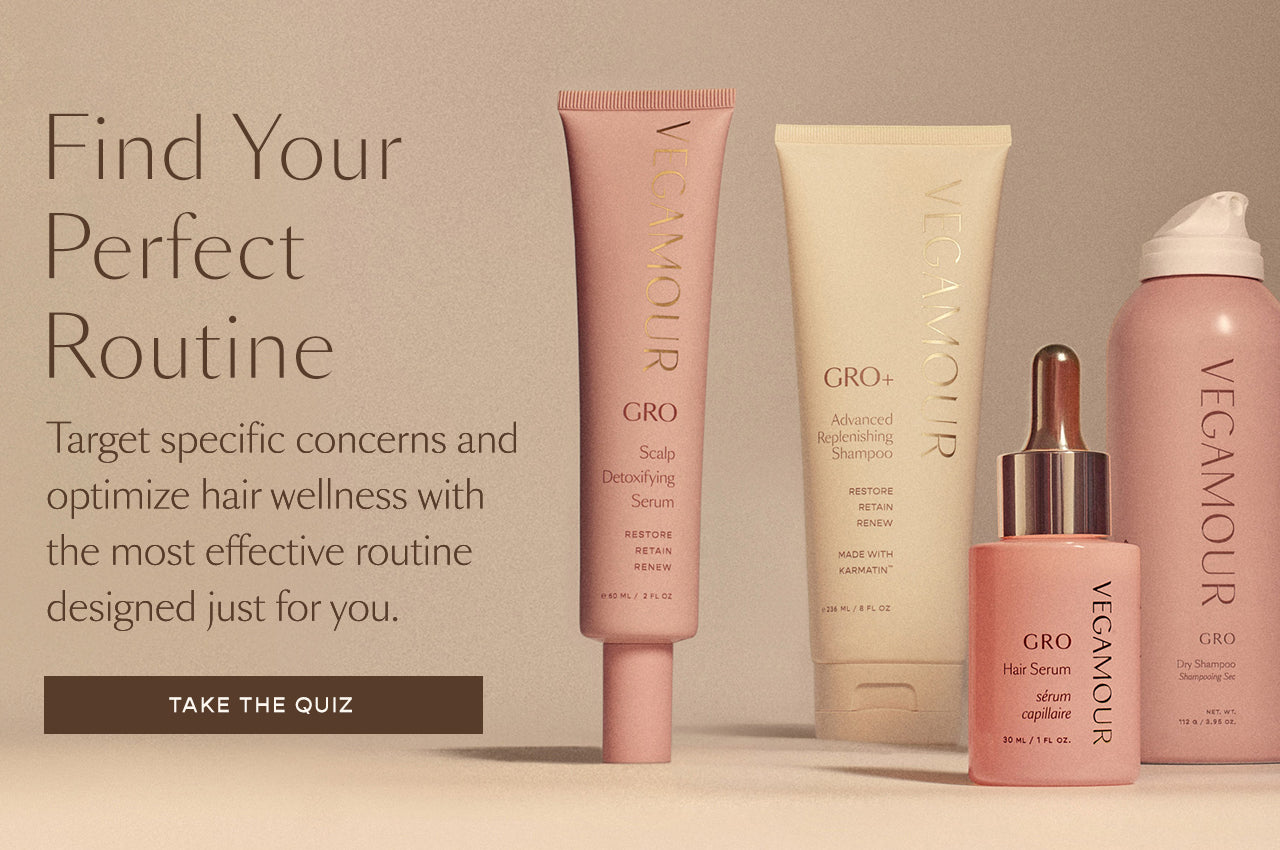 Disclaimer: Information in this article is intended for general informational and entertainment purposes only. It is not intended to constitute medical advice, diagnosis, or treatment. Always seek professional medical advice from your physician.