Your Guide to Dealing With Hair Breakage
If sparse strands are stressing you out, relax! Experiencing some hair breakage is a normal part of life. However, when you start seeing more and more missing hair, you may start wondering what (or, if anything) can be done to stop hair breakage — and will it interfere with healthy hair growth or lead to hair loss?
Below, find out what's behind your hair breakage and how to deal with it. Plus, discover the best products you should use to treat hair breakage and help combat thinning hair, starting right now.
Getting Right to the Root of Hair Breakage
Let's get right to it: Hair breakage is just what it sounds like, broken hair. Hair breakage is not necessarily an indication of more substantial hair loss, where hair strands are hair falling out from the root. When you experience hair breakage, you may also be concerned by baby hairs around the hairline. Don't worry, these are like a normal part of the hair cycle and may actually be a sign of new growth, rather than a sign of hair loss or breakage.
A certain amount of hair breakage is to be expected. Noticing split ends, extreme frizz or broken hair around the hairline, nape and length are some telltale examples of breakage. Your daily styling routine (think: combing, brushing, detangling and washing your hair) can contribute to potential causes of hair breakage. Read on for more about how to prevent future hair breakage, starting from the beginning: Figuring out the reason why it's happening!
Read: Hair Loss vs. Hair Breakage: The Difference and Why It Matters
5 Steps to Identify Hair Breakage
Healthy-looking hair is smooth and soft, as the hair cuticle lies flat and the hair shaft unbroken. However, when the hair cuticles are damaged, the hair shafts may break along the length of your hair, creating breakage. There are elements that may factor in and your hair more prone to breakage.
Having a tough time figuring out what exactly is behind your hair breakage? Explore this guide:
1. Ask If It's Really Breakage
"The easiest way to tell the difference between hair fall and hair breakage is by comparing the length of the strands," said stylist Angel Mendez of Salon Yoshiko at Bergdorf Goodman in New York City. "Breakage will result in a shorter strand, while hair fall will be longer with the follicle (lighter "bulb") attached to one end."
2. Observe Your Hair Habits
Breakage can be connected with damaging styling habits and the products you use. Extremely dry hair or brittle hair might be related to harsh chemicals in processes such as bleaching or relaxers or certain hair products that strip your hair of moisture and natural oils.
Consistently wearing tight styles such as a high ponytail or going overboard with hot tools such as a curling iron or turning up the heat on your blow dryer can also lead to damaged hair. That's exactly why it's so important to choose mindfully when it comes to your hair care — opt for plant-based, clean ingredients that support and nourish your hair naturally.
Shop: GRO+ Advanced AGELESS Daily Duo
3. Make a Split Decision
"Split ends are different from breakage," said Mendez. "As they remain attached to the scalp, just with the ends split into two (or more) thinner strands. "
4. Go See Your Stylist
"Sometimes, it can be hard to distinguish between hair breakage and hair regrowth," said Mendez. "If you have any concerns, make an appointment with your stylist."
5. When You Should See a Doctor
If you're experiencing excessive hair breakage or loss, it could be a warning sign of an underlying health issue. If you suspect any health conditions (thyroid disorders and eating disorders are some examples) might be a factor, consult with a medical professional.
Related: Baby Hairs or Breakage? How to Tell the Difference
How to Deal With Hair Breakage
Now that you've tackled what's going on with your hair, it's time to figure out what to do about it! Hair breakage treatments start from the inside out. Check out these ideas:
Turn Down the heat
"The best way to prevent hair breakage is to avoid heat styling, which can be difficult," said Mendez. "There has recently been an uptake in heatless styling techniques, such as sock curls."
Blow Dry Basics
"If you are able, minimize the use of heat on your hair," said Mendez. "Save heat styling for special occasions." If you do use a hair dryer, Mendez recommends using the nozzle attachment to protect hair from breakage caused by excess heat. Point the dryer in the direction that the brush is moving to help seal the cuticle and add shine.
"Some hair breakage is inevitable for most people, but especially those who frequently use heat to style their hair," said Mendez. "It is possible to minimize damage and breakage by using a heat protectant, as it coats the strands in a protective layer that's resistant to high temperatures, allowing hair to withstand the heat and styling."
Be Mindful When It Comes to Hair Accessories
According to Mendez, another small change that will make a big difference is swapping out your pillowcases and scrunchies. Ditch the abrasive fabrics in favor of satin or bamboo hair ties and pillowcases, which as much more gentle and won't crease, pull or damage your strands.
Brush Up on Your Pre- and Post-Shower Routine
"Brush your hair before you shower to help minimize tangling while washing your hair," said Mendez. "After washing hair, be sure to use a brush made specifically for wet hair to brush out any tangles."
Cleanse and Condition With Extra TLC
"Address any damage repair by using products to help repair the look of damaged hair if your hair is already damaged and you are trying to revive your strands," said Mendez. "Make sure to use a nourishing shampoo and conditioner, as your hair is most likely dry and not getting enough moisture will allow it to break more easily." Transform your shower with this plant-powered pair: GRO+ Advanced Replenishing Shampoo and Conditioner feature micro-encapsulated hemp that penetrates deep below the scalp surface to soothe irritation, stimulate follicles and promote hair growth. Best of all, vegan b-SILK™ protects hair fibers with a sheath of Karmatin™, a microencapsulated protein that bonds to your hair, lasting until the next time you lather, rinse and repeat!

Do a Deep Conditioning Treatment Weekly
"About once a week, use a deep conditioner or bond-strengthening treatment. Once your hair bonds are intact, it is much more capable of retaining moisture," said Mendez. "If your hair is susceptible to breakage, incorporating a weekly leave-in conditioning treatment or hair oils will help nourish and strengthen the hair."
Stick to a Schedule With Your Stylist
"See your stylist for regular hair trims or cuts. Trimmed hair will help blend healthy hair with strands that have broken," said Mendez. "This will give hair a more overall healthy look."
The Takeaway
Hair breakage can be a bummer — but, it doesn't have to be! Derail damage before it starts by integrating this guide into your regular routine and taking a holistic approach to your hair care and overall wellness.
Maintain a balanced lifestyle by adopting healthy habits including movement, hydration, nutrition, practicing regular self-care and swapping any potentially problematic products with clean, natural, plant-based hair wellness to support and nourish your hair naturally!
MORE From VEGAMOUR
Photo credit: Tim Samuel/Pexels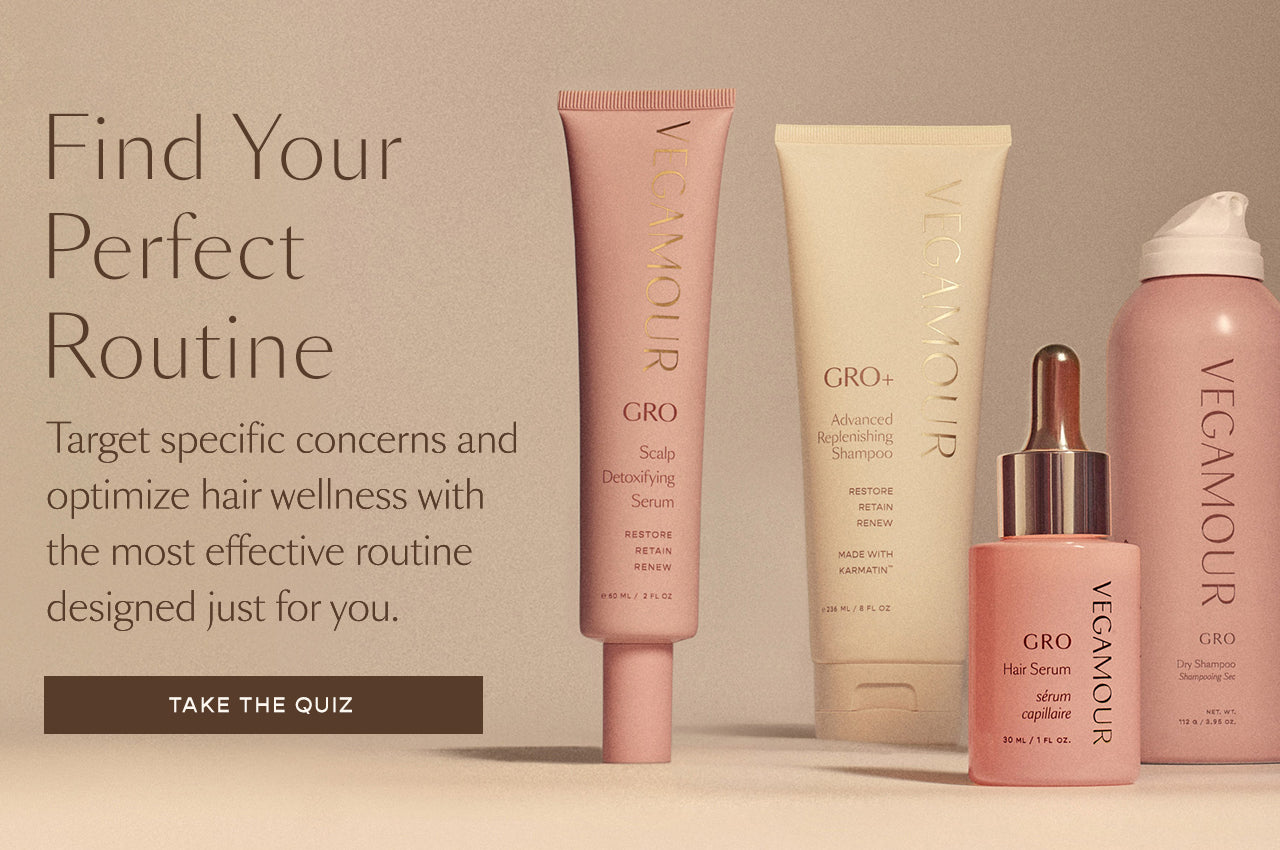 Disclaimer: Information in this article is intended for general informational and entertainment purposes only. It is not intended to constitute medical advice, diagnosis, or treatment. Always seek professional medical advice from your physician.