How Often Should You Wash Thinning Hair?
There's nothing quite like that freshly-washed hair feeling — until you start to notice more and more hair winding up in the shower drain rather than on your actual head. And when that happens, apprehension and anxiety can creep in.
If you're experiencing thinning hair, now's the perfect time to adjust your routine and start caring for your hair appropriately. Read on to learn how often you should wash your hair, along with what hair products you should use to combat thinning hair naturally.
What Causes Thinning Hair?
Picture this: You're in the midst of washing your hair for the third time in a week, and it feels like your hair thickness isn't quite right. Hair thinning or shedding impacts all hair types of both men and women alike and can be a result of a range of internal and external causes.
According to board-certified dermatologist Dr. Hadley King, M.D., one such cause of thinner hair can be telogen effluvium, a type of hair loss triggered by stress to the body or mind or an abrupt hormonal change, such as stopping an oral contraceptive or being postpartum. 
"When a person experiences telogen effluvium, they typically notice significant shedding that begins two to four months after the stress," Dr. King said. "It is painless but can be dramatic to the point that the person notices significant thinning of their hair." According to Dr. King, factors that play a role in hair thinning include age, genetics and the sensitivity of the hair follicles to the hormones.
"It's normal to shed between 50 and 100 hairs per day," he said. "If you're observing more than that, it may be time to adapt the way in which you wash your hair and how often you do so."
If all this leaves you stumped, here's how to cultivate the ideal hair care routine for your hair and its unique needs.
Shop: GRO More Kit for Hair
How Often to Wash Thinning Hair
Lather, rinse, repeat? Perhaps not — especially for those looking to avoid thinning hair.
Less is better when it comes to thinning tresses, meaning less frequent shampooing, along with changing up the way you wash your hair. Damaged hair can result from overwashing with shampoos or conditioners that contain chemical ingredients. And abrasion to the scalp and hair follicles from harsh washing techniques can ultimately have negative effects on hair growth.
Wash Your Way to Healthier Hair
No matter your hair type or texture (think: coarse hair, thick hair, curly hair, fine hair, dry hair, oily hair), the particular shampoo and conditioner you use to wash your hair is key.
"Once a hair strand reaches beyond the surface of the scalp, it is physiologically dead," said Dr. King. "Because of this, it cannot be nourished, only preserved.  A hair care regimen that allows the protective layer, or hair cuticles, to remain intact for as long as possible will decrease breakage and drying out. Keeping the hair moisturized with hair conditioners, creams and oils helps to avoid dryness and therefore decrease the risk of damage and breakage."
While there may not be a one-size-fits-all formula for sudsing up that suits all hair types and textures, utilizing plant-based options for thinning hair can be helpful, according to Dr. King.
Related: Hair Shedding vs. Hair Loss — How to Tell the Difference?
Go Natural With Your Shampoo
Choose a gentle shampoo and nourishing conditioner that skip the harsh chemicals and hormones, such as GRO Revitalizing Shampoo and Conditioner. Or opt for the hemp-infused GRO+ Replenishing Shampoo and Conditioner, which contain the added scalp-soothing properties of healing hemp oil.
No matter whether you choose GRO or GRO+, you'll get the benefits of powerful plant actives — plus, VEGAMOUR's proprietary ingredient, Karmatin™, a vegan alternative to keratin. The result: A healthy scalp and smooth, radiant hair that looks visibly denser.
In fact, you should be choosy when selecting any hair products or styling methods due to the potential damage they can cause.
"Shampoos with harsh detergents can dry out the cuticle, as can hair gels and sprays that contain alcohol or other drying ingredients," said Dr. King. "Heat and chemical styling can also dry out the cuticle, increasing the risk of damage and breakage."
Watch Water Temperature and Pressure
Aside from heat damage, other external elements can have effects on hair thinning. How hot your shower is, hard water and the pressure and hardness of the water can also impact the hair cuticles and even lead to hair loss.
Shop: GRO+ Advanced Relaxation Kit
Use Dry Shampoo
Another idea to keep your scalp healthy and protect thin hair is to ditch the daily lather in favor of using dry shampoos. An added bonus: Minimizing how often you wash your hair means you can take a break from the heat of your hairdryer.
Opt for GRO Dry Shampoo, which fuses the elements of traditional dry shampoos with plant-powered phyto-actives that promote and encourage a healthier hair and scalp ecosystem. The lightweight dry shampoo is made without talc and benzene and is scalp-balancing and volumizing. Plus it absorbs excessive oil, sweat and odors, which leave hair looking, smelling and feeling clean.
Start a Scalp-Care Routine
While the scalp produces natural sebum necessary for moisture and protection, it sometimes needs some extra help. Integrating scalp care as an important pre- and post-shampoo hair care routine can also help to protect and improve thinning hair.
Dr. King emphasized using plant-based ingredients and natural oils, including the following:
Biotin
Dr. King also believes biotin is an important hair care ingredient because it can help prevent hair breakage. Get your daily dose of biotin with our GRO Biotin Gummies. These yummy, naturally strawberry-flavored gummies contain plenty of other hair-healthy vitamins and minerals too.
Shop: Total Body Wellness Collection 
Pumpkin Seed Oil
"Pumpkin seed oil has been shown to block the action of 5-alpha reductase, an enzyme that converts testosterone to DHT, and this is thought to be why oral pumpkin seed oil may help decrease hair loss in androgenetic alopecia," said Dr. King. Pumpkin seed extract is a key ingredient in GRO WELL Hair Boost Supplement + Probiotic.
Ginseng Root
According to Dr. King, "This is another ingredient to look for because ginseng stimulates scalp microcirculation and helps to inhibit the production of DHT, the main hormone responsible for androgenetic hair loss."
Give Your Scalp Regular Massages
"Also, some studies have shown hair growth benefits from scalp massage, so I would recommend taking time to massage these oils when applied to the scalp," said Dr. King.
Consider using the GRO Revitalizing Scalp Massager. It's safe for use on all hair types and features gentle bristles that stimulate the scalp and its circulation while offering a calming massage.
Do a Scalp Detox Weekly
In addition to Dr. King's recommendations, consider doing a weekly scalp detox before you shampoo and condition to get rid of environmental and product buildup that can collect on the skin of your scalp.
"Using it externally, such as before rinsing, could help support healthy hair or increase its shine," said New York City hairstylist Jasmine Anna Galazka. It also may help to maintain thicker hair and boost the existing hair follicles to stimulate scalp circulation.
Consider GRO Scalp Detoxifying Serum, which gently removes scalp buildup while soothing and protecting the scalp.
Burdock Root
"This can be helpful for dandruff because of its anti-fungal and anti-inflammatory properties, and malabar kino bark, which also has anti-fungal properties," said Dr. King.
Quinine Extract
Dr. King said quinine extract is from the bark of cinchona trees. "It may improve hair loss by helping to regulate the transition to the telogen phase of the hair cycle, decreasing hair shedding," she said.
Rosemary Seed Oil
"A 2015 study compared rosemary oil to minoxidil for hair growth, and at six months, both groups saw significant increases in hair growth," said Dr. King. "This effect could be due to rosemary oil's enhancement of microcapillary perfusion."
Related: 10 Things You Should Do If Your Hair Is Thinning
Be Mindful When Washing and Beyond
Not only is the way you wash your hair important, but you should also address other areas of your life that can impact your hair. Reduce stress by regularly practicing relaxation techniques, such as meditation, yoga, massage and being mindful. Also, strive to eat a healthy diet, stay hydrated and get plenty of sleep. The bottom line is to always make total self-care a priority, which is key for the health and wellness of your mind and body, including your skin, scalp and hair!
More from VEGAMOUR
Photo credit: Robert Gomez/Unsplash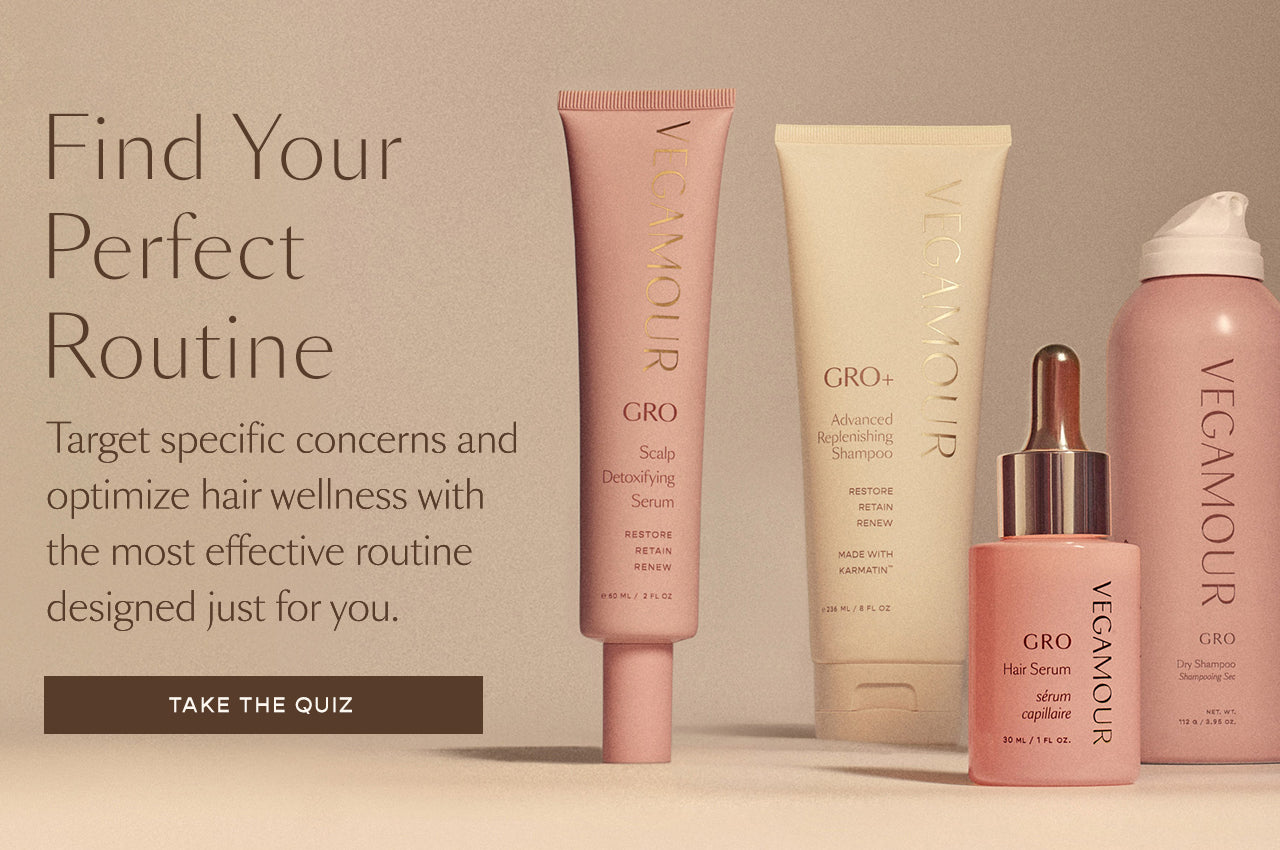 Disclaimer: Information in this article is intended for general informational and entertainment purposes only. It is not intended to constitute medical advice, diagnosis, or treatment. Always seek professional medical advice from your physician.