These Are The Benefits of L-Lysine for Hair
So many supplements are on the market today that it's sometimes hard to keep track of them all. And while you likely are up to speed on the benefits of basic vitamins and minerals, do you know what amino acids, such as L-lysine, can do for your body and your hair?
Read on to learn more about L-lysine and why your body needs it — plus, find out what supplements you really should be using to encourage healthy hair.
What is L-Lysine?
L-lysine is an amino acid that's also a building block for protein. It's not generated by the body, but it's essential for good health. L-lysine is only found in food and supplements, so it's something you have to add to your diet.
L-lysine can be found in many protein-rich, vegan foods, including the following:
Soybeans
Tempeh
Black beans
Navy beans
Chickpeas
Hummus
Edamame
Avocados
Pears
Tomatoes
Potatoes
Quinoa
Pistachios
Pumpkin seeds
While L-lysine is found in many types of food, those whose diet may be deficient in this amino acid might benefit from taking it as a supplement. For example, if you are vegan and don't eat beans or you are an athlete, it's possible that you might have an L-lysine deficiency. However, it's important to talk to your doctor beforehand if you are pregnant or breastfeeding or have kidney or liver disease to avoid any adverse effects.
Shop: These Supplements Can Help You Get Thicker, Fuller, Shinier Hair
How L-Lysine Affects the Body
L-lysine has many positive benefits for the human body. In adults, the amino acid assists with muscle turnover and also transports fats across the cells to be burned for energy. It might also help with calcium absorption and retention, promote wound healing and reduce anxiety. It also plays an important role in iron and zinc absorption.
Some studies have even shown that L-lysine supplements can be effective in reducing symptoms of the herpes simplex virus.
L-Lysine and Hair
When it comes to your hair health, L-lysine can help with many issues, including hair loss, dandruff, brittle hair and hair elasticity.
"L-lysine can be taken as a supplement to boost your levels and improve the health of your hair," said Dr. Daniel Boyer. "L-lysine is essential in creating protein in the body, which is necessary for healthy hair growth. If you have fine or thinning hair, adding L-lysine to your diet can help you achieve fuller, thicker hair by boosting hair production. It improves circulation to the scalp and nourishes each strand of hair with essential nutrients to help them grow healthy and strong."
One double-blind study concluded that women who had experienced increased hair shedding benefited from L-lysine and iron therapy to improve hair growth.
Taking L-lysine supplements has also been shown to reduce scalp conditions, such as dandruff.
"Dandruff causes dry, flaky skin on the scalp that leaves your hair looking dull and unhealthy," Dr. Boyer said. "L-lysine is effective in treating dandruff by reducing inflammation on your scalp, as well as its ability to cause shedding from treatments like antifungals or shampoos that contain coal tar derivatives."
Who Might Benefit From L-Lysine Supplementation
L-lysine may be beneficial for those who feel their diets are deficient in the amino acid but consult with your medical professional first. In some instances, vitamin deficiencies can cause hair loss. In others, overdoing it on supplements can increase hair loss. If you want to improve the health of your hair, skin and scalp, there are other natural supplements you might want to consider adding to your wellness routine.
Here are some of the symptoms of an L-lysine deficiency:
Fatigue
Nausea
Dizziness
Lack of appetite
Agitated state
Red, bloodshot eyes
Anemia
Disorders related to the reproductive system
Natural Supplements Curated for Hair
If you're looking for supplements specifically for boosting the health of your overall hair biome, consider these VEGAMOUR products.
The supplement is available in several delicious flavors, including mixed berry, cacao, peach mango and matcha green tea. You can also purchase a multipack if you want to try more than one flavor. Here are some fast facts.
No carbs and no added sugar
100% vegan and gluten-free
Satisfaction guaranteed.
30 stick packs (30-day supply)
GRO+ Advanced Gummies
If your chief concern is hair loss, hair thinning, increased hair shedding or female pattern hair loss, VEGAMOUR GRO+ Advanced Gummies can help combat hair loss and give you fuller, thicker-looking hair.
These naturally fruit-flavored, 100% vegan gummies contain CBD as well as biotin, folic acid, zinc and other beneficial vitamins and minerals that help create a healthy hair biome. This supplement will give your hair what it needs most to flourish and shine.
100% Vegan
No artificial flavors
10 mg CBD and 10 mg CBG per gummy
Non-psychoactive
30 gummies (30-day supply)
As always, talk with your health care provider about adding new supplements to your diet.
The Takeaway
L-lysine is a beneficial supplement that is helpful for overall health as well as hair health. It can be found in natural foods or taken as a supplement. Although most people get enough lysine in their diet, if you're a vegan who doesn't eat beans or an athlete, you may need supplementation.
L-lysine is also beneficial for dandruff and hair loss, as well as for lowering cholesterol levels and blood pressure by stabilizing blood sugar. It can also improve the strength and elasticity of your hair.
If your diet seems to be deficient in L-lysine, check with your health care provider about adding it to your diet via nutritional changes or high-quality, natural supplements to improve hair health.
More From VEGAMOUR
Photo credit: Karolina Grabowska/Pexels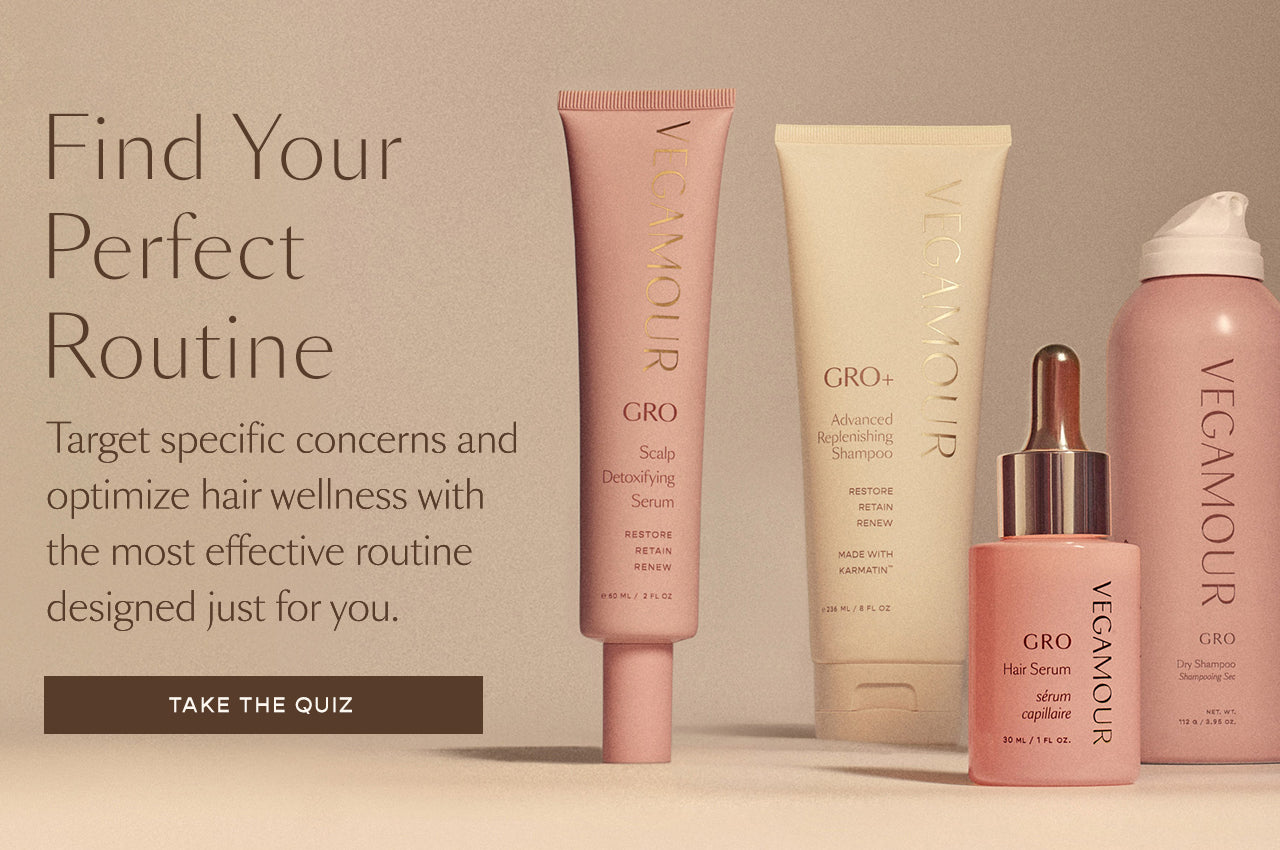 Disclaimer: Information in this article is intended for general informational and entertainment purposes only. It is not intended to constitute medical advice, diagnosis, or treatment. Always seek professional medical advice from your physician.