6 Must-Have Winter Hair Care Products
Winter weather extremes can wreak havoc on your hair — but they don't have to if your hair is prepared! Here's how to pamper, protect and prep your tresses and scalp for the months ahead and beyond. Read on to find out what products you should really be using for ultimate in hair wellness.
Hair Wellness to Combat Winter Woes
With winter weather comes the harsh elements of nature that can weaken hair, leaving it fragile and vulnerable. Conditions like dry, static-inducing air indoors and frigid temperatures outdoors can add up to dry scalp and hair, static in your strands or pesky white flakes dusting your shoulders.
Treating your scalp and hair with self-care is just like a skin care routine — necessary for both scalp and hair wellness. Integrate these six must-have hair wellness products into your rotation to get your hair through winter and the months beyond! 
Shop: GRO Hair Wellness Collection
1. GRO+ Advanced Scalp Detoxifying Serum 
Healthy hair starts from within a balanced scalp. Do a weekly detox with GRO+ Advanced Scalp Detoxifying Serum to clarify and balance the scalp microbiome. The serum includes micro-encapsulated, full-spectrum hemp to help eliminate bacteria harmful to healthy hair growth and works to remove stubborn scalp buildup, soothe skin damage, reduce irritation and stress and diminish flakes.
The detoxing formula also includes Zinc PCA to absorb excess oils. Plus, it contains proprietary vegan silk, which helps gently eliminate buildup, dirt and pore-clogging impurities and creates a protective, semi-permeable skin barrier — sealing in moisture and shielding the scalp from environmental pollutants.
Apply the serum to dry hair for a visible reduction in dandruff symptoms as soon as three days after first use. To use, part hair evenly, actively massaging into your scalp for one to two minutes. Leave on for five to 10 minutes, relax and rinse. Follow with shampoo and conditioner. 
2. GRO Revitalizing Shampoo & Conditioner
Transform those winter hair wash days into an opportunity to cleanse, condition and recalibrate. GRO Revitalizing Shampoo & Conditioner promote hair health via our proprietary vegan keratin alternative Karmatin™, which acts as a b-SILK™ protein bond to help repair damage, prevent breakage and strengthen hair that's suffering from the elements. 
The shine-boosting pair is also free of sulfates, parabens, silicones, gluten and artificial fragrances, making them gentle enough for daily use, color-safe and suitable for all hair types. For best results, pair them with GRO Hair Serum or GRO Hair Foam.
Shop: Lindsay Arnold's Top Vegamour Picks
3. GRO+ Advanced Gummies 
Taking a daily supplement is all the more important during the winter to maintain your well-being, including optimal immune function. Elevate your daily dose of vitamins, minerals and key nutrients with GRO+ Advanced Gummies, which stimulate hair follicles from the inside out. 
Packed with good-for-you ingredients, these strawberry-flavored gummies include your daily value of biotin, along with folic acid, Vitamins A, B-5, -6 and -12, C and E and zinc to support and nourish the scalp and hair. The supplement also features 10 mg CBD and 10 mg CBG per gummy to tap into the therapeutic power of broad-spectrum healing help oil to encourage thicker, fuller looking hair. 
4. GRO Dry Shampoo
Extend the time between hair wash days with GRO Dry Shampoo. Or, opt to use it as volume- and texture-boosting spray to protect hair from winter weather. Tip: Mist on the hairline and then inside your beanie to prevent hat-hair static! 
Powered by the same proprietary phyto-actives as in bestselling hair serum, this non-toxic formula is volumizing, texturizing and refreshing for those days when you don't have time to wash your hair — and it won't harm sensitive scalps!
5. GRO Revitalizing Scalp Massager
Relax, restore and renew this winter while increasing healthy scalp circulation with the GRO Revitalizing Scalp Massager. It's safe for use on wet or dry hair and features gentle bristles that both stimulate the scalp and its circulation to promote healthy hair follicles and growth. Use it each night to unwind at home, or it's also easy to tote while on the go or for travel.
Treat the scalp with TLC by holding the massager in the palm and gently pressing the tips against the scalp. Massage in circular motions, repeating throughout the scalp and along the hairline for as long as desired. You can also use it in the shower; rinse with cool water, and hang dry after each use.
6. GRO WELL Hair Boost Supplement + Probiotic Multi-Pack 
Maintain whole body health during the winter chill with the GRO WELL Hair Boost Supplement + Probiotic Multi-Pack. The proprietary blend of essential vitamins, minerals, adaptogens, 50 million CFU probiotics support healthy keratin and collagen production. 
Supercharge any drink with the powder to support a healthy gut microbiome and circulation, as well as promote and help encourage visibly thicker, fuller-looking hair.
Choose VEGAMOUR This Winter and Beyond
Upgrade your whole body and hair wellness this winter by making these must-haves a "mane" staple in your daily self-care rituals. 
And for year-round hair health, take a holistic approach. Consistent use of your favorite VEGAMOUR products coupled with proper sleep, a nutritious diet, plenty of hydration and regular stress relief and exercise will bring out the best in both your body and your hair!
 More From VEGAMOUR
Photo credit: Tony Ross/Unsplash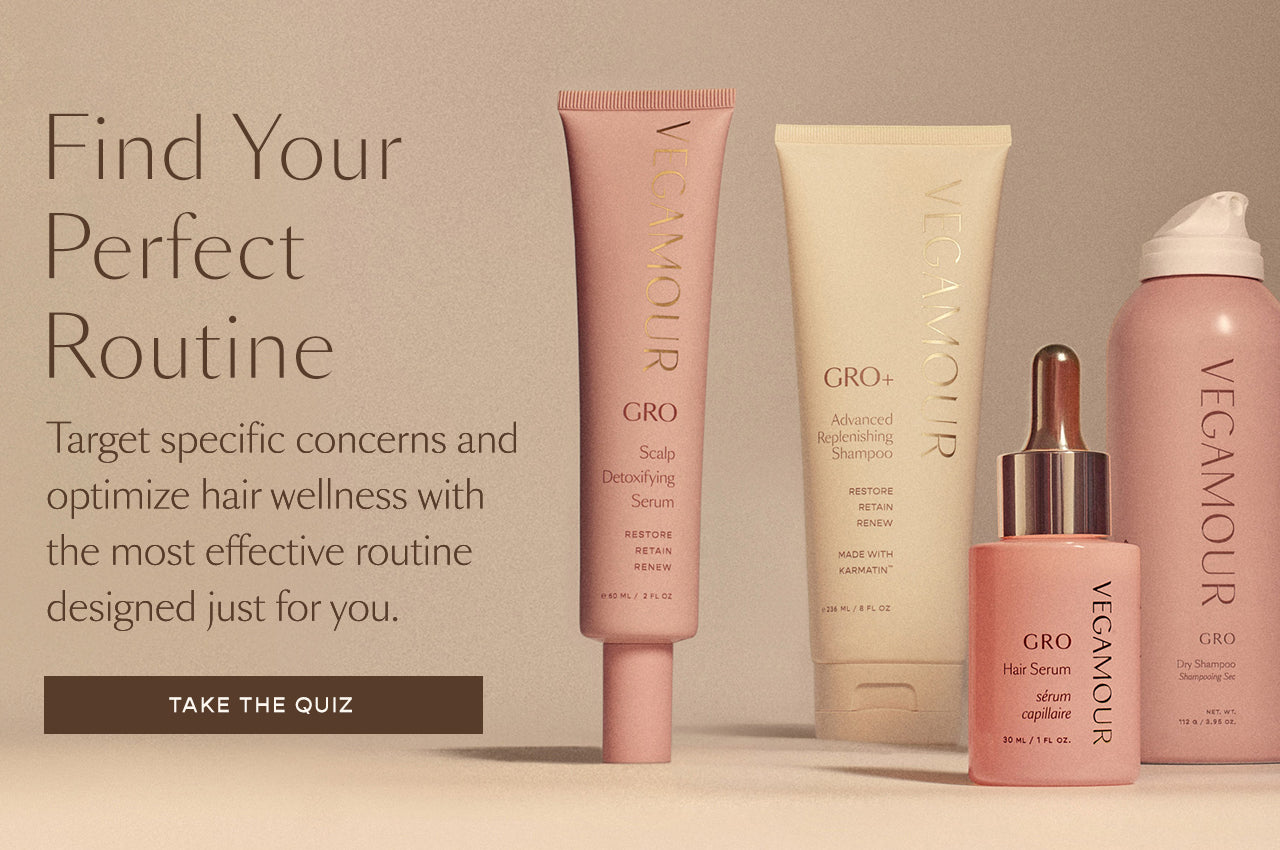 Disclaimer: Information in this article is intended for general informational and entertainment purposes only. It is not intended to constitute medical advice, diagnosis, or treatment. Always seek professional medical advice from your physician.