Spironolactone Side Effects: What to Know About This Hair Loss Ingredient
Experiencing hair loss can bring you to the point where you're willing to do anything to fix it, including using medicated treatments full of chemicals, such as spironolactone, against your better judgment. But before you head to the pharmacy, consider that there are more natural alternatives that can help address hair loss issues without the use of chemicals, harmful toxins, negative side effects or allergic reactions. Read on to learn more about spironolactone and what products you should actually be using to combat thinning hair.
What Is Spironolactone?
Spironolactone is a potassium-sparing diuretic, which is a water pill. It prevents the body from absorbing excess salt and keeps potassium levels from dipping too low.
Spironolactone is typically used to treat high blood pressure or the following conditions:
Heart failure
Low potassium levels or hypokalemia
Kidney diseases, such as nephrotic syndrome or impaired kidney function
Fluid retention or edema
Liver cirrhosis and other kinds of liver disease
Hyperaldosteronism
Acne
Additionally, spironolactone is used off-label to treat hair thinning. Spironolactone is considered an anti-androgen because it blocks the effects of the male sex hormone dihydrotestosterone or DHT.
Read: Alopecia Areata Explained
Spironolactone as a DHT Blocker
Androgens, like DHT, are considered male sex hormones, which regulate hair growth. These hormones are also typically present in women in small amounts. A type of hair loss known as androgenetic alopecia (or AGA) is thought to be caused by the increased sensitivity of hair follicles to these androgens. AGA is fairly common in both men and women, especially with age.
In women, major hormonal life shifts like pregnancy, post-pregnancy and menopause tend to manifest as a loss of hair density known as AGA. Additionally, a hormonal disorder, such as polycystic ovary syndrome or taking birth control pills with a high androgen index can trigger this type of hair loss.
With AGA, women typically experience hair thinning and loss on the top and sides of the head — a pattern that's often referred to as female pattern hair loss or female pattern baldness. In contrast, men usually end up with specific areas of hair loss, such as a receding hairline and bald patch at the crown.
One way doctors attempt to combat this type of hair loss is by prescribing DHT blockers, such as spironolactone.
It's important to note that hair loss in women (or men) can be a sign of more urgent underlying health issues, such as an androgen-secreting tumor or an endocrine disorder. Always consult with your doctor if you're experiencing troubling hair loss in case there is a deeper underlying issue at play.
Read: The Best DHT Blockers to Grow Hair and Reduce Hair Loss
Side Effects of Spironolactone
While the drug information and potential side effects of spironolactone aren't necessarily a cause for alarm for most, especially those in good health, there is a risk of unpleasant (and sometimes dangerous) side effects.
The side effects of spironolactone may include:
Urinary urgency or little or no urination
Changes in the menstrual cycle
Fatigue
Headache and dizziness
Weight gain
Feeling light-headed
Muscle weakness
An electrolyte imbalance
High potassium levels
Nausea
Chest pain
Increased thirst or urination
Confusion
Muscle pain or weakness
Slurred speech
Loss of coordination
Feeling unsteady
Breast swelling or tenderness
Abnormally low blood pressure
Seek emergency medical help or call your doctor immediately if you have any signs of an allergic reaction to spironolactone. Notify your health care provider or tell your doctor as soon as possible if you experience any of the following severe side effects:
Difficulty breathing
Hives or rash
Facial, lip, tongue and/or throat swelling
Loss of movement
Uncontrolled high blood pressure
Worsening kidney function
Related: The Major Difference Between VEGAMOUR and Minoxidil
Spironolactone and Pregnancy
The fact that spironolactone impacts breast and menstrual conditions is a clear red flag on a hormonal level. As with all anti-androgens, this drug can cause serious harm to a male fetus.
If you're pregnant considering becoming pregnant, don't use this drug and tell your doctor or health care professional about your concerns. And if you're of childbearing age and decide to use this medication, take superhuman precautions to prevent pregnancy.
Also: Finasteride Side Effects Explained
A Safe & Natural Option for Thinning Hair
The good news is that you don't have to resort to prescription DHT blockers like spironalactone.
Instead, if you're experiencing hair loss, consider treating both your scalp and hair to the nourishing, plant-based power of GRO Hair Serum. The serum is free of chemicals and toxins and utilizes powerful photo-actives to support a balanced follicular ecosystem. Plus, its features clinically proven ingredients that decrease hair shedding by up to 76% and increase hair density by up to 52% after four months of consistent use.
Check out Rheonna's before and after from using GRO Hair Serum. Here's what she had to say:"My hair loss began after the birth of my daughter. I noticed some extra shedding from the middle of my scalp and around the edges of my scalp. I just thought it was the normal shedding everyone on the mommy blogs spoke about. I tried everything from Rogaine to painful steroid injections with little to no success … My biggest challenge on my hair wellness journey was the large amount of products that I purchased that offered promise of growth and I had no results. I have spent thousands of dollars on hair growth products and treatments. VEGAMOUR has been the only one to work for me without harsh side effects."
Also, consider adding a daily dose of essential nutrients and hair-boosting vitamins and minerals to your routine, such as GRO Biotin Gummies for Hair. Enjoy one strawberry-flavored biotin gummy vitamin per day for fuller-looking, radiant hair, plus a boost of essential nutrients that will benefit your overall wellness from head to toe.
Each gummy vitamin includes essential nutrients to stimulate new cell generation and keratin production, which will encourage healthier, stronger hair, as well as neutralize follicle-damaging free radicals and zinc to help promote and maintain scalp health. These include:
Biotin (16,666% of your daily value of biotin, or 5000 mcg)
Vitamins B-5 and -12 
Vitamin A
Vitamin C
Vitamin E 
Make the Most of Nature's Medicine
If these cautionary risks or side effects of spironolactone sound scary, consider going a natural route to combat thinning hair.
Additionally, integrate holistic health habits into your daily routine to elevate both your hair and overall wellness. Incorporate regular movement, mindfulness practices like meditation, yoga or connecting with nature, maintain a balanced diet, get adequate sleep and stay optimally hydrated for health that radiates from inside out. Your hair and whole body will thank you!
More From VEGAMOUR:
Photo credit: Anthony Tran/Unsplash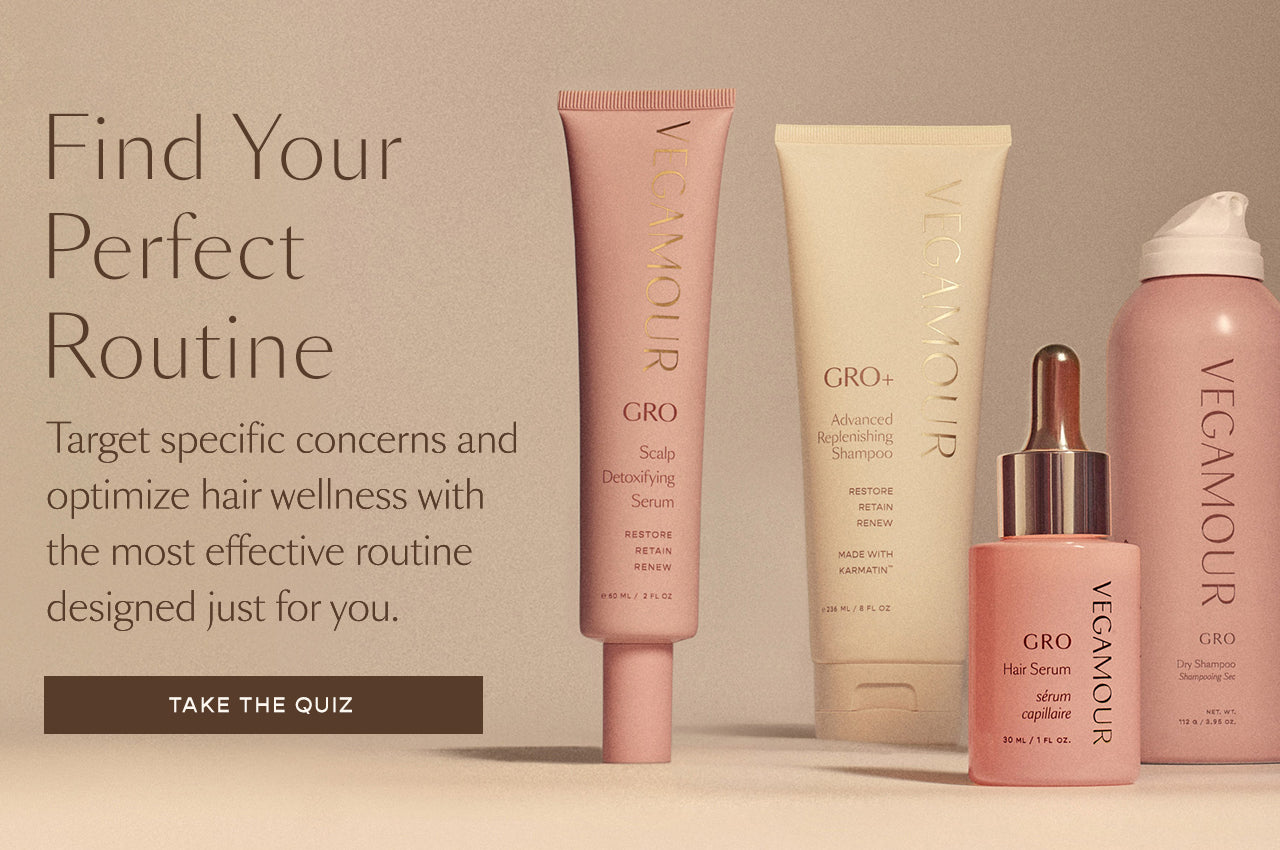 Disclaimer: Information in this article is intended for general informational and entertainment purposes only. It is not intended to constitute medical advice, diagnosis, or treatment. Always seek professional medical advice from your physician.