This Vegan Shampoo and Conditioner Changed My Hair
As a beauty writer, testing products is a big part of the job. Deciding which products wind up making the cut out of the rotation and into the regular routine can be a challenge. I'm also a yoga instructor interested in discovering vegan beauty products that align with my lifestyle and actually work as well as their non-clean counterparts. Salon quality hair care with natural ingredients — especially cruelty-free, vegan hair care products — are rare finds. Plus, after a truly hair-raising "cut"-astrophe years ago at a press event, I'm hard to impress and proceed with caution choosing hair care products.
I was excited when given the opportunity to try vegan friendly GRO Revitalizing Shampoo and Conditioner. This plant-powered pair is packed with clean, natural ingredients, including innovative Karmatin™, the first-of-its-kind vegan keratin alternative unique to VEGAMOUR. In the pursuit of healthier, more radiant hair that also flows with my holistic, animal-friendly lifestyle, I'll take all the good karma I can get!
Finding the "Right One"
The quest for discovering the perfect partner — in this case, that pair being the best cruelty free vegan shampoo and conditioner — is akin to the early stages of dating. When seeking the right match, you flirt with a roster of options: At first glance, you're drawn to that fresh packaging, you're intrigued by its promises of potentiality. Ultimately, the end goal is that you land with the right one, that both works for and supports your growth and wellness.
I've spent the past several years, ever since the aforementioned hair cut that left me in near tears with a virtual mullet, looking for the "one" — or, ones — to care for my hair type. Like many, I want that fresh from the salon quality shine —without animal testing or animal derived ingredients.
Bring on the Good Karma
Enter: Karmatin™-powered GRO Revitalizing Shampoo and Conditioner. The duo includes a vegan alternative to animal keratin, a microencapsulated vegan b-silk™ protein which physically bonds to the hair follicles, remaining attached to strands even after rinsing your hair, leaving hair smooth, soft and so shiny.
First things first, let's explain why there's a need for a vegan alternative to keratin. Keratin, which is an important building block of our nails, skin and hair, is a powerful protein that's typically derived from animals. For those of us looking for products free of animal products and harsh chemicals, vegan keratin is the best option but it's pretty hard to find.
The star ingredient Karmatin™ works by filling in small cracks and spaces within the cuticle, leaving hair looking smooth as (vegan) silk. Because of this bond, it remains attached to your hair even after rinsing, helping protect your hair even after it dries. 
Finding a vegan shampoo that is sulfate free is a necessity for me as I frequently wear hair extensions — extension bonds and sulfate are a big no no, according to my New York City based hairstylist Jasmine Anna Galazka.
VEGAMOUR's GRO Revitalizing Shampoo and Conditioner offer the benefits of keratin — think stronger, healthier, radiant hair —without the animal products. Sign me up!
Shop: Destiny Thompson's Top VEGAMOUR Picks
Smooth Sailing Ahead
While vegan beauty products are becoming easier to find, this wasn't always the case for vegan keratin. Previously, a keratin service, otherwise known as the Brazilian blowout, was the only way to get keratin to actually bond with hair. If you've ever experienced the NYC subway during an East Coast summer — hello, humidity-induced frizz — you may have sought out the smoothing treatment.
But the potential dangers of a Brazilian blowout may outweigh the silky smoothness you're seeking. The process typically involves the use of toxic chemicals like formaldehyde, which if you're at all like me, you most definitely do not want on your hair or scalp where it can penetrate within your body.
GRO Revitalizing Shampoo and GRO Revitalizing Conditioner are the vegan keratin hair products I needed and they work on any hair type, but are especially powerful for thinning hair. That's exactly why I was so excited to take these vegan products for a test drive. You're probably wondering how — and if — the vegan shampoo and vegan conditioner actually work? Here's a before and after from a customer who used this vegan shampoo and conditioner set:
If you're looking for an extra boost, there's also GRO+ Advanced Replenishing Shampoo and Conditioner, which feature lots of the same powerful vegan phyto-actives with the addition of broad-spectrum CBD to help soothe the scalp and wash stress away. 
Shop: VEGAMOUR Best Sellers
My Hair Wellness Helper
My hair growth and wellness journey since that unexpected chop has included trying pretty much ALL the hair products, leading a healthy lifestyle including daily supplements and balanced diet — and hair extensions. My hair type is what I like to call "hybrid" hair — half fine from my father's Caucasian DNA and half naturally wavy from my mother's Chinese genetics. With the additions of extensions, it needs all the smoothing and volume-boosting it can get without being weighed down by sticky, harsh chemicals.
Here's more about the good stuff: Both the cruelty-free vegan shampoo and conditioner are safe for color treated hair, thin hair and normal hair types. They're gluten free, paraben free and sulfate free with no artificial fragrances. The cruelty-free shampoo and conditioner duo harness the power of plants with natural ingredients such as wild harvested marula oil, organic murumuru butter and ximenia oil help to condition damaged hair, hydrate dry hair and fight damaging free radicals without imparting pore-blocking residue that may be found in other brands hair masks.
Also: Shop All Karmatin™ Products
My Experience With GRO Revitalizing Shampoo & Conditioner
Hair we go! When I first started using both products, I was immediately impressed by their minimalist-chic packaging, subtle fresh-meets-feminine scent and non-greasy, gel-like texture. I used my fingers to suds up the shampoo, massaging my scalp to better stimulate circulation around the hairline (my problem area); then applied the rest in downward strokes to keep my hair extensions safe and further smooth the cuticles.
Next up, rinsing with neutral-warm — not too hot, not too cold — water followed by conditioner applied mostly from mid-shaft with extra as extra dollop on the ends as a split end preventative. One unique thing to note about this conditioner is it can be applied to your roots — especially if you have thinning hair! I allowed the conditioner to "set" like a hair mask for a few minutes while handling other shower business. Again, I rinsed completely using the same downward motion to keep the integrity of smoothness throughout the cuticle.
Post shower immediate thoughts: My hair felt clean without feeling stripped and smelled fantastic. I usually wrap my waist-length hair in a microfiber hair towel for a few moments to absorb as much moisture as possible prior to drying/styling with heat tools. Styling was easier and quicker; unlike the tangled hair of other vegan products past (bye bye!), I was able to quickly blow-dry the entire length using a wet brush to a smooth, sleek finish.
The Final Verdict: Thumb's Up!
Typically, Tuesdays and Fridays are my hair wash nights — depending on workouts and weather — I continued this process for the next four weeks. Then, it was time for the big reveal, otherwise known as my next extensions removal and re-application appointment with my stylist.
I hadn't seen my stylist — or the back of my head — in four months, so the first question was how much my hair had grown since; the second was it in better shape than when we saw each other a season ago.
I already felt like my hair looked longer and felt fuller with less matting than before using the duo. Finally, let's get to what the pro had to say: "This is the best I've seen your hair in months — it's grown out longer, healthier and there's minimal matting and barely any breakage."
In the quest for the best vegan shampoo and conditioner pair, I've finally found "the one"!
More From VEGAMOUR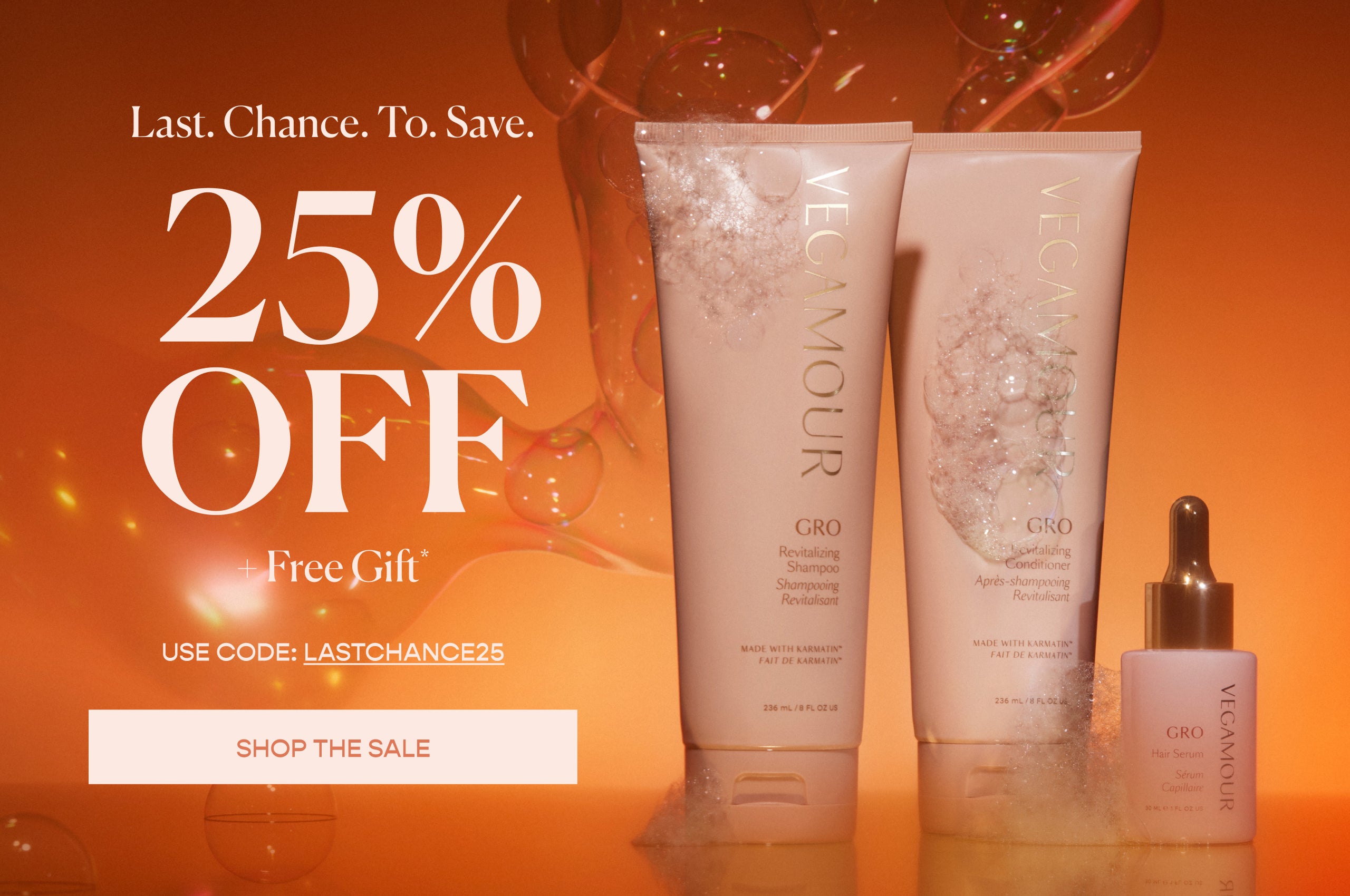 Disclaimer: Information in this article is intended for general informational and entertainment purposes only. It is not intended to constitute medical advice, diagnosis, or treatment. Always seek professional medical advice from your physician.