6 VEGAMOUR Kits to Gift Yourself This Holiday Season
With all the potential stress and events surrounding the busy holiday season, putting your personal care and product shopping on the back burner is tempting. Yet, that's no excuse to sacrifice your commitment to being your best self — or your self-care routines! And that's exactly why you should include yourself as a recipient on your VEGAMOUR holiday gift list. 
Make it a priority to give yourself the gift of products that are as good for you as they are luxuriously effective. Choosing products that are 100% cruelty-free and vegan, which include powerful phyto-actives and the benefits of botanicals, means that you can give yourself luxurious, effective hair care that's good for you.  
Gift #1: Elevate Your Hair & Scalp "Skincare" Routine
How you care for your hair and scalp is equally as important as your daily skincare routine. Boost your morning or nightly rituals by including either the GRO Hair Serum 3-Pack Kit or try the hemp-infused GRO+ Advanced Hair Serum 3-Pack Kit. Apply either serum daily to dry or towel-dried hair, and leave in for best results. 
GRO Hair Serum is our No.1 bestseller for a reason — it works! The serum supports a healthy, balanced follicular ecosystem, soothes the scalp and revitalizes roots, which is essential for healthy hair growth. GRO+ Advanced Hair Serum has all the same benefits, plus the added boost of micro-encapsulated, full-spectrum hemp for enhanced calming care for the scalp.
Learn More: GRO Hair Serum Benefits
Gift #2: Transform Your Shower into a DIY Salon
For hair that's as soft as (vegan) silk, turn an at-home hair wash into the salon-worthy results of a keratin treatment. GRO+ Advanced Replenishing Shampoo & Conditioner Kit features Karmatin™, the first-of-its-kind vegan keratin, along with microencapsulated vegan b-SILK™, which bonds and remains attached to hair, leaving your locks with the results of a salon keratin treatment, without worrying about harsh chemicals stripping or damaging hair. 
The pair is clean, color-safe and free of sulfates, silicones, parabens, gluten and artificial fragrance, making it safe for color-treated tresses and suitable for all hair types. The duo also contains full-spectrum hemp to soothe the scalp. 
Shop: Lindsay Arnold's Top Vegamour Picks
Gift #3: Building Blocks to Better Hair and a Relaxed Scalp
If you use a lot of styling products, consider the transformative GRO Foundation Kit trio, including GRO Revitalizing Shampoo, GRO Revitalizing Conditioner and GRO Detoxifying Scalp Serum.
GRO Scalp Detoxifying Serum is a great way to give your scalp a weekly detox — hello, self-care Sunday! It removes stubborn scalp buildup, soothes skin damage and utilizes Zinc PCA to absorb excess oils. The serum also includes baobab and marula oils to provide extra antioxidant support and moisture-rich Omega 6 and 9 fatty acids to protect the scalp from damage. Apply the serum directly to the scalp, leave on for five to 10 minutes and then follow up with the shampoo and conditioner. 
Gift #4: Gift Yourself Flaunt-Worthy Fringe and Brows That Wow
Take lashes and brows to the next level with the GRO+ Advanced Lash and Advanced Brow Volumizing Kit. The power of microencapsulated, full-spectrum hemp oil combined with the botanical benefits of mung bean and clover actives will elevate both brows and lashes. 
They're safe for daily use and formulated to quickly penetrate and soothe skin. The results: Visibly longer, thicker-looking lashes you'll want to flutter and bolstered brows that appear fuller-looking and denser.
Gift #5: The Dynamic Duo
The GRO More Kit is the perfect pairing of GRO Hair Serum and GRO Biotin Gummies. Both encourage visibly thicker-looking locks when used daily. Wake up each morning by applying the hair serum, and follow with a hydrating glass of water and a gummy. 
Best of all, the three-month supply of GRO Biotin Gummies in the kit offers a delicious dose of essential nutrients. Each gummy includes your daily value of biotin, along with folic acid, Vitamins A, B-5, -6 and -12, C, E and zinc, plus other key minerals that work to neutralize free radicals while supporting and nourishing the scalp and hair.
Gift #6: Get GRO-ing On-the-Go
Refresh, reset and revive hair with GRO Dry Shampoo. It's great to use both before and after a workout or whenever your hair needs a touch-up between wash days. And it's ideal for packing in your carry-on for holiday travels. 
Mist on the lightweight multitasker to balance, volumize, texturize, refresh and absorb excess oils, odors, sweat. Plus, it is free of synthetic fragrances — no icky, lingering scent — and includes USDA organic certified rice hulls, mung bean, red clover and kaolin clay.
Also: 5 Timeless Holiday Hairstyles
Gift Yourself
This holiday season, invest in you. By gifting yourself VEGAMOUR products, you'll not only get a luxurious self-care experience, but you'll also get one that's good for you!
More From VEGAMOUR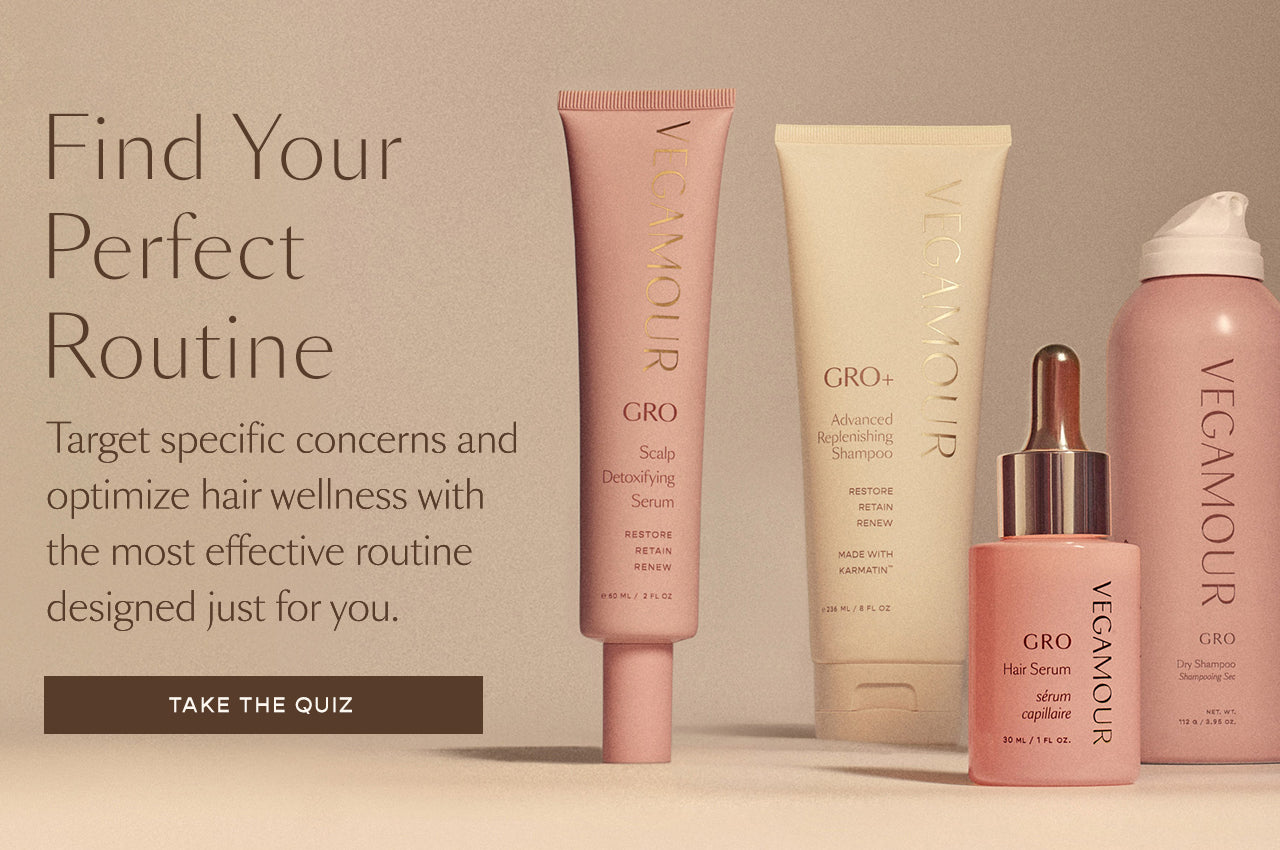 Disclaimer: Information in this article is intended for general informational and entertainment purposes only. It is not intended to constitute medical advice, diagnosis, or treatment. Always seek professional medical advice from your physician.