5 Ways to Make Your Hair Look Thicker in Under 5 Minutes
Dealing with limp, thin hair is a drag, especially if it causes you to constantly resort to wearing your hair up instead of allowing it to flow free. Unfortunately, combating the root cause of your thinning, lifeless hair is not a quick fix, and sometimes, you need to give your tresses an extra volume boost right away. 
You're in luck. Here are five top tips for gaining hair volume fast. Plus, what you can do to combat thinning hair ASAP. 
1. Try a New 'Do
There are tons of easy styles you can try out to add volume instantly — just ask big-hair legend Dolly Parton. But big hair doesn't mean you need to channel your inner country music superstar. Instead, there are plenty of easy, low-key ways to style hair for added natural volume. 
Backcomb your hair at the crown to add more height, or use curlers to fluff up hair with a blowdryer (keep that diffuser on, please!). You can even add volume by drying your hair upside down while using a ceramic brush to fluff the ends. 
Shop: HYDR-8 Essentials Kit
2. Use Styling Foam to Boost Your Roots
The idea of adding more styling products to weigh down hair that's already thin might seem a little counterintuitive. But the right product can actually volumize strands instead of weighing them down. 
A styling mousse, like GRO Hair Foam, which is specifically formulated to support visibly thicker, fuller-looking hair, helps create the appearance of added volume fast. Bonus points: It contains a proprietary blend of clinically tested plant-based ingredients, which work to increase the appearance of hair density and reduce signs of shedding, so you can support your long-term hair goals while enjoying an instant boost. 
Stylists say that the best way to add volume with hair foam is by applying it with your hands. Simply dispense your palm, dab your fingertips in the foam and work it gently through your roots and strands to create texture.
3. Change Your Part
Experts agree that one of the fastest ways to add instant volume to thin hair is simply by changing your part. Switching out your side part from one side to the other, or moving your middle part to one side, can give your roots a volume boost. Hair that has been used to lying flat will naturally lift, creating the instant appearance of thickness.
For even more volumizing power, try a super-stylish zigzag part to add volume at the crown and body. With a zigzag part, your roots will be lifted at both sides, giving you maximum volume without the wait.
Review: This Vegan Shampoo & Conditioner Changed My Hair
4. Add Volume With Dry Shampoo
If you have thin hair, you may have used dry shampoo to provide your tresses with an instant boost. GRO Dry Shampoo is packed with phyto-active ingredients designed to support your long-term hair health. It combines the texturizing power of an ordinary dry shampoo with a powerful scalp-balancing, volumizing formula designed to support a healthy hair ecosystem. 
To use dry shampoo to support volume, apply it slightly differently than you might if you were using it to gain time between wash days. Instead of spraying it on and instantly combing it through to absorb oil from your scalp and strands, layer up multiple applications of the formula. This will allow the rice starch to create a layer on top of dry strands, adding volume instantly.
5. Try Hair Extensions
When it's time to break out the instant-thickness big guns, clip-in extensions are your ultimate secret weapon. While most people are familiar with the power of extensions to add length, you might not think about using them for the instant appearance of fuller, thicker hair.
For a supercharged volume boost, flip your head over and apply your extensions upside down, placing them against the roots instead of flat along the hairline. Flip over and style, enjoying the extra thickness. You can also take your extensions to your stylist and ask her to trim and dye them to match your color for a seamlessly natural look.
Whichever method you choose to instantly add volume to thin hair, remember that even short- term solutions should work to support your long-term hair wellness goals. By incorporating products designed to encourage the growth of visibly thicker, healthier-looking hair, you're getting the best of both worlds!
More From VEGAMOUR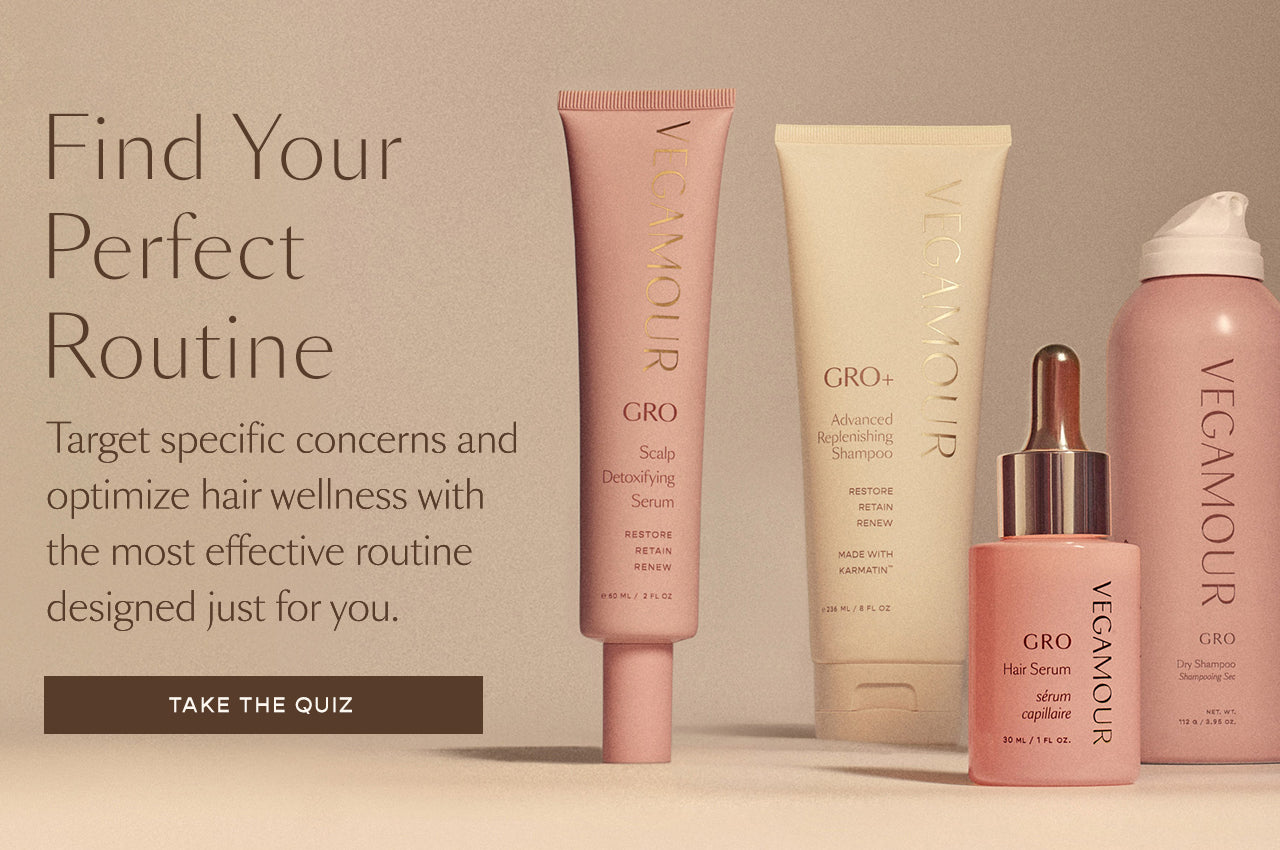 Disclaimer: Information in this article is intended for general informational and entertainment purposes only. It is not intended to constitute medical advice, diagnosis, or treatment. Always seek professional medical advice from your physician.