How to Make Your Own Apple Cider Vinegar Hair Rinse
It's actually super easy to make your own hair apple cider vinegar rinse at home, but there are some key things to know before you start pouring a bottle of ACV on your head (spoiler: that's not the way to do it). Read on to learn how you can make a safe and gentle DIY apple cider vinegar rinse for a more beautiful, lustrous mane. Plus, learn more about how to develop a routine to support your hair's specific needs.
Why Use Apple Cider Vinegar Hair Rinse?
Though pure ACV might seem appealing in all its harshness, it is far too astringent to apply to the scalp without diluting first. Instead of plain ACV, use an apple cider vinegar rinse—a diluted mixture that provides that same refreshing feeling without the abrasiveness of straight ACV on the skin. Plus, it provides some additional benefits to support healthy hair (and scalp), making it an excellent and low-maintenance addition to your existing hair wellness routine.
How Does Apple Cider Vinegar Support Hair Health?
Healthy hair should be slightly acidic. However, your hair's natural acidity can be depleted, whether from putting harsh products in your hair, stripping hair color (to remove hair dye, for instance), using chemical treatments or even from exposure to pollutants in the environment. For you hair to be at its healthiest, you also need a healthy scalp that is free of buildup of dead skin cells or chemicals.
Read more: Here's How Gut Health and Hair Loss Are Related
Why Do Apple Cider Vinegar Rinses Work?
VEGAMOUR spoke with Madison Dufour, licensed barber and cosmetologist and author of The Exquisite Find blog, about how to use an apple cider vinegar hair rinse as part of a hair care routine.
"[ACV is] strong enough to clarify and cleanse the scalp while removing build-up [and] gentle enough to help the scalp restore the [healthy] pH," Dufour explained. "[ACV is also] rich in vitamins B, C, calcium, potassium and malic acid, which nourish the scalp and encourage growth."
You can amp up your haircare routine with an at-home apple cider vinegar rinse as long as you pay careful attention. Be sure to dilute the ACV, and because of its high acidity, avoid leaving it on your hair for too long. To ensure proper hydration and to strengthen hair, try pairing it with a weekly deep conditioning treatment.
Shop: Shea Whitney's VEGAMOUR Picks
What are the Benefits of an Apple Cider Vinegar Hair Rinse?
ACV treatments are suitable for most hair types for at-home hair care to smooth hair follicles and maintain hair health, especially when used in combination with the right hair products that help protect your hair and scalp. Read on to find out if an ACV rinse is the right treatment for you.
Recommended For
People with thin, greasy hair, oily hair or fine hair: All of these hair types may benefit from the pick-me-up of a weekly apple cider vinegar hair rinse.
A gentle replacement for shampoo: It gently cleanses the hair without shampooing. Follow with a lightweight conditioner.
Dry and itchy scalp: A rinse can help rebalance your scalp's pH, as well as help clean the scalp and gently exfoliate away dead skin cells.
A replacement for dry shampoo: If you want a change of pace.
An at-home clarifying and vitamin-rich hair treatment: ACV is a natural source of vitamin C, calcium and potassium, among other nutrients.
Anyone who is struggling with hair loss: A weekly clarifying scalp treatment can help free your scalp of toxins and buildup, supporting your scalp's health to promote optimal hair growth.
Not Recommended For
People with sensitive skin.
People with wounds or abrasions on the scalp.
Brittle or dry hair: Unless followed with a deep conditioning treatment.
People with permanent hair color or treatments: Apple cider vinegar may make colored hair (or color-treated hair) feel more dry or brittle. If you do an apple cider vinegar rinse, you should follow it with deep conditioning to replace your hair's natural oils.
Those with sensitivities or allergies to apples or apple cider vinegar: Hair isn't permeable enough to absorb the ACV into your system, but the pores of your skin are.
When applied undiluted: We can't say this enough times—do not use full-strength ACV, since it may burn or irritate the scalp.
Try an Exfoliating Scalp Serum
An ideal alternative to a rinse is VEGAMOUR's GRO+ Scalp Detoxifyinig Serum that gently cleanses your scalp to make your hair products work more efficiently. Zinc acts to absorb excess oil and dirt to unclog pores for an ideal healthy hair environment, and uses CBD to calm stressed out hair that has been processed with heat or color. Use the scalp serum as a substitute for a rinse for a mess free alternative. 
How to Make a DIY Apple Cider Vinegar Rinse
Important note: For any apple cider vinegar hair rinse, follow these three rules:
Dilute the pure apple cider vinegar with plenty of water (a 1:12 ACV to water ratio is recommended).
Do not use the mixture on your skin for more than five minutes, to prevent irritating your skin.
If at any point the rinse burns or feels uncomfortable, wash it out thoroughly.
Directions to Make an ACV Rinse
Mix 2-4 tablespoons of unfiltered raw apple cider vinegar (with the "mother" in it) with 12-16 ounces of distilled water.
Transfer the mixture into a spray bottle or small bottle with a squeeze lid.
Make a fresh batch of ACV rinse each time, just before using.
How to Use Your ACV Hair Rinse with Shampoo & Conditioner
Combine the power of ACV with your favorite shampoo and conditioner. Here's a step-by-step routine you can use to combine your favorite ACV with your go-to shampoo and conditioner:
Shampoo your hair.
Gently rinse out the shampoo with tepid or comfortably warm water and squeeze out the excess water from your hair.
Spritz or squirt the ACV solution onto your hair and massage it in with your fingers. Allow the solution to remain on your hair for 2-3 minutes.
Rinse the ACV mixture out of your hair with cool water. (Cooler water helps to polish the cuticle of the hair.)
Apply a lightweight conditioner for your hair type and work the product from root to tips.
If your hair is very tangly or curly, de-tangle with a wide-tooth comb, distributing the conditioner throughout your hair. Leave the conditioner on for several minutes; then rinse with tepid or cool water.
Takeaway
Now you know how to create your own apple cider vinegar hair rinse right at home—and by coupling it with VEGAMOUR's color-safe, hydrating shampoos and conditioners, you can enjoy healthy, shiny hair that practically glows with radiance.
More from VEGAMOUR
Photo credit: GabrielPevide/iStock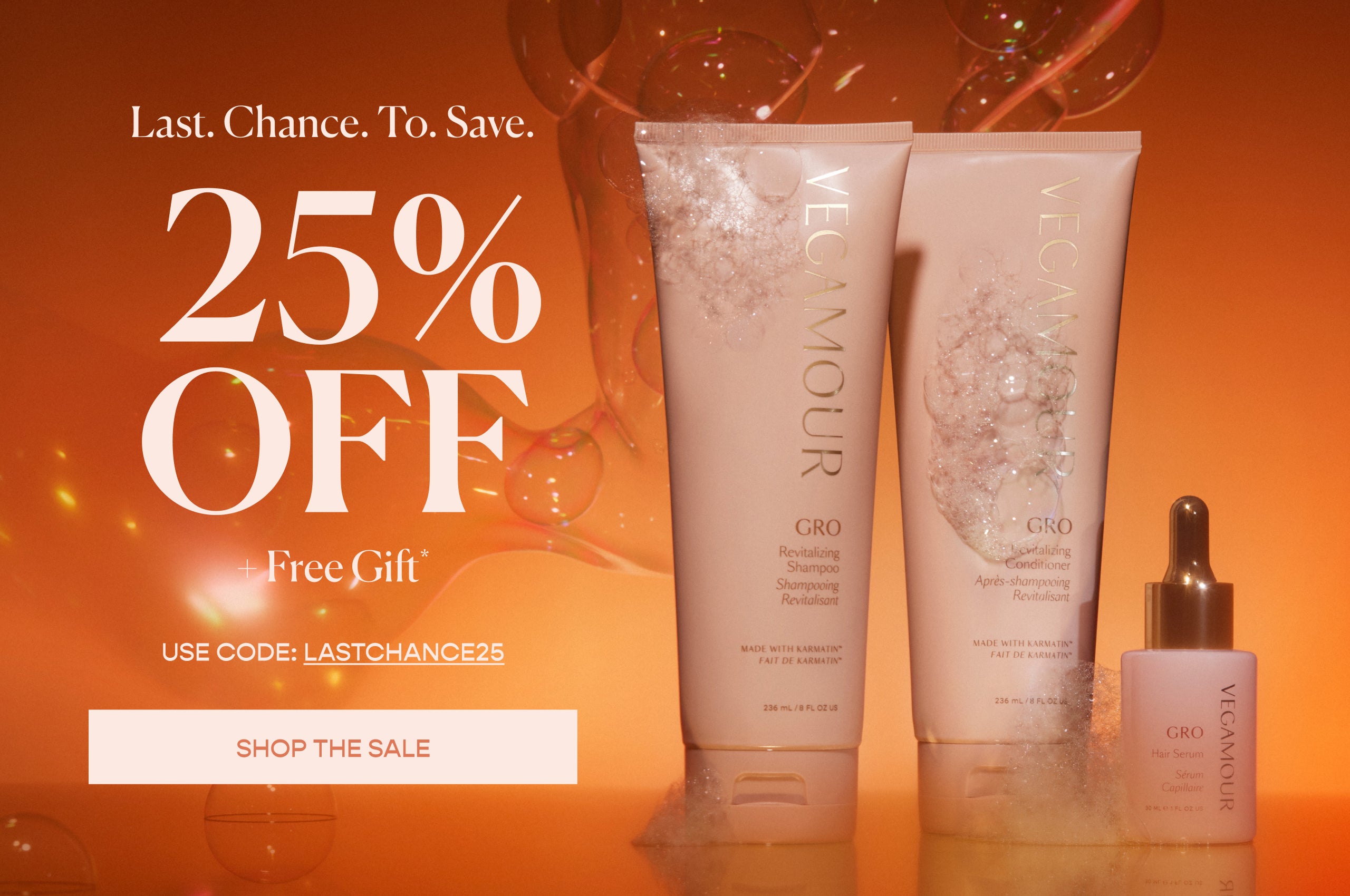 Disclaimer: Information in this article is intended for general informational and entertainment purposes only. It is not intended to constitute medical advice, diagnosis, or treatment. Always seek professional medical advice from your physician.