9 Hair Wellness Habits to Add to Your Routine
Wellness is an investment in yourself. Whether you've focused on improving your physical wellness, emotional wellness or mental wellness, you know that the amount of effort you put in determines what you will get out of it. But what about your hair's wellness?
Just like any other form of self-improvement, hair wellness is a commitment we can each make to consistently love, care for and nourish our hair to achieve the gorgeous, healthy tresses we want. VEGAMOUR is committed to helping you on your journey with educational content and top-quality natural hair products.
First Off, What Is Hair Wellness?
You've heard all about hair care, but at VEGAMOUR, we focus on hair wellness, which is an inside-out, 360-degree approach to caring for yourself to promote sustainable hair health. It spans everything from what you eat to the quality of the products you use to managing stress to reduce cortisol. In short, your hair health is a reflection of your overall wellness: You can't just care for your strands — you have to give yourself the love and attention you deserve, too.
9 Hair Wellness Habits
Hair wellness takes effort. You have to put the work in — but don't worry, it can be fun. Here are some essential hair wellness tips to get you started, and be sure to explore the VEGAMOUR blog for deep dives into all your hair questions.
1. Eat a Nutrient-Rich Diet
Hair wellness starts within. To get the healthy hair you desire, first look at your diet. Excess sugar, for example, can hinder protein absorption, while low protein can lead to hair loss and even hinder hair growth.
If you're experiencing hair loss, it's important to examine what you're eating and, just as important, what you're not. And if you find you're missing out on essential vitamins and macronutrients, you may want to consider boosting your nutrition with these foods that help with hair growth.
Shop: The Hair Wellness Collection from VEGAMOUR
2. Get Thicker Looking Hair With a Serum
If it's thicker, fuller looking hair you're after, consider VEGAMOUR's bestselling GRO Hair Serum. Powered by vegan phyto-actives like mung bean, curcumin and red clover, this serum is clinically proven in some subjects to enhance the appearance of hair density by up to 52% and reduce signs of shedding by up to 76% in as soon as four months. It's an easy daily habit that only takes a few moments a day for long-term results.
See for yourself! Check out this story and photo from a customer who saw results in only a few months.
"I didn't want to post this at first because I was really embarrassed even though I know I shouldn't be," she said. "In March, when the pandemic went into full swing, and everything was closing down, I was working the front lines. I had just taken over the pharmacy as a manager suddenly because my manager went on leave, and it was incredibly stressful. I lost my patience, my love of retail work, and sadly my hair. The first photo is mid-March. It just fell out. It was so stressful. Luckily I got a new job mid-summer that allows me to work clinically from home, and with VEGAMOUR my hair has started growing back. It's strong, long, and shiny. I'm on month 8, and I see visible improvement! (Second photo November) ... I really do believe it works, and I highly recommended it."
3. Give Your Scalp Some Love
Your scalp is skin, and just like the skin on your face, it should be exfoliated, moisturized and washed regularly to remove product buildup and avoid yeast overgrowth (yes, that's a thing!). A weekly scalp treatment like GRO Scalp Detoxifying Serum can help slough away buildup, soothe scalp damage and so much more. 
Also: 5 Benefits of Scalp Massages
4. Take a Daily Hair Gummy
Adding a hair supplement to your routine can help ensure you get certain nutrients even on the days when your diet may be lacking. Important nutrients like zinc, biotin and folic acid are key to supporting healthy hair, and GRO Biotin Gummies for Hair are designed with your stands in mind. These delicious vegan gummies, fortified with vitamins B-5, 6 and 12, plus Vitamins A, C and E, are specifically designed for your hair wellness journey. Combined with our best-selling hair serum, the GRO More Kit is the perfect addition to your routine. 
Explore: Vegan Hair Vitamins 
5. Pay Attention to Ingredients
Depending on your hair texture and preferences, you may want to avoid certain ingredients. To make it easier, VEGAMOUR is transparent about its products and provides insights into the ingredients used and how they benefit hair wellness.
For example, many widely available shampoos contain sulfates, a harsh detergent that can strip your hair of its natural oils. But VEGAMOUR's GRO Revitalizing Shampoo is sulfate-free to ensure gentle yet effective shampooing. (Bonus: Vegamour's shampoo also promotes thicker, fuller, longer-looking hair and is clinically shown to increase hair density by up to 52% after four months.) For an added boost, try GRO+ Advanced Replenishing Shampoo and Conditioner with CBD to help relieve stress and encourage thicker, fuller looking hair. 
6. Reduce Stress
Did you know there are several types of hair loss with different causes? For example,when someone loses hair due to stress, it's called TE or telogen effluvium.
Stress raises your cortisol levels which can trigger the release of pro-inflammatory cytokines, which are proteins that act as messengers between cells. They can either cause or fight inflammation, depending on what your body needs. When they fight inflammation, blood flow is reduced to the skin and hair follicles may not get the nutrients they need to support growth.
The good news is that TE is usually reversible! To help improve hair wellness, focus on relieving stress, increasing circulation to the scalp with scalp massages and using high-quality hair products.
Read More: Why You Should Try Forest Bathing for Stress Reduction
7. Embrace Your Natural Texture
Embracing your natural texture means working with your hair and not against it by nixing the use of damaging heat tools or chemical relaxers. That's not to say you should never use heat tools again or get a blowout — but do so mindfully.
Learning how to enhance the look of your natural texture through protective styles — be it straight, wavy, curly, coily, kinky or a combination — gives your strands a break from damaging styling rituals and supports hair growth.
8. Protect Your Hair While You Sleep
If you have natural hair, curly hair or just got a fresh blowout from the salon, you may be disappointed to find it looking out of place after a long night's rest. But you can remedy this by choosing a hair-protecting pillowcase or by wearing a bonnet or wrap to protect your hair from friction as you toss and turn.
Also: How to Protect Your Curls While You Sleep
9. Believe You Can Have the Hair You Want
In one clinical hair growth study, a placebo group experienced a 60.8% improvement in hair growth after 12 months. That's right — they thought they were receiving treatments that would lead to hair growth, and even though they received nothing at all, they still saw improvements in their tresses. Your mind can be more powerful than you may realize. And while simply believing in your hair's wellness won't give your hair all it needs to be in tip-top shape, it certainly can't hurt!
Hair Wellness Starts With You
The bottom line: Healthy, beautiful hair doesn't happen by accident. Instead, it takes making your hair's health a priority. And by focusing on getting the right nutrition, practicing mindful stress reduction techniques and consistently caring for your hair from the inside out, you will see improvements. The best part? You're not alone in this journey: VEGAMOUR is always here to help with a wealth of informative content and natural hair products.
More From VEGAMOUR
Photo credit: Monica Turlui/Pexels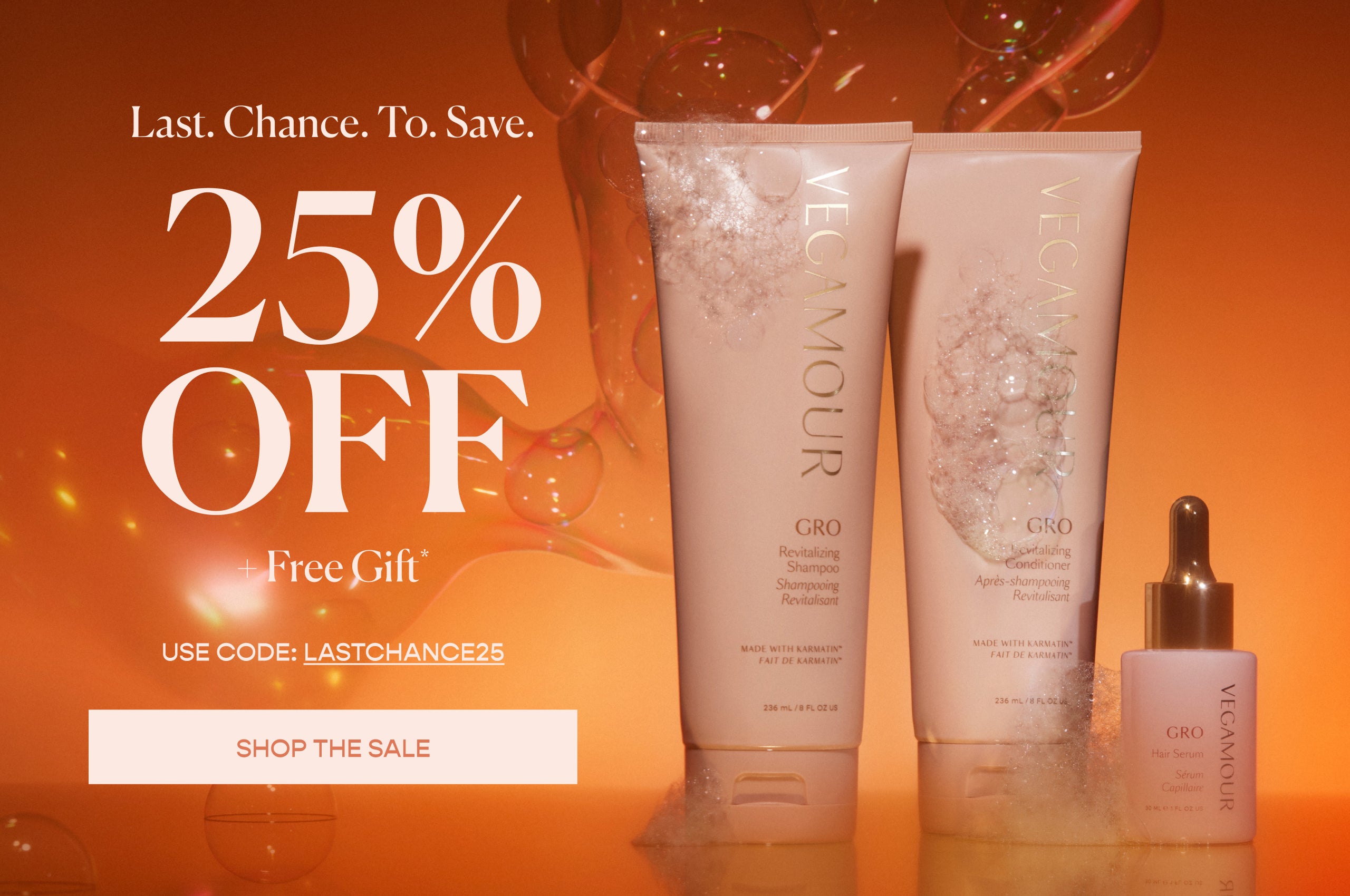 Disclaimer: Information in this article is intended for general informational and entertainment purposes only. It is not intended to constitute medical advice, diagnosis, or treatment. Always seek professional medical advice from your physician.