Are Gummy Vitamins Really Effective? Yes — Here's Why
If you want to up your wellness routine with dietary supplements — but perhaps don't like taking a pill — you may want to consider giving gummy multivitamins a go! Unlike pill vitamins that can be hard to swallow for some, chewable vitamins differ from traditional supplements in both taste and portability.
An added bonus: Gummy supplements satisfy a sweet tooth while elevating your daily dose of vitamins and minerals. And, because they're chewable rather than in pill form, gummy supplements are easy to take wherever and whenever, no water required.
Sure, these sweet treats offer a twist on taking traditional vitamins. However, you might be wondering do gummy vitamins work, are they effective and whether they offer the same health benefits? Read on — here's your checklist on what essential vitamins to look for when swapping multivitamin pills for gummy supplements. Plus, learn more about the best gummy vitamins to support thicker, fuller looking hair.
Supplements & Sugar: Here's What You Need to Know
When a candy-like, sweet taste comes to mind, with it also comes sugar. And, if you're looking to keep your sugar intake down, the thought of taking too many gummy vitamins can sound scary. Depending on the recommended dose, many gummy vitamins can lead more sugar than you might think — or like — plus, too much sugar can actually work against hair growth.
"Excessive sugar intake can have a negative impact on inflammation in the body," said Elizabeth Huggins, a registered dietitian and Certified Diabetes Care and Education Specialist at Hilton Head Health. "If the good stuff our body needs, like vitamin C, folate, zinc, iron and biotin, is missing from our diet, then our hair, skin and nails will fail to thrive."
That's because excessive sugar can cause an overproduction of sebum, which is the body's natural oil that protects the skin and scalp. While sebum is beneficial for thick, full hair, too much sebum can also lead to inflammation. In turn, inflammation, particularly within the scalp, which can lead to decreased circulation and blood flow that is a necessity for healthy hair.
The American Heart Association recommends women limit their added sugar consumption to 25 grams or 6 teaspoons per day. Men should limit their daily consumption to 36 grams or 9 teaspoons.
Here's the good news: GRO Biotin Gummies contain zero grams of sugar.  
Are Gummy Vitamins Effective?
Adult gummy vitamins work to deliver the same essential nutrients as traditional vitamins — the difference is these daily vitamins come in a chewable format. GRO Biotin Gummies are not only sugar free, they're gluten- and gelatin-free, making them 100% vegan and powered by powerful plant-based ingredients.
Take the strawberry flavored gummy supplements daily for best results. In addition to biotin, they also contain the following ingredients, which may be beneficial in preventing a vitamin deficiency:
Zinc
Folic acid
Vitamin A
Vitamin C
Vitamin E and
Vitamins B-5, 6 and 12
Or, consider tapping into the therapeutic power of healing hemp oil with GRO+ Advanced Gummies. With MCT Oil and 10 mg CBD & 10 mg CBG per gummy — along with all the same powerful plant actives found in the original — offer the boost of broad spectrum hemp to promote thicker and fuller looking hair. The gummy multivitamin has no artificial colors or flavors and just two grams of sugar.
Read: 5 Benefits of CBD in Beauty Products
Doctor's Orders: Plant Active Tress RX
In addition to eating a nutrient-rich, balanced diet, you can support healthy hair, along with provide the entire body with immune support, by boosting your intake of essential vitamin and minerals. Dietary supplements may help to prevent or alleviate vitamin deficiencies by integrating more vitamins into your routine. And, choosing nature's medicine — plants — along with a plant based diet can also be a powerful way to bolster your overall health, including your hair and scalp.
The following vitamins and minerals are essential for healthy hair growth:
Vitamin D: Having a deficiency in vitamin D may influence hair loss. Vitamin D also has the potential to support new hair growth, making it a powerful ally for hair health. 
Vitamin E: This acts as an antioxidant that helps neutralize the free radical damage which may accelerate aging and cell maturation, leading to graying hair and hair .
Vitamin A: This vitamin factors into sebum production, which also influences hair and scalp health.
B Vitamins, including biotin: Also known as vitamin B-7, biotin is a crucial player in hair growth. Having a vitamin deficiency, including biotin, has been linked to hair loss.
Zinc: People experiencing hair loss are commonly deficient in zinc, a mineral that plays a key role in the health of hair follicles. It also helps to support and encourage the  follicle recovery of damaged hair.
Also: Is Collagen Vegan?
You Are What You Eat
To prevent vitamin deficiencies, consider including other healthy habits such as drinking juices or eating foods that support hair health. Opt to include potassium-rich fruits that activate enzymes, fruits with lycopene and citric acid, beta carotene-rich carrots or carrot juice. Garlic juice may bolster the collagen production that helps stimulate hair growth. Protein is also key for strength from tress to toe.
According to MS, RDN, registered dietitian Mia Syn:"Certain nutrient deficiencies including iron, zinc, vitamin B-3, fatty acids, selenium and vitamin D may impact hair growth and scalp health. Therefore, ensuring that you consume adequate amounts of these nutrients may help support scalp and hair health."
The dietician's tips include adding the following to a juice or meal:
Spinach will contribute plant-based iron, beta carotene and vitamin E.
Pumpkin seeds will contribute zinc.
Bananas will add vitamin B-3.
Nuts and seeds will contribute fatty acid.
Brazil nuts will contribute selenium.
Fortified milk will contribute vitamin D.
Make a Checklist
Be mindful to check in — and out — the ingredients in any daily multivitamin, whether they're traditional vitamins or ones in gummy form. Most gummy vitamins had previously contained gelatin and/or artificial flavors, making them less-than-ideal if you're practicing a plant based lifestyle.
Artificial flavors and colors contain chemicals that may lead to free radical formation in the body. Free radicals can lead to oxidative stress — an imbalance between free radicals and antioxidants in your body— which may factor in to a cause of graying and/or hair loss. Also, be sure to check in with your doctor to provide medical advice before taking vitamins starting any new supplements.
"As with all supplements and medications, it is important to get baseline blood work done and check with your GYN or endocrinologist if it's OK for you to take,"said Jennifer Kennedy, Director of Skincare and R.N., at PFRANKMD by Dr. Paul Jarrod Frank. According to Kennedy, red clover extract, which can be found in GRO Hair Serum and GRO+ Advanced Hair Serum, is also thought to influence healthy skin and hair growth due to its powerful isoflavones.
"Many believe that red clover also has estrogen-like effects which help to maintain overall hair and skin health," said Kennedy. "As we get older, our skin and hair become dehydrated, resulting in dull, dry skin and brittle hair. Red clover can help with these hormonal shifts."
Red clover, when used in combination with oligopeptide-2, may be effective for reversing hair loss caused by DHT when applied directly to the scalp, according to one study.  
Checking the ingredient list to ensure that there are no harmful additives. Instead, focus on integrating natural ingredients that are just as healthy as they are effective.
More From VEGAMOUR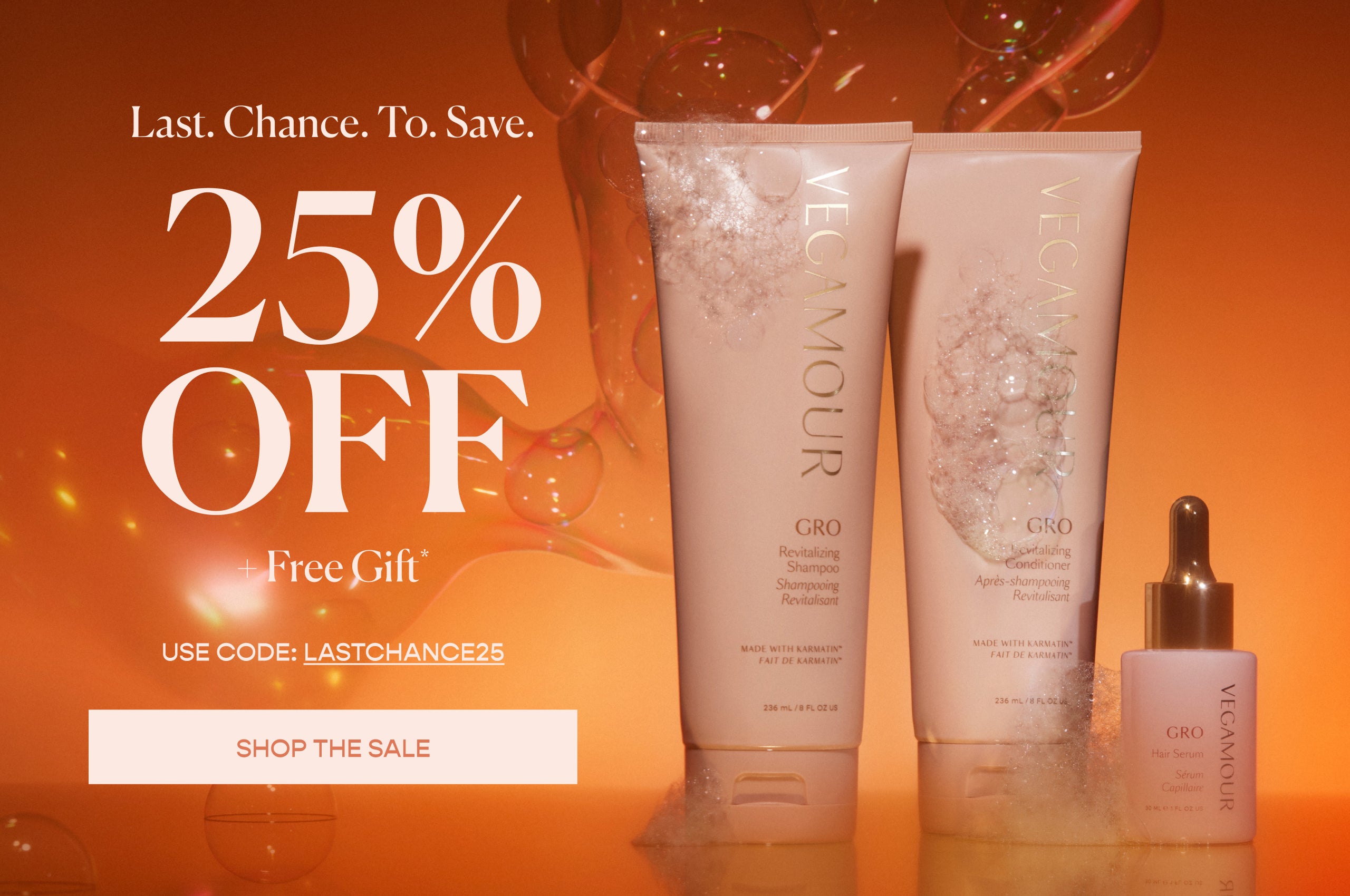 Disclaimer: Information in this article is intended for general informational and entertainment purposes only. It is not intended to constitute medical advice, diagnosis, or treatment. Always seek professional medical advice from your physician.