Why This Serum Changed the Game for My Hair
As a beauty and wellness writer and avid shopper, I'm always excited when I get an opportunity to test out a product, especially ones to help out my hair. I inherited fine, thin hair from my father and a tendency toward frizziness from my mother. On top of that, I frequently wear extensions and put my hair up in half-top knots, so my strands can always use a little more TLC.
Needless to say, I'm always on the lookout for products that can improve the look of my hair and support overall hair health. Read on to learn the ins and outs of my (spoiler: positive) experience with GRO Hair Serum. 
What Sets GRO Hair Serum Apart?
When it comes to hair care (or skincare, for that matter), I'll try almost anything once. I use a serum religiously as a part of my daily skincare regimen, so I was excited to incorporate a serum in my hair wellness routine.
Before I tried it, I was drawn to VEGAMOUR's GRO Hair Serum for a few key reasons that set it apart from competitors:
It's plant-based and cruelty-free, which are important qualities in a product for me as a vegan.
The serum (and entire product line) takes a holistic, 360-degree approach to hair care and wellness.
Unlike other chemical-heavy hair serums, it's made with all-natural ingredients and a non-toxic, water-based formula and does not contain harmful toxins or synthetic hormones.
The simplest reason of all — it works. Consistent daily use has been shown to increase the appearance of increased hair density and fuller hair, along with reduced signs of shedding, in as soon as 90 days. More than anything else, I wanted to try it because of its effectiveness — after all, I figured there had to be a reason it's a bestseller.
Shop: Purchase a 3-Pack or Subscribe and Save
GRO Hair Serum's Plant-Based Power
When it comes to hair health, the market can be overwhelming, but at the same time, it can be difficult to find a formula that is vegan and cruelty-free by design. That's one of the reasons I liked GRO Hair Serum — it uses clinically tested vegan ingredients to support healthy hair follicles and scalp, including:
Red clover: Historically used to treat skin irritation, red clover has been shown to improve hair and skin by mimicking the function of estrogen. (In this way, it may support thicker hair and nails.) Through this process, it is thought that red clover can combat the negative effects of DHT, a byproduct of testosterone that increases during aging. 
Turmeric (Curcuma longa): The main bioactive ingredient in turmeric is curcumin, a natural anti-inflammatory that might help lengthen the anagen phase (growth phase) of the hair growth cycle. 
Mung bean: A natural source of copper, mung bean can strengthen the hair follicle and its ability to resist premature shedding and thinning.
While we're on the topic of plants, there's another surprising ingredient that can support scalp health: CBD, which is an additional ingredient in GRO+ Advanced Hair Serum. While I haven't tried the GRO+ formula yet, I wanted to mention it since CBD has potential to help combat inflammation and improve circulation to support hair growth.
Read More: GRO Hair Serum Customer Reviews
What My Hair Needs
For years, I've prided myself on my ability to prioritize my self-care rituals. But as I've gotten a bit older, my hair and skin's needs have changed, and I'm always learning how to adjust my daily hair and skincare habits to meet them. Right now, my number-one priority is giving plenty of love to my hairline and roots.
While I am a beauty industry aficionado, my already-fine hair can always use some love. Whether it's my salon extensions, my topknot (my go-to hairstyle when I'm writing or teaching yoga) or the spa headbands I wear to test products, my hair goes through a lot on the average day.
Beyond that, because my hair is thin, my roots have a tendency to fall flat (and the weight of extensions doesn't help.) When it comes to hair, I'm the first to admit that I'm fighting an uphill battle. Because of that, I'll do whatever I can to help combat thinning hair, especially around my crown. That's where GRO serum comes in.
Read More: The 8 Best Hairstyles for Thin Hair
How I Used GRO Hair Serum
When it comes to beauty products, I'm a stickler for following directions. The serum's instructions told me that for best results, I should apply directly to the scalp daily, in the morning or at night. I incorporated the serum into my morning routine, when I usually have more time and energy (and, quite frankly, motivation). I find that my morning routine puts me in a good headspace for the day ahead — but if you're more of a night person, by all means, adjust accordingly.
Here's my daily routine:
I keep the serum bottle on my vanity in my line of sight so I'm less likely to forget it in my morning grogginess. (I put it next to my GRO Lash Serum, of course.) As with all beauty products, consistency is key, so take the instruction to apply daily seriously!
The serum is meant to be used best on dry or towel-dried hair, but since it's a leave-in product, you can style as desired right after using (meaning you don't have to wash it out). I've used it both ways and found both work equally.
I part my (dry) hair into several sections, securing each one with a clip so I can clearly see where to apply the serum. (I did this all around my scalp, but you can focus on targeted areas if you have specific areas of your hair that are thinner.)
I apply a full dropper of serum from the bottle directly to my scalp along each parted section. I then check to make sure the hair serum is evenly dispersed and that I didn't miss any spots.
I gently massage the serum into my scalp using my fingertips to help distribute it throughout my hair. I've used this opportunity as a sort of self-care mindfulness practice, going all-in with a scalp massage.
That's how I did it, but if you prefer a visual play-by-play, I also found it helpful to watch this video on how to apply hair serum for maximum effectiveness.
What I Loved About GRO Hair Serum
Starting with unboxing the product, my experience with GRO Hair Serum felt luxurious. As with all VEGAMOUR products, I appreciated the minimalist-chic pink design and high-quality glass bottle and fill dropper.
I also liked how light and refreshing the serum felt. It has a lush but gentle botanical scent, and since it's water-based, it feels nice on the scalp and doesn't leave my hair looking or feeling oily, greasy or weighed down. That was an extra plus for me, since I often get oily, flat roots post-workout or sweat sesh, especially if I've put something heavy in my hair. With this serum, I never worried about that — if anything, it helped my hair feel light and airy all day.
I loved that I was able to use the serum on wet or dry hair. Since it dries super quickly, it's the perfect item to use in a time crunch. This was a huge plus for me since I often wake up at 5 a.m. to teach, leaving me minimal time to get ready. (Or, if you're a night person and use it before bed, it won't get your pillowcase wet.) It's also perfect for on-the-go use or for travel, since the 1-ounce bottle is both leakproof and carry on-friendly.
GRO On the GO: Travel Size GRO Revitalizing Shampoo & Conditioner
Does VEGAMOUR Work? It Works for Me!
I've seen a lot of people online ask: Does VEGAMOUR work? It's a fair question and something I wondered as well. After using GRO Hair Serum for 90 days, I personally saw that yes, it really was effective for me!
More than anything else, I love GRO Hair Serum for one major reason: It actually works and has done great things for my hair. At first, I noticed more and more baby hairs appearing around my hairline. I saw consistent regrowth in roughly three months — a quality result for a little bottle or two of product.
At around that time, I went to get my hair extensions swapped out, and my hairstylist saw a difference, too. She commented on how much more grown-out my extension attachments were compared to my prior (pre-GRO serum) salon visit. We were both super impressed by the regrowth across my scalp, which I considered a major win for my often-stubborn hair.
Real Women, Real Results
The results of my daily use speak for themselves, but I'm in good company check out this before-and-after from a customer, Amber J., to see VEGAMOUR in action.
"Started using in February 2022 and in April 2022 saw quite a bit of growth. I was excited as I've been trying to regrow my hair along the side of my head since I had my son in 2018. ⁠ It's simple to use, and I like that it doesn't leave a greasy feeling or anything. It reminds me of water, and you don't notice it once it's in. I've been recommending it to family and friends." 
My Advice
When you get started with a new hair product, remember that patience is a virtue. Like anyone else, I felt tempted at times to give up when I didn't see results on the spot. But I'm so glad I kept going and committed to really using the serum daily.
While you might notice fuller, longer-looking hair in as soon as 90 days like I did, most people saw peak results around 120 days, or 4 months of consistent use. If you're into stats, the numbers indicate that GRO Hair Serum can increase the appearance of hair density by up to 52%* and reduce signs of shedding by up to 76%**.
I've loved my experience with GRO Hair Serum — it's helped me feel better about my hair and has motivated me to renew my commitment to my hair and whole-body health and wellness. Overall, I think it's a quality product that was well worth the relatively little time and energy I put into it especially because it really did work for me! So get yourself some GRO Hair Serum ASAP and enjoy the results of the little bottle that could!
More From VEGAMOUR
*Results from a double-blind, in-vivo clinical study involving 40 subjects over 150 days.
**Results from a double-blind, in-vivo clinical study involving 20 subjects over 150 days.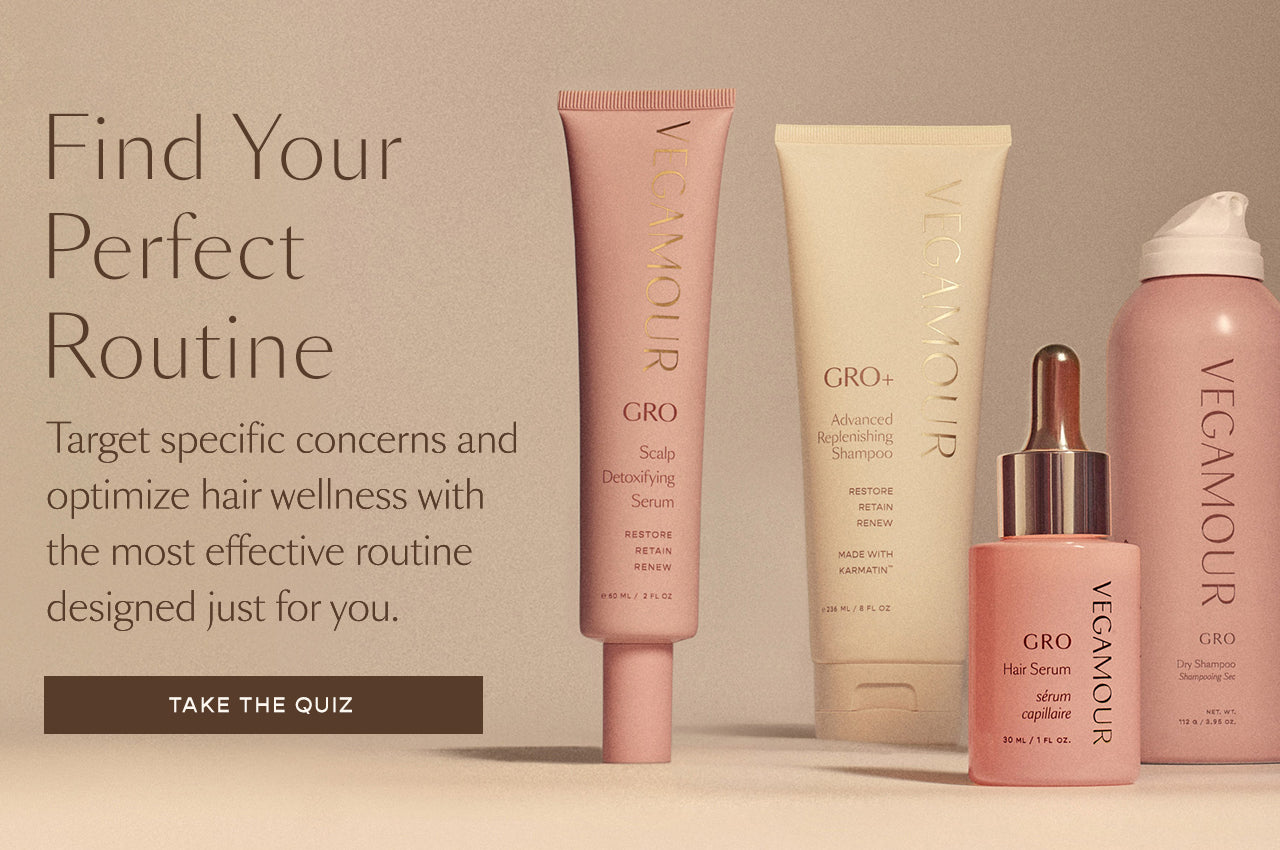 Disclaimer: Information in this article is intended for general informational and entertainment purposes only. It is not intended to constitute medical advice, diagnosis, or treatment. Always seek professional medical advice from your physician.