Does Baking Soda Help Hair Grow?
From what you put on your hair to how you style your tresses, how you care for your hair can affect how well and how healthy your hair grows. Anecdotal evidence suggests that baking soda might help hair grow better, but does it really?
Read on to learn if baking soda has a positive effect on how your hair grows — plus, what products you really should be using to encourage thicker, fuller looking hair. 
Can Baking Soda Help Your Hair Grow?
To get the facts on baking soda and how it contributes to hair health, hair loss or hair growth, VEGAMOUR consulted with cosmetic chemist Vanessa Thomas of Freelance Formulations, who shared her professional assessment of using baking soda as a potential hair growth treatment: "When it comes to baking soda for hair growth, there are no studies that confirm that this would help or enhance hair's growth. Baking soda has the ability to cleanse the scalp, but it may not be recommended because of the pH level. Generally, it is best that hair products be in a range of 3.5-5.5, but baking soda has a pH of 8.3."
Thomas also warned that baking soda treatments are not good for:
Long-term use
Colored hair
On lightened or highlighted hair
"It is best to stick to professional hair products," Thomas said.
Shop: GRO Collection for Thicker, Fuller Hair
What Baking Soda Does to Hair and Scalp
There's no conclusive scientific evidence linking baking soda use and hair growth. However, although baking soda won't make your hair grow any better, it might have some effect on your scalp and hair as a clarifying agent.
Temporarily, these clarifying effects can help cleanse away product buildup and excess oil or prep the hair for chemical services by cleansing the surface of your hair strands. But before you stock up, you should know that using baking soda routinely can be abrasive and caustic; it also can cause irritation to skin or damage to hair strands. Hair cuticles cannot withstand consistent alkaline treatments with baking soda and will dry out in the process. The result is frizzy, unmanageable hair with an ongoing high pH that isn't healthy for your hair or skin. Long-term use or overuse could exacerbate hair loss or even cause hair loss through damage and breakage.
Related: These Ingredients in Shampoo Might Contribute to Hair Loss
Using Baking Soda As a Clarifying Treatment
Although baking soda may have some value as a clarifying treatment, applying it in full strength is not recommended as it can upset the natural pH balance of your scalp and hair, which prefer a slightly acidic pH. If you consider the effect baking soda can have on your scalp and hair and you decide to go ahead and try it, here's how.
Add a few teaspoons of baking soda to your regular shampoo, (the shampoo pH will help temper that of the baking soda to some degree) lather, and leave on for a few minutes.
Thoroughly rinse your hair with tepid or mildly warm water.
Follow with a good conditioner to repair the hair and restore any moisture lost in the treatment.
Note: Check with your doctor or dermatologist if you have any health conditions that would make it hard for your skin to tolerate the alkalinity of baking soda.
If using baking soda sounds like too much risk with no promise of reward, read on for a much better alternative.
A Better Solution to Encourage Thicker, Fuller Looking Hair
Professional hair care products are the best option to address your hair and scalp's specific needs. And creating a healthy follicular ecosystem sets the stage for thicker, fuller looking hair.
Rather than using caustic baking soda that disrupts hair pH and can damage the hair shaft, opt for a clarifying treatment that is safe for daily use. Our GRO Scalp Detoxifying Serum is a vegan, safe option that's clinically proven to work. Here's how it can help.
Includes our proprietary vegan silk protein to remove scalp buildup, soothe scalp damage and form a semi-permeable barrier.
Includes Zinc PCA to absorb excess oils, soothe scalp irritation and help support the scalp's natural balance.
Includes Willowherb extract to reduce the appearance of flaking and to create a more healthy scalp biome.
Includes wild-harvested baobab and marula oils (rather than the coconut oil found in many other clarifying shampoos or treatments), which offer antioxidant support as well as Omega 6 and Omega 9 fatty acids for moisture balance and protection.
Plus, applying it is much easier than applying baking soda!
Try This Hair Care Routine for Thicker, Fuller Looking Hair
VEGAMOUR products deliver the best benefits when used in tandem. We recommend following up a scalp detox with our shampoo and conditioner, which are packed with powerful plant actives to encourage thicker, fuller looking hair. Here's how.
Begin by applying your favorite scalp serum. Simply apply the drops to the scalp, massage with your fingertips and leave on for a few minutes.
Follow up by washing your hair with the GRO Revitalizing Shampoo and Conditioner Kit. This clean, vegan shampoo and conditioner duo cleanses without creating buildup, so you won't feel the need to use clarifying treatments as often. Plus, both formulas are packed with powerful phyto-actives, like mung bean, curcumin and red clover, which are clinically proven to increase hair density by up to 52% after four months of consistent use.
Take care not to overstress the hair while styling. Use low heat styling tools or allow the hair to dry naturally, then scrunch air-dried hair gently with your hands to loosen up the natural tresses.
Avoid tight hair bands or clips which could weaken your hair shafts or lead to hair loss.
Scalp Health Sets the Stage for Thicker, Fuller looking Hair
VEGAMOUR takes a different approach to clarifying and cleansing, creating beautiful clean hair without overstripping the natural oils from your scalp and hair. Additionally, because we thoroughly vet all ingredients that go into our products, we provide a better long-term solution than what baking soda treatments can provide.
Opt for our dynamic clarifying product to help maintain your scalp's optimal health, thus creating the biome needed for your hair to grow most beautifully. And while you're at it, look into our other hair wellness products to help you create the ultimate hair care system that will help your hair look and feel better than ever!
More From VEGAMOUR
Photo credit: Hailey Reed/Unsplash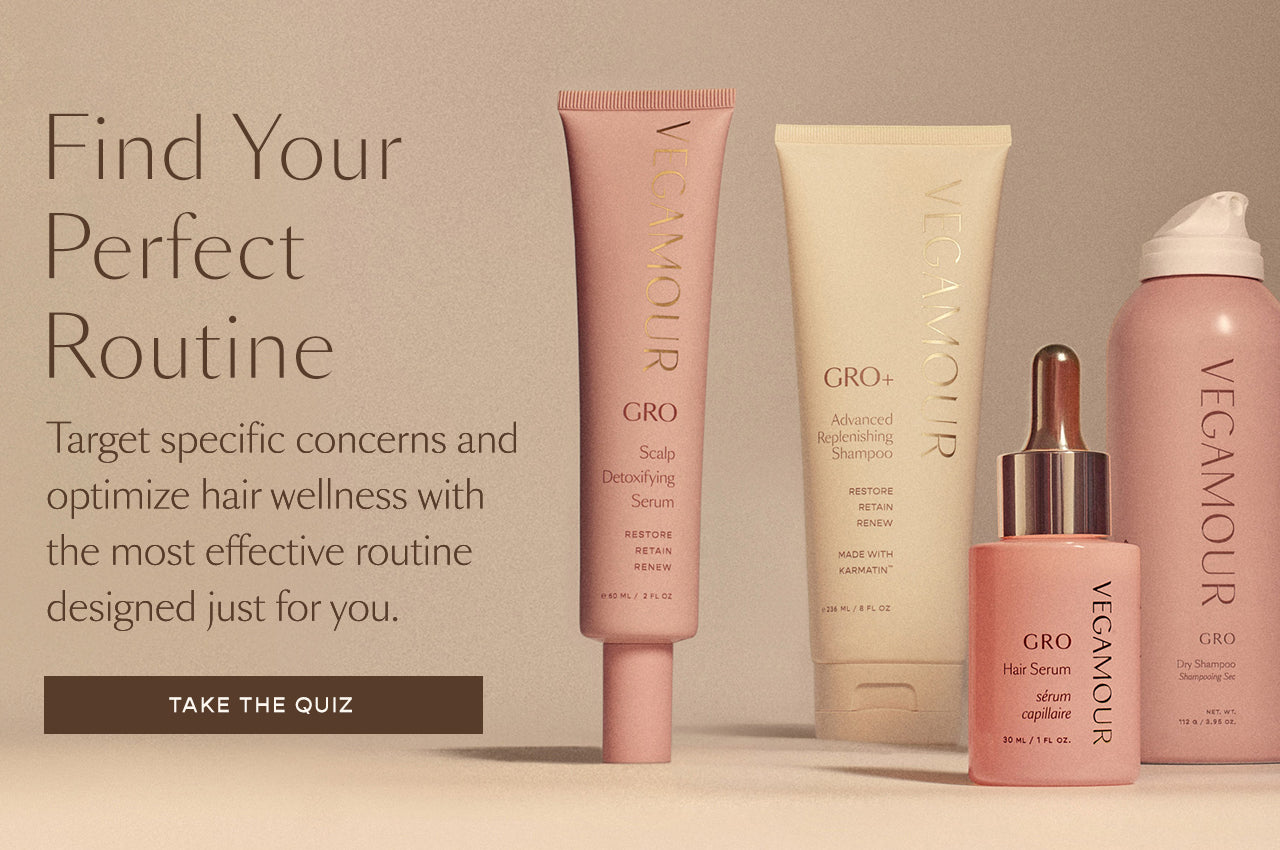 Disclaimer: Information in this article is intended for general informational and entertainment purposes only. It is not intended to constitute medical advice, diagnosis, or treatment. Always seek professional medical advice from your physician.