These Ingredients in Shampoo Might Contribute to Hair Loss
Did you know certain ingredients in shampoos may cause damage to your hair and scalp? Hair products with certain common ingredients could lead to poor scalp health, hair thinning, increased hair shedding, allergic reactions, scalp irritation — and maybe even hair loss.
Read on to find out more about silicones and hair loss, what else might be hiding in your shampoo and what you can do right now to protect your hair.
Avoid Shampoo With Silicones
If you're concerned about thinning hair or hair loss, check your shampoo for silicones, which will likely show up as dimethicone in the ingredients list. While the jury is still out, some experts believe that silicones can build up on the hair, clog hair follicles and cause hair loss. These experts recommend using a silicone-free shampoo.
Try a plant-based shampoo designed to combat thinning hair such as GRO Revitalizing Shampoo — it is free of silicones and will help encourage thicker, fuller-looking hair while reducing shedding in as little as three months.
Of course, there are other issues that are more likely to cause thinning hair and hair loss, such as the following:
Genetics
Stress
Autoimmune disorders
Traction alopecia
Medications
Poor nutrition
Lack of sleep
If you're experiencing hair loss or thinning that's troubling, consult with a dermatologist to help uncover any underlying reasons that need to be addressed.
Shop: Hair Products for Thinning Hair
Other Potentially Harmful Ingredients
Hair loss isn't the only concern you should have about shampoo ingredients. Certain ingredients in shampoos can also deplete the hair of natural oils, cause a hormonal imbalance or deliver chemicals that penetrate the skin.
Always check the product labels of shampoo to make sure ingredients that can wreak havoc on your hair or body are not included. Here are some common ingredients in shampoo to avoid.
Shop: Allison Wu's Top VEGAMOUR Picks
Sulfates
If you check the ingredients label on your shampoo bottle, you'll likely see sodium laureth sulfate. SLS is an ingredient that creates the rich lather you love. However, this surfactant can potentially strip your hair strands and your scalp of precious moisture.
When it comes to that salon-fresh bubbly experience you crave, you don't have to suffer the resulting hair damage of SLS detergents. Instead, opt for a shampoo that provides a safer, healthier and more luxurious cleansing experience. Explore sulfate-free shampoos that can cleanse your scalp without stripping your hair.
Note: Some of our products do contain sodium chloride, not to be confused with harmful sulfates. Sodium chloride is actually salt and is used as a more natural cleansing agent. Sodium chloride can be drying for the hair if you decide to skip out on using the proper conditioner designed to hydrate your strands. This plant-based GRO Revitalizing Conditioner is the perfect pick to use in tandem with our shampoo. Like our shampoo, our conditioner contains our proprietary Karmatin™️, made from b-SILK™ vegan keratin, which will leave your hair as soft as (vegan) silk and as smooth as glass.
Phthalates
According to dermatologists, phthalates in your shampoo, which are used as solvents and perfume fixatives, can cause hormone levels to change in your body. Yes, this is utterly terrifying. Fortunately, more companies are adopting natural scents like those from essential oils. VEGAMOUR products are free of phthalates.
Parabens
Parabens are well-meaning preservatives to keep mold and other gross things from forming in your shampoo as it sits on your shelf. But parabens in your hair products can wreak havoc on your hair and scalp, penetrate the skin, cause scalp irritation and over time cause hair loss. Research suggests many more harmful effects of parabens on your hair and your health. VEGAMOUR products are free of parabens.
Formaldehyde
VEGAMOUR spoke with expert hairstylist Ghanima Abdullah of TheRightHairstyles.com about hair loss, and Abdullah cautioned against formaldehyde-releasing agents in shampoos.
Abdullah shared that these formaldehyde-releasing agents, which are included in some keratin shampoos to help the protein bond to the hair and fill in damaged areas, can cause extreme irritation and hair loss. Abdullah mentioned two culprits specifically: DMDM hydantoin and quaternium-15. VEGAMOUR products are free of formaldehyde-releasing agents.
What to Do Right Now to Protect Your Hair and Scalp
Besides consulting with a dermatologist for troubling scalp and hair issues, here are some additional steps you can take to protect your hair and scalp.
Choose Gentle, Nourishing & Natural Products
Your hair and scalp deserve the very best in hair care. VEGAMOUR uses only the best ingredients, formulations and hair care technology to nourish your hair, scalp to tips, and encourage thicker, fuller-looking hair. Plus, you can count on the following:
No sulfates, silicones, parabens, artificial fragrances or gluten
No synthetic hormones or carcinogens
Cruelty-free (Leaping Bunny) and 100% vegan
No finasteride, isopropyl cloprostenate or minoxidil
No Keratin. Instead, we use Karmatin™, a microencapsulated vegan b-SILK™ protein, for much better results.
For a comprehensive, plant-based approach to hair care, consider the following kits:
For a mix of our best-selling GRO products, plus some of our newer additions, try the well-stocked kit GRO Complete Kit. It includes GRO Foam, GRO Hair Serum, GRO Shampoo, GRO Conditioner, GRO Detoxifying Scalp Serum, GRO Dry Shampoo and two bottles of GRO Biotin Gummies.
If stress-related hair loss is an issue, combat it with our GRO+ Advanced Foundation Kit. The GRO+ Advanced Scalp Detoxifying Serum detoxifies and de-stresses the scalp and protects it from environmental irritants, partially by delivering a dose of healthy Omega 6 & 9 fatty acids, which further moisturize, protect and bring your scalp ecosystem into balance. Follow up with GRO+ Replenishing Shampoo and Conditioner with wild-harvested marula oil, organic murumuru butter and ximenia oil help to condition, hydrate and fight damaging free radicals without imparting pore-blocking residue.
Reduce Stress
Unfortunately, stress and hair loss go hand in hand, so it's vital to actively reduce the stress in your life. For example, routinely exercise, meditate, journal and spend time with loved ones.
Eat a More Nutritious Diet
Unfortunately, certain foods and eating habits can contribute to hair loss. So a healthy, balanced diet is also important to the health of your hair.
Use a Hair Serum
If thinning hair is a concern, consider our GRO Hair Serum, which contains powerful vegan phyto-actives that support a healthy follicular ecosystem by soothing the scalp and revitalizing hair roots. This revolutionary formula has been clinically proven to support the appearance of longer, denser, healthier, thicker hair in as little as three months!
Take a Holistic Approach to Hair Care
The best approach to hair care is a holistic approach, which means using targeted hair wellness products without harmful ingredients, eating a nutritionally balanced diet, getting enough sleep, reducing stress, staying hydrated and seeking medical attention as needed. With this type of approach, you'll cover all the bases — and your hair and your health will be better for it!
More From VEGAMOUR
 Photo credit: ipopba/iStock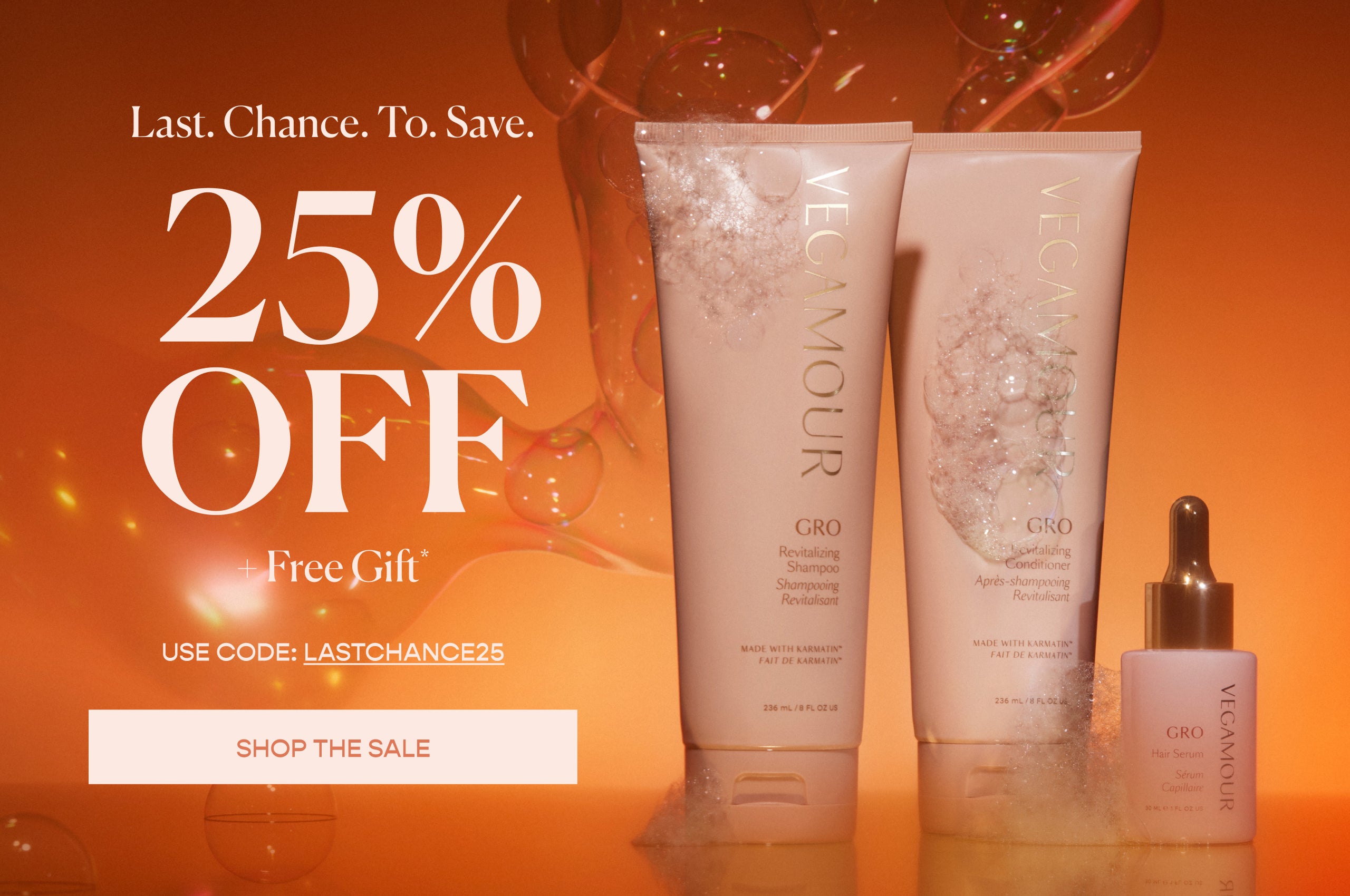 Disclaimer: Information in this article is intended for general informational and entertainment purposes only. It is not intended to constitute medical advice, diagnosis, or treatment. Always seek professional medical advice from your physician.