What Is Chelating Shampoo?
Minerals and chemicals can build up on our hair strands, which creates all sorts of problems with our hair. Chelating shampoos help, but can be damaging to the hair if not used properly. Many people get confused over these shampoos, what they do and how to use them correctly.
VEGAMOUR spoke with the experts about chelating shampoos, and we've got some tips for you. Plus, we'll show you daily shampoos that have all the essentials you need for healthier hair.
Chelating Shampoo Basics
VEGAMOUR spoke with Krysta Biancone, hairstylist and co-founder of Amari Salon & Spa, about chelating shampoos and what they do for your hair.
Biancone explained, "Chelating shampoo is a type of shampoo designed to remove mineral deposits, chlorine and other impurities from the hair. It does this by binding with these impurities and washing them away. Chelating shampoos are usually more acidic than regular shampoos and contain ingredients such as EDTA or citric acid that bind with the minerals in the hair."
Use an occasional chelating shampoo or "detox shampoo" if:
You have hard water
You swim a lot
Hair is regularly exposed to pollution or harsh chemicals
Your hair texture changes over time. Mineral buildup may make your hair feel more stiff and wiry or have an icky feel when wet. This varies due to the different types of mineral deposits or chemical residues.
Hair develops an odd tinge of color (often green, yellow or rust-colored)
Hair resists lightening or coloring
Conditioners don't seem to penetrate the hair
The heat of your curling iron, flat iron or blow dryer brings out an odd smell in your hair
Mineral residue and other deposits are removed with chelating shampoos or chelating treatments. Chelating molecules bond with the minerals or chemicals and pull them away from the hair and scalp to be rinsed away. These actions are caustic on the hair, often leaving the hair and scalp in a pH zone that's unhealthy. You may develop an itchy scalp and dry hair or a complex dry hair + oily scalp combination. Using these shampoos too frequently can also damage the hair.
Chelation can be too harshly acidic for damaged hair, bleached hair, curly hair (making it too frizzy and dry) or fine hair types which become over-taxed with the acidity of a detox shampoo.
Other detoxifying products, like scalp scrubs and clarifying shampoos (for product buildup), do not bond with the deposits but scrub or cleanse them away with salts, extra detergents and sometimes elevated pH. These, too, can dry out the hair by stripping the natural oils, yet won't remove most mineral deposits on your strands.
If your hair (or scalp) doesn't tolerate detox shampoos or chelating hard water shampoos, try an apple cider vinegar rinse or adding a touch of baking soda to your regular shampoo a few times a month. Make sure to follow with your regular conditioner to recondition your strands and restore your hair to the proper pH.
Mineral Deposits in the Hair
Chelating shampoos target minerals and unwanted chemicals, the two biggest sources of which are hard water and chlorinated water. Tap water that's "hard water" can deposit copper and other minerals in the hair which interfere heavily with hair coloring. Avoid shampooing your hair with hard water, if possible.
Chlorinated water, like from swimming pools, can leave chlorine (and an icky green tinge) in the hair. Always shampoo your hair after swimming in a pool. If you swim regularly, use a clarifying shampoo weekly to help prevent chlorine buildup. If you notice excess oil on the scalp, then you may be stripping the hair and your scalp's compensating by producing excess oil.
If you're a regular beach swimmer, however, don't worry. Salt water deposits are easily removed when you shampoo your hair with regular shampoo.
Choosing the Best Chelating Shampoo
A few things to look for in a good chelating shampoo to deep clean your hair:
Sulfate-free
Vitamin C, a natural chelator
Vegan options with natural ingredients may be best because they are cleaner and free of harsh chemicals
Nourishing ingredients to protect hair and retain moisture
Always follow the manufacturer's instructions which tell you how to apply it (To wet hair? Dry hair? Use heat?) and how long to leave it on your hair and scalp. Some scalp serums also remove harmful residues. This one is particularly good and is safe for daily use on a dry scalp. It soothes itchy scalps and helps restore your scalp's healthy biome.
Related reading: How to Apply VEGAMOUR Scalp Serums for Best Results
Who Should Chelate?
Deposits can happen on any type of hair. Hair type is less a factor than your lifestyle, your activities and the water you use to cleanse your hair at home. Soft water is typically better for your hair than hard water or mineral-rich well water, but most tap water will have chemicals or deposits.
If your hair is regularly exposed to unwanted chemicals and minerals, use a chelating shampoo every two weeks to keep residues cleared away. If you have curly or dry hair, then you'll need to be especially diligent about following with moisturizer. For all hair types, it is best to avoid buildup rather than put your hair through the stress of chelating agents and deep cleansers.
You may not realize you have mineral buildup on your hair until you go to the salon to have it colored. These deposits impede the color molecules' ability to penetrate the cuticle of your hair. Bleaching agents may also work more slowly or get "stuck" in a brassy tone, which makes it harder to get the targeted color result. Your stylist may use a chelating shampoo prior to your hair coloring service if you have hard water.
Avoid Product and Mineral Buildup
To keep your hair and scalp healthy, it's best to avoid buildup altogether to reduce the need for a chelating agent. That's far more simple than trying to remove minerals, environmental pollutants or other toxins from your hair. Protect your hair from pollutants when you can (use a hat, apply sunscreen, avoid hard water, etc.) and use a regular shampoo that keeps your hair healthy and resilient.
Healthy Hair Shampoos
While clarifying products remove buildup, perhaps you're looking for shampoos that don't contribute to buildup in the first place? Here are our two faves.

GRO Revitalizing Shampoo
Find it here: GRO Revitalizing Shampoo
Designed to protect and restore the health of natural hair
Won't strip natural oils
Sulfate-free yet removes product residue (though we recommend going silicone-free with all your styling agents)
Contains purifying plant actives that won't dry out your hair
Vegan b-SILK™ plant proteins to strengthen and protect your hair's essential moisture
Won't strip color! Safe for color treated hair, bleached hair, textured hair (curly and coarse) or chemically treated hair

GRO+ Advanced Replenishing Shampoo
Find it here: GRO+ Advanced Replenishing Shampoo
This has all the same benefits as above with one difference: hemp. Hemp extracts are very moisturizing for hair and work as a "booster" for other botanical ingredients. This shampoo is especially nourishing if you have curly hair or if you have artificial hair color, both which need the added moisture.
Related Reading: VEGAMOUR's GRO vs. GRO+ Advanced Hair Wellness Products: What's the Difference?
Avoid Stressed Hair
We think avoiding product or chemical buildup and using healthy products on the hair is best. Maybe it is time to stop over-washing, chelating, stripping and otherwise stressing your locks? Before stripping your hair with harsh shampoos, try a better hair care routine with vegan proteins and phytonutrients to protect your hair and give you more resilient, healthful tresses.
More From VEGAMOUR
Photo credit: RichLegg/iStock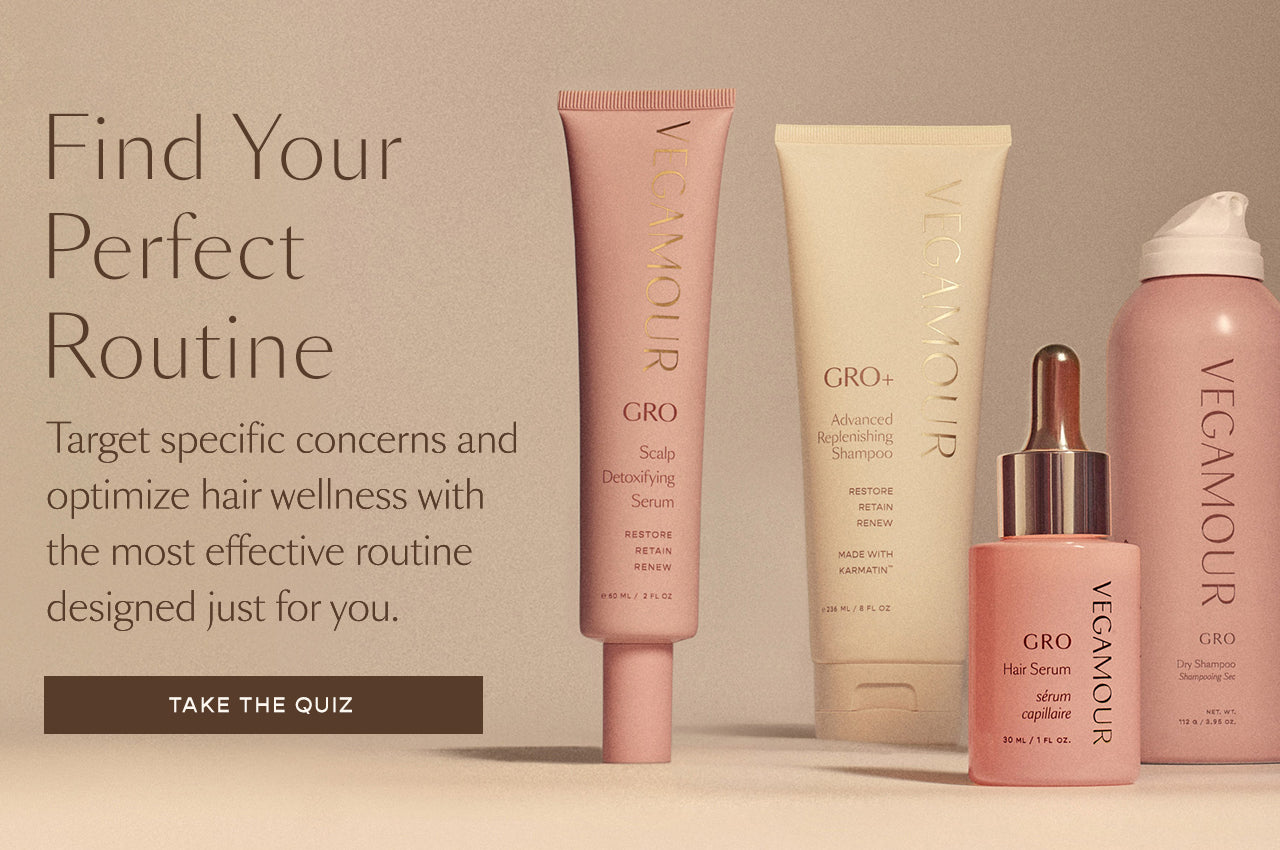 Disclaimer: Information in this article is intended for general informational and entertainment purposes only. It is not intended to constitute medical advice, diagnosis, or treatment. Always seek professional medical advice from your physician.