How to Apply VEGAMOUR Scalp Serums for Best Results
Your self-care Sunday just got a new addition: A weekly scalp detox! Think of your hair wellness routine as an extension of your regular skincare. This includes treating your scalp to some much-needed TLC.
Read on for how to use our scalp detox serum as a part of your weekly self-care ritual. Plus, find out what other hair wellness products you should be using to encourage thicker, fuller looking hair.
How to Apply VEGAMOUR Scalp Detoxifying Serums
Here's how to integrate GRO Scalp Detoxifying Serum or GRO+ Advanced Scalp Detoxifying Serum into your regular routine.
Part dry hair into even sections.
Actively massage either serum into the scalp for one to two minutes.
Leave on for 5-10 minutes and thoroughly rinse.
Follow with shampoo and conditioner.
Or opt to leave on overnight for a deeper treatment if desired. The next morning, rinse completely and follow with shampoo and conditioner.
For best results, use our GRO or GRO+ detoxifying serum once a week before cleansing and conditioning with the corresponding shampoo and conditioner duo. Lather up and nourish with GRO Revitalizing Shampoo and Conditioner. Or choose GRO+ Advanced Replenishing Shampoo and Conditioner, which both contain full-spectrum hemp to calm irritation.
No matter which shampoo and conditioner duo you choose, both include our proprietary vegan alternative to keratin, Karmatin™, which utilizes micro-encapsulated vegan b-SILK™️ protein that bonds to the hair cuticle and fills in cracks. Plus, it remains attached to strands even after rinsing.
The duos are also packed with powerful plant actives, which are clinically proven to reduce shedding and increase hair density after four months of consistent use. And they are free of silicones, harsh ingredients and safe for all hair types, including color-treated hair.
Why Caring for Your Scalp Matters
Healthy hair starts with a healthy scalp. And, like the rest of your body, your scalp is likely in need of a reset. Integrating a regular scalp detox ritual can encourage healthier hair follicles and promote improved hair health.
The first step? Include a weekly clarifying treatment using either:
Both serums are packed powerful plant actives that are good for your scalp.
Which Scalp Detox Serum Is Right for You?
Likely, you already use exfoliants and serums in your skincare routine. Now, it's time to extend that same TLC to your scalp and hair!
Powered by vegan phytoactives, GRO Scalp Detoxifying Serum has a proprietary plant-based formula that encourages a range of benefits for your hair and scalp, including the following:
100% vegan, clean, cruelty-free and color-safe ingredients
Free of sulfates, silicones, parabens, gluten, artificial fragrance and harmful toxins
Vegan Karmatin ™️silk proteins and clinically tested botanicals minimize, calm and soothe scalp irritation.
Removes stubborn scalp buildup and residue
Moisturizes and protects with Omega 6 & 9 fatty acids, including baobab and marula oils to offer extra antioxidant support, hydration and add balance.
Zinc PCA is included to absorb excess oils, reduce irritation and support the natural moisturizing properties of the skin.
Phyto-actives, such as Willowherb extract, safely reduce excess sebum production and adherent and non-adherent flakes to encourage a healthy microbiome, clinically proven to promote visible reduction in dandruff symptoms as soon as three days after initial use.
Cultivates a semi-permeable barrier that seals in moisture and protects from external environmental pollutants for optimum hair wellness.
GRO+ Advanced Scalp Detoxifying Serum has all the same great benefits — plus, the added boost of micro-encapsulated, full-spectrum hemp, which soothes and calms the sensitive, delicate skin on the scalp. It also promotes healthy circulation that can stimulate blood flow to the hair follicles, which is key for thick, healthy hair.
Find Out: Where to Buy VEGAMOUR
Transformative TLC for Your Scalp and Hair
Maximize your weekly scalp treatment by following up with one of VEGAMOUR's shampoo and conditioner duos. Our plant-based scalp products are perfectly designed to work in tandem with one another to give you your best hair yet.
And while treating your scalp and hair, take time to enjoy your shower as a meditative, transformative experience, visualizing the water washing away your worries down the drain. The acts of cleansing and nourishing your outer and inner health are mindful, loving self-care rituals. The result? Your hair, scalp and spirit will be restored and renewed!
More From VEGAMOUR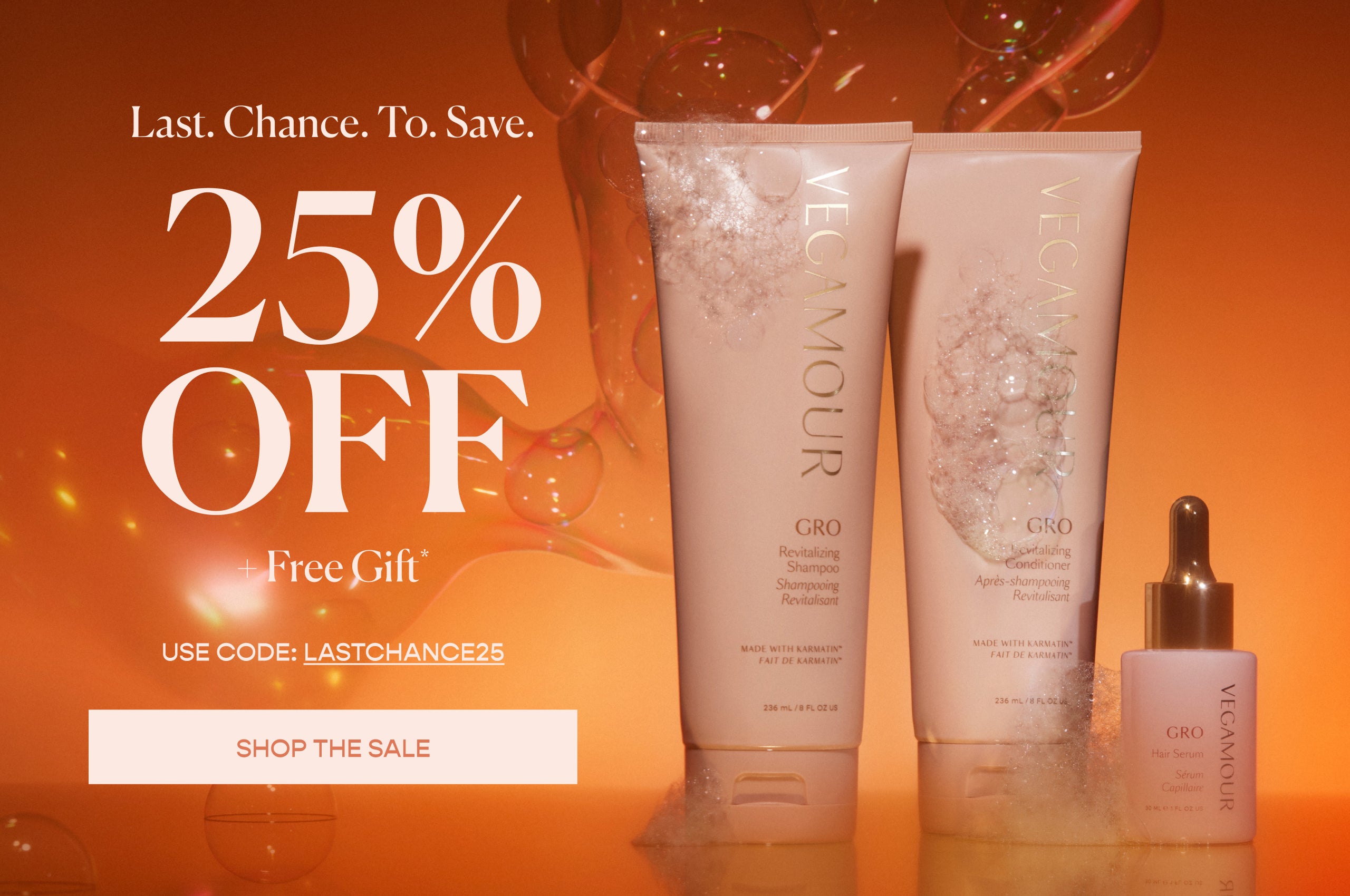 Disclaimer: Information in this article is intended for general informational and entertainment purposes only. It is not intended to constitute medical advice, diagnosis, or treatment. Always seek professional medical advice from your physician.