Turmeric for Hair Growth? Here's What Research Shows
Tap into the healing power of turmeric. Bright in color and rich in flavor, turmeric is a powerhouse ingredient thought to be rife with wellness benefits. The golden spice, which is native to India and Southeast Asia, has long been used in Ayurvedic medicine. Ayurvedic medicine, an ancient system of healing, utilizes natural ingredients, such as the turmeric plant, to address an array of health conditions.
Turmeric is also known for its beauty benefits, such as boosting skin health and promoting hair growth. You can reap the healing benefits of turmeric in a number of ways: Sprinkle the powdered herb into a meal, brew up a golden milk latte or tea, mix up a turmeric paste or take turmeric supplements.
@vegamour Get to know our key hair loss ingredient curcumin! Derived from turmeric, this powerful ingredient has literally been used for centuries as a cell-stimulating element in the ancient Ayurveda practice of India — a system that balances the dosha, or energetic fields, for optimum wellness. Contemporary studies are underway to explore the ability of turmeric in increasing the length of the anagen phase of the hair. That's why we include it in the formulation of many of our products, including both iterations of our hair serum, GRO Hair Serum and GRO+ Advanced Hair Serum. #vegamour #hairserum #femalehairloss #hairlosssolutions ♬ original sound - VEGAMOUR
Read on to learn more about the vivid spice's healing properties and how it may help in your quest for gorgeous, healthy, thick hair.
Turmeric's Healing Properties 
Turmeric is a member of the ginger family that has been utilized by holistic health practitioners for its potent healing properties. The plant is believed to offer the following wellness benefits:
Provides anti-inflammatory support
Provides natural antiseptic properties
Provides anti-bacterial support
Neutralizes free radical damage
Promotes healthy cells
Provides cardiovascular support
Supports the immune system
Addresses skin disorders
Supports the digestive system
Improves allergies and other respiratory infections
Promotes joint health and relieves joint pain
Aids with anxiety and depression
Addresses liver disease
Supports arthritis issues
Bolsters healthy blood circulation
Provides antioxidant support
May help prevent cancer and heart disease
Helps treat dandruff and seborrheic dermatitis
This powerful herb has also been linked to preventing diabetes, alleviating mood issues, eliminating toxins, reducing cravings and boosting hair health.
Related: Diabetes, Insulin Resistance and Hair Loss
The Science Behind Turmeric and Hair Growth
Turmeric, also known as Curcuma longa, is one of the natural ingredients that is thought to increase the length of the anagen (growth) phase of hair. This phase is one of the four hair growth cycles, in which new growth happens as it pushes old hair up and out of the hair follicle.
In a clinical study, highly concentrated proteins secreted from the stem cells of the turmeric root have been shown to increase the delivery of 1GF-1 (insulin-like growth factor) and miRNA (small molecules that help regulate genes) to the dermal papilla, which helps lengthen the hair's growth (anagen) phase. So natural products, such as turmeric supplements or hair wellness products containing turmeric, like those in the GRO More Kit may be helpful combatting thinning hair.
Spotlight on Curcumin
Wondering how exactly turmeric may deliver such big results? One of the reasons is linked to its main bioactive compound, curcumin, which is one of the curcuminoids that comes from the dried rhizome (stem) of the plant.
If you're well-versed in the world of wellness, chances are you may be familiar with curcumin — the essential ingredient that gives turmeric its striking yellow color.
Curcumin is believed to have notable health benefits, including:
Lowering inflammation
Protecting beta cells
Reducing insulin resistance
Boosting your immunity
Clarifying your complexion
The curcumin element of turmeric also means that those same anti-inflammatory properties may be helpful when it comes to addressing hair loss issues and improving damaged hair. Curcuminoids (curcumin and closely related substances) are natural polyphenol compounds derived from turmeric extracts that are rich in antioxidants, which are known as warriors against inflammation. These antioxidants are believed to effectively address the free radicals that can cause damage to both the skin and hair.
Shop CBD-Infused Hair Products: GRO+ Advanced Line
Other Hair Benefits of Curcumin
In addition to the benefits of its antioxidant properties, curcumin can positively affect hair wellness in another way. Here's how.
Curcumin as a DHT Blocker
Curcumin is considered an effective means to treat hair loss and stimulate hair growth by decreasing high levels of DHT. DHT — aka dihydrotestosterone — is one of the primary factors in hormonal hair loss. Too-high levels of DHT can lead to male pattern baldness, also known as androgenetic alopecia or androgenic alopecia. As DHT reduces or restricts the supply of proper circulation to blood vessels, it compromises the health of hair follicles and hair growth.
According to one study, curcumin can combat hair loss because it has the ability to suppress abnormal androgen receptor (AR) expression. This important because AR contributes to the control of hair growth and is also overexpressed in follicles of those experiencing androgenetic alopecia. 
The Plant-Based Power of VEGAMOUR's GRO Hair Serums and Foam
Curcumin, along with other hair-healthy ingredients, is a primary ingredient in many VEGAMOUR best sellers such as GRO Hair Serum, GRO+ Advanced Hair Serum and GRO Hair Foam. To help increase the appearance of hair density, thickness and volume, apply the foam or serum directly to the scalp with your fingertips. And don't worry, neither the serum or the foam will leave any telltale turmeric yellow hue left behind, unlike raw turmeric, which can stain the skin or scalp.
Check out this before and after image from a customer who used GRO Hair Serum, infused with the power of curcumin. 
Instead of your fingertips, you can use the GRO Revitalizing Scalp Massager as a way to work in VEGAMOUR's serum or foam. Or use the massager on a dry scalp to stimulate improved circulation and blood flow.
Related: How To Get Thicker Hair
Spice Things Up in Your Wellness Routine
Add some spice to your wellness routine by integrating turmeric from tress to toe. Here are some other suggestions to try.
You Are What You Eat
To make curcumin (not to be confused with cumin, which is technically a member of the parsley family) a part of your diet, considering add turmeric into your meals or whipping up a barista-worthy turmeric latte.
When incorporating this healthy spice into your meals, be sure to combine it with black pepper and a healthy fat like coconut oil, olive oil or ghee. This will increase its bioavailability as well as allow for maximum absorption. Or, opt for an antioxidant boost by adding a teaspoon of turmeric to your favorite smoothie or green juice. 
Read: How Black Pepper Extract Can Benefit Hair
Lashes and Brows That Wow
Score lush lashes and beautiful brows with GRO Lash & Brow Serums. Use these curcumin-infused serums twice a day, consistently, for fuller-looking lashes and boosted brows in as soon as 30 days.
DIY Skin Soother
Make turmeric into a skin care paste to soothe various skin issues such as redness or inflammation, or mix up a complexion-perfection DIY face mask. But consult your dermatologist first if you have sensitive skin or any concerns. Also, be mindful that the vivid spice can stain, so you may want to apply a barrier, such as a tissue or a towel if using a turmeric paste on a skin condition.
For a simple, soothing at-home facial, combine turmeric powder with coconut milk and honey. Apply to freshly cleansed skin and leave on for 10 minutes. Rinse thoroughly with warm water to prevent any yellow staining of the skin.
Recipe for Healthy Hair Growth
You can use turmeric in a variety of ways to benefit your skin, hair and overall wellness. However, if your hair is your focus, use VEGAMOUR's products, including those containing turmeric, to give your hair wellness routine a healthy boost.
More From VEGAMOUR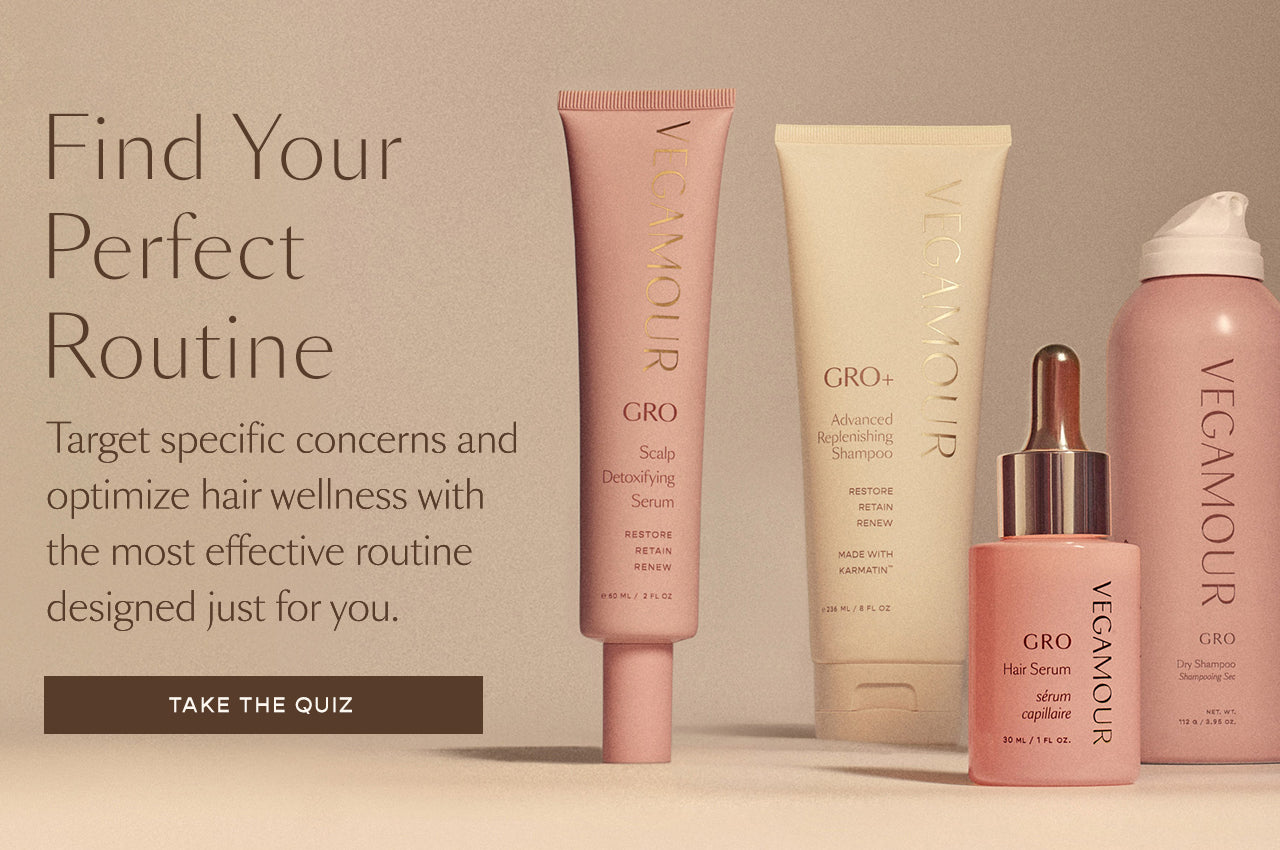 Disclaimer: Information in this article is intended for general informational and entertainment purposes only. It is not intended to constitute medical advice, diagnosis, or treatment. Always seek professional medical advice from your physician.