Horsetail Root for Hair Growth: What You Should Know
If you Google "how to help hair grow," you'll be overwhelmed with tips, tricks and a plethora of formulas. And if you're on the hunt for something with a natural touch, you might've run into recent reports waxing lyrical about the horsetail root hair growth benefits.
Although horsetail extract may bring to mind an actual horse, it has no other connection than its leaves and branches loosely resemble a lush horse's tail. But what makes horsetail extract the extract that everyone currently has their eye on? Can it really stimulate hair growth? 
To get the bottom of horsetail root and its health benefits, VEGAMOUR spoke to the professionals and dove into the research. Read on to learn more about the incredible benefits of horsetail root and why it is a featured ingredient in VEGAMOUR's GRO WELL Hair Boost Supplement + Probiotic.
What Exactly Is Horsetail Root?
Horsetail (or Equisetum arvense, its botanical name) has been used as a medicinal herb for a variety of purposes since the time of the Greeks and Romans. It's been added to formulas for centuries because of its diuretic capabilities and has shown usefulness for soothing wounds and burns. The herb has also been used to treat tuberculosis, gout, joint problems, osteoarthritis, and even frostbite.
You can find horsetail supplements at regular health food stores, or you can pick it wild if you're feeling adventurous. You're most likely to find the perennial plant in clay soil near damp areas such as lakes, marshes, rivers or streams in the temperate Northern Hemisphere of North America.
In recent years, horsetail has grown a reputation for reducing hair thinning, helping reduce brittleness in nails and helping produce healthier hair follicles, which, of course, regulate hair growth. 
The easiest way to get horsetail root is in a supplement. VEGAMOUR's GRO WELL Hair Boost Supplement + Probiotic features horsetail root as well as other powerful ingredients like fo-ti, saw palemtto, curcurmin and more. Mix one packet with water, your favorite nut milk or a smoothie for a delicious hair boost treat. 
Does Horsetail Root Promote Hair Growth?
Many minerals, herbs, and other supplements are currently flooding the market, accompanied by tales of their impressive healthy hair growth capabilities, but what exactly does the horsetail plant do, and is it the right herbal remedy for your hair health journey?
Heather Hanks, a degreed nutritionist at USA Rx, told VEGAMOUR, "Taking a natural approach to hair growth has numerous benefits for the whole body, and horsetail root shows excellent potential due to its anti-inflammatory actions, collagen-stimulating properties and silicon content. However, it might take a while for you to see results when using a herbal approach, and many people quit taking it if they don't see immediate results."
Essentially, horsetail root is believed to help stimulate hair growth and strengthen strands because of its powerful antioxidant properties. Erik Pham, the managing editor of Healthcanal, said, "Horsetail root is a popular ingredient in dealing with hair fall. It helps your hair by improving blood circulation, reducing dandruff and strengthening your hair. In addition, it can help remove dandruff thanks to its anti-inflammatory and antioxidant properties. Its antioxidant properties also counter oxidative stress in your hair caused by free radicals preventing further damage."
Because of the herb's powerful cleansing and detoxing capabilities as a diuretic, it's also thought to improve blood circulation. And when the blood circulates, both the scalp and thinning hair will benefit. As a result, the scalp and individual hair follicles can operate at their peak level, and any itchy scalp woes are reduced.
To continue to improve your blood circulation, especially at the scalp, you may want to pair a horsetail supplement with the GRO Revitalizing Scalp Massager. The carefully constructed bristles have been designed to boost scalp health. Plus, you can pair it with your choice of hair serums, foams and shampoos to maximize the benefits. Use the tool as often as feels good to increase your overall hair wellness.
See: How to Choose the Best VEGAMOUR Hair Serum or Foam for Your Hair Needs
How Does Horsetail Root Tackle Hair Loss?
The herb has a high silica (or silicon dioxide) content, which comes in particularly useful when tackling hair loss. Silicic acid is excellent at increasing the tensile strength and density of hair. The nutrients in the horsetail work together with the silica content to nourish brittle nails and help encourage new hair.
Essentially the herb can help rejuvenate hair, and together with the antioxidant effects, locks will be left with a healthy, glossy sheen. And that's not all. Horsetail also contains selenium, cysteine, biotin and vitamin C, which are known for their hair replenishing qualities. Biotin is actually one of the most applauded vitamins for hair growth, and taking regular supplements can help tackle troublesome hair follicles.
If you're looking to improve your overall hair wellness with a daily supplement, consider GRO Biotin Gummies, which feature a host of powerful vitamins and minerals that can help nourish brittle strands and boost hair from the root. In each gummy, you'll find biotin, folic acid, plus vitamins; B-5, 6 and 12, which help support the body's production of collagen and keratin.
Collagen is something that horsetail root can also help synthesize. Yannis Giantzides, the managing director at of Harley Street Hair Transplant Clinics in the U.K., said, "The silica in horsetail extract makes it a wonderful hair care product because it promotes collagen manufacturing, which may aid in the creation of cartilage and bone tissue. As a result, horsetail promotes hair growth, enhances strength and prevents hair loss by addressing collagen deficiency, which is a common cause of brittle nails and dry, brittle hair."
Shop: GRO Revitalizing Scalp Massager
Horsetail: Yay or Nay?
Boosting your diet with a range of plant-based ingredients is always helpful to improve the overall look and feel of your hair, skin and body. Though conclusive studies are still in the works, it does seem like including a horsetail supplement in your diet could help improve the appearance of hair that's lost its luster and fullness.
To combat hair issues, VEGAMOUR created an all-natural, vegan, hormone-free hair wellness system. Featuring a range of bio-active phytomolecules that naturally help improve the look and feel of the hair, our holistic approach is gentle but effective. Here's to your hair health!
More From VEGAMOUR
Photo credit: Mathilde Langevin/Unsplash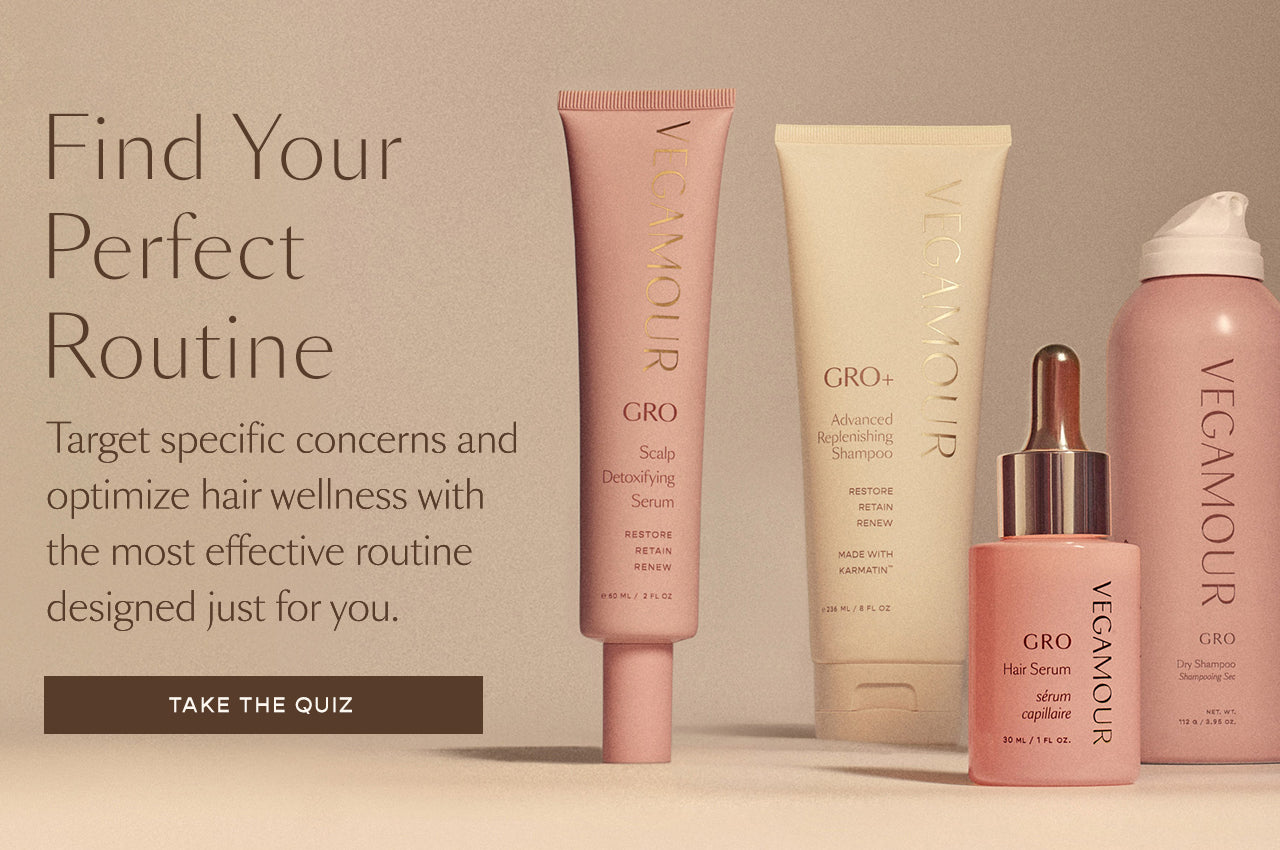 Disclaimer: Information in this article is intended for general informational and entertainment purposes only. It is not intended to constitute medical advice, diagnosis, or treatment. Always seek professional medical advice from your physician.