Thin Hair? Try Ghost Layers at Your Next Hair Cut Appointment
If your thin hair lacks volume and falls flat, it can be beyond frustrating. The good news is that ghost layers are here to save the day! This innovative haircutting technique is basically an invisible way to get more body without losing length.
Before you head to your stylist, however, learn more about what ghost layers are and how to achieve them — plus, find out what products can support thicker, fuller looking hair.
What Are Ghost Layers?
Stylist Ramòn Garcia created this gently layered haircutting technique that's typically done with a straight razor or slide-cutting shears. This invisible layering hair trend is perfect for all hair types and supports specific haircuts by altering the distribution of weight in the hair, which boosts volume and movement.
VEGAMOUR spoke with Alan Lee, co-founder of Hairbro, about why ghost layering works so well, "Shorter pieces work to add movement to locks, while longer layers serve to camouflage these pieces," he said. "Ghost layers, as the name implies, create a look that appears to be one length at first glance, but ultimately contains light layers within the hair."
Here are some hair types, textures and styles that could benefit from ghost layers.
Fine hair that's densely packed and therefore very flat
Fine hair that doesn't respond well to traditional layering
Short hair that needs more volume, especially to add lift at the crown and top layer
Shoulder-length hair that needs a boost
Medium-length hair that's dense
Long hair, thick hair or a long bob to keep hair long and reduce weight
Hair types, like curly or coily
A new haircut or existing haircut that requires less weight yet more volume
Shop: GRO Collection for Thicker, Fuller Looking Hair
How Do You Get Ghost Layers?
Before you ask your stylist about this cutting technique, be aware that it's known by several names:
Ghost layers
Invisible layers
Internal layers
When you go in to get a trim or a new haircut, tell your stylist which areas of your hair are too limp or heavy. This helps your stylist to identify problem spots that may benefit from a few invisible or hidden bottom layers that can give those areas a boost. Also, ask your stylist for some tips on how to blow dry your hair for max volume in the areas where you need it.
Also: How to Care for Fine Hair
Benefits of Ghost Layers for Thin Hair
Even though ghost layers can work on all types and textures of hair, one type of hair that responds really well to ghost layering is thin, flat hair. Thin hair is especially difficult to style because the slightest bit of weight or humidity can collapse your style. Ghost layers help to create the light movement you need to help support your style without having to resort to shorter surface layers.
Lee shared that "If you want a modern, low-maintenance hairstyle ... this is the cut for you. Ghost layers are ideal for removing bulk from within the hair ... without sacrificing too much length."
Though this technique removes bulk and technically "thins out" the hair, it's done in such a way that it adds movement and texture by providing a foundation of light, supportive layers, making the hair appear more breezy yet full. It's perfect for longer hair lengths that get dragged down by the weight of the longer hair strands.
Ask your stylist to recommend lightweight and easy haircuts for you, and also ask about the possibility of incorporating hidden ghost layers. You might find this hair-cutting technique opens up more haircut and styling options for your thin hair.
Remember, ghost layers aren't the layers you might have had in the past. They are hidden and subtle. Plus, they boost volume in your hair without noticeable surface layers that must be curled or styled to hold their shape.
Related: 8 Best Hairstyles for Thin Hair
Ghost Layering on Other Types of Hair
Ghost layers for thin hair are not the only option because this technique adds layers that are tucked inside the hairstyle, hence the idea of them being invisible. Ghost layering works with any length haircut and many hair types. It helps hair lose a little bulk while achieving body and movement.
For any type of hair, from thick to thin, straight to wavy to curly and coily, taking some density out of targeted areas, or all over the head if the hair is especially thick, can help to give a lift in the places your hair needs it, remove heaviness in areas that naturally have more bulk and give movement to the hair without removing length.
Shop: Nicole Franzel Arroyo's Top VEGAMOUR Picks
Tips for Caring for Hidden-Layered Hairstyles
Besides your hairstylist's specific advice, here are some ways you can get the most out of ghost layers.
Try reverse washing using a thickening shampoo and conditioner. To reverse wash, you use the conditioner first and then the shampoo.
Treat your scalp with a detox serum weekly because the health of your hair starts with your scalp.
For short haircuts, give a volume kick at the top layer or the crown with a short burst of dry shampoo, and then tousle the hair for extra lift.
Get your hair cut about every six weeks to keep those ends neat and healthy.
Don't get too excessive with blow drying or heat styling.
Take a Holistic Approach to Healthy Hair
Getting a haircut that will boost volume and bring movement to your thin hair can work wonders when it comes to how you look and feel. However, you can bring out the best in your hair (and yourself), by taking a holistic approach. Taking this approach will help you live your best life and encourage, thicker, fuller looking hair that will look beautiful no matter what! Strive to reduce stress, eat a nutritious diet, stay hydrated, exercise regularly and care for your hair with clean and gentle, yet powerful, hair care products. 
More From VEGAMOUR
Photo credit: Zoli/Pexels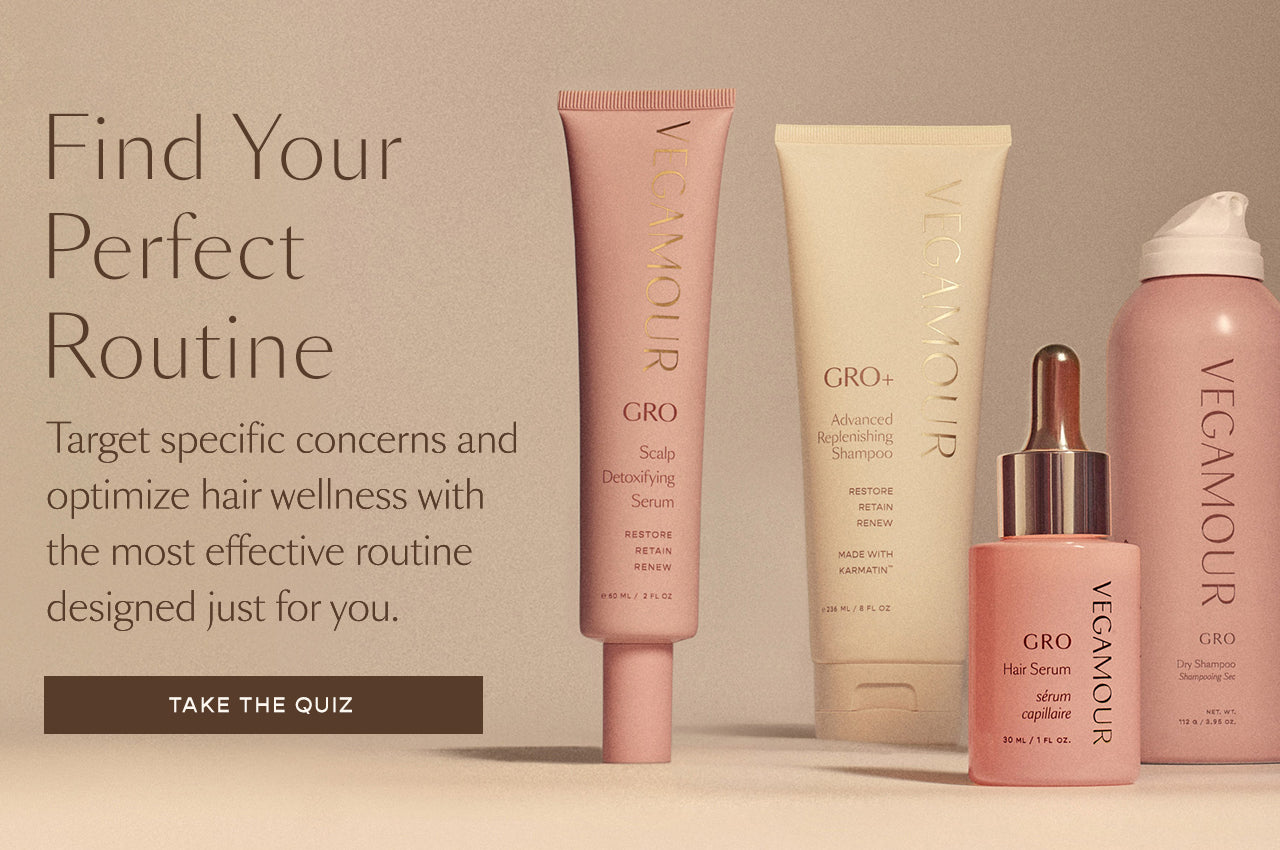 Disclaimer: Information in this article is intended for general informational and entertainment purposes only. It is not intended to constitute medical advice, diagnosis, or treatment. Always seek professional medical advice from your physician.