Why You Should Consider Gray Blending for Your Next Hair Color Appointment
Gray blending is more than just a hair coloring technique that incorporates your gray hair into your color. It's a methodology that allows you to keep your natural color while enhancing it with gray hair products or blending in the gray with colors similar to your natural tone. It's about embracing gray and enhancing it rather than covering it up completely.
VEGAMOUR spoke with the experts to explain how to get the look and if it's right for you. Plus, discover the hair products that can enhance gray blending while preserving your hair's natural color.
Is Gray Blending Right for You?
As more women and men begin to embrace their gray hair and incorporate it into their style — rather than trying to cover it up or hide it — gray blending is taking over as a popular hair color trend. Because your natural color inspires the finished look, your stylist can help you create a color and style that is uniquely you — and on-trend.
A gray blending service is great for people who:
May not be ready to go all gray
Don't want all-over hair color or full gray coverage
Like the natural tone of their gray but want more dimensional coloring
Want a low-maintenance color option
Want a transition from heavy hair coloring to something more natural-looking
If you'd rather not spend hours in a salon chair, there are also gray hair products that can enhance your natural color while minimizing the appearance of grays.
Shop: GRO AGELESS Gray Delay Hair Supplement
Benefits of Gray Blending
VEGAMOUR spoke with expert Nathan Watson of LionLocs about the benefits of gray blending to jazz up your gray hair.
"In the past, we have seen trends dominate fashion, such as the perm era, the highlight decade, balayage, vivid colors and tonal work," said Watson. "Now, there is a move toward natural hair enhancement and gray blending is the new movement in hair color."
Watson explained how gray blending works, and why it looks different for everyone.
"Basically, it's like gray camouflage," he said. "It's a low-maintenance color technique that hides the gray by adding in other colors that are similar to your hair's natural shade. This way it appears less gray, silver or white and creates a smoother transition to these lighter shades."
"The gray will still be in the mix but won't be the dominant color," he continued. "Think of it like adding more pepper to that salt. Because every head of hair and hair color is unique, there's no universal method for gray blending."
Learn More: How to Reverse Gray Hair
Options for Blending Your Gray
There are also non-coloring options to help disguise gray hair besides gray blending. The GRO AGELESS Collection by VEGAMOUR uses revolutionary technology to make the most of your naturally graying hair. It works well alone or in partnership with a gray blending coloring process.
Encourage Healthy Strands With A Hair Serum
Embrace the natural look or maintain your gray blended color-treated hair by taking exceptional care of your silvering strands with the GRO AGELESS Anti-Gray Hair Serum.
Use this serum daily right at the scalp to feed your hair follicles a proprietary blend of bioavailable adaptogens and minerals. This rich serum helps preserve hair's natural pigment for longer and makes your hair appear more full. It supports collagen-rich shine for healthy hair, roots and strands.
Turn back the clock, naturally, by reducing the appearance of gray hair on new hair growth, renewing color and shine, soothing the skin and nourishing the scalp. It won't make your hair greasy or leave a residue.
Address Hair Health From the Inside Out
Ensure you're giving your hair the nutrients it needs for optimal health with VEGAMOUR's GRO AGELESS Gray Delay Hair Supplement. Gray delay just got healthier with this supplement that gives your hair follicles exactly what they need to thrive. The GRO AGELESS Gray Delay Hair Supplement helps to preserve your hair's natural pigment while also enhancing your health for better hair growth.
Star ingredients of the GRO AGELESS Gray Delay Hair Supplement include:
B Vitamins
Fo-Ti
Selenium
Calcium
Copper
Para-Aminobenzoic acid
Folic Acid
This can lead to a number of benefits, including: 
Delays gray hair
Adds collagen-rich shine
Supports healthy hair roots and thickness
Reduces shedding
Relieves stress
Supports healthy sleep
The Gray Blending Hair Color Technique
If you want to try gray blending, you'll want to find a stylist that understands and has experience with the technique. They'll create a gray blending color treatment just for you based on your hair type, the shade of your gray and how much gray you want to be included in the final result. You might opt for a minimal appearance of gray while leaving some white strands as highlights. Or, you can leave some grays or streaks of silver strands for a dimensional look.
Some colorists may choose to add a few pieces of blonde highlights or soft neutral brown areas of partial coverage so that the end result is a wash of colors that seamlessly shift from lighter areas to darker ones. Each gray blending service is unique based on your natural hair color palette.
Pros of Gray Blending Techniques
Blending gray hair rather than covering it up is a great hair coloring service to try at that first sign of gray. The technique has some perks, including:
More subtle or less noticeable lines of demarcation when roots grow out
Fewer trips to the salon for touch-ups
Less gray coverage than all over permanent color
Showcases shine and depth while also creating color movement and contrast in the finished style
Less maintenance than other blended coloring techniques like balayage, highlights or lowlights
Can be done with semi-permanent or demi-permanent colors if the desired color is the same level or darker than the natural hair color. This is a less damaging option to the hair cuticles, preserves the hair's natural protein structures and creates optimum shine in the finished look. (Note: This is a temporary option, lasting a few weeks to two months.)
Cons of Gray Blending Techniques
There aren't a lot of cons to blending gray hair, but it can be costly if coloring services are used, and like all hair color treatments, it's only temporary. Gray blending only disguises gray hair — it does not completely cover up all the gray. It might require multiple sessions to transition to a gray blended look if you're used to regular all-over color treatments. If you're sensitive to hair coloring products, gray blending probably isn't the best solution for you.
Related: How to Disguise Gray Hair With Highlights
Embrace Your Gray
Of course, you always have the option to embrace your grays! If you can learn to love how it looks and feels, then all you really have to do is grow it out. 
Achieve Healthy Hair At Any Age
While gray blending is trending, don't forget the most important key to luscious locks no matter your hair color is health. Healthy and radiant hair requires nourishment, inside and out. So, eat a healthy diet, drink plenty of water, cut down on stress and use hair products that nourish your graying strands. VEGAMOUR's GRO AGELESS Collection pampers your aging hair beautifully inside and out, from root to tip, so you can look and feel your best at any age and life stage.
More from VEGAMOUR:
Photo credit: 
wundervisuals/iStock
Kateryna Onyshchuk/iStock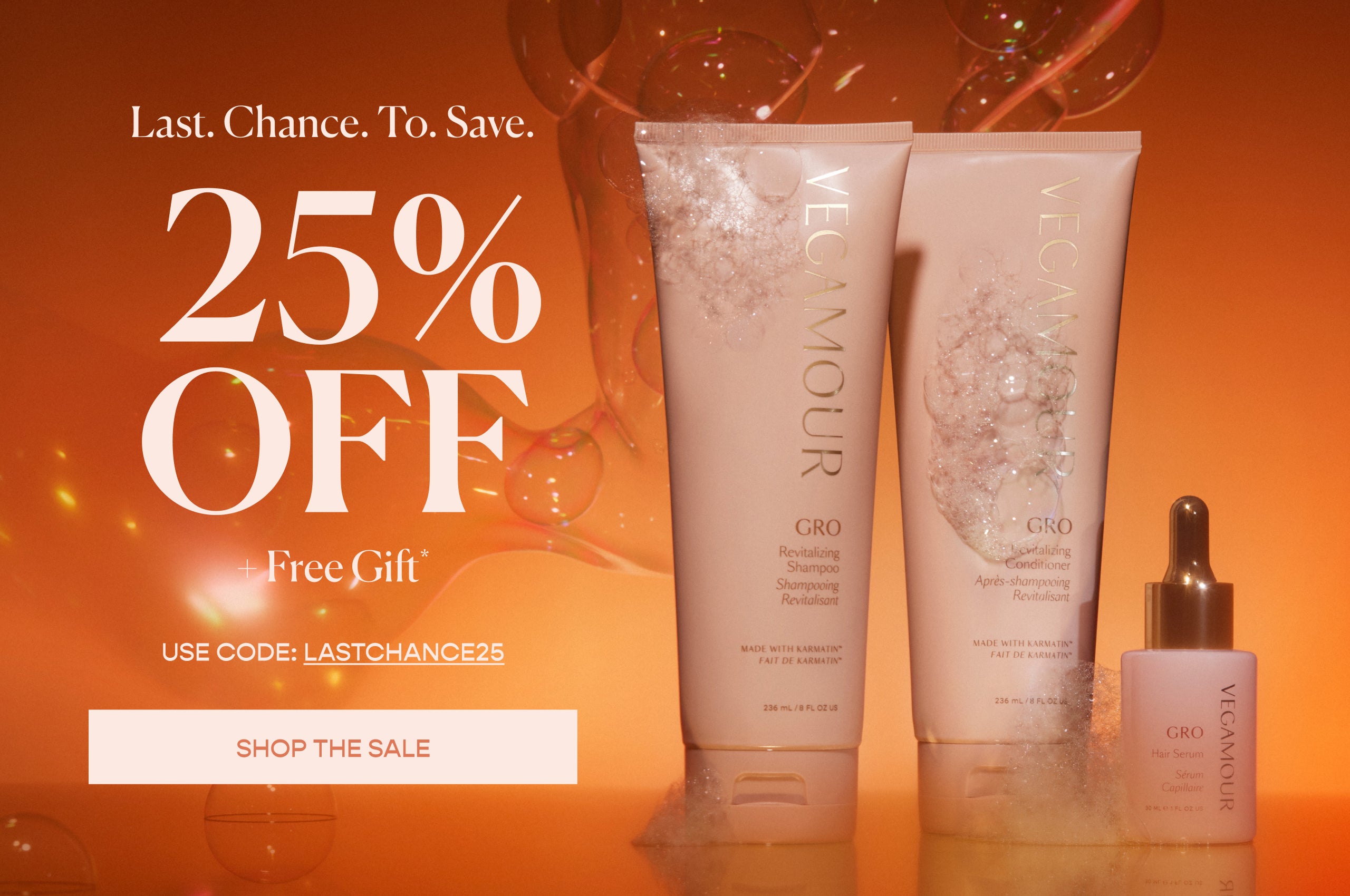 Disclaimer: Information in this article is intended for general informational and entertainment purposes only. It is not intended to constitute medical advice, diagnosis, or treatment. Always seek professional medical advice from your physician.