How to Disguise Gray Hair With Highlights
Everyone is entitled to their own feelings about going gray. If your gray hair is getting you down, thankfully, you have some options. There are a number of clever ways for blending gray hair or disguising it with a few streaks of color.
VEGAMOUR spoke with an expert stylist on trending gray coverage techniques — plus, discover the best products you can use to enhance your hair's color and shine, no matter the color.
See Your Stylist
When you get to the salon, it's important to communicate what you really want to your hair colorist. Be ready to discuss your gray coverage options and the maintenance plans for each. Here are a few of the options your stylist might recommend:
Blend gray hair with highlights
Tone down gray hair with lowlights
Add blended tones with a balayage technique
Completely cover the gray
Embrace your gray
Go into the salon with an open mind. Take some pictures to show your stylist what you envision. Your stylist can help you understand each method of gray blending and how it might look on your natural hair color. Your stylist can also tell you which options would look best for your skin tone.
Read: How to Care for Your Hair in Your 60s
Gray Hair with Highlights
One popular method is to camouflage your gray hair with highlights. Blonde highlights can brighten your natural hair color and help to disguise gray hair with a blended finished look. Blonde highlights can also create depth and interest in your overall hair color by adding brightness to your natural hair color and mixing in the gray hairs so they're less noticeable.
Gray hair with highlights can help:
Disguise early grays
Lighten your natural shade so it blends in better with your grays
Blend grays on medium to lighter shades of hair
Stay tone-on-tone with the natural gray hair growth
VEGAMOUR spoke with master hairstylist Darrius Peace of Hayah Beauty about his advice for disguising gray hair with highlights. Peace recommended "seamless highlights," which will grow out as a blended effect that won't make your gray roots look too obvious.
"The low contrast between higher color and gray hair is what makes a smoother transition and less contrast between the color shades," said Peace. "When applying blonde highlights all throughout the hair, this creates a seamless more champagne-colored finish that is attractive on almost all skin tones."
For trendy gray hair with highlights, we'd add that you need to choose a modern method for your highlighting services. So-called "traditional highlights" with a highlighting cap could give you an outdated look with less control over color placement. Plus, it may not necessarily accentuate your best facial features.
Ask your colorist for a foiling technique or balayage for a more intentional placement of the lighter color.
Tip: Blonde highlights on dark hair might require more regular maintenance. Avoid bright blonde tones and opt for a softer tone of highlights that enhances the natural brunette color. If you prefer the blonde, be ready for the regular salon maintenance appointments necessary to keep them beautiful and vibrant.
Related: How to Hide Gray Hair on Brunettes
Gray Hair with Lowlights
Besides blending your gray hair with highlights, you can also opt for lowlights to add richness with a darker or warmer shade. If the cool hue of your gray washes out your skin tone and makes you look tired all the time, adding some red hair and warm-toned lowlights will brighten your appearance.
Ask your stylist to show you what lowlights would work well for your skin tone. Your stylist may suggest a warm wash over your gray strands, as well, (a semi-permanent glaze or a demi-permanent color) to blend in the cooler hues of your gray. This will give you a dimensional tone that better suits your skin color.
For a youthful look, choose a base color that is at least one-half shade lighter than your natural color to brighten your overall look. Or try out a daring set of cool lavender undertones to give your gray some spunk.
Natural Looking Techniques
Some hair coloring techniques are designed to soften your gray roots while simultaneously blending gray hair. These colored accents throughout the hair help to disguise the gray, but also give a trendy and stylish finished look without creating a high-maintenance end result. Natural-looking techniques include:
Gray hair with highlights and a low-lit base color: Using both methods together can camouflage your gray hair more completely. This works best with a foiling application and requires an experienced hair colorist for the best results.
Balayage: This technique is a free-hand highlighting technique where your colorist will tactically place your highlights where they are most flattering to you, with a few more pieces around the face. It's more low maintenance and natural-looking.
Tip: Colored hair is more delicate than your natural silver strands. Protect your hair from heat styling (like from a curling iron or flat iron) by using a heat-protectant spray on your hair strands. Silicone and paraben-free hair styling products are best.
Shop: Shea Whitney's VEGAMOUR Picks
Cover Grays Completely
You can erase all traces of your gray with all-over hair color services. The color possibilities are endless, but be forewarned, you'll be heading to the salon every 3-4 weeks for regular root touch-ups to cover the gray regrowth.
Getting your color initially established may require multiple sessions, depending on the finished look you want to achieve.
Also, remember that natural hair is rarely one solid color, but more a blend of similar tones. Cover gray hair with the shade of your choice and consider adding in some lighter strands to mimic a natural look. Some blending of color will help prevent that "helmet" color look of yesteryear.
Learn: How to Keep Your Hair Healthy As You Age
Embrace Your Gray and Flaunt it
If you're not ready to use chemical services like highlighting to blend your gray, perhaps a more natural approach would work well for you. Flaunt your gray with these easy (and stylish!) tips:
Let your hair go gray naturally. Use a lavender-tinted mousse or conditioner to make the silver in your hair really shine.
Take your selfies in a well-lit, sunny area. Gray hair glows in the right light!
Gray hair strands might feel coarse. Use a weekly hair mask to give your stiff grays a touch of softness and restore shine.
Avoid smoking. Smoking causes your gray hairs to take on a tarnished tone.
More Tips on Caring for Your Gray Hair
VEGAMOUR is on a mission to help you achieve your most beautiful and healthy hair, no matter the color. Follow our blog to discover more styling tips and the hair wellness products you can use to help you achieve the perfect style.
MORE from VEGAMOUR
These Are the Best Ways to Cover Gray Hair
Photo credit: Nastasic/iStock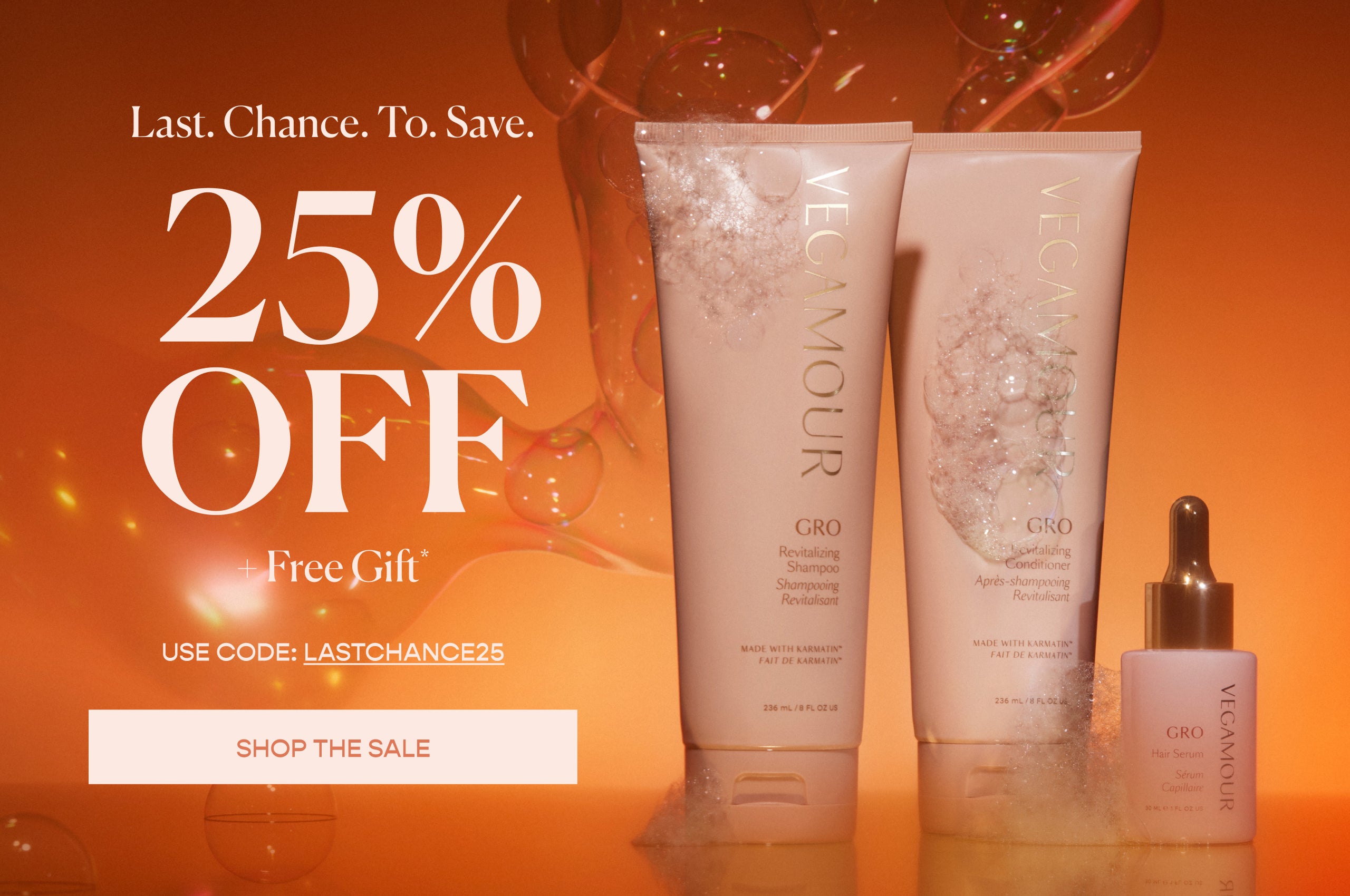 Disclaimer: Information in this article is intended for general informational and entertainment purposes only. It is not intended to constitute medical advice, diagnosis, or treatment. Always seek professional medical advice from your physician.