How to Do a Green Tea Hair Rinse at Home
There's something so soothing about settling in with a cup of tea. Perhaps you're already drinking green tea, but have you ever considered using it on your hair? You might want to start!
Read on to learn more about how green tea can potentially help your scalp and hair health, along with how to do your own green tea hair rinse at home. Plus, see what products you should start using ASAP to help encourage visibly thicker, fuller-looking hair.
All About Green Tea
Thinking of going green? Green tea, extracted from the leaves of the camellia sinensis plant, is chock full of nutrients, such as Vitamins C and E, as well as flavonoids and antioxidants. These can boost your overall wellness and also benefit your skin, scalp and hair.
Green tea's caffeine content also makes it a popular drink choice for those looking to replace coffee and tea drinkers alike. And, thanks to all these stress-busting, health-supportive ingredients, green tea has been making its way into other forms of personal care.
"Green tea is packed with catechins," said Tammy Lakatos Shames, RDN, CDN, CFT and Lyssie Lakatos, RDN, CDN, CFT of the Nutrition Twins. "Catechins are potent antioxidants that help to protect cells from damage caused by oxidative stress that results from everyday living."
Shop: Build Your Perfect VEGAMOUR Hair Care Routine
Green Tea Benefits Go Beyond a Healthy Sip
Curious how all this translate to your hair and scalp? The flavonoids, antioxidant and anti-inflammatory properties found in green tea make it more than just a soothing elixir to sip on.
Here's why you might want to consider using herbal tea as a natural hair health booster:
Caffeine: Caffeine in green tea might encourage blood circulation in the scalp. This can potentially mean that using dark-colored teas, such as a green or black tea rinse containing high caffeine, might help to promote hair growth. The natural properties of both green and black tea can also help revive dark hair color, enhance vibrancy and add shine. Light-colored hair can also reap the rewards of a tea rinse — chamomile tea is beneficial for giving blonde hair a boost in color and shine.
Stress-Soothing: Healthy hair growth starts at the scalp. In turn, any scalp stressors that create irritation or inflammation can possibly trigger issues with hair growth. Tea is rich in soothing properties, helping to calm an itchy scalp, ease irritation and alleviate inflammation. Those with dandruff, dry hair or thinning hair can also benefit from a green tea hair rinse once a week and doing regular skin exfoliant treatments for the scalp using GRO Scalp Detoxifying Serum.
Anti-inflammatory: Inflammation can negatively impact scalp health, which has the potential to stall or interfere with hair regrowth. Inflammation can be systemic, which translates to it affecting your whole body, or it can be localized to specific areas, such as hair strands or follicles. For example, in conditions such as alopecia areata, an autoimmune condition that causes patches of hair to fall out, inflammation is localized.
Antioxidants: The EGCG (Epigallocatechin-3-gallate) found in green tea can play a role in helping those with alopecia or other scalp and hair issues.
"EGCG is one of green tea's most powerful antioxidants," said Lakatos Shames and Lakatos. "That also makes it a superstar when it comes to fighting inflammation."
There's more good news — establishing a hair care routine that pairs clean, plant-based hair wellness products with a weekly green tea hair rinse can help!
Related: Hair Shedding vs. Hair Loss: How to Tell the Difference
Say Cheers to a Green Tea Hair Rinse
Ready to stop sipping — and start rinsing? Whip up this DIY green tea hair rinse at home.
Ingredients:
Green tea bags
Water (use cold water if doing a cold brew tea rinse or boiling water for a hot water rinse)
Spray bottle
Instructions:
Bring 2 cups of water to a boil. Steep green tea bags in the water for at least one hour, so tea can brew and cool.
For a cold brew tea rinse, use the same amount of water and allow the green tea bags to soak overnight.
Pour the tea into a clean spray bottle.
Shampoo and condition your hair as usual.
Use a soft microfiber towel to gently towel-dry your hair.
Mist a good amount of the green tea rinse onto your scalp and into your hair.
Thoroughly massage the green tea rinse into your hair. Bonus: The scalp massage helps stimulate circulation and feels great!
Tuck tea-infused hair into a shower cap (or wrap it in a hair wrap) to allow the mixture to settle and penetrate the scalp and hair.
Leave it on for an hour.
Wash hair with a lukewarm water rinse; then, use a cold water rinse to close the cuticle and seal in shine for the finishing touch.
Do the green tea hair rinse once a week for best results. If possible, try to avoid using any alcohol-based products or ones that contain salt. A green tea hair rinse works well when used in tandem with added moisture — try combining it with a cleansing conditioner, deep conditioner, vitamin E oil or even coconut oil.
Read: Everything You Should Know About Stress and Hair Loss
Hydrate While Improving Hair Health
Dial up the self-care by following your green tea hair rinse routine with a healthy hydration boost. Whip up a smoothie, supercharge a juice or infuse water using matcha green tea flavor GRO WELL Hair Boost Supplement + Probiotic. It also comes in mixed berry, peach mango and cacao, so your taste buds won't get bored!
The individual powder packets are easy to take anywhere and include vitamins A, B, C, E and zinc — plus, minerals, adaptogens, 50 million CFU probiotics and more. Here' s more on how this supplement works to support hair and scalp health.
Vitamins A, B, C, E and zinc provide the necessary building blocks for scalp and hair health.
Ashwagandha supports the immune system, lowers cortisol levels and supports healthy sleep.
50 million CFU probiotics support a healthy gut microbiome.
Saw palmetto has been clinically shown to help inhibit the production of DHT and support healthy hair.
Curcumin combined with piperine builds a highly bioavailable antioxidant shown in clinical studies to reduce oxidative stress caused by free radicals for a healthy scalp.
Fo-ti activates the gene that triggers protein synthesis in hair follicles.
Horsetail root is a powerful antioxidant containing selenium and cysteine, helping enhance the healthy circulation necessary for hair and scalp health.
Plus, they won't derail a balanced diet with five calories or less per serving and no added sugar!
Read: Enjoy a Revitalizing Matcha Smoothie for Hair Wellness
Go Green With Natural Nourishment
Tap into the natural healing of nature utilizing other nourishing self-care practices powered by plants. Tea isn't only for sipping and your strands — it can also be used as a skin treatment. Try green or oolong tea bags as a soothing eye mask to reduce dark circles. Or, opt to include essential oil (lavender or rosemary) to turn your shower into a truly transformative experience.
Encourage visibly thicker, fuller looking hair with natural remedies like hair products with powerful phytoactives used in tandem with an apple cider vinegar or green tea hair rinse. For an extra added boost, pair the routine with supplements to help you look and feel your very best!
More From VEGAMOUR
Photo credit: Maria Tyutina/Pexels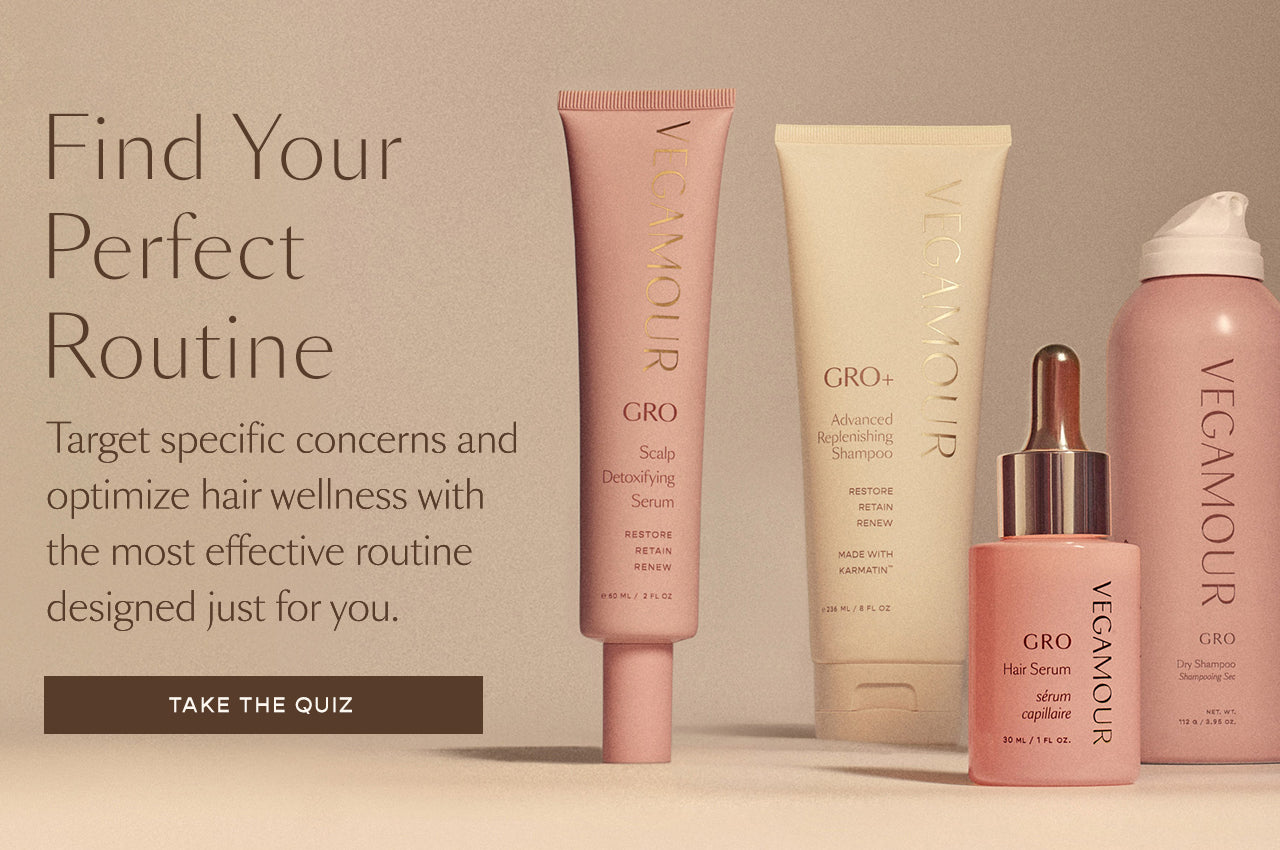 Disclaimer: Information in this article is intended for general informational and entertainment purposes only. It is not intended to constitute medical advice, diagnosis, or treatment. Always seek professional medical advice from your physician.