This CBD Detoxifying Serum Helped Soothe Scalp Damage for Super Glossy Hair
I'll try anything to keep calm. Stress can wreak havoc on the body, skin and hair, so I regularly employ mindfulness techniques to slow down and be present. But unfortunately, that's not always enough— especially when it comes to environmental stressors.
Thankfully, I found a natural solution that helped calm scalp stress while gently reducing scalp buildup. Read on for my review — plus, find out what products can help you bolster the health of your scalp and hair.
Why Use a Detoxifying Serum?
With so many lotions and potions available promising better skin and long, glossy locks, it can be hard to know what's really going to work. One thing is certain, though, healthier hair growth stems from a nourished scalp that isn't under excessive pressure.
Your hair density is impacted when exposed to harmful environmental pollutants. Persistent scalp buildup happens when excess products aren't removed from the scalp gently but effectively. This can result in frustrating dandruff symptoms such as white flakes and an itchy scalp.
When you don't give your scalp the extra attention it needs, it can impact how hair looks and feels. GRO+ Advanced Scalp Detoxifying Serum is made with a blend of phyto-actives, vegan keratin and micro-encapsulated, full-spectrum hemp. The hemp in the blend calms down a stressed-out scalp and helps eliminate icky bacteria that's an enemy of healthy hair growth.
The best part? With weekly use, you'll help stimulate the scalp to create a balanced microbiome for noticeable hair wellness. And better hair wellness equals gorgeous, fuller-looking hair!
Shop: GRO+ Advanced Stress Release Kit
GRO + Advanced Detoxifying Scalp Serum Gets Real Results
When I first shopped VEGAMOUR's extensive collection, it was hard to know which serum to add to my hair wellness routine. VEGAMOUR offers two detoxifying serums: GRO Scalp Detoxifying Serum and GRO+ Advanced Scalp Detoxifying Serum — so how do the two formulas compare?
Every product in VEGAMOUR's collection is 100% vegan and cruelty-free. Both formulas contain a unique blend of zinc PCA to absorb excess oil, potentially reducing scalp irritation. Each formula also includes a proprietary vegan silk to gently remove scalp impurities while providing a protective, semi-permeable barrier to protect and moisturize the scalp.
Although it was hard to choose between the two, I was drawn to GRO+ Advanced Scalp Detoxifying Serum over GRO Scalp Detoxifying Serum because I was already a fan of hemp's calming effect. Plus, the real-life reviews on the website are outstanding! See for yourself.
"I can tell a difference when I use this product. My hair feels cleaner and healthier. It is super easy to apply, and it's simple to incorporate into a routine." - Rachael
"I have struggled with bouts of dandruff and sometimes an itchy scalp. Vegamour's GRO+ Advanced Scalp Detoxifying Serum has a narrowed tip that makes it easy to apply to my scalp ... I did notice some results sooner than I expected. My scalp looks cleaner and healthier. I have also noticed a large reduction of dandruff, but my scalp still feels itchy occasionally (although much less so than before)." - Ruth
"I typically get bouts of dandruff that products typically don't work to clear up. After incorporating this into my hair routine, I have noticed visibly less dandruff. My scalp is also less itchy, which, in turn, has also helped with the dandruff. I will be repurchasing." - Jessica
Also, check out these real, impactful before-and-after photos:
In clinical trials, GRO+ Advanced Scalp Detoxifying Serum made an impact too. Some saw a visible reduction in symptoms in as little as three days, and some experienced a 58% reduction in scalp buildup in as soon as 15 days — impressive results in a short period of time!

Read: How to Revive Heat-Damaged Hair
Hemp Benefits for Scalp & Hair
Full-spectrum hemp is found in all GRO+ Advanced products, including the collection's serums for hair, brows and lashes — as well as its shampoo and conditioner, hair foam and supplements. The collection has been carefully designed so that all products work together, making it easy for anyone to build a robust, effective hair care routine for healthy hair growth and optimal results.
Hemp can help the hair and scalp by:
Soothing the scalp: The anti-inflammatory properties help calm and soothe stressed-out skin.
Eliminating bacteria: Getting rid of harmful bacteria can help set the stage for healthy hair growth.
Increasing efficacy: The concentrated cannabidiol allows ingredients to more effectively penetrate below the scalp surface to support the appearance of fuller, longer, thicker, healthier-looking hair.
Related: Can CBD Help Hair Growth?
My GRO+ Advanced Scalp Detoxifying Serum Review
Usually, I keep things pretty simple with a sulfate-free shampoo and a replenishing conditioner, so I wasn't up for making my routine less manageable. Happily, applying the scalp serum is a breeze and takes minimal effort. Plus, I don't have to leave it on for hours to work, and my scalp feels refreshed after each use.
How to use:
Part dry hair into even sections.
Distribute the product evenly across the scalp.
Massage the product into the scalp for one to two minutes.
Leave on for five to 10 minutes.
Wash with shampoo and conditioner, and style as usual.
For best results, apply the formula once a week, and you'll quickly notice a difference in the health of your scalp and the integrity of your hair. I loved how my hair looked after each use, and my scalp didn't feel itchy — perfect!
Find Out: Why a Healthy Scalp Is Important for Healthy Hair
Grow Strong With GRO+ Advanced
As one of the leading causes of hair loss, it's vital to reduce stress levels and use products that keep things calm if you want hair to grow long and strong. VEGAMOUR hair serums don't rely on dubious chemicals and potentially harmful ingredients to achieve impressive surface-level results. Instead, they get to the roots of any issue with a clever combination of plant-powered ingredients.
Every product in the GRO + Advanced collection is a game-changer for beautiful hair that beams with health. Plus, VEGAMOUR offers a Subscribe & Save system that is amazingly wallet-friendly. By signing up, you'll receive products straight to your door on a set schedule, so you don't have to worry about ever running out.
Paying attention to my scalp's health has completely transformed how my hair looks and feels. So if you're struggling to find a solution for your unhappy scalp and hair,  GRO+ Advanced Scalp Detoxifying Serum could be just what you've been looking for!
More From VEGAMOUR
 Photo credit: Mystockimages/iStock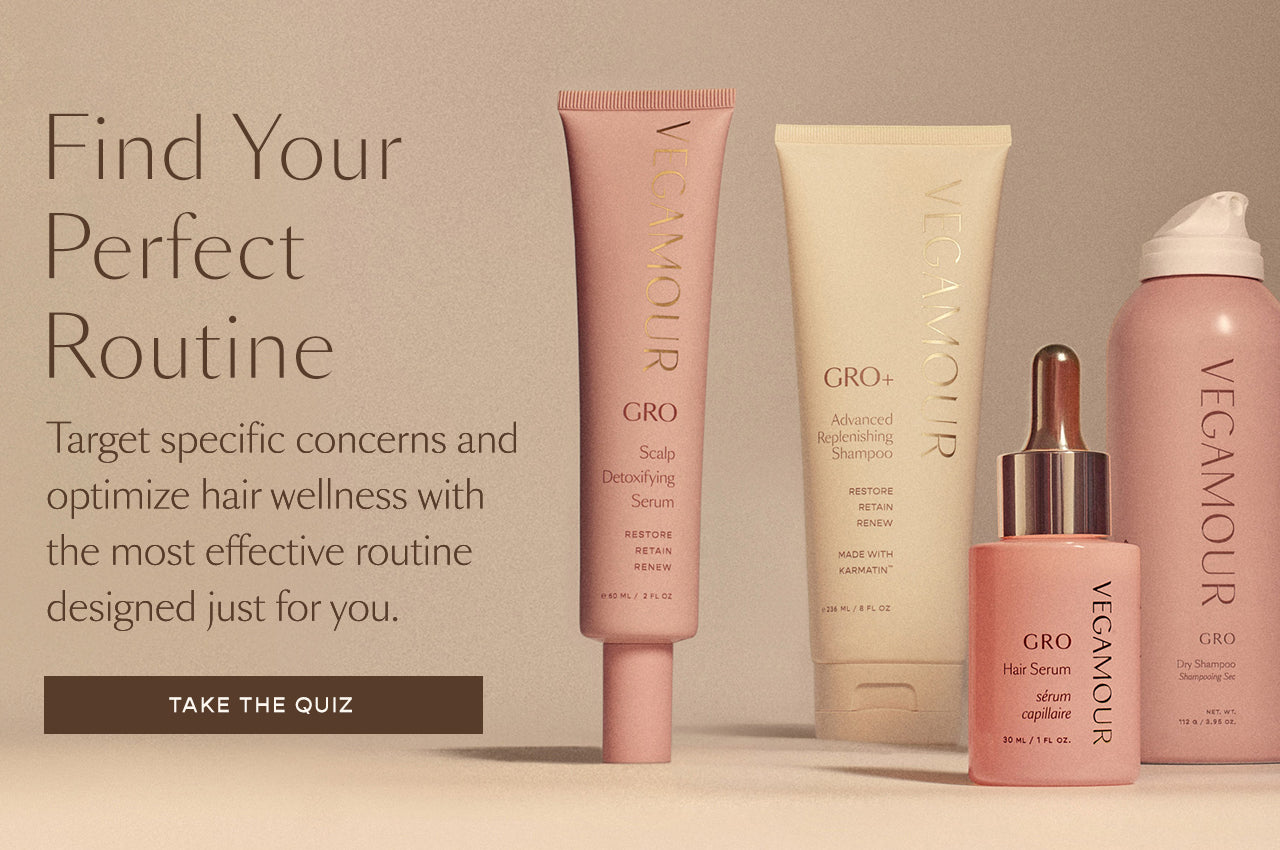 Disclaimer: Information in this article is intended for general informational and entertainment purposes only. It is not intended to constitute medical advice, diagnosis, or treatment. Always seek professional medical advice from your physician.