GRO Dry Shampoo Is the Best Dry Shampoo I've Ever Tried
I consider myself to be a dry shampoo aficionado. And as a longtime beauty editor and yoga instructor, I've tested a ton of dry shampoos on the market. Unfortunately, finding a dry shampoo formula that checks off all the boxes — clean, plant-based ingredients, actually works, doesn't leave behind a telltale white residue — is hard to find. But I've finally found a formula that checks all those boxes and then some!
Read on to learn about one of my favorite product's benefits, including how this dry shampoo can help you freshen your strands while promoting optimum hair wellness.
Reset and Refresh
Thanks to its waterless cleansing factor, using dry shampoo means you can have a good hair day whenever you want. Aside from when you don't have the time or energy for a traditional hair wash, dry shampoo can also freshen your strands while traveling or at the office or gym. Plus, some hairstylists even recommend extending the time between wash days. Your hair might be better off staying slightly dirty than being potentially damaged from overwashing and/or using too-hot water. Bottom line: Dry shampoo is a hair essential. 
Not All Dry Shampoos Are Equal
Many products promise results — but at what cost? Sure, they might do their job to absorb oil and leave your hair feeling refreshed. Yet, some traditional dry shampoos may contain chemicals or synthetic fragrances, along with other icky ingredients that can cause your hair to be less than its best.
Now, for the good news. GRO Dry Shampoo is formulated with the same proprietary blend of phyto-actives found in VEGAMOUR's bestselling GRO Hair Serum to encourage a healthy hair ecosystem. Salon-fresh hair with the volumizing, texturizing perks of traditional dry shampoo, plus a long-term impact on the overall health of hair? Sign me up! Celebrity stylist Ashley Streicher states: "The GRO Dry Shampoo is great for anyone looking for clean ingredients and clean-feeling hair, without the hassle of washing."
Waterless Wonder
Because I'm vegan, cruelty-free products are a must for me. And as a brunette with somewhat oily hair who teaches yoga, works out often and wears extensions, I frequently rely on dry shampoo to get me through those in-between wash days.
In my opinion, VEGAMOUR's GRO Dry Shampoo is the best dry shampoo I have ever used, especially in the clean category. Some of the reasons why I love this do-it-all dry shampoo include:
No residue; it looks good even on dark hair.
Adds both instant volume and texture without making my hair feel heavy or roughing up the cuticle with residue.
Absorbs excess oil, sweat and odors for that clean-hair feel, sans the shower.
Added volume at the roots makes my hair look refreshed and prevents it from falling flat, even if I've just had a sweat session or haven't actually washed my hair in days.
It includes USDA organic certified rice hulls, mung bean, red clover and kaolin clay and is free of synthetic fragrances. I'm very conscious of what I put on my skin — including the scalp — as it's the body's largest organ.
Best of all, thanks to phyto-actives that encourage thicker, fuller-looking hair, consistent use helps promote a long-term, positive impact on my hair.
Learn: How to Use Dry Shampoo to Get Clean Hair Between Washes
My AM & PM Renewal Rituals
Here's how I integrate this scalp-balancing dry shampoo into my daily hair wellness routine.
Morning
I lightly spray it all over the roots after I've applied and massaged in the hair serum. I find the dry shampoo helps in adding texture where I need it — my roots — which gives the look of fuller hair in the crown without having to use hot rollers.
Midday
Midday, especially when I do a workout, I will use it again to eliminate any excess oils and encourage a boost in the look of visible hair density. If I plan on wearing a hat that day, I'll use it on more than just my head and lightly spray the interior of it. In the winter, this has the added bonus of helping reduce static, and in the warmer months, it helps eliminate frizz, flyaways and keeps my roots fresh with a touch of texture.
Evening
I like to use it before bed if I want to wake up with a loose, beachy texture to my hair. I'll mist on gently from the crown all the way down to the ends. If I want extra volume, I'll flip my head upside down, mist on the dry shampoo and massage into strands.
Then, I loosely braid two pigtails, securing them with no-damage hair ties to prevent any snags or friction while I sleep. In the morning, gently unravel the braids and wake up with perfectly-imperfect waves — no heat styling required!
See: Shea Whitney's Favorite VEGAMOUR Products
Rave Reviews for GRO Dry Shampoo
Another perk: GRO Dry Shampoo works for any hair type. Whether you've got thin hair, thicker strands or are somewhere in between, it's the perfect addition to a regular hair wellness routine. Read on for more real, rave reviews from customers:
"The BEST dry shampoo I have ever used! I'm hooked. My hair deserves the BEST on the market." -Linda B.
"I absolutely love this dry shampoo! It smells great, but what I love most about it is how lightweight it is. When I work it into my hair, the product is like a very fine powder compared to the many different types of brands I've tried over the years. This will be a staple in my hair care routine." -Rachel
"This product way exceeded expectations. It smells wonderful, and my hair has been so soft, but the best part is that it actually works in terms of hair growth! I saw a noticeable difference in less than a month! I can't wait to check again next month!" -Samantha P.
GRO Dry Shampoo: A Hair Health Essential
It's simple. Add GRO Dry Shampoo into your VEGAMOUR hair wellness routine to extend the life of your blowout and stretch the time between hair wash showers. Your skin, scalp and hair will reap the benefits of clean, natural, plant-based ingredients, which promote a healthy hair ecosystem. And you'll love the refreshing voluminous, salon-quality results!
MORE From VEGAMOUR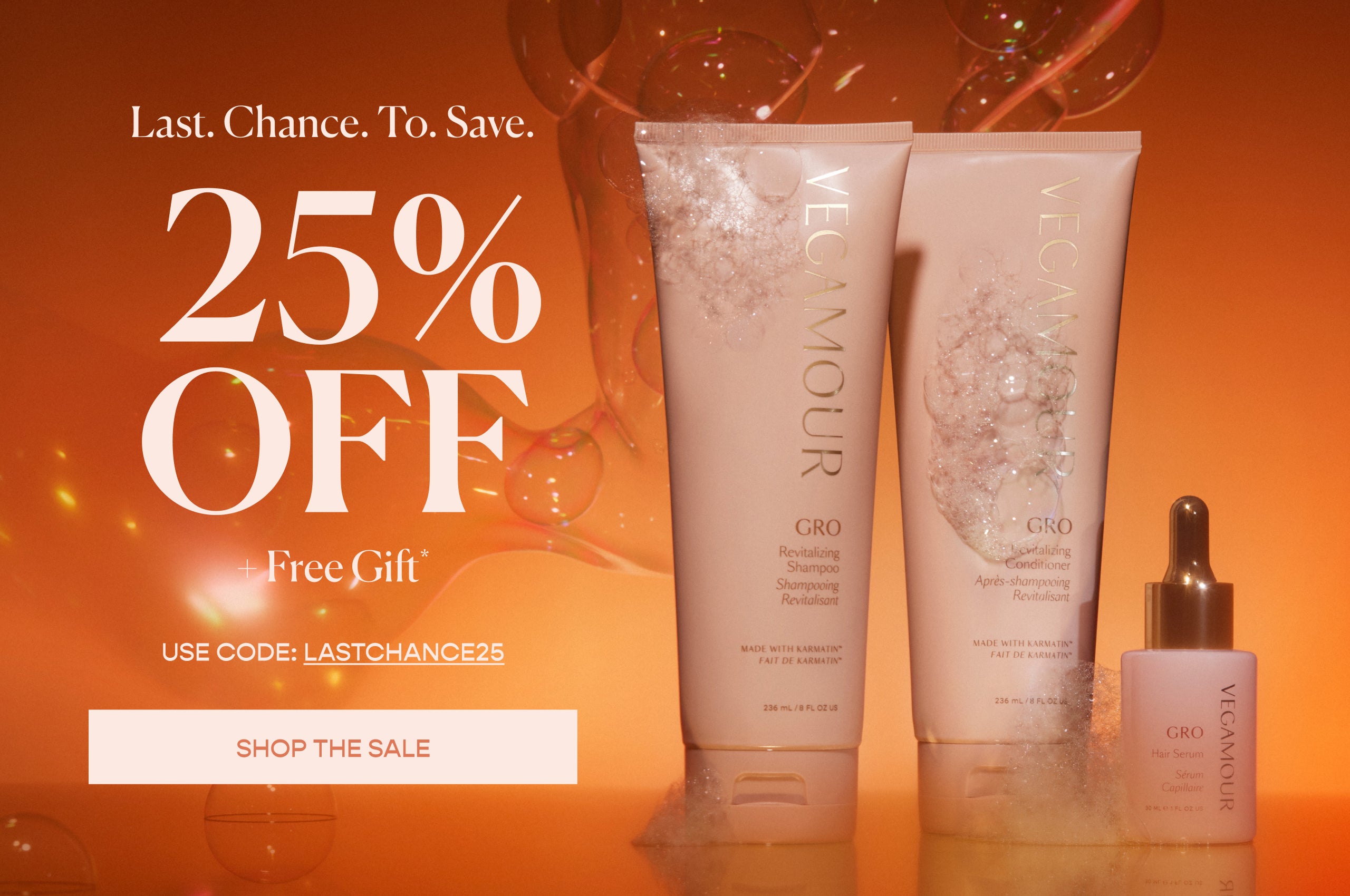 Disclaimer: Information in this article is intended for general informational and entertainment purposes only. It is not intended to constitute medical advice, diagnosis, or treatment. Always seek professional medical advice from your physician.