Hair Loss From Hair Extensions? Here's What You Should Know
If you're dissatisfied with the fullness or length of your hair, opting for extensions is a solution. After just one hair appointment, you can walk out of the salon with much longer or thicker looking hair.
It's hard to believe that a change that can make you feel so good can cause damage to your hair, but it can. Read on to find out how hair extensions can cause hair loss and what to do about it — plus, find out what products can help you get fuller-looking hair naturally.
Understanding Traction Alopecia
While general hair loss or thinning hair can occur for various reasons, there's a specific type of hair loss that can occur from wearing hair extensions. Hair expert Alice Rawling of Hairdo Hairstyle explained. "Because a weave or extensions often require women to wear their natural hair tightly pulled, this can be tough on hair," she said. "The constant pulling can cause strands of hair to break or fall out, and it could damage your hair follicles."
This type of hair loss and follicle damage is called traction alopecia. It affects people who wear their hair in tight hairstyles or have weaves and hair extensions. Unlike gradual hair loss that can occur with age, traction alopecia appears as bald patches on the scalp. The good news is that traction alopecia can be reversible if you stop the behavior causing the hair loss quickly enough. However, if you continue to wear hairstyles that pull on and cause trauma to your scalp, it can lead to permanent hair loss from irreversible scarring alopecia.
Shop: GRO Collection for Thinning Hair
How Different Types of Hair Extensions Affect the Hair and Scalp
There are various types of hair extensions, including tape-in, clip-in, bonded, micro rings, micro links and halo hair extensions. Hair extensions are all different regarding their application method, texture, longevity and how much stress they place on your hair and scalp.
"Hair extensions are attached to the hair, tugging at your hair and scalp," Rawling explained. "There is always a risk of damage due to tension on the roots. This tension can lead to traction alopecia."
Temporary extensions like hair halos and clip-ins cause less tension on the follicles than other options. A halo is an extension tied to a clear wire that sits on the head like a halo, while clip-in extensions are made of synthetic hair attached to a clip. Tape-ins and sew-ins can be the most damaging, as they stay in the hair long-term, for about four to eight weeks. Micro rings are a less-damaging kind of long-term extension that can last up to nine months, but they still apply constant pressure on the hair follicle.
While the goal of wearing hair extensions is to have thicker, fuller hair, stressed hair follicles can cause the opposite effect. "Each type of hair extension has its advantages and disadvantages," explained Jason Tyler, hair expert from Macho Hairstyles. "One of the most common reasons for hair loss is that you are putting too much stress on your scalp and hair follicles," he said.
Related: Hairstyles That Might Stress Your Hair Out
Precautions to Take If You Opt for Hair Extensions
It goes without saying that if you're planning to get hair extensions, you should go to an experienced stylist. Stylists who specialize in this kind of hair care will know how to apply hair extensions correctly, which means less damage to your hair follicles.
Choose Extensions Carefully
"If you want a quick fix, you should opt for bonding extensions," Tyler said. "Bonding extensions are easy to apply and stay in place for a long time. If you want an extended look, then you should go for weaving or clip-in extensions. Clip-ins are great because they are very convenient. You can use them for short hair lengths or wear them with long hair."
In fact, semi-permanent hair extensions, like clip-ins, might do the least amount of damage because you put them in when you want them and take them out when you don't. More permanent types of hair extensions like sew-ins or bonded extensions are in for longer periods of time, which means more stress to your hair follicles.
Make Sure Your Hair Is Healthy
It's also important to ensure that your hair is healthy enough for extensions. Oftentimes, people may gravitate toward extensions because they're experiencing hair loss or hair thinning. However, if your hair is thinning because it's unhealthy, then adding stress to an already fragile hair biome can exacerbate the problem.
"Get your natural hair in good shape," Rawling advised. "Taking care of your natural hair before getting a weave or extensions is essential. Ensure your hair is clean and free of buildup from products like hairspray. Use conditioner to keep your hair moisturized and strong. Continue to follow this hair care routine during and in between wearing a weave or extensions to keep your hair healthy."
Commit to a Good Haircare Routine
Once you have the extensions in, Rawling stressed how important it is to continue a good haircare routine. Damaged hair will be more prone to breakage, so proper upkeep is vital. Avoid chemical treatments like bleach, and try to nourish your hair with vital nutrients and quality products.

"Wash and condition your hair regularly with sulfate-free products. Always make sure to use heat protection spray if you are styling your hair using heat. You can also get hair oils, mousses and sprays that will help to keep your hair soft and hydrated."
Consider using VEGAMOUR GRO Revitalizing Shampoo & Conditioner to nourish and protect your hair. This sulfate-free shampoo is color safe and works beautifully for different hair textures. It contains a vegan b-SILK™ protein that bonds to hair, smoothing and protecting it long after your shower. Additionally, wild-harvested marula oil, organic murumuru butter and ximenia oil help to moisturize, condition and hydrate hair. Plus, both formulas are packed with phyto-actives, such as red clover, curcumin and mung bean, to encourage fuller, thicker, longer-looking hair.
Compare: VEGAMOUR's GRO vs. GRO+ Advanced Hair Wellness Products
An Alternative to Hair Extensions
There are a variety of reasons why you might be experiencing hair thinning or fallout, such as stress, poor sleep hygiene, vitamin deficiencies, oversupplementation with vitamins, hormonal changes or increased DHT levels.
More often than not, hair thinning is a result of multiple issues, which is why it's most effective to take a holistic approach to hair health. Reduce stress, eat hair-healthy foods and get plenty of sleep and exercise. Also, consider your current haircare routine. Our plant-based, multitasking GRO Hair Serum uses a combination of clinically-tested, vegan phyto-actives that work together to support a healthy and balanced follicular ecosystem while soothing the scalp and revitalizing hair roots.
Read: Why Does My Hair Feel Thinner? 8 Possible Reasons
For Best Results, Make Healthy Hair Your Goal
If you are concerned about hair extensions causing damage to your roots, be sure to do your due diligence before booking an appointment, and make it a point to use high-quality, natural hair products to get your hair as healthy as it can be beforehand. Who knows? By following the right hair care routine, you might decide you don't need hair extensions after all!
More From VEGAMOUR
Photo credit: Lindsay Cash/Unsplash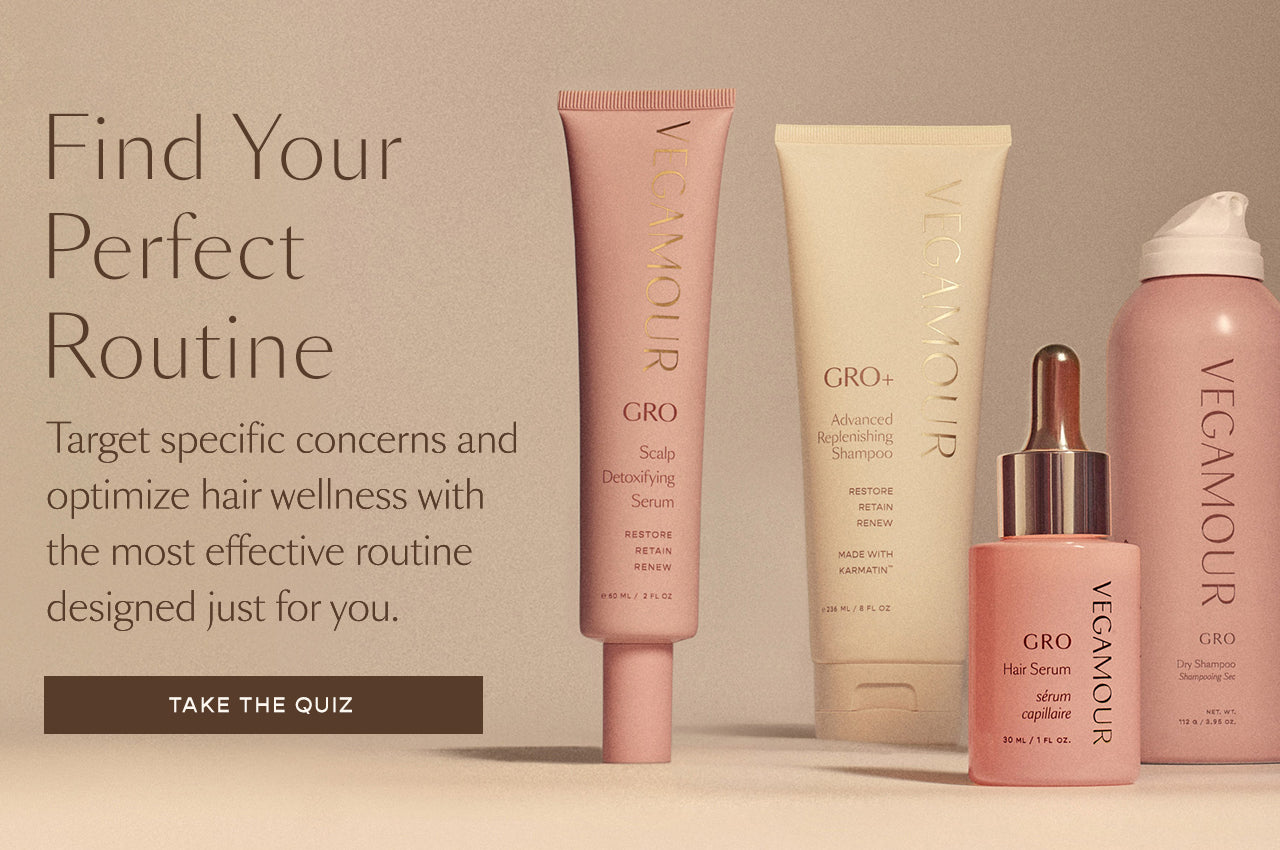 Disclaimer: Information in this article is intended for general informational and entertainment purposes only. It is not intended to constitute medical advice, diagnosis, or treatment. Always seek professional medical advice from your physician.