What Are Micro Links Hair Extensions?
Microlink hair extensions are trending despite decades of secrecy around the technique. A well-kept secret of the stars, these seamless hair extensions are becoming popular thanks to social media. Now that the secret's out, are these trendy hair extensions right for you?
VEGAMOUR asked the experts to explain the technique and how to care for hair with microlink extensions. Plus, we'll show you which hair products are perfect for both your natural hair and microlinks.
What Are Microlink Hair Extensions?
Microlink hair extensions are a specialized method of adding hair extensions to your hair for more volume or length. They are added to your own hair using silicone microbeads or microtubes. This type of extension allows your natural hair to be free and not braided tightly to the scalp beneath sewn-in extensions.
Related Reading: How to Make Thin Hair Look Thicker
Who is a Good Candidate for Microlinks?
Microlinks work well on most hair types, though they might not necessarily be ideal for some. They might not be suitable for those with very thick hair, very short hair or heavily textured hair. There's also an issue with tension on the hair follicles, which means your hair needs to be strong to support this type of hair extension.
VEGAMOUR spoke with Ghanima Abdullah, a hairstylist with The Right Hairstyles about the tension microlinks can cause on your hair. "The extension makes the weight on the hair follicles double the amount of your natural hair," she said. "They can cause hair loss due to traction alopecia. Traction alopecia happens when the hair follicles are pulled on consistently or when extra weight is added to them."
Therefore, it's important to talk with your hairstylist about whether or not your hair follicles are strong enough to support this type of hair extension or if you should go with a braided and sewn-in type of extension to give more strength at the base of the style.
Can't decide if microlinks are right for you? Here are the pros and cons of this type of hair extension:
Pros of Microlinks
Provides easy access to the scalp to keep the roots clean.
Endless styling options. Wear hair down, in high ponytails, in a high bun or in a messy bun. Do small sections for support or a full head for overall density and length.
Perfect solution for those with fine to medium-density hair who want to add thickness and length.
Versatile, breezy and comfortable to wear.
No celebrity hairstylist necessary! A licensed hairstylist with experience in this method is all you'll need.
Cons of Microlinks
Can be expensive.
May contribute to traction hair loss.
Requires a licensed hairstylist to install microlinks properly.
Related reading: This Is What You Need to Know About Traction Alopecia
How Are Microlink Hair Extensions Done?
At your installation appointment, your stylist will evaluate your natural hair, choose a method of application and apply your microlinks with a specialized hair plier and silicone beads. Microlink extensions are applied in rows with a circular method, meaning that horizontal sections are taken in circular motions around the head. This way the extensions blend in with the natural hair growth pattern.
When installed properly, microlink hair extensions can work well for most hair types and can last for months.
The Braidless Method
For the braidless method, the beads are used as anchor points for sewing in the wefts of extension hair to your own hair. Your stylist can help you decide if this is the best extension method for your hair type.
Read: Hair Loss from Hair Extensions? Here's What You Should Know
Weft Method
For this method, the wefts of hair are run through each bead before clamping it down to secure it.
A specialized form of weft method is the I-Tip method, which involves using much smaller wefts of hair through each bead before clamping closed with the hair plier. Though more painstaking to apply, the I-Tip method can help to reduce tension and preserve natural hair quality.
The Cost of Microlinks
Cost is highly variable depending on the number of hair extensions you want to be applied and the expertise of your stylist. Typically microlink extensions are more expensive than other fusion extensions options because of the level of expertise required to do them seamlessly and create a durable end result.
Caring for Your Microlink Extensions
Caring for your microlink extensions properly is key to extending the life of your extensions and the quality of your natural hair. Whichever hair extension options or methods you choose, avoid adding in more weight, length or bulk than your natural hair can support. Also, you'll need specialized hair care at home to support your new hair extensions and keep them looking nice.
Follow-up salon appointments will also be needed to add in new extensions or remove any loosened extensions. The frequency for these maintenance appointments will be largely dependent on how close to the scalp your microlinks are applied, how healthy your hair is and how fast your hair grows, as well as how well you take care of your hair extensions. Older extensions will be removed and new extensions will be added closer to the scalp at the new hair growth.
Related Reading: How to Care for and Preserve Your Hair Extensions
Use a protective style (like wearing your hair in a braid or using a silk pillowcase while you sleep) to prevent damage or stress on the microlink extensions. This is especially helpful for long hair, wavy textures, curly hair or heavily textured hair — all of which might be more prone to tangling, putting extra pressure on the spots where your microlinks are fused.
Use a sulfate-free shampoo and conditioner such as VEGAMOUR's GRO Revitalizing Shampoo and Conditioner for healthy hair and to gently care for your extensions. This powerful duo fortifies your natural hair with vegan proteins to keep it strong and resilient.
Hair extensions need hydration just like the rest of your hair. Because your scalp will not naturally level up the moisture when you get your hair extensions done, you'll want to increase your hair's hydration by applying humectants.
VEGAMOUR's GRO Revitalizing Conditioner has everything your new style will need: nourishing marula oil, murumuru butter and ximenia oils. Plus, the GRO Collection helps to combat thinning hair which can sometimes happen with hair extensions.
Here are some additional hair care tips to keep in mind when you have microlink hair extensions:
Brushing care: Use a soft bristle brush or wide tooth comb to carefully detangle. Avoid pulling at the root area where your extensions are attached.
Heat styling: Do not use heat styling at the roots to avoid disturbing the microbead fusions. Ask your stylist if the hair type of your extensions can be heat pressed or not. (Some melt!)
Coloring: Natural hair extensions are receptive to color while many synthetic ones are not. Discuss this with the stylist who installed your extensions before coloring or bleaching.
Removal: See the stylist who applied your extensions for professional removal or to place new extensions on the new growth. Before adding new microlink hair extensions, detangle and remove shedded hair or knots that might have formed while you wore your microlink extensions.
The Benefits of All-Natural, Plant-Based Hair Care
Regardless of whether you choose to add microlink extensions or choose some other method of hair extensions, your natural tresses need supportive care to keep them strong and healthy enough to support your style. VEGAMOUR's GRO Collection offers the vegan proteins needed to fortify your hair strands while also nourishing the roots and follicles.
More From VEGAMOUR
Photo credit: Engin Akyurt/Pexels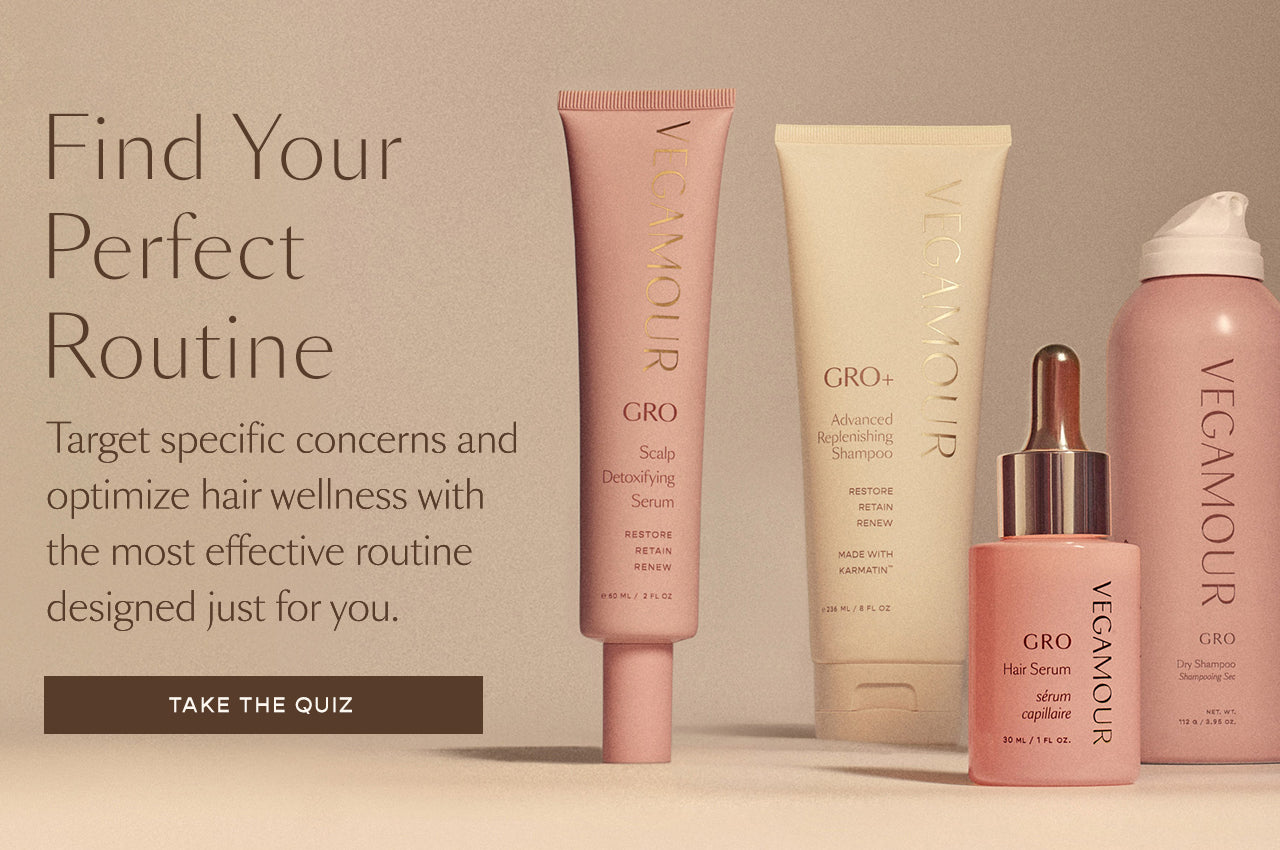 Disclaimer: Information in this article is intended for general informational and entertainment purposes only. It is not intended to constitute medical advice, diagnosis, or treatment. Always seek professional medical advice from your physician.