Try These 7 Best Haircuts for Thin Hair
A fresh haircut can revitalize your look and amplify your confidence. But if you're experiencing thinning hair, getting it cut can seem counterintuitive. The good news is that a strategic snip can be beneficial for thin or fine hair, making it look and feel healthier.
Read on to learn more about the best haircuts for thin hair. Plus, find out what products you should use to encourage thicker, fuller looking hair! 
Ideas for Making the Cut
Hair thinning can be a humbling experience. When you have less hair than you're used to, the thought of snipping any strands can seem scary. Here's what to keep in mind before heading to the salon.
Start by assessing the root causes of thin hair. Stress, for example, can contribute to skin and/or hair issues, as can life changes such as hormones, age and dietary shifts. Certain hairstyles or hair extensions may also lead to traction alopecia or hair loss related to prolonged pulling of the hair. 
Once you've figured out what's going on, it's time to establish a plan of action. Flattering haircuts for thin hair types do exist — you just need to find the right one. Once you do, maximize the cut by elevating your hair wellness routine. 
Best Haircuts for Thin Hair
Now, it's time to transform thin hair by taking the plunge! Before getting too scissor-happy, remember: Make the most of the hair you do have while minimizing those areas that are lacking. Here are some great haircuts for thin hair.
Haircut 1: Blunt Bob
A short haircut, such as a chin-length, blunt bob.
Read: The Butterfly Haircut Is the Most Flattering Haircut of 2023
Why It Works
This classic cut works well on thin, fine hair, whether worn straight or with a subtle texture.
"Let's start with the best trendy haircuts right now for women with thinner hair," said New Jersey-based hairstylist Lauren Mangiamele. "Among the most popular, in my opinion, is the blunt bob that is cut to chin-length."
Shop: GRO+ Advanced Hair Serum
Haircut 2: Shoulder-Length "Lob"
Opt for shoulder-length strands, aka the "lob" — the longer version of a bob haircut.
Why It Works
"The shoulder-length long bob haircut that you see on Lucy Hale or Kourtney Kardashian is one of the hottest in my chair right now for thinning hair or any hair," said Mangiamele. " It's super popular because it's very versatile, whether you want to wear it with straight hair or have loose waves."
Replace a traditional texturizing spray with GRO Dry Shampoo, powered by the same proprietary blend of phyto-active ingredients found in GRO Hair Serum. Create subtle beach waves by misting on the refreshing, volume-enhancing and texture-building spray around the roots and throughout shoulder-length strands.
Shop: GRO Collection for Thicker, Fuller Looking Hair
Haircut 3: Face-Framing Angled Layers
A layered cut, including face-framing angles, puts the emphasis on facial features while de-emphasizing hair that's lacking in fullness.
Why It Works
"This is a great option for anyone with fine hair," explained Mangiamele. "As it adds body to the crown and front of the hair, this haircut stops hair from looking limp."
Integrate GRO Hair Serum as part of your daily self-care routine. Packed with powerful phyto-actives, the serum is clinically proven to encourage thicker, fuller-looking hair. Use the serum to spot treat areas along the part, the hairline and in-between face-framing layers. Massage directly into the scalp and hairline, distributing product evenly on towel-dried or dry hair. Leave in and style as desired.
Haircut 4: Dry-Cut Layers
Whether short, midlength or long, dry-cut layers paired with texture can help create the appearance of thicker looking hair.
Why It Works
"This is one of my favorites for thinning hair because it's an absolute statement haircut while serving its purpose of being discreet for thinning hair," said Mangiamele. "You can dry cut it and add some texture to give it more body and movement without making it feel choppy and thinner."
Haircut 5: Bangs
Cutting bangs may help in making hair appear to be more abundant. Anything from full-on fringe (such as curtain bangs or choppy or wispy bangs) to sideswept bangs will work.
Why It Works
"Another recommendation for thinning or thin hair is the hottest trend you're seeing everywhere right now, curtain bangs," said Mangiamele. "You can achieve a lot of extra volume that holds by styling this look with Velcro rollers. It's super easy and works on just about everyone."
Style hair using GRO Hair Foam to help enhance fullness in the fringe and around the crown. The mousse-like formula will instantly create body and texture. This styling foam also includes powerful phyto-actives to help encourage visibly fuller, thicker-looking hair.
Haircut 6: Choppy Layers
Choppy layers, cut with soft asymmetry in mind, can help to volumize thin hair and add natural lift.
Why It Works
Choppy layers enliven flat hair, add volume and bolster hair texture in any hair type. By maximizing movement and texture, fine strands will appear more abundant, whether they're shorter, midlength or on the longer side.
Skip the potential heat damage from a curling iron or blow-drying; try a natural alternative to styling with this pre-sleep styling routine:
Part towel-dried or dry hair evenly and apply hair foam to the scalp. Comb through and leave on.
Lightly mist dry shampoo or a sea salt spray; loosely braid hair in two pigtails, securing with hair ties.
Sleep on a protective pillowcase for the ultimate beauty rest, and wake up with the natural texture of soft curls.
Haircut 7: Pixie Cut
Short hair, such as a wispy pixie, is another option for fine thin hair.
Why It Works
A pixie cut with light layers may actually mirror the effect of more fullness in finer hair. Plus, pixies are the ultimate low-maintenance look in shorter hair — just wash and go!
Cleanse, condition and recalibrate starting in the shower. GRO Revitalizing Shampoo and GRO Revitalizing Conditioner are vegan-friendly alternatives to keratin. The formulas are powered by our proprietary Karmatin™️, which utilizes microencapsulated vegan b-SILK™️ protein that nourishes and restores damaged hair follicles and remains on strands even after rinsing. The result? Thicker, fuller-looking hair!
Take a Fresh Approach
Refresh and reset: A shift in perspective can do wonders for your hair, mind and body. Thin hair doesn't mean skipping the salon. Instead, elevate your hair's appearance by opting for a haircut tailored to your hair type and texture.
Complete the look by integrating targeted hair wellness products into your daily lifestyle. A new routine using products that help your hair look and feel its best, along with a fresh and flattering haircut, will have you ready to take on a new season and beyond!
More From VEGAMOUR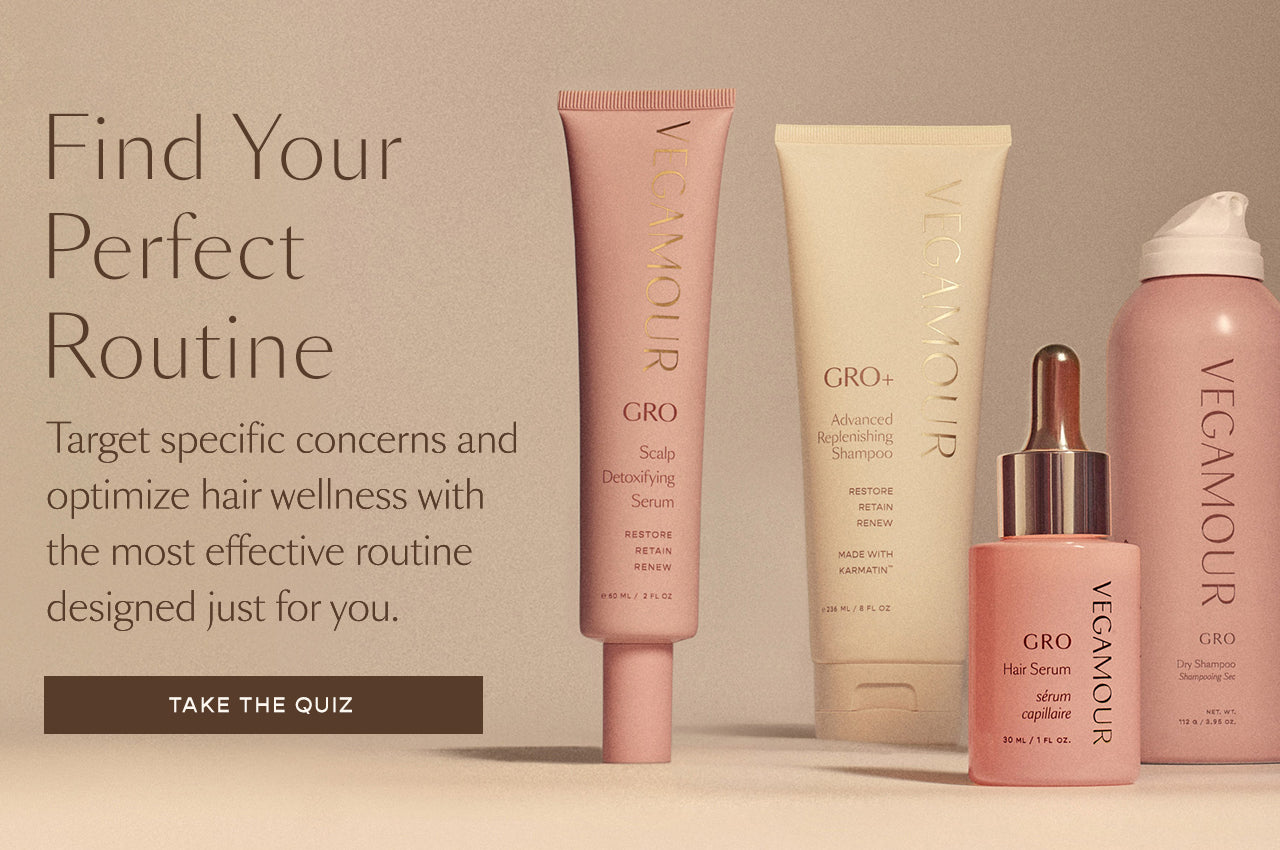 Disclaimer: Information in this article is intended for general informational and entertainment purposes only. It is not intended to constitute medical advice, diagnosis, or treatment. Always seek professional medical advice from your physician.