The Butterfly Haircut Is the Most Flattering Haircut of 2023
Haircutting trends come and go with the times, but one haircut that has already proven to be one of the most flattering and adaptable looks of 2023 is the butterfly cut. TikTok and Instagram users have helped perpetuate this heavily layered cut as one of the year's most popular looks.
VEGAMOUR spoke with a hairstylist who explained the cut's origination and appeal. Plus, learn which hair products you should use if you have this layered cut and want even more volume.
What Is the Butterfly Cut?
The butterfly cut is a modern take on the classic shag haircut with lots of layered movement. There are shorter strands around the face (the shortest layer is often chin length) to create a lovely face-framing effect. There are longer layers throughout, with the shorter layers making a smooth transition to the long layers in the back. Celebrities like this cut because it reflects classic elegance yet also looks low-maintenance and breezy.
However, this cut does require some daily styling to keep the texture and shape looking so effortless. This look requires styling products and careful blow-drying to shape the blown-out face frame and a slightly off-center or center part.
This haircut looks best on those with medium-length or long hair, but the general style can be adapted for a shorter look. Those with a short hair length that falls at or above the chin might not be able to pull off this cut until their hair is longer.
Related: The 6 Haircuts You'll See Everywhere This Spring
The Inspiration Behind the Butterfly Cut
"A butterfly haircut is an exquisite hair design where your hair gets a combination of layers that give it a dimension, body and movement," explained Alice Rawling of Hairdo Hairstyle. "It's a popular haircut that has been trending because it evokes memories of a '90s sitcom. It's a combination of vintage cuts with a touch of modernity."
The sitcom inspiration that inspired the modern-day butterfly cut is the well-known "Rachel" haircut from Friends, which took salons by storm during the '90s. Today's butterfly cut is airier and less bound to the exact framework of the Rachel.
Who Can Wear the Butterfly Cut?
The butterfly cut is most wearable on straight hair of medium textures. "Since it's a hairstyle that combines different hair layers, it's an ideal style for shoulder-length hair or longer," said Rawling. Say yes to the cut if:
You have straight hair in a medium or longish length.
You are willing to lose some bulk to get the layers just right.
Your hair does bouncy layers and wispy ends beautifully.
You are willing to do the daily styling.
You aren't afraid of a little hair product in your hair to hold the style.
You are ready to get the latest look!
Opt for another look if:
Your hair is deeply wavy, curly or coily.
Your hair is super thick or super thin.
Your hair doesn't do well with a round brush style.
You aren't willing to do the styling this cut requires.
Related Reading: Try These 7 Best Haircuts for Thin Hair
Butterfly Cut on Thin or Thinning Hair
Can you get this cut on thinning hair? Sure, but you might need some support for your locks. The GRO Complete Kit helps support thin hair by delivering nutrients right where your strands need them to keep your hair hydrated and healthy.

Getting the Butterfly Cut
A fashion-forward salon knows how to execute the much-requested butterfly cut, which might involve using a straight razor instead of cutting shears. Ask your stylist if they're familiar with the butterfly cut and if your hair type and thickness suits the shape. If you're concerned about length, ask where the shorter layers will fall for the face frame. It might help show your stylist some pictures of the shape and style you want to achieve.
Styling Your Butterfly Cut
Now that you've gotten your volume-boosting new look, you'll need a few styling tips to keep your new haircut in shape throughout your day. This cut is particularly misshapen by humidity, so be sure your styling agents have a humidity protectant. Also, avoid products with silicones, which build up on the hair, and parabens, which are unhealthy for your hair and skin.
Prepping Your Strands
Before styling your new cut, prep your strands with products that "re-plump" the hair with hydration. The GRO Revitalizing Shampoo and Conditioner provides gentle cleansing, vegan protein support and the lightweight hydration you'll need for flowy butterfly "wings."

Butterfly Cut Styling Tips
To nail this trend, here's everything you need to know when it comes to styling your new butterfly haircut:
Shampoo, condition and gently towel-dry your hair.
If you use a leave-in conditioner, apply it to towel-dried hair. Go easy at the root area and upper third of the hair. You do not want the look to fall flat.
Spritz your hair with a heat-protectant spray. Gently comb this through and make sure to get it on the ends of your hair.
Apply a small amount of styling cream and comb through with a wide-tooth comb. You might need more product on the ends and near the crown.
Blow dry your hair gently (medium heat, not high) until it's mostly dry before picking up the round brush.
Work in sections, rolling the strands around the brush and pulling upward away from the scalp for maximum volume. Gently roll the brush as you dry, with the dryer focused downward on the brush to pull the hair into the new shape. Allow the hair to cool on the brush before releasing it.
Do not touch each dried section as you work on the next. Allow all sections to cool completely before giving your layers a gentle tussle.
Finish with a lightweight humidity-resistant hairspray.
Use a handheld mirror to see the back of your hair in a larger wall mirror to ensure you don't miss any back layers.
Related Reading: Try These Volumizing Haircuts for Thin, Long Hair
Support Your New Style With All-Natural Products
The butterfly cut is one of the most popular haircuts of the year for a reason, but it's not as easy to maintain as it looks. If you have thinning hair, make sure to give your strands the support they need to rock this cut. Use volumizing products to boost your locks for more luscious layers. With these style tips, you're ready for your new look!
More From VEGAMOUR
Photo credit: skynesher/iStock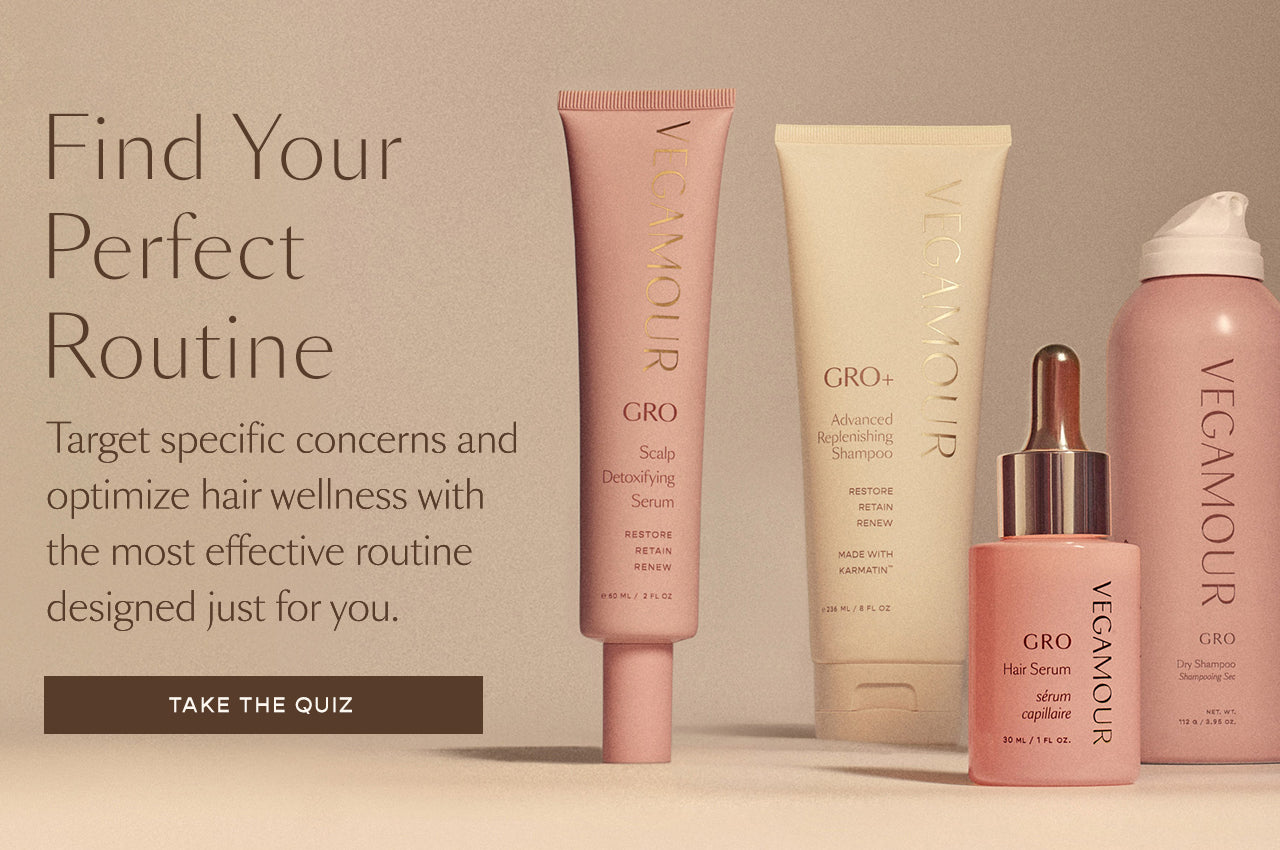 Disclaimer: Information in this article is intended for general informational and entertainment purposes only. It is not intended to constitute medical advice, diagnosis, or treatment. Always seek professional medical advice from your physician.