How Much Shampoo Should You Use?
It's nice to reflect on childhood memories and think about bath time; that time of evening when you'd get to play with suds and bubbles and maybe if you were lucky, a rubber ducky. One of the most important lessons children are taught is cleanliness and that includes how to wash their hair.
If you're a parent or someone who works with children you know all too well the temptation to use too much shampoo, but is this a myth? Can you actually overdo it with the shampoo? Read on to learn how to crush your hair wash routine and discover the best salon-quality shampoo and conditioner for strong, healthy hair.
An Ideal Wash Routine
There's been a lot of debate during the last few years about how often you should wash your hair, how often you should use shampoo, or whether you should use it at all. With the introduction of co-washing and cleansing conditioners into the market, many have wondered if the old traditional shampoo and conditioning routine is still the best move. We spoke to some experts and asked them to weigh in.
It might seem like a basic question but why do we need to shampoo our hair? If you're not the kind of person who works outside or spends a lot of time sweating, why is it important?
"Our scalp produces its own natural oil which is a protective mechanism that keeps the hair and scalp nourished," said Dr. Sanober Pezad, a double-board-certified dermatologist. "We don't want this to build up, since it serves as an attractant to dirt and external pollution."
Shampooing is important for removing dirt and oil, but does that mean the more you shampoo the better? Not so much.
"Ideally one should shampoo their hair not more than twice or three times a week, depending on the person's hair length, physical activity, and environment," Dr. Pezad explained. "By repeated hair washing we are stripping off the hair's natural oils causing symptoms like dryness, itching, and a rebound secretion of even more sebum," she said.
According to the experts, there is a balance that should be struck when shampooing your hair. Let's break down how to hit that perfect balance.
The Right Amount of Shampoo for Each Hair Type
Deciding how much shampoo to use depends on a few factors including your hair's texture. If your hair is curly you can benefit from using ahydrating shampooto keep curls hydrated and bouncy. If your hair is dry or frizzy it's often recommended to use a shampoo with a smoothing agent to it. Fine hair might want to consider a thickening shampoo to boost the volume.
When it comes to deciding how much shampoo to use, it really depends on how much hair you have to wash and your hair's length. If your hair is short a good rule of thumb is to use about a nickel-size amount of shampoo. Medium hair can use a quarter-sized amount and for long hair, go for a silver dollar size amount of shampoo.
"As a rule of thumb, only shampoo if your hair feels extremely oily and unclean. The amount of shampoo to use depends on several factors like how thick your hair is and its texture," said Dr. Sony Sherpa, a holistic health doctor. "Most people, women in particular, should use just 10 ml or 2 tsp of regular shampoo."
Shop: Hair Products Formulated Without Sulfates
Too Much or Too Little?
You don't need to worry about using too much shampoo unless it's a clarifying shampoo which can strip away too much of your natural oils. If you use too little shampoo, you might not properly cleanse surface debris from the scalp which could affect your scalp health or contribute to oil and product buildup. If it's been a while since you've had the chance to shampoo your hair, you might consider a second shampoo before using conditioner, but if you wash your hair several times a week, using less shampoo will keep you from drying out your hair.
Dr. Pezad suggested diluting it if you're worried about using too much shampoo. "An ideal quantity would be to take roughly 1-2 tablespoons worth of shampoo into a glass or mug, fill it up with some lukewarm water directly from the shower, mix it roughly and lather."
Whether you like to dilute your shampoo or apply it straight to your wet hair and scalp, there's no substitute for it and that includes dry shampoo, which can cause its own set of problems if overused.
"Water alone can't do the full job of cleaning your scalp and hair," Dr. Sherpa explained. "Regular shampoo helps remove excess oil, dirt and unpleasant odors like smoke. Shampoo, in general, also does strip the natural oils of your hair, so it's important to consider the factors before deciding to shampoo every day."
If your hair is prone to dryness, it's wise to use less shampoo and to use a good conditioner along with a hydrating hair masks to replenish your hair's moisture.
It's a good rule of thumb to use high-quality shampoo and conditioners like VEGAMOUR's GRO Revitalizing Shampoo and Conditioner Duo. This shampoo formulated without sulfates is color safe and contains a vegan b-SILK™ protein which bonds to hair follicles while you wash smoothing hair follicles even after you get out of the shower. It also utilizes Karmatin, the world's first vegan keratin. Wild harvested marula oil and organic murumuru butter as well as ximenia oil help to moisturize, condition and hydrate hair. They also fight off those pesky free radicals without imparting any annoying pore-blocking residue which helps keep your scalp healthy and happy while cleansing it and your hair strands.

The Power of Scalp Massage
"When possible, your hair shampoo routine should include a scalp massage," explained Dr. Sherpa. "A massage promotes a healthy scalp by stimulating the flow of blood and nutrients to your scalp and hair. It also helps remove dead skin cells, thus preventing flaky and itchy skin. When shampooing, massage your scalp from the front of the head and work your way towards
the nape."
Using products like VEGAMOUR'sRevitalizing Scalp Massager can also help achieve this. Its unique design helps you get to the scalp more easily and efficiently than using your fingers alone. The massager features a series of soft yet firm bristles that stimulate the scalp and help boost scalp health. It can be used on wet or dry hair to work in VEGAMOUR serums and foams, or in the shower to work in shampoo and conditioner. When applying shampoo, ensure it's fully soaked into your wet hair before going in with the scalp massager.

The Takeaway
It's important to shampoo your hair regularly with real shampoo, not just dry shampoo. Finding the right amount of shampoo is key to getting the desired results with your hair. Lather up with a gentle shampoo formulated without sulfates that's recommended for all hair types and textures. When in doubt, start with a quarter-sized amount and be sure to do a thorough rinse until the water in your shower runs clear.
More From VEGAMOUR
Photo credit: RODNAE Productions/Pexels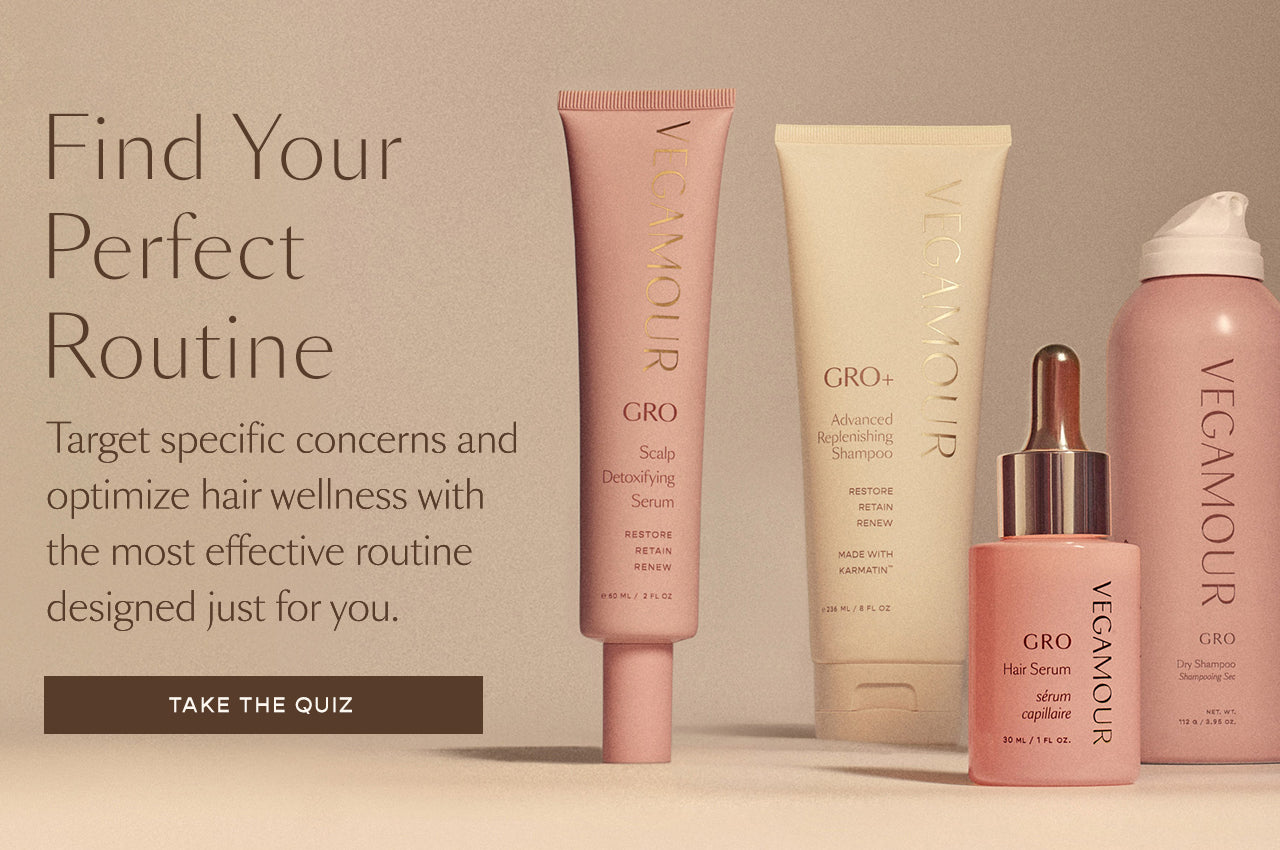 Disclaimer: Information in this article is intended for general informational and entertainment purposes only. It is not intended to constitute medical advice, diagnosis, or treatment. Always seek professional medical advice from your physician.