Here's How to Get Rid of a Cowlick
As a former hairdresser of nearly two decades, I can attest to how frequently clients came in and asked me to "get rid of" their cowlick. Hairdressers are often faced with explaining how cowlicks are formed and what you can (and cannot) do about them. If you've got a sprout of hair that's giving you grief, you've come to the right place.
Today, VEGAMOUR is sharing tips and tricks to tame your cowlick and what home care products are best suited to care for unruly hair.
What Is a Cowlick?
A cowlick is a sprig of unruly hair that looks like a cow licked your hair to make it stand up, thus the affectionate term "cowlick." What actually causes that wild hair whorl is the angle and shape of the pores on your scalp. Similar to how flattened pores send the hairs out into curls, wide and rounded pores that angle the hair straight out from the scalp can create a growth pattern of thicker hair that stands straight up from the head. Cowlicks can occur for any hair type and are most common at the crown and hairline.
Can You Get Rid of a Cowlick?
When I was a hairdresser, it always broke my heart a little when I was asked how to get rid of a cowlick. Often, frustrated patrons would ask me to "cut out" the cowlick. But can you really "get rid of" a cowlick? Let's tackle this question with a little brutal honesty.
The short answer is no. The direction of hair growth is formed at the roots, where pores orient the hair in one direction or various directions. Since this cannot be changed, we manipulate cowlicks with creative styling goals aimed at controlling or disguising the unruly strands.
Related Reading: 6 Tips & Tricks for Styling Thin Hair
Tips for Taming the Cowlick
For one, you could simply "embrace your weird," as the catchphrase says, a self-loving way of simply accepting your cowlick as part of your own unique signature style. But if that's not your idea of mastering that unruly sprig of hair, then you'll need to practice some creative styling.
Grow out your hair. Long hair doesn't show the cowlick as prominently.
Add weight to the stubborn tuft with strong-hold styling products or creative haircutting that leaves a bit of longer hair at the cowlick so the hair stays down more easily.
Wear shorter hair all over your head or shave it into a shorter hairstyle.
Use a hat or scarf to hide the cowlick.
Use texturizing cutting techniques to lessen the cowlick's texture and make it less obvious in the finished style.
Use the right hairstyle and styling techniques that minimize the cowlick's dominance, hide the cowlick or bend it in the opposite direction.
Get a permanent wave to change the texture of your hair, creating curls that blend those stubborn hairs in with the rest of your hair.
Camouflage your cowlick or make the cowlick look like an intentional part of the hairstyle by using creative coloring techniques. A sprig of blonde can be used for a cowlick at the hairline, for example, to create a style statement that's bold and unique.
Moisturize and Nourish
The trick to pliable hair is balancing hydration by protecting the natural oils or by adding moisture that allows the hair to be soft yet styleable. Avoiding buildup while maintaining a healthy moisture balance is tricky, especially if you use a lot of styling products to tame your hair. Wash your hair with sulfate-free products that are clean and don't add buildup.

VEGAMOUR recommends GRO+ Advanced Replenishing Shampoo and Conditioner with tiny molecules of moisture that nourish your hair. This award-winning duo is formulated with Karmatin™ vegan protein and nourishing plant oils, including hemp. Appropriately moisturized hair is much easier to manage, plus beautiful, healthy hair is lovelier — no matter which direction it is growing.
Related Reading: VEGAMOUR's GRO vs. GRO+ Advanced Hair Wellness Products: What's the Difference?
Styling Tools
The tools you use on your cowlick are essential. For example, if you comb your cowlick with a fine-toothed comb it behaves differently than if you use a boar-bristle brush. Test out a few different tools.
Fine-toothed comb vs wide-toothed comb
Round vs boar bristle brushes
Teasing comb (for a gentle tease of the cowlick to blend it in with your hair)
Try each tool on wet hair and dry hair, noting your cowlick's behavior. Does one tool cause the hair to fan out and separate, which lessens the "strength" of the cowlick? Which tool seems to give you more control?
Another tool you'll likely need is a blow dryer, which can help you to apply heat and make those unruly hairs more pliable. Using one hand, hold the cowlick in place with a comb or brush and apply heat with your blow dryer until it bends better for you. Then, press the hair down as it cools to allow it to hold this new shape. Top it off with some setting spray that's got a good finishing hold and a humidity protectant to keep the weather from sapping your hard work.
Styling Products
Speaking of finishing spray, the hair products you use are also important when you want to gain control over a strong sprout of hair.
Gel
Use a handheld mirror so you can see the cowlick and the back of your hair and smooth on a little high-hold gel. Comb or brush the hair into place and allow it to dry. This creates a "cast" on the hair, meaning a crisp finish. Some gels create a white "fluff" in the hair if you try to brush or comb out the cast. Higher-end gels are better to use if you want to avoid that.
Styling Cream
Styling cream creates a hold that's full of moisture and finishes with a soft, natural look. Apply a small amount of styling cream and use a round brush and blow dryer to shape the hair.
Mousse
Mousses tend to encourage volume and curl, so if your styling goal is not to flatten the cowlick but to lift and blend with the rest of the hair for a more voluminous look, then apply mousse to towel-dried hair and blow-dry with a scrunching technique or diffuser.
Finishing Products
Finishing products could include hairspray, hair wax or putty, though look for silicone-free options when possible.
More Styling Tips
Use a flat iron to curve the cowlick in a new direction.
Blow drying on a round brush can curve the natural direction of the cowlick at the crown or forehead.
When heat styling a cowlick, do not brush or comb while it cools in the new shape. This will help the hair set in the new direction.
GRO+ Advanced hair care system offers that little extra measure of support and hydration for pliable locks that you can style more easily. If you need more tips and tricks on how to style your hair and keep your hair strands healthy, then take a look at VEGAMOUR's healthy hair blog.
Photo credit: VladimirFloyd/iStock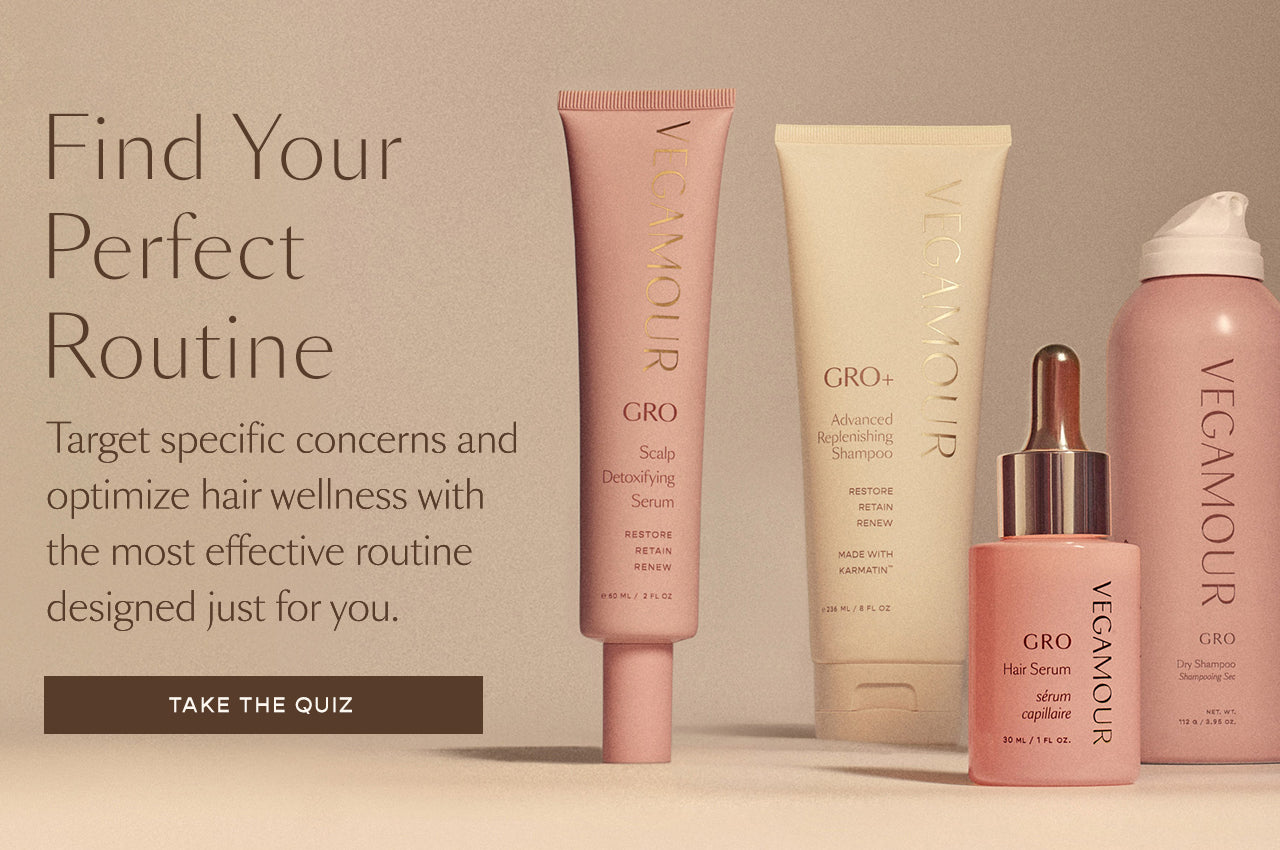 Disclaimer: Information in this article is intended for general informational and entertainment purposes only. It is not intended to constitute medical advice, diagnosis, or treatment. Always seek professional medical advice from your physician.