6 Tips & Tricks for Styling Thin Hair
Having fine hair might seem like a blessing to some — it's easy to style and often requires no blow-drying or heat styling. But it also can be challenging to hold a curl or add the appearance of volume.
Hair loss affects 25% of women by age 49, 41% by age 69 and half of all women by age 79. About 80 million people in the U.S. are battling hereditary hair loss, according to the American Academy of Dermatology.
To help, VEGAMOUR spoke to experts and outlines several steps you can take to style your hair in a way that makes it appear fuller and healthier. Plus, find the best products to use to combat thinning hair. 
1. Shorter Hair Creates More Volume
Whether you have naturally thin, flat hair or are newly adjusting to thinning strands hair after a period of recent hair loss, consider a trim (perhaps with face-framing layers) to add heft to your tresses. "A suitable haircut or style that focuses on drawing attention away from the fineness of the hair while accentuating an overall fuller appearance will help hair appear thicker," said hairstylist Gerdie René Gordon.
Unfortunately, the longer your hair is, the more it will weigh down the hair around your scalp. This causes hair to lose volume and fall flat, especially for those with hair types with thinning, straight hair that lacks natural texture. Gordon said that shorter hair can make fine hair look thicker, especially with a series of light layers that add extra volume to even the finest hair.
Gordon also recommends using your hair color to visibly create texture. "Customizing hair color will lend to fullness, particularly at the root area, creating a shadowy effect," she said, adding an illusion of volume to thinning locks.
If you want to provide a fuller look to your hair, consider a short hair option, like a pixie, bob or blunt cut, with added color to create a sense of volume by creating the appearance of variation. Also, avoid cutting your bangs. Female pattern hair loss typically begins at the crown, and by cutting your bangs, you're removing hair from where you need it most. Ask your stylist to recommend the best hairstyles to create volume and other styling tips specific to your thinning hair. An in-person consultation can help you find the perfect cut!
Also: This Dry Shampoo Was Formulated With Thinning Hair in Mind
2. Use a Lightweight Volumizing Shampoo and Conditioner
Once you have your perfect cut in place, Gordon said the next step is finding the right hair products to boost that newfound volume. " Using products specifically formulated for fine, thin hair is the key," she said. "These products generally contain either "fillers" (agents that create space in between hair strands) or "amplifiers" (agents that increase the diameter/plump up individual hair strands)," both of which add texture without creating the appearance of coarse hair.
The most important step in getting volume for fine hair starts in the shower, so avoid any deeply hydrating products that could weigh your hair down at the root. Instead, use a product like GRO Revitalizing Shampoo & Conditioner, which uses microencapsulated vegan b-SILK™ protein to promote visibly thicker, fuller and stronger hair. For an added boost, try GRO+ Advanced Replenishing Shampoo & Conditioner with full-spectrum hemp too soothe stress own strands and create a healthy environment for hair to flourish.
Remember to avoid gooping conditioner on your roots. Not only does it waste product, but it can also cause your scalp to look greasy right after you wash. And after applying conditioner to wet hair, make sure to gently rinse it out before exiting your shower to avoid the look of oily hair. If you prefer to use a lightweight leave-in conditioner, apply it to towel-dried hair before styling, and blow-dry with a round brush to add volume.
Read: Hair Feeling Oily or Greasy? Try This
3. Backcomb Your Hair
While you can use volumizing hair products with a curling iron to create volume-boosting beachy waves or touch up your natural waves, you can also try backcombing, which can help you avoid the damage heat styling can do and create body without adding an additional layer of product your thin strands may struggle to support. However, avoid backcombing if your hair is damaged and fragile because it can cause those already stressed strands to break.
Here's how to backcomb your hair:
Start by lifting hair in small sections.
Backcomb each section using a fine-tooth plastic comb by gently combing the hair backward from the tip to the root, being careful not to damage the hair.
Spray each section with your favorite dry shampoo or a texturizing spray, and then comb the hair down on top lightly to smooth it out and hide the teasing.
Use a volumizing hair foam at the roots to really take it up a notch, adding a polished appearance to your newly fluffy hair. A great choice is GRO Hair Foam, which can be applied to damp or dry hair. It's formulated with powerful plant phyto-actives to help provide instant body and texture to tresses and deeply penetrate the scalp to promote visibly thicker, fuller-looking hair.
Related: 10 Unexpected Ways to Use Dry Shampoo
4. Shampoo Less, Dry Shampoo More
Speaking of dry shampoo, it's more than just an occasional styling tool to use in the backcombing process! It might actually be fine hair's new secret weapon for adding volume, texture and heft while cutting down on wash days that can cause unnecessary product buildup.
Women with fine hair tend to get oily strands faster than normal. However, daily shampooing can cause your scalp to produce more oils to compensate for the lack of hydration. It's a vicious circle that can be hard to escape, but a dry shampoo can help keep oily strands at bay.To help try to shampoo only three to four times a week and use dry shampoo to keep your hair looking fresh in between wash days, applying it to dry hair and finger combing it through the ends of your strands.
Because thinning hair is so easily weighed down, it's especially important to find a dry shampoo that doesn't contain any excess talcs or other ingredients that might add weight. VEGAMOUR's GRO Dry Shampoo fits the bill, helping you cut down on wash days while keeping hair fresh (and floofy!) with an extra dose of hair wellness supporting ingredients like red clover and mung bean. Plus, it doesn't contain any off-putting synthetic fragrances like some dry shampoos. Instead, it has the same great fresh bergamot scent you'll find in other VEGAMOUR hair products.
Shop & Save: VEGAMOUR Kits
5. Add Extensions For Volume
If you're looking for a super quick fix to your flat hair problem, extensions might be the answer to your prayers. Extensions are great for adding length but can also be styled to give the appearance of fuller, thicker hair. While extensions can pull on hair roots and can do more harm than good for those who are experiencing thinning strands due to hair loss or damage, they can be a great way to add a little extra drama to healthy hair on an occasional basis.
For a temporary volume boost, clip-in extensions can make all the difference for special events, such as weddings, when you may want a more formal, coiffed hairstyle. Using hair extensions to boost hair length is a little bit like slipping on your favorite heels to go out dancing. For most people, it's too much work to get into every day. But when you're in the mood to go big, it can be a lot of fun.
The key to making extensions looks seamless and natural is to take them to your hairstylist who can trim them and match your hair color. While you're there, talk to your stylist about good options for boosting hair volume as your search for thicker hair continues.
Shop: VEGAMOUR Hair Wellness Products
6. Use A Hair Serum
Although there are many effective methods for styling thinning hair, there are also steps you can take to help fine hair from within. Using a serum with a formula that's designed to boost hair health while working to visibly increase hair density is your ultimate secret weapon when it comes to adding volume to thinning, flat hair.
Like our other products, VEGAMOUR's GRO+ Advanced Hair Serum contains an array of natural ingredients, including mung bean, red clover and curcumin, which work to strengthen hair roots. The serum also contains microencapsulated full-spectrum hemp that helps soothe and calm the scalp. Best of all, with consistent use, the product has been clinically shown to increase the appearance of hair density by up to 52% and reduce signs of shedding by up to 76%, so you can stop stressing about your hair loss and get to the fun part — learning how to style those locks.
A holistic hair wellness routine designed to promote hair health is the key to gorgeous strands.
Additional members of Team VEGAMOUR contributed to the reporting for this article.
More From VEGAMOUR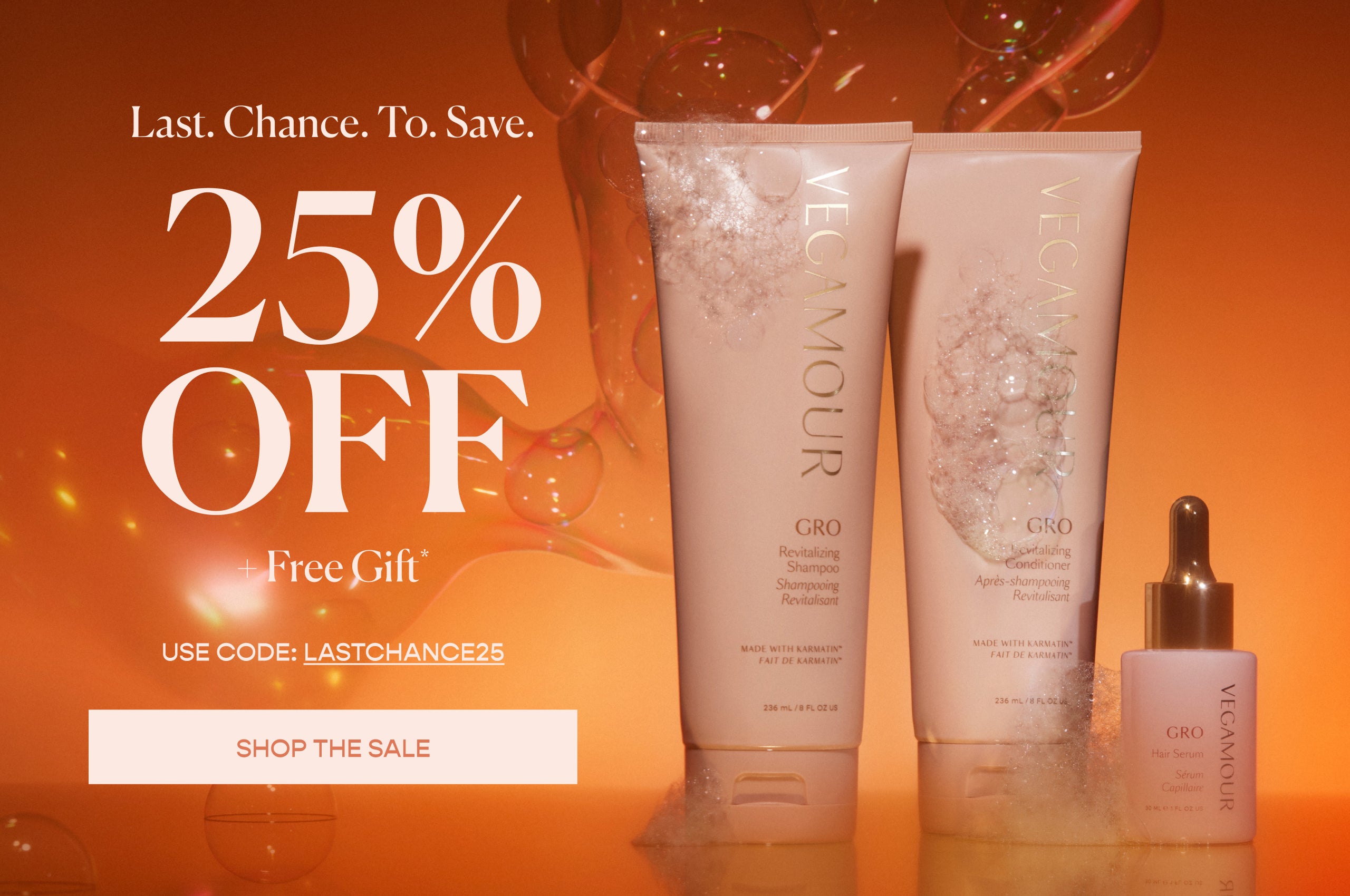 Disclaimer: Information in this article is intended for general informational and entertainment purposes only. It is not intended to constitute medical advice, diagnosis, or treatment. Always seek professional medical advice from your physician.