How to Hide Gray Hair on Brunettes
It's no secret that hiding or masking gray hair as a brunette can be tricky due to the contrast between the two shades. Luckily, from creative coloring techniques to a snazzy headscarf, there are a multitude of ways to mask your gray.
But did you know you can also slow down graying? Read on to discover all the ways you can handle those silver strands and what products you can use to delay and reverse graying hair naturally.
Why Does Hair Turn Gray?
There's no set age for when you'll begin showing gray strands. However, according to studies, the average onset of gray hair is in one's mid- to late forties, but some people do experience premature graying.
Graying occurs because melanin-producing cells (melanocytes) that operate at the base of the hair follicles begin to produce less and less melanin. Melanin is the pigment that gives your hair its color, specifically, eumelanin for dark shades and pheomelanin for lighter and redder shades.
The lack of melanin causes a gray, silver or white color, often blending in with your natural shade to produce a gray-blended color. These gray hairs can be bright and reflective, or they can have a more muted tone giving an overall "mousy" appearance. Because graying accompanies aging, many people seek to cover up their gray to appear more youthful. However, recent trends are normalizing gray hair for a look that's fresh and fabulous!
Related: Why Does Hair Turn Gray?
How to Cover Up Your Gray
If you aren't quite ready to let those lighter-colored strands show through, here are a few ways to cover up gray hair using low lights or highlights or all-over hair coloring services to completely transform the shade of your hair.
Blend Gray Hair with Highlights
One fun option to tackle that gray hair is to head to the salon for some highlights, low lights or a trendy new "gray veiling" technique. Use a mixture of highlighting and low lighting techniques to blend in new colors with your natural hair shade and the new gray strands. The results are as varied as your (and your stylist's) imagination!
VEGAMOUR spoke with hairstylist Faviana Cano of Gatzby Salon for her expert opinion on how brunettes can blend in their gray hair. Cano suggested combining gray veiling and whisper lights to give a more natural-looking coloring option. Cano explained this trendy look for brunettes as slightly lightening darker hair for less opaque gray coverage and a more seamless grow-out for brunettes.
Strategic highlights can also blend gray hair that appears more heavily around the face and hairline.
For brunettes, highlights, low lights or gray veiling are all techniques that can help to add dimension, especially for those "mousy" gray types that need more contrast to create a face-framing and on-trend style. Consult with your hair stylist to determine the best solution for you.
Pros
Stylish and fun
Lots of color options
Cons
Could be costly and high maintenance
Related: How to Prevent Gray Hair
Use an All-Over Hair Color
If blending your gray with highlights isn't for you, you can choose to cover your gray hair completely with an all-over hair color. For a lower-maintenance plan for brunettes, go with a shade that's not too much darker than the gray that's appearing in your hair.
This involves monthly trips to the salon for root touch-ups of color to cover gray regrowth on brunette hair. Hide gray completely with one shade or a blending of shades from root to tips. (Full-coverage hair color is the only way to cover the gray completely with color.)
If you have naturally dark hair, consider "breaking the base" with a color from half to one shade lighter than your natural color and blending lighter toward the ends. This all-over coloring technique will eliminate the salt-and-pepper coloring of your gray, creating an blended ombre style while softening the dark hair at the roots.
Pros
Allows you to completely cover gray hairs
Lots of hair colors to choose from
Can be done at home or in the salon
Cons
Costly and requires more maintenance
Colored hair requires more at-home care
Get Creative with Accessorizing
Another way to hide gray hair or cover gray roots is to use scarves, head wraps, hats and other hair accessories. Turn hiding your gray roots into a fashion statement!
Pros
Easy and fun
Can be a low maintenance option
Cons
If you don't use an accessory, your grays will show.
Also: 4 Foods to Eat to Delay Gray Hair
Embrace Your Gray Hair
Here's a news flash: Gray hair is trending! Many influencers and celebrities are now opting not to cover grays but to flaunt their natural color — gray and all. And just like celebrities can go gray and be beautiful, you can too!
To grow out your hair color, consider a shorter haircut, and ask your stylist for a semi-permanent glossing to help blur the line of demarcation between your natural color at the roots and the hair coloring you want to grow out.
Pros
Gray is gorgeous!
Your hair will be lower maintenance once the gray grows out.
Cons
It will take a while to grow out your hair.
A wardrobe and makeup update might be needed to complement your new look.
Read: Why You're Seeing the Money Piece Hair Trend Everywhere - And It's Not Going Away
Delay Your Gray
One fairly new option for your gray hair woes is to slow down the process. GRO AGELESS Gray Delay™ Hair Supplement is formulated to help preserve the natural pigment of your hair longer. With a proprietary blend of B vitamins, Fo-ti, selenium, calcium, copper, para-aminobenzoic and folic acids, the formula helps preserve melanin levels while adding collagen-rich shine and supporting healthier hair roots.
Or opt for the GRO AGELESS Anti-Gray Hair Serum, which reduces the appearance of gray on new hair growth, boosting the appearance of natural hair color up to 34% in 79% of gray hair!
You can also opt for a semi-permanent hair color for blending grays with translucent coverage. In combination with GRO Ageless products, you can look and feel younger — no matter your age. It's also:
A healthier and cleaner option (and less expensive!) to hair coloring services
Safe for daily use
Can be used in conjunction with hair coloring
Shop: GRO AGELESS Gray Delay Hair Supplement
Support Your Hair's Health
To cover the gray or to not cover the gray? It's up to you to choose. But while you are on this journey, why not strive for radiant, healthy hair? By taking a holistic approach via a nutritious diet, adequate sleep, regular exercise, targeted hair care and optimal hydration, you and your hair will look and feel better than ever — whether you choose to go gray or not!
More From VEGAMOUR
Photo credit: Majestic Lukas/Unsplash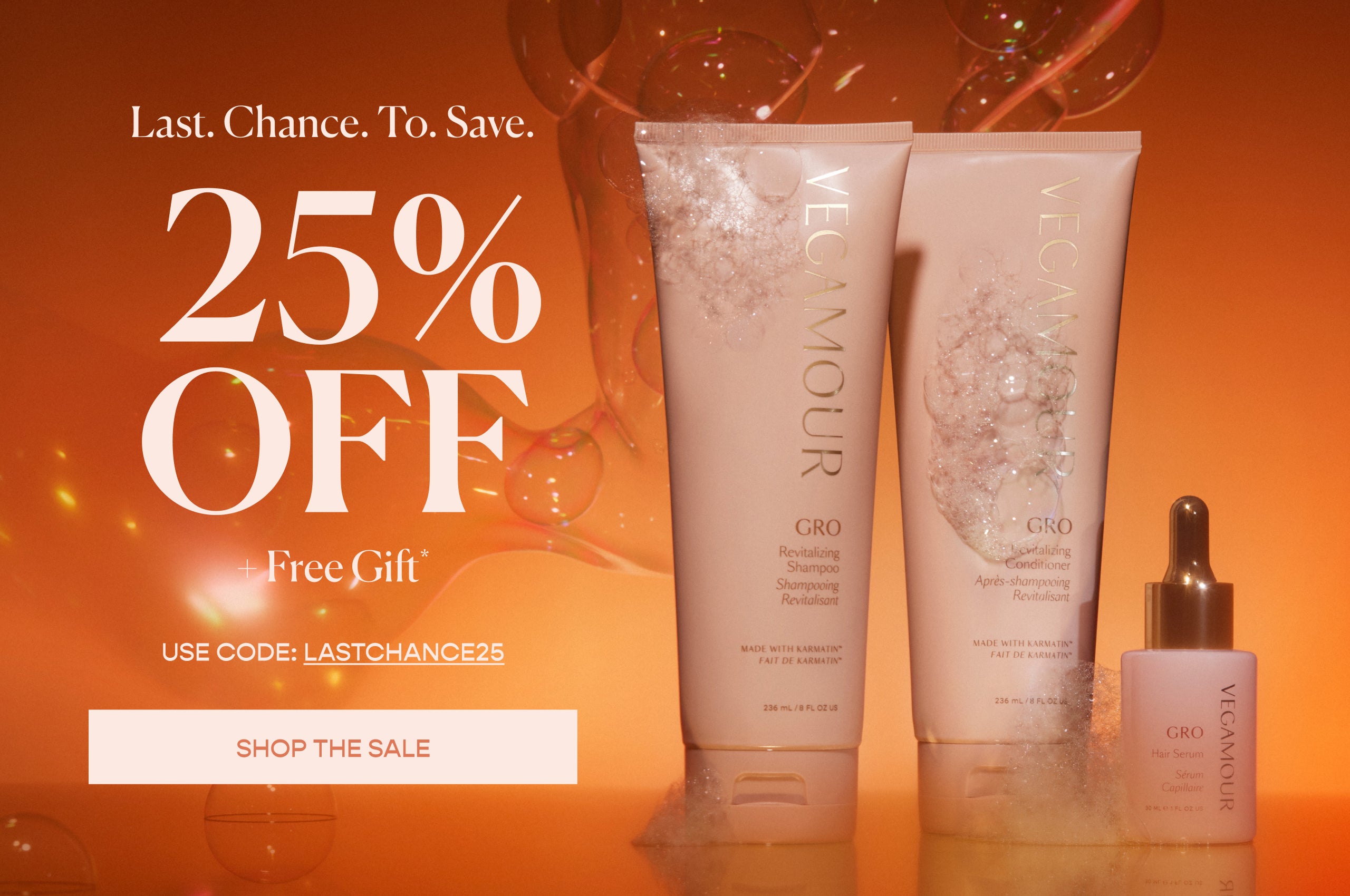 Disclaimer: Information in this article is intended for general informational and entertainment purposes only. It is not intended to constitute medical advice, diagnosis, or treatment. Always seek professional medical advice from your physician.