How to Make Gray Hair Smooth and Shiny
If you have dull or wiry gray locks, don't fret. Making your gray hair shiny and smooth is not only possible, but it's also pretty easy once you nail down an ideal hair care routine.
VEGAMOUR spoke with a hair professional to get tips on helping gray hair look its best. Plus, find out what products you should use to improve the texture of your hair for a silky voluminous shine.
Why Does Gray Hair Tend to be Dull and Wiry?
In addition to a loss of color, you might also see some textural changes as your gray hair loses some of its natural softness, creating a more wiry hair type that needs more care to stay soft, pliable and shiny.
According to science, the changes in gray hair are due to genetic and environmental elements that cause melanin-producing cells and natural oils (sebum) to decrease. As a result, your hair can look duller in color and feel wiry.
Pigment dilution occurs when the melanocytes in your hair create less pigment due to a reduction of an enzyme called tyrosinase. As a result, your hair turns gray, silver, white or a combination of these tones. You might go completely gray or keep some strands of pigmented hair, which, if you have dark hair, can result in a blended look called "salt and pepper."
In short, when your hair ages, you'll need to make some changes to your regular hair care routine to best care for it.
How to Make Gray Hair Smooth and Shiny
Giving your hair strands ample moisture and nutrition is even more important once it starts graying. You'll also need to continue to protect your hair from environmental elements that can tarnish gray hues. Additionally, you should use products that help smooth the outer cuticle layer of the hair. Raised hair cuticles scatter light rather than cleanly reflecting it, resulting in dull gray hair that can look frizzy, wiry or dry. Here are some more tips for helping your gray hair look smooth and shiny.
Get the Proper Nutrition
You've likely heard the mantras "eat a healthy diet" or a "eat a well-balanced diet" so often that you might not consider what that really means for your body and your hair. Not only is proper nutrition good for the health of your body, but it's also vital for flowing, beautiful hair.
VEGAMOUR spoke with Lauren Holland, a hairstylist with Latest Locks, who shared one of her favorite tips for shiny gray hair. "One of the greatest vitamins for gray hair, vitamin E, makes hair glossy and promotes hair growth," Holland said. "Vitamin E is said to slow down the aging process, so your hair should continue to be smoother and shinier for longer."
Vitamin E is one of the choice ingredients in our hair-and-scalp nutritive GRO Biotin Gummies for healthy and shiny hair. Additionally, vitamins B-5, -6 and -12 also give your hair what it needs to flourish and shine. And vitamins A, C and E help to neutralize follicle-damaging free radicals, which can dull your gray hairs. The gummies also contain zinc, which help balance and maintain scalp health.
Also, try adding some of these hair-healthy foods to your diet:
Sweet potatoes contain vitamin A and help stimulate sebum production for a natural hair gloss.
Spinach, which is high in magnesium, iron and zinc, can also promote the production of protective sebum and encourage a healthy scalp.
Avocados contain biotin and healthy fats.
Peanut butter and barley contain vitamin E.
Tangerines, strawberries and broccoli contain vitamin C.
Adjust Your Shampoo Regimen
Your first thought may be to grab a clarifying shampoo. While this works well on younger hair, it's far too harsh to use on gray hair regularly. Clarifying shampoos act as deep cleansing scrubbers for the outer layer of your hair, removing surface buildup or toxins, chemicals or other molecules that cling to its outer surface. If you must use a clarifying shampoo, follow up with a leave-in conditioner (on damp hair) to help smooth hair and tame unruly grays.
There are other ways to deep clean without the dryness that comes with a clarifying shampoo. Consider a switch to VEGAMOUR's GRO Revitalizing Shampoo and Conditioner. It's a moisturizing shampoo and conditioner duo that helps gently remove dulling impurities while protecting and strengthening strands and imparting long-lasting shine.
Extra tips: Rinse shampoo and conditioner with cool water. This helps smooth the cuticle and restore shine. Detangle wet hair only with a wide tooth comb, and brush dry hair with an ionic smooth bristle brush for maximum shine.
Add Shine-Boosters to Your Hair Care Routine
Shine boosters work by smoothing the cuticle, softening the hair, and sometimes, by using light-reflection molecules. Check the ingredients of the brands you love to be sure they are silicone-free. While silicones might make your hair shine, they build up over time, creating more dullness on your gray tresses. Toss out the silicones and go for these ultra-smoothing options instead.
A deep conditioning hair mask once or twice a week will bathe your hair in softness and moisture.
A few drops of argan oil can help with shine while also adding a little weight and control to wiry strands.
A leave-in conditioner will help tame gray flyaways and make wiry gray hair feel softer.
A hair serum like GRO+ Advanced Hair Serum will stimulate your hair right at the roots.
Also: GRO vs. GRO+ Advanced Hair Wellness Products — What's the Difference?
Protect Your White Hair
White and silver hair, and even some lighter shades of gray, can turn yellow without proper care.
Yellow hues often come from exposure to the UV rays of the sun or from cigarette smoke — two common causes for yellow tones or amber-colored dark spots in your gray. Another cause of gray hair discoloring can be hot-styling tools, especially for people with fine gray hair or blonde tones with gray. Use a medium setting or lower and use heat protector hair products to prevent this.
Purple shampoo can help eliminate these unwanted tones in your hair by neutralizing them. However, using this tinted shampoo in excess can bring an unwanted faint purple hue to your hair, so limit its use to once per week.
Related Reading: How to Care for Your Hair in Your 50s
Not Ready to Go Gray?
Give your gray shades a lift with your favorite colored styling products, spruce up your grays with highlights and lowlights or control them with our GRO AGELESS products.
Our GRO AGELESS Anti-Gray Hair Serum controls grays by reducing the appearance of gray hair on new hair growth and renewing color and shine. And our GRO AGELESS Gray Delay Hair Supplement helps preserve your hair's natural pigment and keep grays away, while also promoting healthy roots and shiny strands. And when you use these two plant-based, clinically proven products together, you can control grays from the inside out.
Take Care of Your Hair — No Matter What
This is the time to pamper your hair as it ages, embracing the changes with a smile on your face. And if you're not ready to embrace the gray, that's OK too! Gray hair is just as beautiful as other hair colors, and if you care for it right, your gray hair can be absolutely radiant! 
More From VEGAMOUR
Photo credit: Kampus Productions/Pexels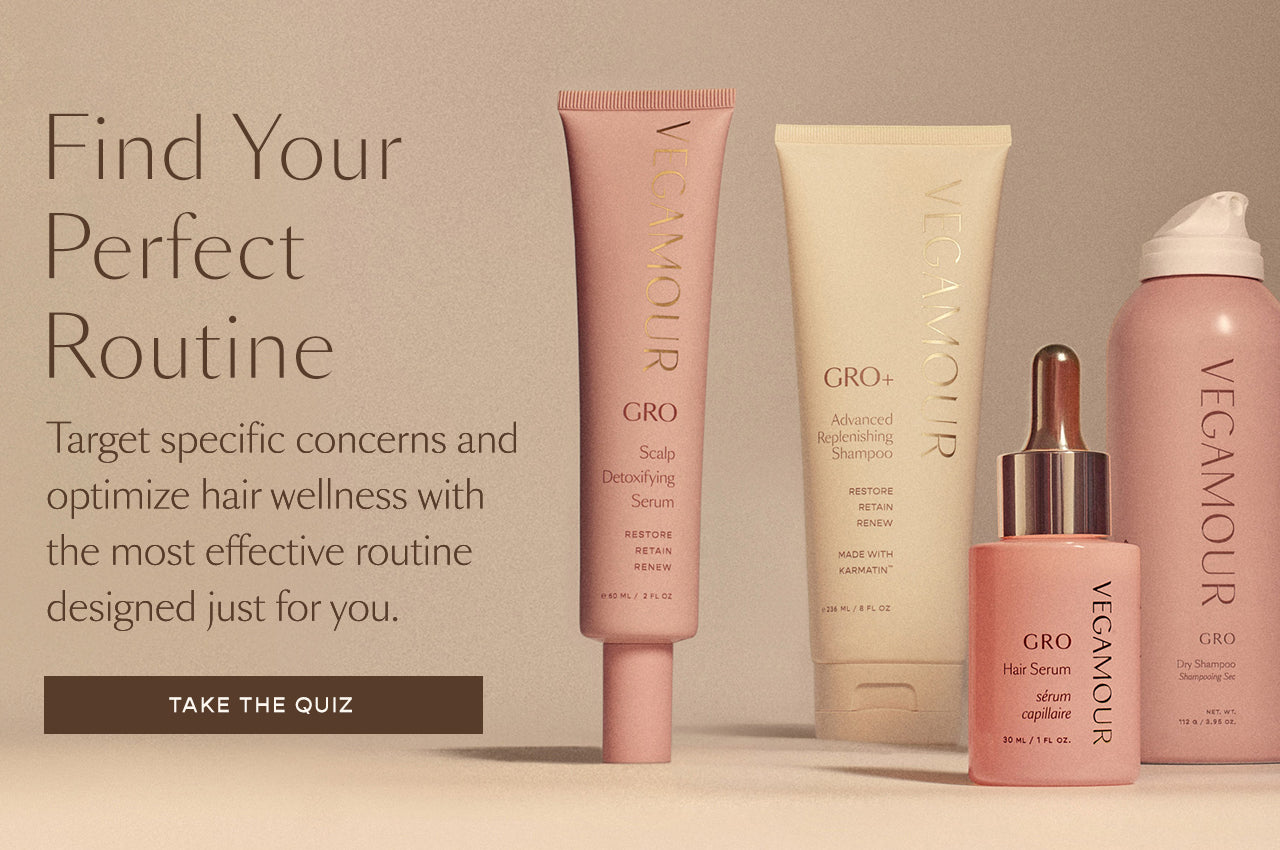 Disclaimer: Information in this article is intended for general informational and entertainment purposes only. It is not intended to constitute medical advice, diagnosis, or treatment. Always seek professional medical advice from your physician.