How to Prevent Split Ends
Nothing ruins a good hair day faster than looking down at your hair and seeing those dreaded white spots at the end of your strands letting you know you have split ends. It might not have even been that long since your last haircut, but there they are taunting you and making you wish you had a pair of scissors on hand right then and there.
It turns out that split ends don't just come from waiting too long to get your hair trimmed. Read on to learn more about why split ends occur, how to prevent them and the best products for caring for your hair in a holistic way.
Here's Why You Get Split Ends
Simply put, split ends occur when the ends of each hair strand become weak, dry and brittle. They can split into two, three or even more pieces either as a result of dry hair, heat damage or from the force of brushing and combing your hair.
If you think about brushing your hair from root to tip, the combing force increases as the brush or comb moves down the hair strand. By the time it gets to the end, it's much stronger. If the ends of the hair are weak, brittle or dry, they can break or split.
The main culprits of split ends are sun exposure, frequent heat styling, bleaching, permanent dying and overwashing. Any one of these culprits is enough to weaken the hair, but if the shaft is enduring an array of these damaging effects, split ends can become chronic.
Shop: Sulfate-Free, Color-Safe Shampoos
How to Avoid Split Ends
You can't really treat split ends once they appear, but you can prevent them. Here are some of the best ways to keep your hair safe and nourished and reduce hair breakage.
Read: Compare GRO vs GRO+ Advanced 
Be Gentle After Washing
Being delicate with hair after washing is one of the easiest ways to help prevent split ends. Washing strips the hair of moisture and necessary oils, which can also lead to split ends, so you don't want to over-wash hair. Get into a good hair washing routine, and use good quality dry shampoo in between washes. On wash days, handle your hair with care.
You want to be careful with the hair after washing it, explained Dr. Anna Chacon of My Psoriasis Team. "Be gentle when washing and after washing your hair, make sure that you are not rubbing too much when towel-drying," she said. "Always remember to detangle your hair."
Using a good leave-in conditioner or hair oil can help soften hair so that it's easier to brush and comb through. This is especially true for anyone with curly or kinky hair who combs or brushes wet hair.
Using a hair pick or a wide tooth comb is a good way to be careful with your strands, especially for that extra curly hair or Afro-textured hair. This keeps the combing force lower on each hair strand and prevents your clean hair from breaking or splitting.
"Avoid over-brushing and tugging your hair through combing," said Dr. Chacon. "Sleeping on silk pillowcases will help too."
Heat Style Sparingly
Heat can also be a pesky culprit when it comes to getting split ends, so try keeping heat-based tools like flat irons, curling irons and the blow dryer in the drawer a couple of extra days a week if you can. This applies to people of every hair type and texture.
"Avoid using too much heat on your hair," Dr. Chacon advises. Air dry your hair whenever possible to help keep it from being overexposed to blow drying and straightening.
If you have to use heat styling tools, use a barrier to protect the hair cuticle. "The best way to prevent split ends is by protecting the cuticle," said stylist and hair expert, Kristen Clark of Vibrant Salon and Spa. "The best way to protect the cuticle is by using a leave-in conditioner or serum with heat-protectant properties. This will help to seal the cuticle and prevent damage from heat styling and environmental factors."
One study found that anti-breakage products and heat-protecting treatments do help when it comes to reverting split ends.
Avoid Chemical Treatments and Free Radical Damage
Chemical processes and treatments like chemical straightening, or heat treatments can rob the hair of its natural oils and natural moisture, which can weaken the hair cuticle. If you do need to endure any of these chemical treatments or processes, try waiting a bit longer than you normally would in between appointments to give your hair a break.
"Don't use too many chemicals on your hair," warned Dr. Chacon. "Add time between treatments like coloring, curling or straightening."
Bleaching and overexposure to the sun can also affect the integrity of the hair cuticle and weaken it over time. When your hair strands are weak and dry, they're prone to breakage and splitting. Avoid hair extensions, which can lead to damage at the root of the hair follicle and put unnecessary strain on your scalp.
Apply Protective Barriers Before Styling
The best way to prevent split ends is to protect the cuticle and hair shaft. One way to do that is to apply protective or nourishing products to the hair after washing, especially if you plan to use hot tools on your hair.
"Apply a product to the ends of your hair to create a barrier that will protect the hair shaft," said Clark. "This lessens the friction between each hair end and supports defending the exposed cortex at the end of the hair shaft from damage and keeping the bond between the cuticle and cortex strong."
Get Regular Trims
While trimming your hair won't actually prevent split ends, it can help keep them under control. As your hair grows, it can become more damaged and brittle, making it more likely to split.
"This doesn't mean you have to go get a haircut every week," said Clark. "But you should get a trim every 6-8 weeks to get rid of any damaged ends."
Trimming your hair regularly can prevent this damage from building up over time, but it's not a substitute for a good hair care routine.
Nourish Your Hair in Between Washes
Another way to prevent split ends is to keep your hair healthy by using nourishing hair products. "Hydrate and keep your hair moisturized," said Dr. Chacon. "Dryness can weaken hair, especially at the ends that is why it is important that you moisturize your hair with conditioning treatments or hair masks."
While there are many options on the market, you can also use natural products like almond oil, argan oil, coconut oil or marula oil to nourish the hair and keep it moisturized.
VEGAMOUR's Pure Marula Oil can be added to hair to give it a bit of extra moisture and shine. This clean, luxurious oil is packed with antioxidants, omega fatty acids and oleic acid that deliver a wealth of beauty benefits including keeping hair moisturized and hydrated.
Add a few drops to your palms and spread it through your hair to tame flyaway hairs, or to give dry, frizzy locks a beautiful, glossy finish. You can also use it as a hair mask to hydrate your hair.
Discover: Why You Should Moisturize Your Scalp and How to Do It Right
Use a Calming Shampoo and Conditioner
VEGAMOUR'S GRO Revitalizing Shampoo and Conditioner can help create your healthiest hair yet with our vegan formula of clinically proven plant actives and our proprietary Karmatin™ (a first-of-its-kind vegan keratin). This clean and color-safe shampoo and conditioner duo was made with wild-harvested marula oil, organic murumuru butter and ximenia oil to help condition, and hydrate hair while also preventing split ends. It also can fight those damaging free radicals without imparting any pore-blocking residue that harms your scalp. This duo is safe for all hair types including colored hair and damaged hair. Plus, it's sulfate-free.
Protect Your Hair Strands
Split ends are a symptom of dry hair that needs a little help to encourage it to retain moisture. To prevent split ends, opt for gentle and effective hair products that put the health of your strands first, leaving all hair types hair more resilient and shiny — even dry and damaged hair.
More From VEGAMOUR
Photo credit: Rodnae Productions/Pexels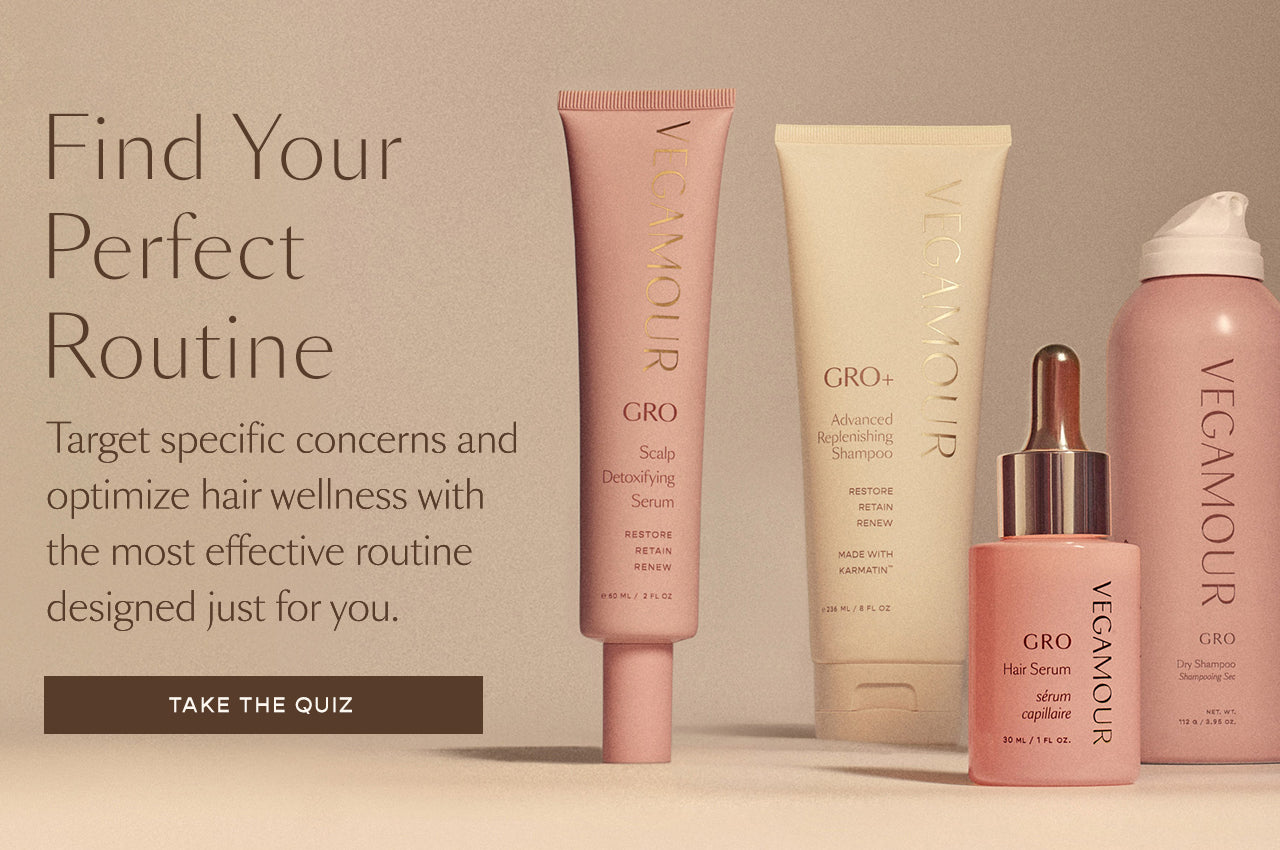 Disclaimer: Information in this article is intended for general informational and entertainment purposes only. It is not intended to constitute medical advice, diagnosis, or treatment. Always seek professional medical advice from your physician.