Can You Use Hyaluronic Acid on Your Hair?
Hyaluronic acid for hair is the latest trend in hair care, according to the internet. Before you hop on board with this new trend, take a look at what this acid does, where it comes from and if it's really worth the hype.
To help you judge if hyaluronic acid is good for your hair, VEGAMOUR spoke with an expert in hair care to learn more about this buzzy ingredient. Plus, discover the all-natural hair and scalp products you need for well-hydrated and youthful locks.
What Is Hyaluronic Acid?
Your skin naturally produces hyaluronic acid, which is also called hyaluronan or hyaluronate. Hyaluronic acid is a natural humectant that the skin needs to be supple and well-hydrated. Because of its emollient properties and its ability to help the skin heal, hyaluronic acid is now used in a variety of supplements, beauty and skincare products. Hyaluronic acid for hair mimics the natural moisturizing properties of your skin's natural hyaluronic acids.
"Hyaluronic acid is an ingredient that can help trap moisture in the hair, which is especially helpful in creating a healthy environment for the hair," explained Dr. Anna Chacon, a dermatologist with MyPsoriasisTeam.
Dr. Chacon also shared that hyaluronic acid can be used safely in scalp products, though it might be too strong to use directly on the scalp for people with sensitive skin. Hair fibers need moisture to be supple and healthy, which makes moisturizing hyaluronic acid a desirable ingredient in hair products.
Hyaluronic acid treatments are applied to damp hair or dry hair rather than wet hair, which is too saturated with water for the treatments to be effective. To prevent unwanted moisture at the midshafts of the hair, which can weigh it down, avoid those areas and apply hyaluronic acid more as a scalp treatment.
Related Reading: How to Moisturize Dry Hair
Is Hyaluronic Acid Safe for Your Hair?
Hyaluronic acid is a common go-to ingredient in skin care but is it safe for your hair? Since your scalp is technically considered your skin and the body naturally produces hyaluronic acid, the ingredient is considered safe with very minimal side effects. It's important to remember that when you choose a hyaluronic acid product, there might be other chemicals in the formulation that aren't so gentle on your skin. Choose a reputable brand and make sure to read up on the ingredients.
Benefits of Hyaluronic Acid for Hair
Your hair follicles and scalp can benefit from the regular use of hair humectants like hyaluronic acid. It's suitable for most hair textures, especially brittle hair, bleached hair, colored hair or otherwise damaged hair. Hyaluronic acid benefits include:
Improving hair texture
Smoothing frizzy hair
Binding and sealing moisture into hair shaft and hair cuticle
Helping with wound healing if you are prone to minor scalp abrasions
Relieving an itchy scalp
Applying hyaluronic acid is as easy as following the instructions on your topical hyaluronic acid product or putting a few drops of hyaluronic acid into your hair mask. Or, create a DIY lightweight hair mask by mixing hyaluronic acid and coconut milk and using as a post-wash treatment rinse. Some serums can actually contain a salt derived from hyaluronic acid called sodium hyaluronate which penetrates the skin as well and provides the same benefits as pure hyaluronic acid.
Side Effects of Using Hyaluronic Acid on Your Hair and Scalp
If this is your first time using hyaluronic acid on your skin, make sure to check for any irritation or allergies by conducting a patch test. Put a small amount of the product on the inside of your elbow and check 24 hours later for any signs of irritation, redness or swelling, which might indicate a chemical sensitivity to the product you're using.
Although there are few side effects of using hyaluronic acid on the skin and hair, there are some conditions that could make it hard for your skin to tolerate hyaluronic acid:
Cancer: Some reports suggest a link between hyaluronic acid use and the proliferation of cancer cells in those who already have cancer. Discuss this with your doctors if this is a concern for you.
Oily scalp: Oil-based hyaluronic acid might increase your scalp's oil production. Opt for a water-based hyaluronic acid formulation to avoid clogging your pores.
Other skin sensitivities or allergies: Some forms of hyaluronic acid are derived from rooster combs, which is an animal byproduct that could irritate sensitive skin. Look for vegan hyaluronic acid products to avoid irritation.
Natural Options for Healthy Hair and Scalp
Though there are many paths to strong and healthy hair, the simplest is often the most sustainable. While hyaluronic acid for hair does offer some extra benefits, a complete system of care can deliver far more. Improve your hair density and appearance with a simple switch of your hair care system at home.
VEGAMOUR's GRO Revitalizing Shampoo and Conditioner duo provides all the nutrients your scalp needs while nourishing your hair with vegan phytoactives, proprietary Karmatin™ plant-based proteins, wild-harvested marula oil, organic murumuru butter and ximenia oils.
While this duo doesn't contain hyaluronic acid, both are sulfate and silicone-free, which helps avoid product buildup. This system is perfect for everyday care of all types of hair from healthy hair to fine hair to the most chemically processed hair.
If you're considering hyaluronic acid to tame frizz, this shampoo and conditioner switch is perfect for you. Reduce frizz right in the shower by using VEGAMOUR shampoo and conditioners, which over time might eliminate the need to use a leave-in conditioner to tame those dry strands.

After cleansing and conditioning your locks, use GRO Hair Serum drops each day to help seal moisture into every strand. You can use it alongside a hyaluronic acid serum or as a stand-alone serum to nourish your scalp to optimal health. Like the GRO shampoos and conditioners, this daily treatment is completely plant-based for natural scalp care you can trust.
These superior hair drops are easy to use and provide the benefits of a hyaluronic acid serum but without the chemicals or animal byproducts often found in some hyaluronic acid products.

Regardless of what types of treatments you choose to improve the appearance and health of your hair, make sure to apply UV protection or wear a hat or scarf when you're out in the sun. It's the most helpful protection you can give your hair to prevent UV damage-related aging.
Follow your hair serum or leave-in hyaluronic acid scalp treatment with a heat protectant spray if you intend to blow dry or heat style your hair to prevent heat damage to your strands. Then, use your preferred styling product (preferably sulfate and silicone-free) to add shine and control before styling as desired.
Related Reading: How to Properly Apply VEGAMOUR Hair Serums and Foams
Support Whole-Body Wellness for Healthier Hair
Whether or not you choose to add a hyaluronic acid serum or supplement to your hair care regimen, healthy hair is a goal you should consider a top priority. After all, your hair is your crowning glory and you want it to be radiant and healthy. VEGAMOUR's daily hair care products are a simple way to maintain the health of your scalp and hair with all-natural at-home care.
More From VEGAMOUR
Photo credit: Prostock-Studio/iStock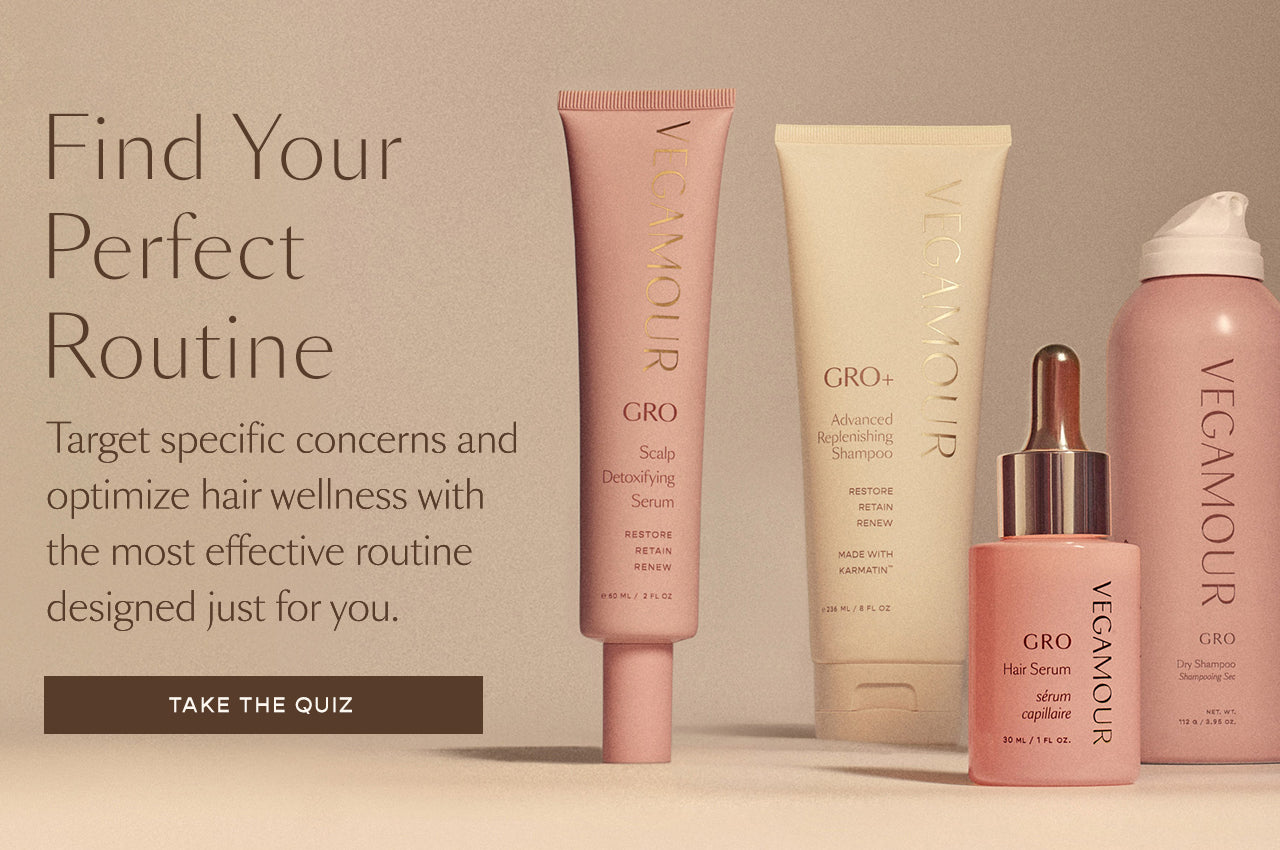 Disclaimer: Information in this article is intended for general informational and entertainment purposes only. It is not intended to constitute medical advice, diagnosis, or treatment. Always seek professional medical advice from your physician.