Is Silicone Bad for Hair?
No matter your hair color, texture or type, everyone wants shiny, healthy hair. If you remember the commercials from the early 2000s with cascades of silky hair falling in slow motion, you probably understand this sentiment all too well.
What many people don't know is that silicones are responsible for a lot of that shine you see on television and in advertisements. Silicones are a tricky ingredient; some people think they're terrible for your hair long term, while others disagree and say they're fine. Read on to learn more about silicone use in beauty products and discover the best silicone-free hair products for strong, healthier-looking hair.
What Is Silicone?
Silicone is a man-made substance derived from silica, which comes from sand. It's used in many cosmetic and hair care products because it's cheap to manufacture and it can temporarily give hair a smooth and silky appearance. Silicone achieves this by coating the hair shaft, protecting it from heat and giving it a silky appearance, but this result is often only short-lived.
While there are some downsides to using silicone-based products, silicone itself is not inherently dangerous. Silicone products are safe for your hair and will not harm you physically. Prolonged silicone use truly only affects the strength and appearance of your hair.
Read More: 9 Ingredients in Shampoo To Avoid
Why Silicone is Used in Haircare Products
Silicones coat the hair cuticle in a protective layer, enhancing shine, locking in moisture, improving hydration and controlling frizz. One study showed how silicones can protect the hair shaft when used in cosmetic products.
Silicone hair products are often sold to those with curly, frizzy or coarse hair because these products are designed to smooth hair and make it shiny. Silicones also protect the hair shaft from heat styling tools and provide a glass-like sheen. In addition to all that, silicone also dries hair faster, speeding up the styling process and giving hair a silky appearance. Although silicone sounds great, it's actually a bit of a double-edged sword: the seal it creates can block other nourishing ingredients from penetrating deep into the hair follicle.
The Negative Effects of Silicone
The positive aspects of silicone as previously mentioned are generally temporary and after a certain amount of time, they can backfire.
"If a product with silicone is used in the hair, it needs to be washed out thoroughly before the next application or it will cause buildup on the hair and scalp," said hair specialist Ghanima Abdullah. "This buildup can be very drying, because silicone seals. It doesn't allow water or humidity to enter the hair. So if multiple applications are used, the hair will become very dry and unruly. If it's not washed from the scalp, it can clog the hair follicles and potentially cause hair loss."
While silicone locks moisture in temporarily, it also prevents necessary nutrients from getting to the roots. After a while, silicone can also build up on your hair, which can give it a dry feel and dull appearance.
Kinky-Curly founder Shelley Davis explained that silicone's synthetic compounds can be tough to wash out of hair, which will prevent the strands from being properly moisturized and nourished. This can cause your hair to respond in one of two frightening ways: it can become dry and brittle due to the lack of proper hydration, or it can start to look overly greasy while your scalp tries to produce more oil to make up for the moisture deficit.
If you have used products that contain silicone, don't panic just yet. The best silicone-based products to use are water-soluble silicones that are made to wash off in the shower. Water-soluble silicones are likely to be found in products that claim to be "silicone-free."
Water-soluble silicones shouldn't lead to build-up on the hair, so if you feel like your hair is coated in silicones, you might've fallen prey to one of the water-insoluble silicones. In this case, the best way to remove silicone build-up from hair is to use a clarifying shampoo. However, many clarifying shampoos often use sulfates (basically detergents) to remove silicone from hair — and sulfates can be even more damaging to the hair shaft. To be on the safe side, look for a clarifying shampoo that is sulfate free.
Shop: Silicone-Free Hair Products
Not All Silicones Are Created Equal
While you're not likely to find the word "silicone" on your shampoo bottle, it's a good rule of thumb to remember that if an ingredient ends in the phrase "cone" it's most likely a form of silicone.
The most lightweight and therefore least damaging kind of silicone is called cyclomethicone, while the most common — and sadly, most prone to build-up — are amodimethicone and dimethicone. These two types of non-water soluble silicones are thicker and weigh down the hair. Over time, can make the hair appear dull.
You might be wondering if you can just use products that contain silicone and then remove build-up with a clarifying shampoo every few washes, but this can be a vicious cycle. Again, some clarifying shampoos can damage your hair follicles and strip away your hair color. The best option is to find a shampoo and conditioning routine that is silicone-free.
Shop: Christine Chan's Top VEGAMOUR Picks
Bouncing Back After Using Silicone
If you are hoping to move toward a silicone-free hair care routine, you want to look for products that have conditioning properties and plant-based oils like jojoba, marula oil, shea butter or aloe vera. These will properly condition your hair, smooth the shaft and give it the moisture it needs.
VEGAMOUR GRO Revitalizing Shampoo and Conditioner Kit features a silicone-free, paraben-free, sulfate-free and cruelty-free vegan shampoo and conditioner duo enhanced with clinically proven plant actives and our proprietary Karmatin™ (the first-of-its-kind vegan keratin). This clean, color-safe kit was formulated to give you your shiniest, healthiest hair yet. Wild-harvested marula oil, organic murumuru butter and ximenia oil help to condition, hydrate and fight damaging free radicals without imparting pore-blocking residue. Basically, it does the job silicones wish they could do.

For adding shine after drying and styling, VEGAMOUR's Pure Marula Oil can be added to the hair to give it a bit of extra moisture and control frizz. This clean, luxurious oil is naturally packed with antioxidants, omega fatty acids and oleic acid that deliver a wealth of beauty benefits. Add a few drops to your palms and spread it through your hair to tame flyaway hairs, or to give dry, frizzy locks a beautiful, glossy finish.
A New Silicone-Free Routine
High-quality silicone-free products can be a bit pricier than what you can find in the aisles of your local drugstore, but it's good to remember that it's a long-term investment in your hair. There are better, more natural approaches to nourishing and moisturizing your hair than using silicone-based products. Start caring for your hair today by nourishing it with vital nutrients to encourage thicker and fuller strands.
More From VEGAMOUR
Photo credit: Mentatdg/Pexels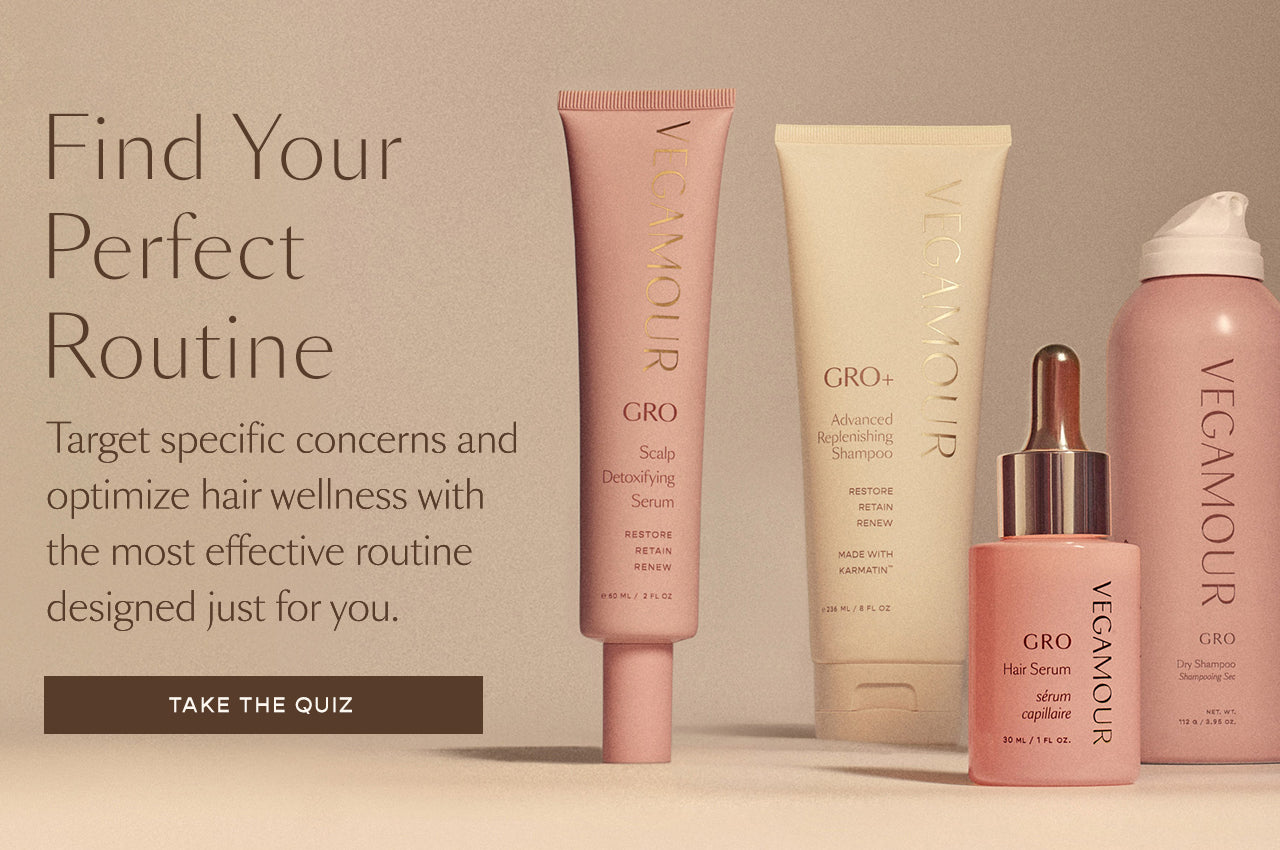 Disclaimer: Information in this article is intended for general informational and entertainment purposes only. It is not intended to constitute medical advice, diagnosis, or treatment. Always seek professional medical advice from your physician.