Why a Healthy Scalp Is Important for Healthy Hair
When it comes to hair wellness, it all starts with the scalp. Your hair health may express itself through the strands, which are, to be fair, the most visible expression of hair wellness. But the experts agree: Hair health starts with scalp health.
While most of us are more fixated on our actual strands, the truth is that hair wellness is rooted in our scalp's health and moisture level. A dry, flaky or itchy scalp can't support the growth of healthy, lively hair — the two always go hand in hand. You should tend to your hair and scalp the same way you would care for the rest of your skin (seriously, ask any dermatologist!). If you don't incorporate both your scalp and hair into your hair wellness routine, you may face problems with dandruff, dead skin buildup at the hair follicles and other conditions that can lead to hair loss. Here's what you need to know to give your scalp the extra TLC it deserves.
Your Scalp Is Just As Important As Your Skin
Caring for your scalp involves just as much effort as you put into your everyday skincare routine. Yes, you read that right! If you think about it, your scalp is skin too. So, why wouldn't you treat it just the same?
"Providing scalp care is just as important as providing skincare," says dermatologist Dr. Robert Goldman. "A scalp is an extension of the face. Compared to other parts of the body, the scalp is oilier, has sweat glands, and contains hair follicles, but it has a weaker barrier. Additionally, the scalp ages six times faster than the rest of the body." And although you don't have to do a 10-step nighttime skincare routine on your head, promoting a healthy scalp takes more than just washing your hair.
So what does Doctor Goldman recommend for your scalp care routine? "Taking good care of your scalp starts with cleansing, balancing and moisturizing it," he said. "To prevent dry, itchy scalps, one must cleanse the scalp regularly (at least thrice a week) and moisturize it with a scalp-compatible moisturizer."
To that end, using a shampoo and conditioner that are free from the parabens, phthalate and sulfates of many harsh drugstore shampoos is important. VEGAMOUR's GRO Revitalizing Shampoo and Conditioner specifically support your scalp's natural functions with gentle, all-vegan formulas that condition, hydrate and combat free radicals without leaving pore-blocking residue behind.
For an added boost of microencapsulated CBD, try GRO+ Advanced Replenishing Shampoo & Conditioner with all the same benefits of the original GRO formula plus CBD to soothe stressed out scalps and encourage an increase in visible hair density.
If you're experiencing specific hair concerns, such as a buildup of dead skin cells, elevated oil production, scalp psoriasis or itchiness, which can be caused by sebum buildup at the roots, Dr. Goldman says exfoliation is key.
To help, apply a pre-shampoo treatment, such as a detoxifying scalp serum. GRO Scalp Detoxifying Serum, formulated with a proprietary vegan silk protein, is designed to offer a visual reduction in flakiness within as little as three days and up to a 58% reduction in scalp buildup within 15 days.
Approximately 5 to 10 minutes after applying the detoxifying serum, rinse your hair and scalp and follow up with shampoo and conditioner to create the perfect scalp health-supporting wash day routine.
Related: How to Exfoliate Your Scalp
How A Healthy Scalp Creates Healthy Hair
As Dr. Goldman puts it, "Beautiful hair depends on a healthy scalp." But the steps we take to make our hair beautiful on a daily basis can sometimes damage our scalp health over the long term, leading to unwanted scalp problems or scalp conditions.
So how does a healthy scalp promote healthy hair? Hair grows from follicles, with each strand originating at an individual follicle on your scalp. These follicles also produce an oil-like substance known as sebum, which is essential to maintaining a regular hair texture. But in some cases, the unhealthy state of the scalp will cause the follicles to be blocked by products, oil or dead skin.
For example, many women finish their hair care routine with sprays or styling gels, which can build up over time, impacting the scalp's ability to grow new healthy hair. Even worse, if you're using shampoos or other daily hair care products from brands featuring harsh chemical formulas, the buildup can combine with dead skin and oil to unbalance the PH level of your scalp and clog hair follicles. And clogged follicles will eventually stop producing hair and also block the healthy shedding of dead hair that allows new hair to grow.
The bottom line is that the healthier your scalp is, the healthier your hair is — no matter the texture. Whether you have super fine hair or tightly coiled strands, you should be making sure that your scalp is healthy, hydrated and nourished with every wash. Clear follicles are the key to maintaining a consistent texture — and avoiding bad hair days!
If you notice that your hair is dull, flat, limp (or just not in its best shape), take time to analyze your scalp a little extra that day. Chances are that you'll notice your scalp is lacking some hydration, and you might also be experiencing some flakiness, which is an early warning sign of flagging scalp health.
Shop: GRO Balance & Boost Kit
Caring for Your Scalp Means Investing In Better Products
As you begin to pay closer attention to your scalp health, you'll learn to recognize the early warning signs that a product might not be the right fit for you. You'll learn which products have ingredients that trigger dryness and flakes in your scalp, along with which ones contain ingredients that promote hydration, prevent breakage and avoid buildup, which are all essential components of naturally gorgeous locks.
And if you're already struggling with the effects of thinning hair and breakage caused by an out-of-balance scalp, VEGAMOUR's fan-favorite GRO Hair Serum has been clinically proved in some subjects to increase the appearance of hair density by up to 52% and reduce signs of shedding by up to 76%.
The best part? All of our products can be used in tandem. When it comes to scalp health, replacing harsh chemicals with VEGAMOUR's signature vegan phyto-active ingredients is the best thing you can do to support that gorgeous hair.
Gina Concillo began using GRO+ Hair Serum with broad-spectrum CBD in April 2020. Within just a few months she noticed a huge difference in her hair density. The photos speak for themselves. "I have NEVER seen my hair grow this quickly," she said. "My hair has become so much healthier, thicker, and longer in such little time."
Related: Dandruff vs. Dry Scalp — What's the Difference?
Scalp Care Is Self-Care
Let's face it — it can be easy to ignore your scalp. But caring for it as you would care for the skin on your face will pay dividends in the long run, both for your hair and skin. So here's one more tip: In addition to using targeted hair care products with formulas that are good for your scalp and hair, research shows that scalp massage can actually support a higher quality of life, greater mental health and a better body image.
Give yourself some self-care with a daily scalp massage (which can actually help with hair growth) using the pads of your fingers. Or better yet, use a scalp massager designed exactly for this purpose, which will not only help stimulate blood flow but also help work in any shampoos, conditioners, serums or foams you use. A healthy scalp equals beautiful hair, so it's important you don't spend all your time on one only to ignore the other!
Additional members of Team VEGAMOUR contributed to the reporting for this article.
More From VEGAMOUR
Photo credit: Ceejay Talam/Pexels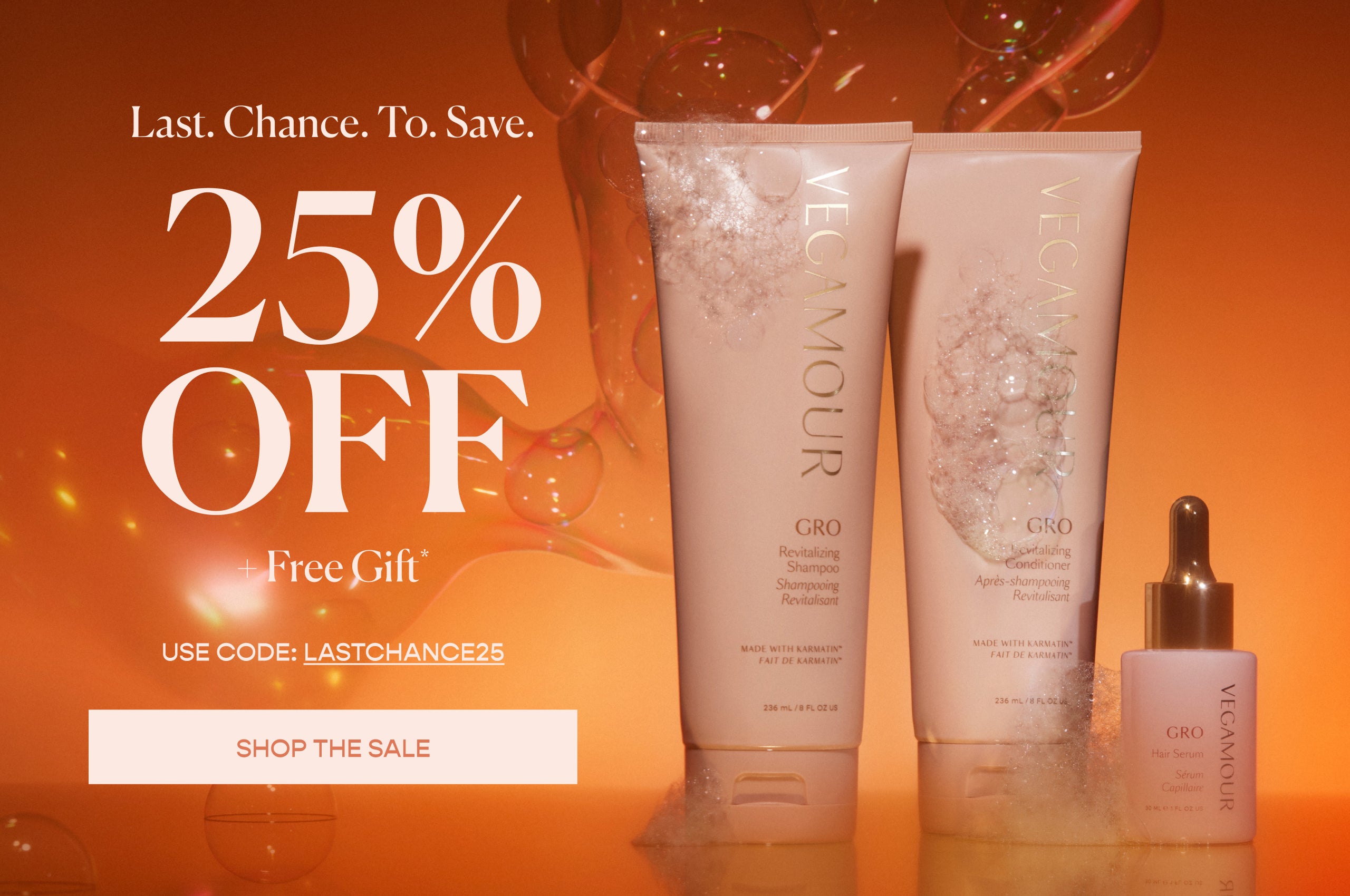 Disclaimer: Information in this article is intended for general informational and entertainment purposes only. It is not intended to constitute medical advice, diagnosis, or treatment. Always seek professional medical advice from your physician.