Read This Before Getting a Keratin Smoothing Treatment
Let's face it; when it comes to hairstyles, people often want what they don't have. For example, if your natural texture leans toward wavy, you might dream of glossy straight locks. And for many women with frizzy hair and curly strands, the answer to shiny, straight hair texture is a salon keratin treatment.
The defrizzing chemical relaxer is more popular than ever — but does it damage healthy hair long-term? And does the process come with potential dangers? Here's a handy guide to help you untangle the truth behind keratin treatments. Plus, explore healthier and cheaper keratin alternatives for getting soft, silky hair.
What Is a Keratin Smoothing Treatment?
Keratin treatments are famed for their strand-softening and straightening abilities, which can transform the look and feel of hair. They work to reduce frizz and cut down your time spent flat ironing. Dr. Cheryl Rosen, the director of dermatology at BowTiedLife, explained, "A keratin smoothing treatment is a chemical treatment that helps to smooth frizzy hair. It does this by coating the hair with a layer of keratin, which is a type of protein that makes hair strong and resilient."
Some keratin hair treatments straighten hair completely, and others simply loosen the curl pattern. Keratin proteins are found in human skin, hair, nails, organs and glands — it's something we all have in our systems. It's a protective protein that is less likely to tear or scratch than other cells found in the body.
Although keratin treatments aren't produced using human remains, they can be made up of horns, wool and feathers from animals — making them unsuitable for those living a vegetarian or vegan lifestyle.
Shop: VEGAMOUR Products Containing Vegan Keratin
How Does a Keratin Treatment Work?
Experiencing a keratin smoothing treatment is like adding a top coat to the hair shaft. Frizzy strands happen when the hair cuticle (outer layer) lifts from things like rough towel drying, harsh hair products and heat damage. The keratin treatment smooths down and seals the cuticle to help prevent breakage, tame frizz and add shine. Keratin can also help reduce the look of split ends by temporarily bonding hair back together.
Keratin treatments are not a quick fix, however. They can be costly and time-consuming, and results aren't guaranteed. The length of a keratin treatment depends on hair type and the formula used. A salon visit could last from two to four hours —or even more if you have very thick hair. Hair Expert Ghamina Abdullah explained the typical process to VEGAMOUR:
The hair is washed and blow-dried straight.
The keratin solution is applied and left for processing. Processing will take longer depending on how straight you want your hair.
A flat iron is used to seal the solution into the hair.
After this, the excess solution is rinsed away.
A neutralizing solution might be used at this stage, depending on the formula.
The hair is blow-dried again.
Flat ironing might be necessary again for very curly hair.
"The strength of the procedure you receive will determine how long it lasts," Abdullah further explained. "It can take between two and four hours. It costs in the range of $500."
Keratin treatments are chemically enhanced, but they do differ from chemical relaxers. Instead of permanently changing the chemical composition of hair from wavy or curly to straight, keratin salon treatment results only last a few months because the formula washes out. Chemical relaxer ingredients include ammonium thioglycolate and sodium hydroxide, which break the hair's bonds and restructure them straighter.
Read: What You Should Know Before Getting a Brazilian Blowout
The Dangers of a Keratin Smoothing Treatment
Though keratin treatments are commonplace, many experts believe they can damage hair and be dangerous. The presence of formaldehyde, also known as methylene glycol, can be a significant health hazard. Heat is used to encourage formaldehyde to bond to the hair strands, and formaldehyde fumes are released into the air. The Food and Drug Administration warns that those exposed could inhale the formaldehyde fumes if the salon isn't in a well-ventilated area. Repeated exposure to formaldehyde via the heat-activated methods necessary for a keratin treatment can result in the following side effects:
Dizziness
Watery eyes
Itching
Burning sensations in the nose, eyes and throat
Nausea
Difficulty breathing
Runny nose
Coughing
Mood changes
Formaldehyde has been classified as a human carcinogen by the International Agency for Research on Cancer, which makes the potential side effects of the straightening method pretty concerning. In fact, the FDA wanted to ban formaldehyde-infused hair treatment, but the ban never happened.
Also: 9 Ingredients in Shampoo to Avoid (And What to Look for Instead)
The Pros and Cons of Keratin Treatments
Keratin treatments might help to eliminate frizz in the short term, but they also come with cons that are worth taking note of.
Pros
Shiny, smooth hair. Keratin temporarily eliminates frizz and can help make hair more manageable.
Results can last as long as six months. However, this is only if hair washing (and dips in the pool) are kept to a minimum.
Hair feels more manageable. Heat damage and brittle hair are reduced as blow drying takes less time to smooth frizzy strands.
Cons
Formulas contain formaldehyde. This chemical can be hazardous when inhaled. Because the ingredient is so controversial, some companies even try and hide the fact that it's included in their keratin formula.
High cost. If you're on a budget, constantly shelling out for keratin treatments could soon put you in the red. Each treatment can cost hundreds of dollars, and for the results to last, you'll need to complete the process a few times a year.
Not recommended for pregnant women. The high formaldehyde content and risky ingredient content make this treatment completely unsuitable for pregnant women.
High maintenance. After a keratin treatment, most experts agree that you shouldn't wash your hair for 72 hours. Swimming in chlorinated or salt water can also reduce the effects of your treatment. You should also use a sulfate-free shampoo and conditioner because sulfates can interfere with the results of the treatment.
Shop: Jen Chae's Top VEGAMOUR Picks
The Vegan Alternative
Thankfully, you don't have to give up on dreams of silky, glossy hair if you decide the risks associated with a keratin treatment aren't worth it.
Karmatin™ is VEGAMOUR's proprietary microencapsulated b-silk™ protein, vegan alternative to animal keratin; it's also a formaldehyde-free formula. Karmatin™ reduces the look of damaged hair by filling in cracks in the strands, plumping them up for a smooth, glossy look. It bonds to the hair and keeps strands coated even after rinsing. You can find this unique proprietary ingredient in VEGAMOUR's shampoos, conditioners and soothing scalp serums.
Treat Your Hair Gently for Best Results
Different hair types require different treatments. You might be drawn to flat iron processes and chemical treatments to straighten your hair if you hate your frizz, but you risk long-term damage and negative side effects if you rely on high heat and keratin treatments.
The good news? Shiny, glossy and healthy hair can be yours without the worries! And you don't need damaging chemical treatments to achieve gorgeous hair you're proud of. Instead, choose gentle, yet effective, vegan products to help your hair look its best yet!
More From VEGAMOUR
Photo credit: Macniak/iStock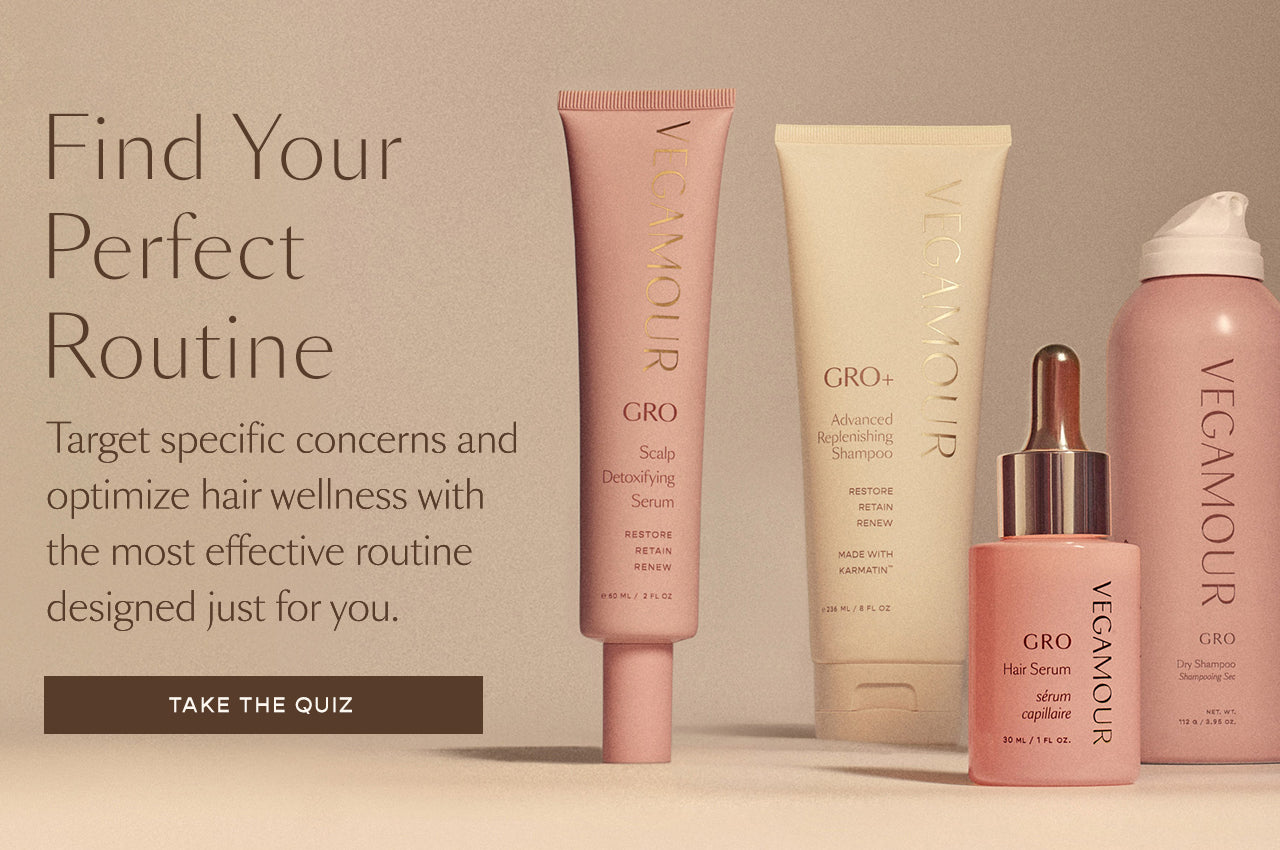 Disclaimer: Information in this article is intended for general informational and entertainment purposes only. It is not intended to constitute medical advice, diagnosis, or treatment. Always seek professional medical advice from your physician.